This post may contain references and links to products from our advertisers. We may receive commissions from certain links you click on our website. As an Amazon Associate Rhythm of the Home earns revenues from qualifying purchases.
Share this article:
1.

Integrate Some Eye-Catching Arched Doorways
Instead of opting for regular doorways that have straight lines, you should consider adding some arched doorways. An arch is a beautiful architectural element which can draw the eye no matter where you choose to place it in your house. Arched doorways stand out compared to traditional doorways because the curved lines are much more interesting and unexpected as opposed to formal straight lines. Archways may sound like a modern décor addition, but that's very far from the truth. They've been used in buildings for hundreds of years not just for an aesthetic purpose, but also because the design contributes to solid structural support.










Arched doorways can be very elegant when used in the right décor style. If you want to take advantage of their charm, this article will show you some of the best ideas to incorporate them and showcase a more imposing room style. While it's tempting to combine arched doorways with arched windows, this will not always look good with modern décor. Archways can be easily paired with other shapes and styles to craft a unique appearance. An arched doorway can create a particularly spectacular visual effect when used in the entryway. It works well here considering how this the first place that guests will see.




2.

Modern Arched Doorway





Arches can work fabulously well for traditional-style homes but that doesn't mean they don't belong in a modern interior. They can be successfully used to create a smooth transition from the kitchen to the living room. The arched doorway here creates an illusion of expanded space as it replaces a conventional door. Combining rooms in this way creates a stylish visual effect and can also increase the functionality of a utilitarian space like the kitchen.
3.

Arched Doorways Everywhere





If you want to maintain a consistent visual style throughout the home, it's recommended to stick to an arched design for all the doorways in your home. This includes the front entrance, and you might even consider modifying the windows to suit the overall theme.




It's safe to say that this isn't the kind of makeover that we recommend for everyone. Only those who are really obsessed by arches should take this kind of design approach seriously. The resulting look will appear more aesthetically pleasing thanks to the uniform patterns integrated everywhere.
4.

Elegant Archways





If you're designing a more formal area, archways can become useful additions to boost the elegance. Together with other architectural details in the room, arched doorways will amplify the atmosphere to reach grandeur heights. The stunning archway shown here is a good example. It helps to maintain a classy design when combined with other elements like the columns and wall paneling.




5.

Mixing Arched Designs





While your first reflex is to combine arched doorways with windows, other elements in the room can be modified to use the same curved shape. It's all about inspecting the room's features more carefully. A notable example is this traditional fireplace whose design matches the look of the arched doorway that leads to the entryway.
6.

Stone Archway





You can't go wrong with a stone archway if you favor a more rustic look. Thanks to the textural design of the stones combined with the traditional curved shape, an arched doorway built from this material has strong rural appeal. This kind of natural look can be difficult to integrate into some areas, but if you favor the country design style, stone archways are powerful architectural elements to have in a room.




7.

Combined Archways





To achieve an even more impressive look with the help of this trend, consider combining multiple arched doorways. It depends on the particular layout of your home if this kind of design can be implemented. Using more than one archway has a sort of kaleidoscopic effect so if you want to add a sense of visual intrigue, this represents a great design solution.




8.

Roman-S

tyle Arched Doorway





Not all archway designs look the same. Differences arise due to distinctive style influences when it comes to structural shape, radius, and joint design. The Roman-style arched doorway is probably the most common type you'll stumble upon. It makes use of a classical arch with a simple semi-circular shape. To take advantage of this style's full potential, it's recommended to opt for Roman-style archways in rooms that benefit from high ceilings.




9.

British-Style Archway





As opposed to the classical archway structures, those with a British style have a slightly different shape. You will notice a straightening of the arc and the more elongated body. This kind of design is more suitable for low ceilings. The corners are still rounded making this a great-looking arched doorway to include in your home.
10.

Arched Doorway for the Wine Cellar





Arches belong in various parts of your house, especially in those areas that can make use of a touch of traditional aesthetics. The wine cellar is a perfect example. Take a look at this custom-designed little nook dedicated for storing a large wine collection. The arched doorway gives off some classic old-style Roman design vibes despite the overall modern aesthetic of the cellar.




11.

Glass Patio Doors





If your house benefits from high ceilings and has a generously-sized patio area, an arched design can be implemented for the patio doors to add some visual interest. Large arched doorways containing glass doors will make the pathway to the yard outside seem more imposing. This is definitely a dramatic makeover which extends the sense of height and enhances the openness of the living room.




12.

Large Archway





Some rooms require a nice level of privacy between them, and that's something you can achieve with regular doors. That's fine for most people but if privacy isn't a concern for some areas in your home, you can create a beautiful transition with the help of a large archway. This design element will transform the connection between two rooms and create the illusion of an extended space. There are other methods to achieve a similar effect, but an arched doorway does it in a more aesthetically pleasing style.




13.

Contrasting Arched Doorway





When you have a room that's dominated by straight lines and square shapes, the best solution for a more balanced design is to introduce a contrasting element. In this case, the room's ceiling and fireplace mantel seem more striking against the curved archway formed between two majestic columns.




14.

Arched Design with Ellipse





While it seems similar to a British-style archway, this design incorporates an ellipse. The structure lacks rounded corners which makes it a more flexible choice for certain rooms. This arched design works pretty well regardless of ceiling height or overall spaciousness. Some people like to integrate columns for some extra visual interest but the archways look attractive even without them.









If you wish to add a rustic touch or slight industrial vibes, arched doorways built from exposed brick should be strongly considered. They work surprisingly well even if the overall style of your home leans more towards modern design. It's recommended to let the raw masonry work as it is for added effect.




16.

Slavic Arch Design





Resembling a keyhole, the Slavic archway style represents a nice structural element to include for city apartments or country houses. The design of the arch has a romantic vibe creating the impression of zoning the space. It's built quite similarly to the classic arch style, but the main difference is related to the rectangular opening and perfect roundness of the corners.




17. Arched Doorway in the Powder Room





Even if you're focusing on neutral colors or a more minimalist aesthetic for the rest of your home, the powder room remains one area where you can play with colors and patterns to let your creativity shine. This elegant powder room looks very sophisticated thanks to its glamorous decorations. The patterned floral wallpaper makes a stunning combination with the archway which acts as a slight space delimiter.




18.

Cozy Archway





This log cabin makes use of rustic materials and decorations to create a cozy atmosphere. The architectural elements like the arched doorway also contribute to the comfortable ambiance, especially as it seems to highlight the string lights hanging from the ceiling.




19.

French Arched Doors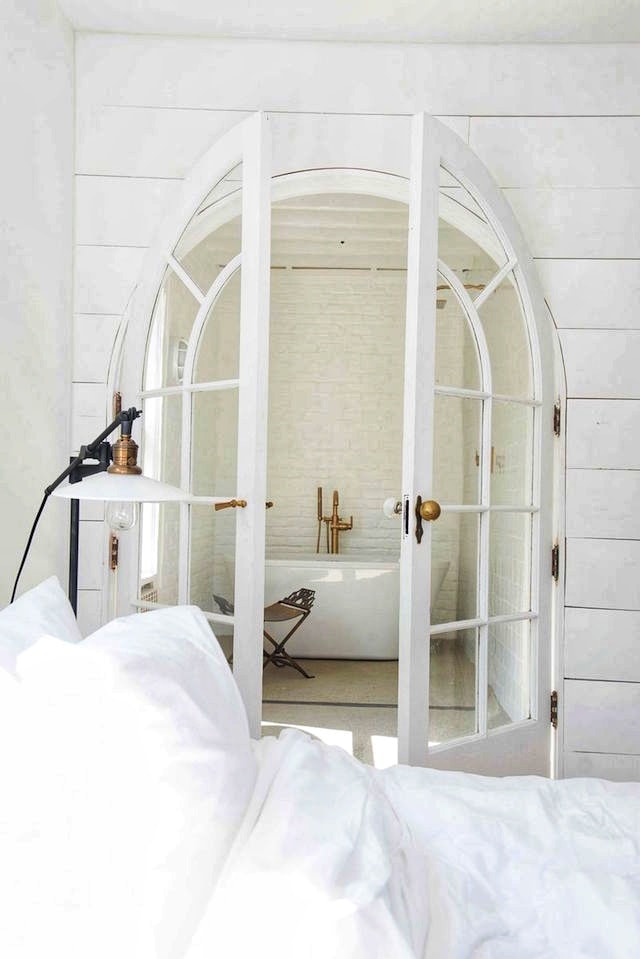 Given how arched doorways tend to not act as strong space delimiters, you can separate areas more conveniently by including doors fitting for the arched design. The bedroom here has an airy feel thanks to the predominantly white color scheme. This draws more attention to architectural elements such as the arched doorway leading to a chic bathroom.




20.

Luxurious Arched Doorway
Check out this superb bathroom made from luxurious marble. An arched doorway equipped with a glass door separates the shower and creates its own dedicated spot. The arched design is also found in the two windows to create a more uniform style. There are some strong Mediterranean vibes thanks to the elegant textures of the marble that seem to dominate every aspect of this room including the bathroom floor.