This post may contain references and links to products from our advertisers. We may receive commissions from certain links you click on our website. As an Amazon Associate Rhythm of the Home earns revenues from qualifying purchases.
Share this article:
You don't have to be an oenophile (a connoisseur of wines) to dream up and design a chic wine cellar for your home, but knowing a thing or two about wines will help you in the process. Such that the ideal temperature of your stored wine should rest at 55 degrees, give or take 3 or 5 degrees and that fluctuations of the temperature of the wine is the easiest way to spoil it. With that said, you should always start your home wine cellar design project by choosing a location in your home that will keep your bottles in good shape. While investing in a good wine refrigerator or cooling system is a great option, it's important to choose a dark, dry and cool space that is away from windows and is not positioned near exterior walls to prevent the outside temperatures from interfering with the quality of the wine.




Burying your wine in the basement was never the most convenient location for a wine cellar. No matter what inspired the uber-wealthy to outfit their mansion basements with wine cellars, get ready to pop the cork on these 9 unique wine cellar ideas you can bring to life above the ground.
1.

Transform Your Staircase Into a Wine Cellar
Move over mops, buckets and other various house items. Wine is more important! Your stairwell has a tasteful purpose to become a convenient wine cellar with just a few extra shelves and a finishing touch. Clean out your stairwell and install an inexpensive wire grid rack with shelves. Frame the grid rack so the top of the bottles lean forward at a slight angle (this is a key tip for wine storage to prevent the cork from drying out).




Be sure to leave space above the wired grid rack for storing accessories like ice buckets, glassware and cork openers on a shelf. Transparent glass doors are a vibrant addition to a stairwell wine cellar so you can show off your collection in the least expected place in your home. Alternatively, a standard sliding door will keep the area just cool enough.
2.

Convert Your Pantry
Food pantries and closets are perfect spaces for your collection of wine. They are spacious, away from windows and generally keep the desired temperature. Replace the drywall or siding of a pantry with a glass wall to put your new stellar cellar on display. For a simpler rendition of a pantry makeover, remove your pantry door and decorate the walls with beautiful penny tiles. Replace existing shelves and cabinets with a wooden wine shelf in a grid layout. Remember that elegant lighting is a crucial design element to the overall showcase of your wine cellar. Swap out the bright lights for soft Edison bulbs or drape tiny chic lights on the shelves for a refreshing effect.




3.

Design a Kitchen Wine Pantry
Custom kitchen cabinets make great wine cellars and there are endless ways to incorporate them into your kitchen design. This concept calls for a small wine cooler that sits beneath a countertop near two cabinets. This is a preferred option if your goal is to make use of existing space without sacrificing storage as you can utilize the nearby cabinets for glassware.




Don't want to invest in a wine cooler? No problem! Keep your floor resting cabinets just where they are and install wall mounted wine racks above the countertop. If you have existing cabinets above the counter, you'll want to remove them to make room for wine racks. Go for this option if you have lower kitchen cabinets and are working with a small space. Depending on the numbers of racks, you should be able to store between 40-60 bottles on the wall. An extra bonus if you make use of the existing ceiling lights!
4.

Turn a Bonus Room into a Wine Room
Turn your unused and spacious room into a wine room! What better way to use it? Rooms of this size should incorporate more than just wine storage so think of it as a space to socialize. Remember to install durable flooring strong enough to endure a dropped bottle which is also easy to clean. Optimize the spaces by installing vertical wine racks from the floor to the ceiling. Get creative with a handful of wallpaper ideas to give off an industrial brick or modern stonework design without doing any heavy lifting and remember to drape curtains on the windows to protect your bottles from the UV rays.
5.

Wooden Shelves and Wine Boxes
Collect or purchase a couple of dozen antique wooden wine boxes and use the panels to cover a wall in your home. It's much easier than having to paint or tile your walls and becomes a rustic showcase of your wine collection. Once the wooden panels are installed, you can put your special touch on matching shelves. We recommend extending the natural wood look with standard oak lumber shelves.




6.

Customize Furniture
You might have furniture that can double down as wine storage. Think credenzas or a card catalog. These two pieces of furniture make for such vintage and functional wine cellars that you may be tempted to buy one just for the DIY project. Look for a credenza with decor that matches the room where you'll place it. Two door credenzas offer the perfect amount of storage space for a quaint collection of wine. Card catalogs may have been invented just for wine bottles! Remove the drawer dividers and use them as wine bottle storage. Stick a label on each drawer to keep your collection organized by year or type.
7.

Create DIY Wine Racks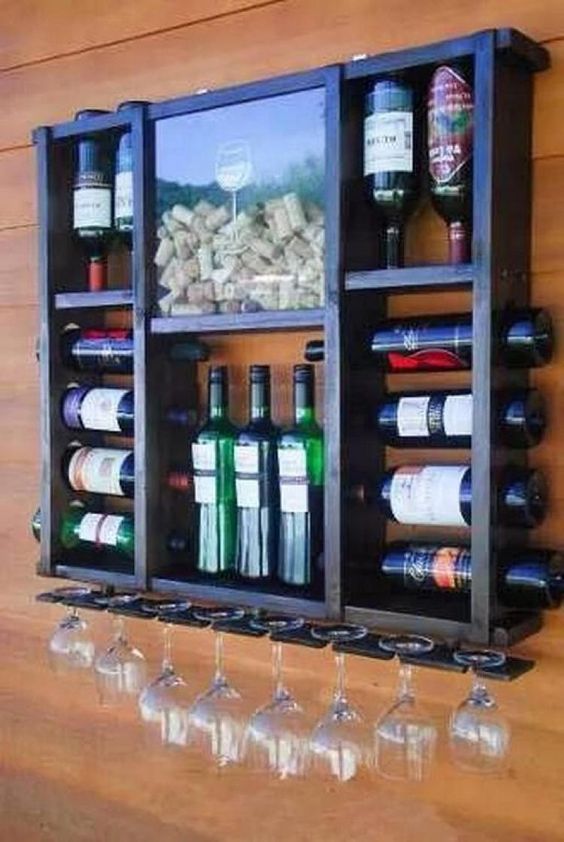 This is the most simple wine cellar installations on our list and perfect for those who need to make the most of their kitchen space. Simply drill a small wooden rack onto the wall to store wine bottles on top and hang glasses upside down from the bottom. Use natural wood to promote a rustic look or spray paint it as you wish.
8.

Build a Wine Cellar Frame around Your Fridge
Here's to standing in front of the fridge with a purpose and getting creative with storage. This unique wine cellar makes use of the space around your fridge, the perfect location to store your wine. Install wine cabinets around the perimeter of your fridge in colors that stand out from the rest of your space. Try going with light gray or beige shelves to match dark grey or metallic colored fridges.




9.

Create a Black Contemporary and Luxe Wall
Section off a space on your wall and decorate it with shades of black while incorporating simple chevron styled wine shelves. The dark colors of wine bottles naturally blend into the scene to amplify the bold look. Go with a black metal grid shelving system on a black tile or painted wall or install rows of black painted wooden shelves.