This post may contain references and links to products from our advertisers. We may receive commissions from certain links you click on our website. As an Amazon Associate Rhythm of the Home earns revenues from qualifying purchases.
Share this article:
Positioned in a warm zone between pink and orange, peach is an attractive color worth incorporating into your home design. Thanks to being named after a fruit, the color is fairly easy to recognize. It evokes a sense of happiness and carefree style which suits many interior decor styles. Although the cutesy nature of peach makes it a popular choice for kid-friendly spaces, it also has great potential to add to the color scheme of adult areas of the home. If you're wondering which colors can be paired ideally with peach, the following ideas will inspire you to create a balanced palette.




1. Deep Blue





Considering the powerful orange hint of peach, it makes sense that it can be paired easily with a complementary color like blue. Painting the walls of the bathroom in a cozy peach shade can truly make this space feel distinguished. The warm appeal of this color goes incredibly well together with a deep shade of sapphire blue. Thanks to a gorgeous contrast, the blue tiles on the walls are properly highlighted to intensify the drama in the room.




2. Beige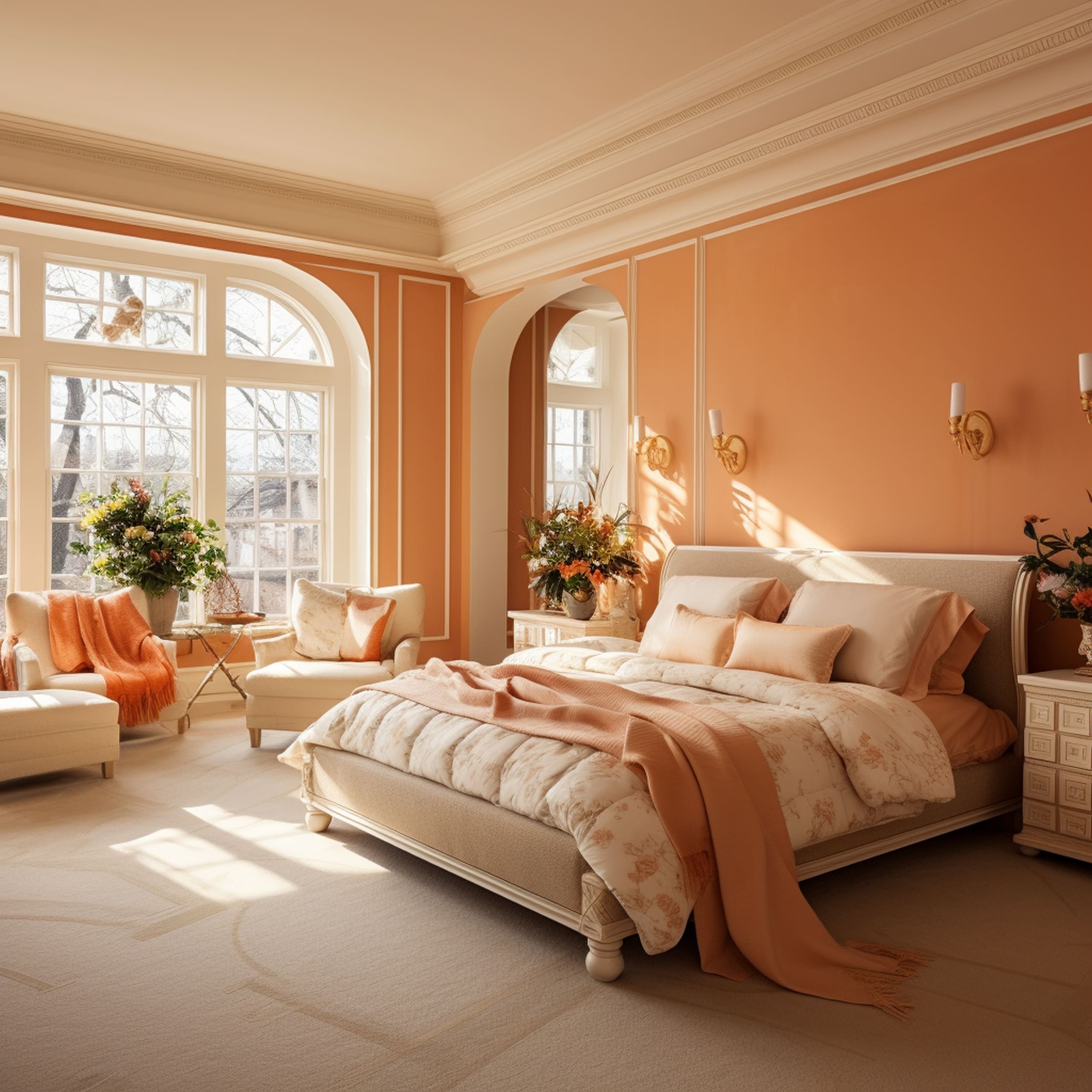 Neutral shades go well with the cheerful vibe of peach. This traditional bedroom appears refreshed thanks to the stylish peach-painted walls that enhance the depth of warmth provided by the beige elements. It's a safe combination if you're not willing to commit to a bolder mix of colors together with peach. Due to tonal similarities, peach and beige play nicely together in a variety of interior designs. Aside from traditional spaces, modern bohemian rooms can also benefit from this cozy color pairing.




3. Gray





If you prefer a soft neutral contrast, gray is one of the best choices to go alongside peach. It adds a restrained sophisticated touch with just the right amount of coolness that makes peach elements shine. Often paired with other neutral tones, gray can form a suitable backdrop where you can display pops of peach color to uplift the atmosphere. Light gray shades seem to work ideally to make this unexpected color pairing work properly.




4. Light Blue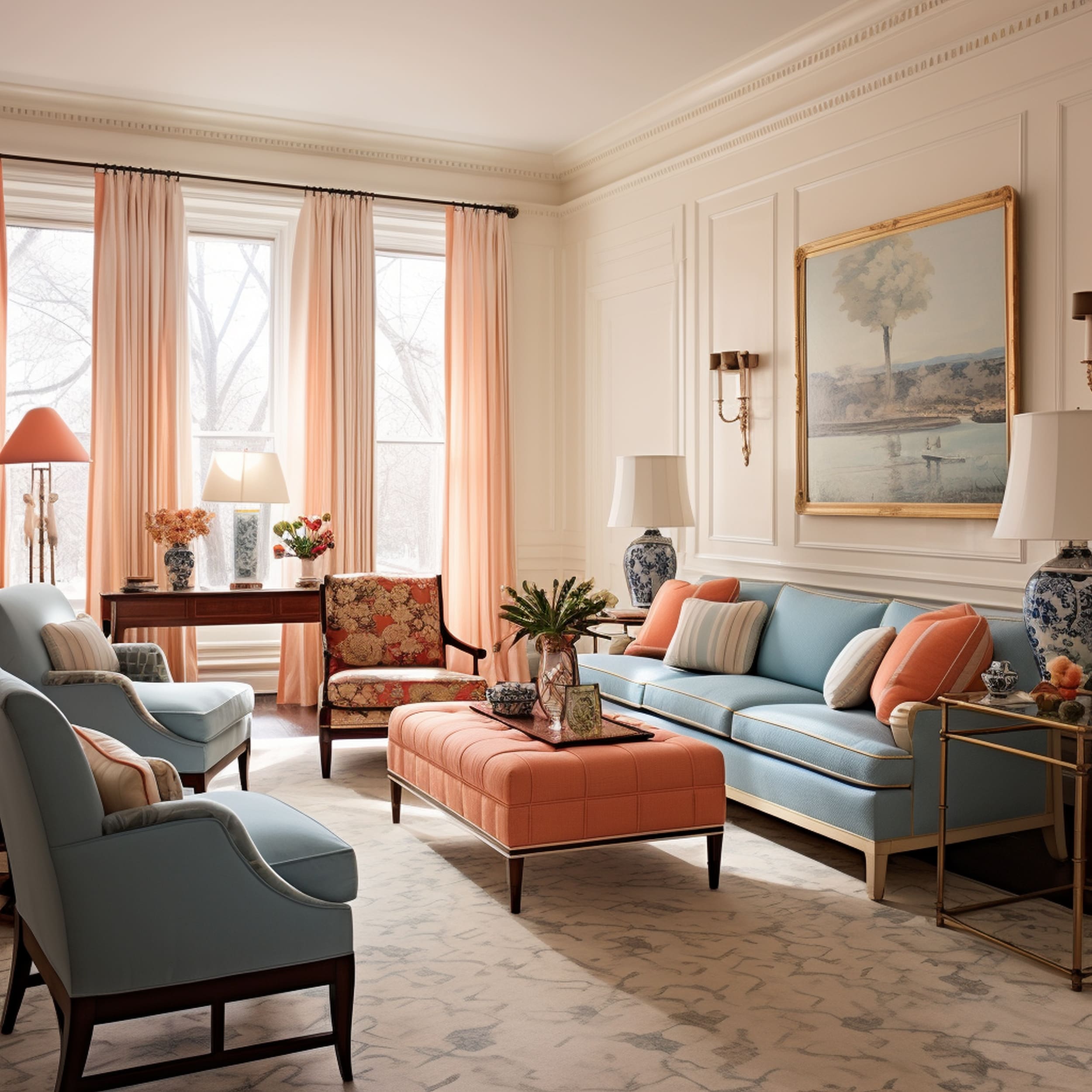 We've seen how well peach goes together with a vibrant shade of blue. It turns out that a lighter tone can sometimes be even more effective. A blend of delicate shades of peach orange and light blue can result in a striking color palette that draws plenty of attention without feeling overwhelming to the eyes. This Federal-style apartment shows off a gorgeous living room where touches of peach-orange from the throw pillows and curtains complement the pastel blue sofa and chairs.




5. Mustard Yellow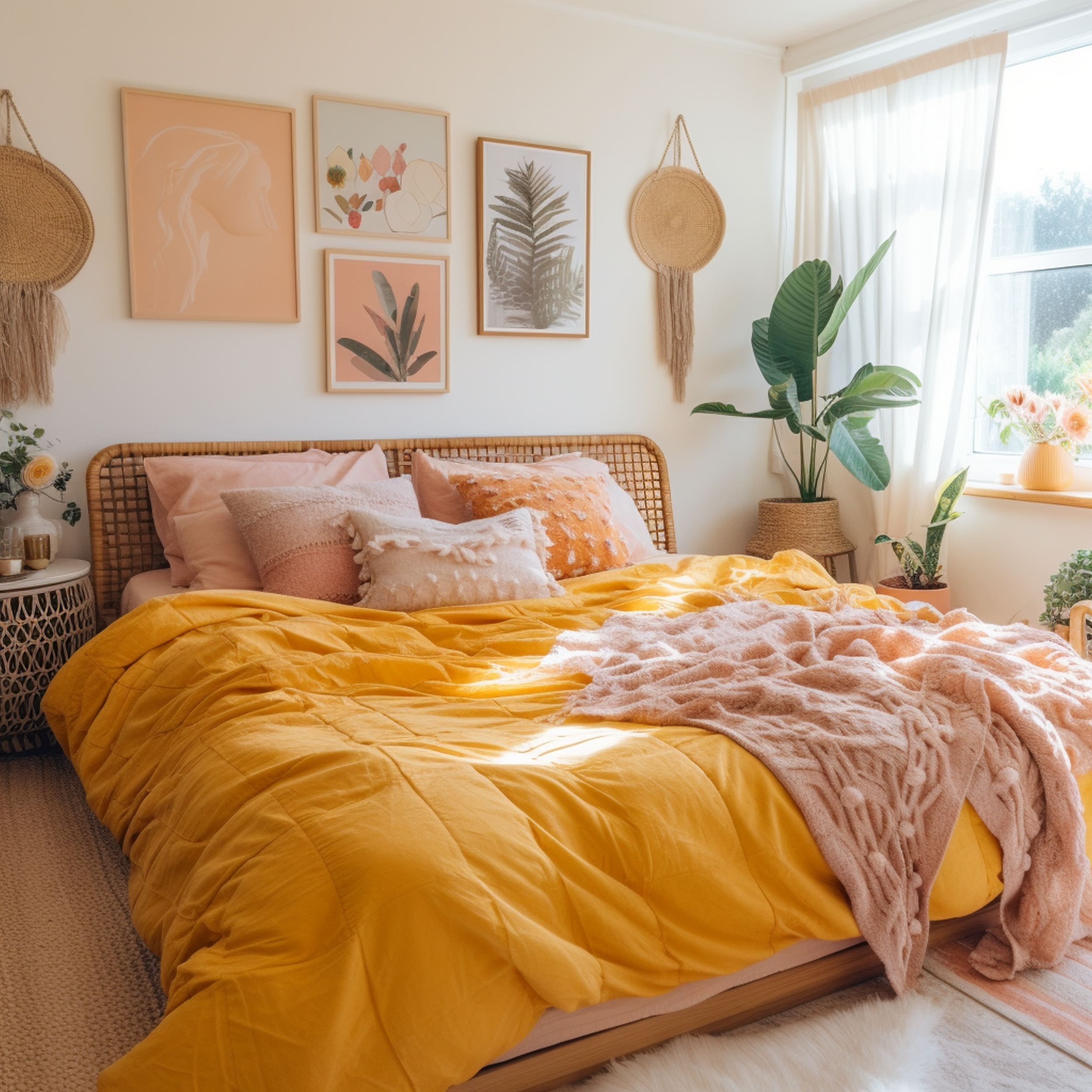 Yellow features a similarly bright vibe that matches the style of peach. A cozy tone like mustard looks very attractive as a backdrop color for peach thanks to the distinctive warm contrast created. It's an excellent choice for a fresh bohemian-inspired bedroom. Pops of peach orange from art prints and pillows help to elevate the visual appeal of a soft mustard yellow comforter. As peach and yellow are considered a bold color combo, it's recommended to keep colorful accents to a minimum.




6. Brown





Traditional furniture designed with a dark wood shade can appear fresh and vibrant if you use a peach backdrop. This exciting color can be paired quite successfully with the rich elegance of brown. It's not surprising to see that these two colors go together so well considering that peach blends well with light neutrals. Darker shades can accentuate the sense of warmth while also adding an air of maturity to the design. Brown and peach offer a cozy appeal for the bedroom.




7. Green





The warm vibe of peach can feel refreshed with the help of green accents. This is a nice color combination that works perfectly if you want some nature-inspired flair in your decor. Pale peach walls appear to have similar qualities to classic neutral tones. A pop of vibrant color is welcomed to add some character to the room's decor style. Color coordination can also be quite important to prevent green from appearing out of place. Mix an accent chair with tropical plants or a green wall-mounted artwork for a balanced visual effect.




8. Black





If you don't want the room's design to steer too much in a feminine direction, your best bet is to create contrast with a dark color shade. Black is an excellent pick because it introduces some moodiness to counteract the cheery warmth of peach. This modern bathroom draws the eye down quite easily thanks to the interesting floor patterns. However, the peach-and-black combo prevents the flooring design from stealing the show. The stark contrast helps to create a bold yet balanced look.