This post may contain references and links to products from our advertisers. We may receive commissions from certain links you click on our website. As an Amazon Associate Rhythm of the Home earns revenues from qualifying purchases.
Share this article:
The cubism design style is inspired by the unique creations of Pablo Picasso who managed to create a seamless blend of abstract lines and quirky colors in his famous paintings. Similar cubist principles can be applied in the world of interior design where decor elements are strategically used to create a mockery of perspective and entertain the viewer with gallery-like arrangements.




Although the concept of an interior place inspired by the chaotic shapes and abstract art of cubism sounds fun and visually appealing, it's hard to say whether you could truly live in a space dominated by an edgy cubist vibe. Take a look at these eye-catching interior design ideas to figure out how to incorporate cubist elements into your home.




1. Geometric Style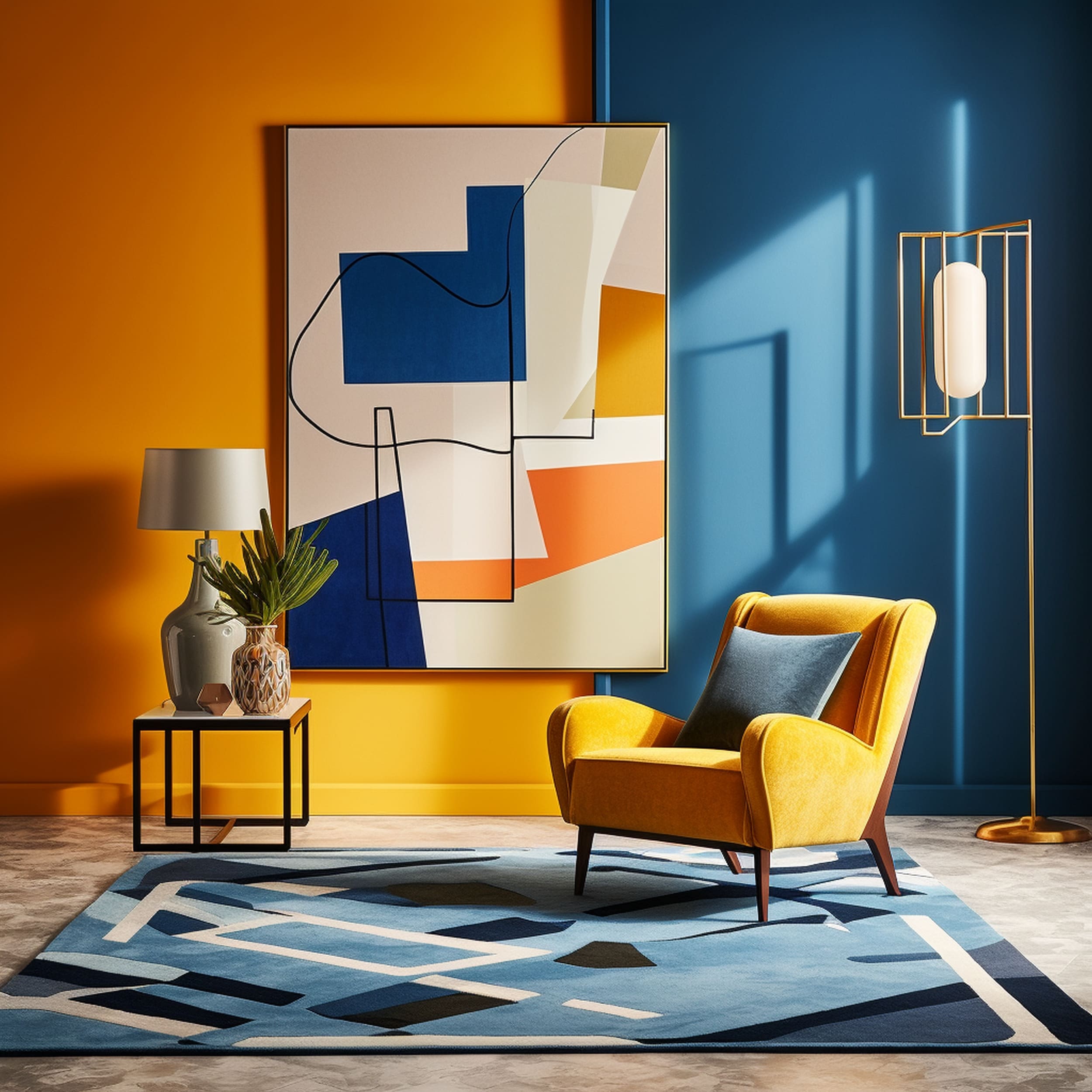 Integrating a wide variety of different geometric shapes can be considered an essential aspect when it comes to cubist design. This bright blue-and-yellow wall features a unique art piece that shows off multiple abstract shapes to grab attention effectively. Instead of a typical store-bought artwork, the colorful wall is decorated with colorful geometric shapes that form a nice pairing with a matching floor rug that features a similar mesmerizing mix of colors and geometrical shapes.




2. Cubist Bedroom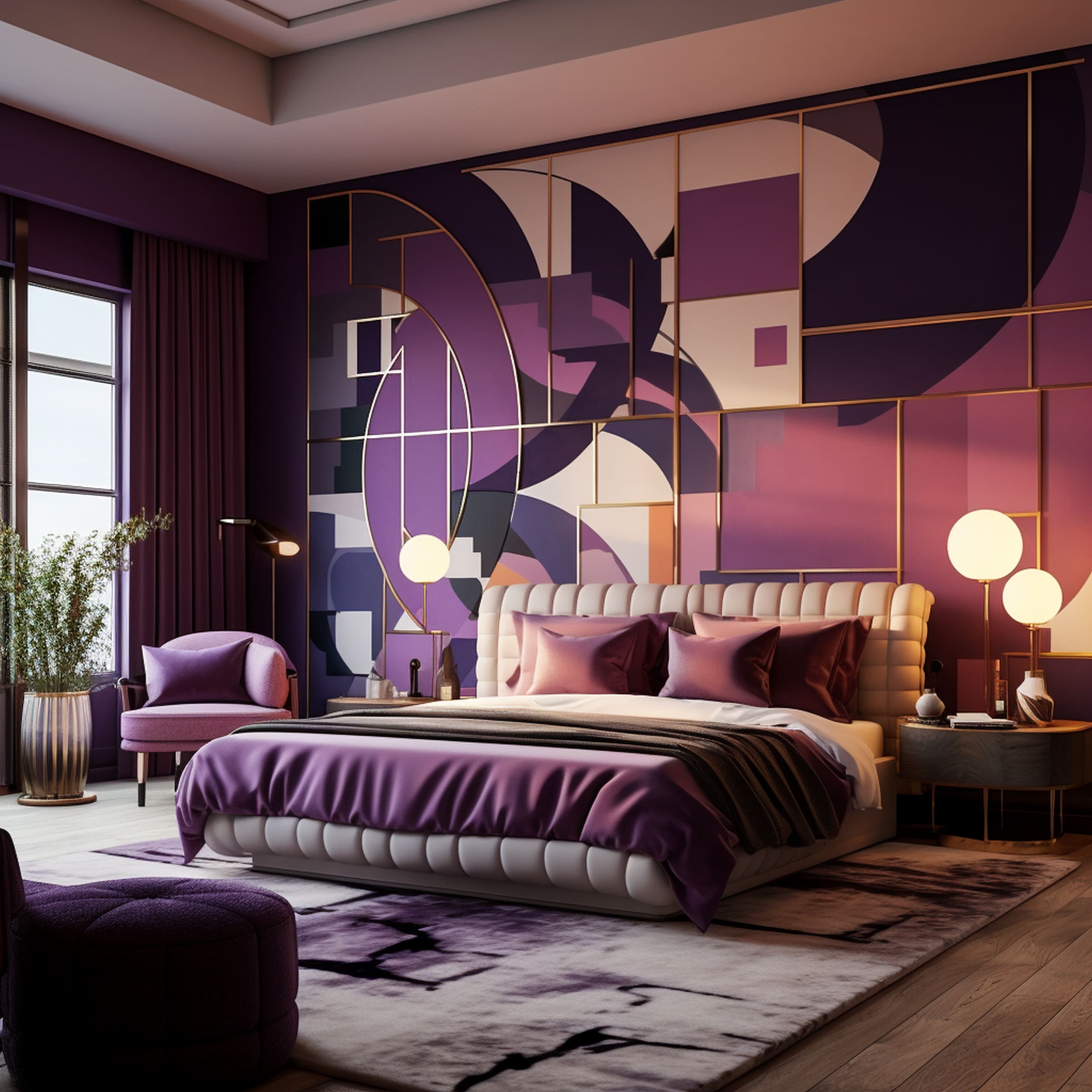 If you're interested in fully embracing cubism in your interior design style, check out this zany bedroom that features creative shapes and angles to turn standard design practices on its head. Thanks to its dazzling purple lines and quirky furniture pieces, this cubist bedroom seems to resemble an art gallery rather than a living place. With the help of gold accents and soft textures, you can balance out the chaotic vibe of a bedroom designed using this refreshing aesthetic.




3. Sculptural Effect





Looking to add a slight cubist vibe to your interior area? You don't have to bother with a complete room makeover. Just a few decorative elements inspired by the aesthetic should be enough to bring a distinctive sculptural visual effect. Creative decorations can provide a great example of the cubist style if you opt for unique geometrical shapes to highlight your stylish console table vignette. Small sculptures can look more striking together with matching abstract artwork and other pieces showing off bold shapes and patterns.




4. Punchy Wallpaper





The walls in a cubist interior are never left bare. Some designs can feature statement decorations or abstract art. More minimalist approaches might use the wall just as a colorful backdrop. Another great solution is to use a stylish wallpaper that will dress up the wall with a dazzling collection of creative shapes and geometric lines. It's the perfect eclectic backdrop to display vibrant-colored chairs or a striking lighting fixture. This room captures the concept of a cubism-inspired breakfast nook in an authentic way.




5. Playful Patterns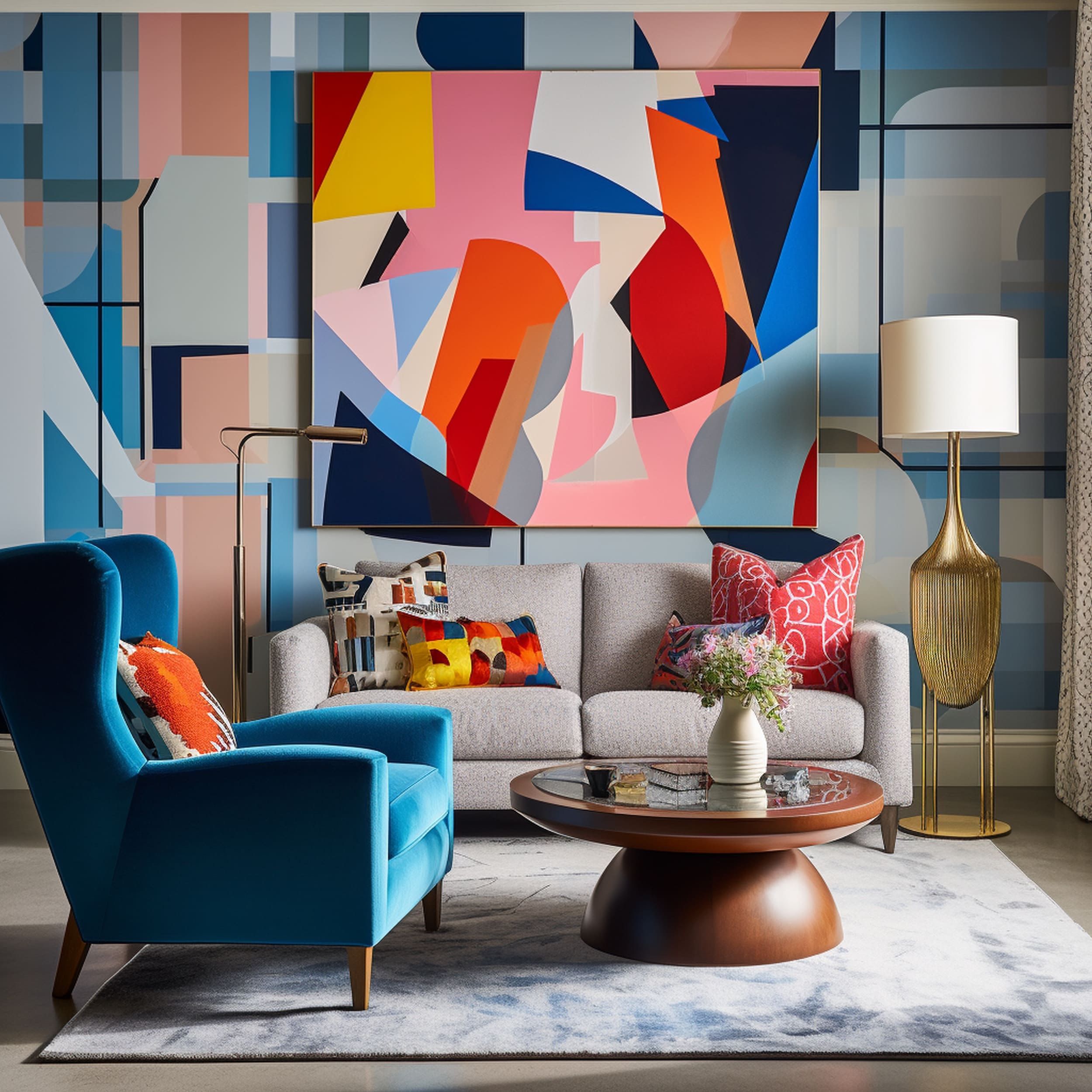 Cubist interior themes tend to feature repeating patterns integrated together in playful ways. The abstract shapes displayed on this artistic wallpaper have been elegantly reflected in the patterned design of the artwork and throw pillow. Simple light fixtures match the abstract vibe of the colorful wall due to their sleek finishes that put the main focus on their distinctive shapes. Details are important when it comes to cubist interior designs. Notice how the colors used in the cubist-inspired patterns blend together in harmonious chromatic geometry.




6. Cubist Kitchen





It can take some time until you recognize this kitchen because the room seems to resemble the interior of a science-fiction spaceship. This design incorporated the features of cubism to an extreme level resulting in a bold one-of-a-kind look. The green kitchen cabinets form a striking visual contrast with the lemon yellow backsplash extending towards the ceiling. Thanks to its glossy finish, this cubist-inspired kitchen makes the geometric shapes stand out more effectively.




7. Abstract Faces





When it comes to decor motifs frequently found in cubism-inspired interiors, the use of abstract faces seems to stand out. This colorful pattern style can be applied effectively to various elements of the room. A great example is the headboard in the bedroom which can create a powerful contrast with a vibrant-colored wall. The unique upholstered design of the headboard might look out of place unless it's paired with other textile patterns that take inspiration from the cubist art movement.




8. Rebel Maximalism





Designing a cubist interior works in a similar style to the untamed brush strokes of a painter. Just as the cubist painter's brush glides seemingly without apparent guidance, a room inspired by cubism will use a similar approach to end up with a rebel maximalism vibe. Decorations don't feel integrated together in a cohesive theme at first. It takes an experienced eye to observe how the different shapes and colors merge together in a beautiful symphony of cubist art.




9. Strange Perspective





A fundamental aspect of cubism is the lack of a traditional perspective. The eye doesn't really have any specific point of rest when viewing a cubist piece of art. The same design approach is used for creating striking cubist interiors such as this bathroom that seems to have abandoned any concept of depth. It takes some time to get used to how the typical bathroom features are integrated considering the intensity of the black lines over the vibrant yellow interior of the space.




10. Luxurious Color Mix





There's no secret that cubism embraces bold color shades with increased saturation levels. Some cubism-inspired interiors attempt to use a neutral backdrop that lets striking colors shine but others focus on dramatic color schemes with lots of vibrant jewel-tone arrangements. This luxurious cabinet works as an excellent example of the cubist color palette that seems heavily inspired by a modern art gallery. It's an unusually eclectic style to use so many show-stopping colors but it's worth trying to capture an authentic cubism flair.