This post may contain references and links to products from our advertisers. We may receive commissions from certain links you click on our website. As an Amazon Associate Rhythm of the Home earns revenues from qualifying purchases.
Share this article:
1.

Radiant Relaxation
Bringing a significant portion of the outside atmosphere indoors can be done easily if you choose to create a sunroom. It may not be an easy thing to do, but the ability to laze away in the sunroom will definitely make it worth your time. You can transform a chic sunroom in a cool area to host a party or simply turn it into a sanctuary-like space where you can enjoy your favorite book in peace. Both sunrooms and screened porches provide you with the combined benefits of indoor and outdoor worlds.










If you already have a sunroom and lack inspiration for its décor and overall style, this article should help you craft an ideal place that's radiant and inviting. Getting that light-filled aesthetic for your sunroom isn't very difficult. It just takes a thoughtful approach to fuse the right elements together and obtain the desired look. Sunrooms are designed to let you sit back and relax in the sunlight. These décor ideas will give you some inspiration to turn this area into an ideal lounging spot.




2.

Minimalist Sunroom





The purpose of the sunroom is to primarily allow you to soak up the natural light in maximum comfort. Take a minimalist approach to the design and décor if you have a small sunroom. The French windows here craft an incredibly elegant atmosphere which pairs nicely with the minimal furnishings and neutral color tones. This sunroom manages to create a casual sophistication look thanks to the comfortable lounge chairs.
3.

Rustic-Cabin Sunroom





Clean furnishings and a neutral color scheme are the essential ingredients for a rustic-cabin sunroom. It doesn't take a lot of effort to transform your sunroom into a charming place where you can relax. While there aren't a lot of plush and soft textures, this sunroom feels surprisingly comfy due to the low-slung furniture pieces and rustic accents.




The industrial-looking metal stools represent a nice touch that contributes to the rustic-cabin vibes. Another great detail is the grain-sack throw pillow which adds character to the room without overwhelming the sunroom.




4.

Black and White Sunroom with Greenery





Despite using predominantly black, white, and other neutral colors, the look of this sunroom is simply stunning. The vibrant greenery enhances the style of the area even further. Indoor trees and potted plants thrive in this kind of room where they are able to meet their sunlight needs with ease. This gives you the perfect opportunity to use plants as décor pieces that provide some pops of color.
The central seating area has a bohemian vibe thanks to the textures and patterns used. It definitely feels like you're in a chic café considering the attention to décor details. Some of our favorite elements of the sunroom are the crisp white exposed brick wall and the brass planters. Metallic accents look fabulous in the neutral color scheme.




5.

Home Office Sunroom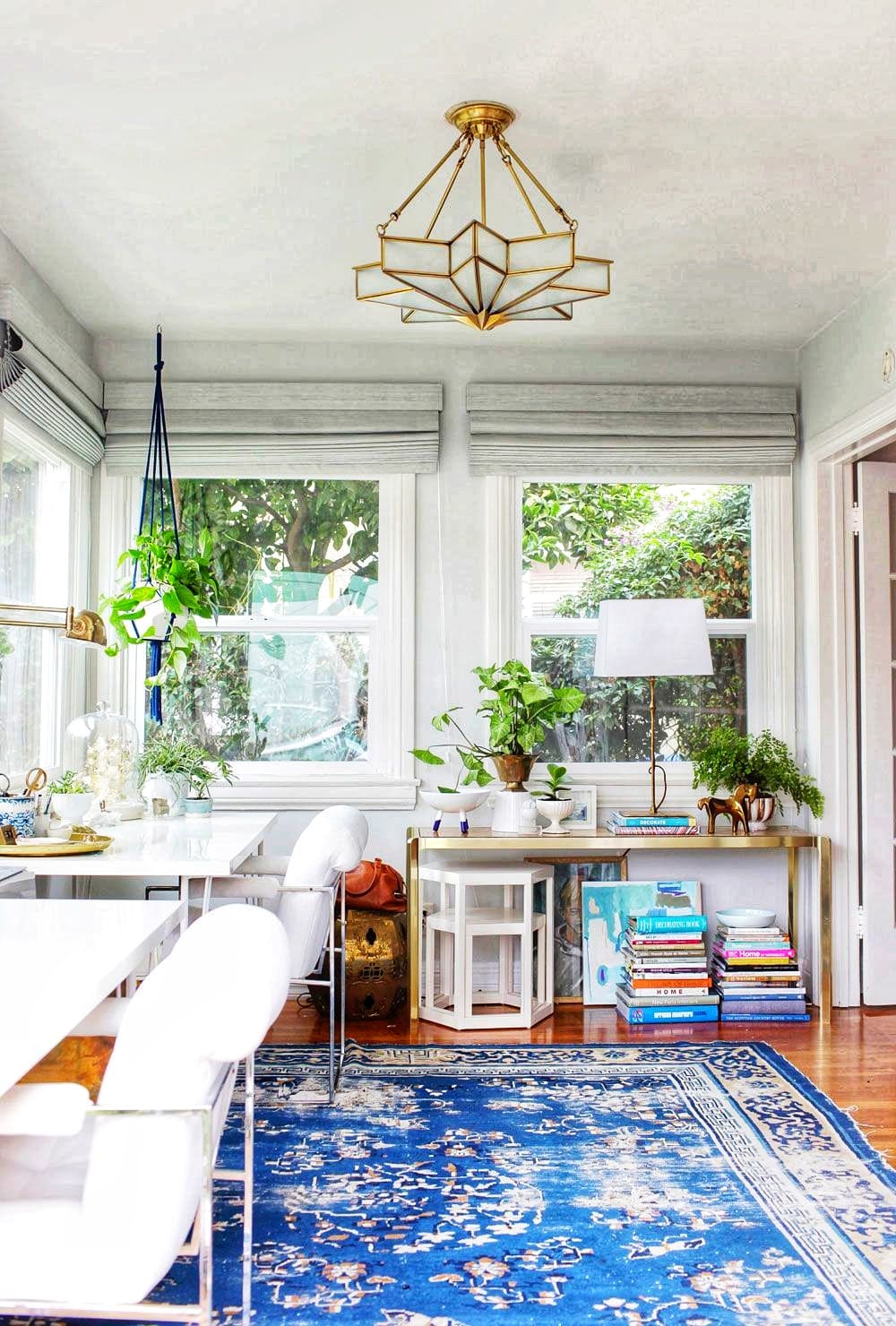 While sunrooms are usually used for relaxation and fun, there are people who prefer this kind of bright environment to set up their home office. If you have the possibility to work from home, transforming the sunroom into a home office sounds like a brilliant idea.




Time will fly by in a more pleasant manner when you're able to take advantage of some extra natural light. To complete this look, the only details needed are some comfortable desk chairs and a reliable Wi-Fi connection. Take a look at this ergonomic desk chair from Amazon that's been streamlined for optimal comfort.




6.

Patterned Sunroom





Does your sunroom feel a bit bland? A quick décor fix is to bring in some interesting patterns that add a bit of visual interest to the area. Check out this whimsical tented sunroom that takes your mind to a pleasure boat. In terms of materials, the combination of metal and wicker looks very eye-catching together with the blue-and-white striped patterns. The beachy influence is quite strong for this sunroom.




7.

Country House Retreat





This sunroom looks gorgeous due to its pale green palette which makes the room feel like a continuation from the surrounding outdoors. The earthy materials together with the light-filled vibe evoke a sense of country house retreat. We like the casual textures and simple elements that make this sunroom fitting for hanging out with the whole family.




8.

Luxurious Sunroom





Immediately after you step inside this sunroom, you will be delighted by the bold blue color scheme. The striking visual impact of the vibrant blue of the walls and doors is enhanced by the painted ceiling. There's definitely a luxurious ambiance crafted here while perfectly balancing the energizing drama with a sense of relaxation.




You can spot some antique furniture pieces that contribute to the elegance of this sunroom. Aside from the stylish sofa and leather armchairs, there's a vintage cocktail table and lighting fixtures that maintain a harmonious aesthetic. Acting as a side table, the stacked suitcases complete the overall look of this sunroom.




9.

Maximum Sunlight





If you wish to soak up as much sunlight as possible, then this kind of sunroom design should fit your tastes. There's a slight jungle inspiration here and the main decorative element is probably the outdoor world itself which you can admire in all its glory when sitting at the dining table. You can take advantage of the warming rays of the sun from almost any angle.




10.

Kids Playroom





Here's a solid idea if you want to give the sunroom a unique purpose. With the right furniture pieces and features, you can transform this sun-bathed area into a kids playroom. Regardless of the weather outside, children can keep playing inside in this kind of stylish and functional space.
The little tent is probably the main highlight in this sunroom, but you can decorate the playroom with other fun things to keep children occupied. The sunny vibe of this playroom enables you to feel more at ease if you were worried about children spending too much time indoors.




11.

Timeless Look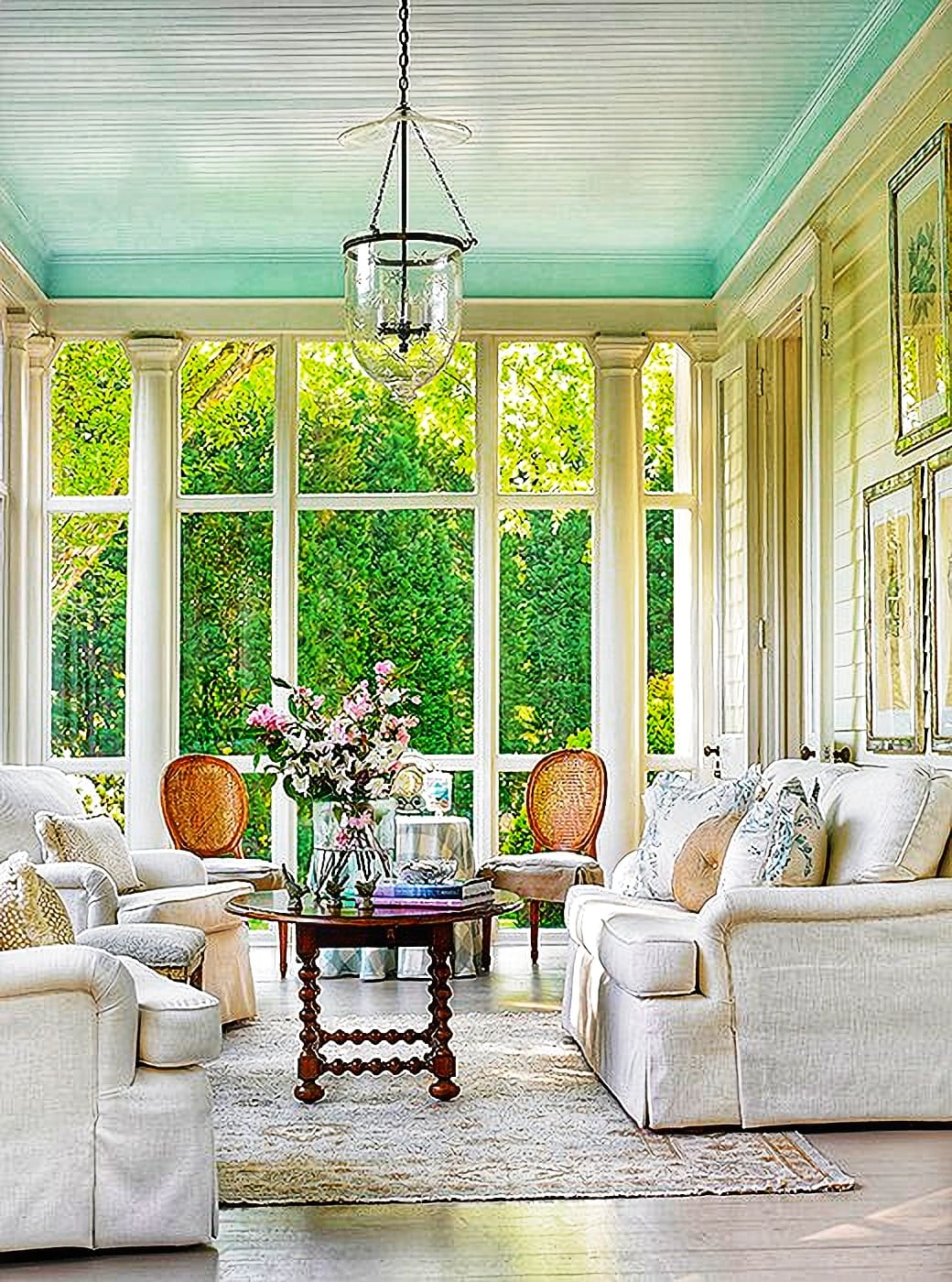 Traditional designs are some of the best you can try for a sunroom. A well-polished look is achieved here with the help of symmetrical furnishings and stylish upholstery. The shiny wood elements and small details like the wiggly legs of the coffee table contribute to a sunroom full of character.




A neutral color palette feels dominant here, but there are some accents that break up the monotony. The pale turquoise ceiling is a good example. Its visual impact is quite subtle forming a delicate pairing with the clean bell jar pendant light. Check out this similar light fixture from Amazon if you wish to get the same vibe for your sunroom.




12.

White Sunroom





An all-white color scheme contributes to a breezy vibe for the sunroom. It will also make this area seem like it extends outwards from your home. Monochromatic styles don't have to look bland. You can use your creativity to spice things up with some fitting accessories and give the sunroom a chic aesthetic.
In fact, that's the main advantage of white sunrooms as they allow you to craft a delicate and open room suitable for your specific aesthetic vision. The plants incorporated here make a nice transition to the outside world and infuse the place with some lively greenery.




13.

Cozy Sunroom





There's something about stone fireplaces that makes them great additions for a cozy atmosphere. This screened-in porch provides an exciting formula to create the ultimate inviting space. The stone fireplace is massive and contrasts beautifully with the red painted floor.




With this kind of comfortable design, the sunroom can easily become the most used room in the house. You just need some fitting seating options like the rustic hoop chairs here which have been outfitted with comfy throws and pillows. Regardless of the weather outside, this sunroom will provide some excellent hygge vibes.




14.

Large Bench





If you're undecided about the furnishings for your sunroom, perhaps this idea will offer you some inspiration. You can't go wrong with this kind of traditional design that makes use of a large bench with ivory upholstery.
The neutral palette doesn't make this sunroom stand out that much, but this fact helps to emphasize the décor pieces and architectural details of the room. A large fern sits on the pallet coffee table and offers a pop of vibrant green.




15.

Trendy Sunroom





Those looking to jump on the hottest interior design trends right now will probably love this stylish sunroom. The first thing that's immediately noticeable is the fun color palette which feels very teen-friendly. There's a great combination made by the soft pink pillows and the charcoal sofa.




A stand-out feature of this sunroom is the circular mirror that looks fabulous together with the bold wallpaper. Take a look at this round mirror from Amazon which creates a similar aesthetic. We also like the assortment of vibrant plants that complement the sunroom's décor.




16.

From Shed to Sunroom





Given how you might not have the available space or the required funds to add a sunroom to your home, why not transform an unused garden shed into a screened porch? This is a superb idea considering how you can breathe new life into an old area. It may take a bit of work to do this kind of bold makeover, but the result is simply stunning.
Lots of screen panels have been added to let the sun come through and the shed has been painted to match the boho vibes of the décor. Other elements that contribute to the aesthetic are fresh plants, rattan furniture, and string lights. Check out the full details of turning an old shed into a fabulous sunroom where you can hang out with your friends all day long.




17.

Sunroom Dining Area





Sunrooms focus primarily on relaxation and feeling closer to the natural world. While many people prefer to keep this room as a personal sanctuary, others want to give this place a more social purpose. This is done by creating a dining area on the sunny porch.
There's no need to go overboard with décor pieces thanks to the imposing presence of large windows. The outdoors serves as the perfect backdrop for a casual dinner with friends. A slight industrial vibe comes from the metal folding legs of the table and stainless-steel screens.




18.

Home Library Sunroom





The cozy nature of the sunroom makes it an ideal place to enjoy reading your favorite books. If you have the available space, you should consider integrating your book collection with the help of some built-in bookshelves. Reading in the sunroom feels incredibly relaxing. It's safe to say that it's one of the best activities you can do in this area considering the extra sunlight.




This sunroom offers an elegant example for a home library sunroom thanks to the matte olive green design which envelops the bookshelves, walls and the molding on the ceiling. The striped chair matches the patterned look of the Roman shades for a balanced visual effect.




19.

Small Sunroom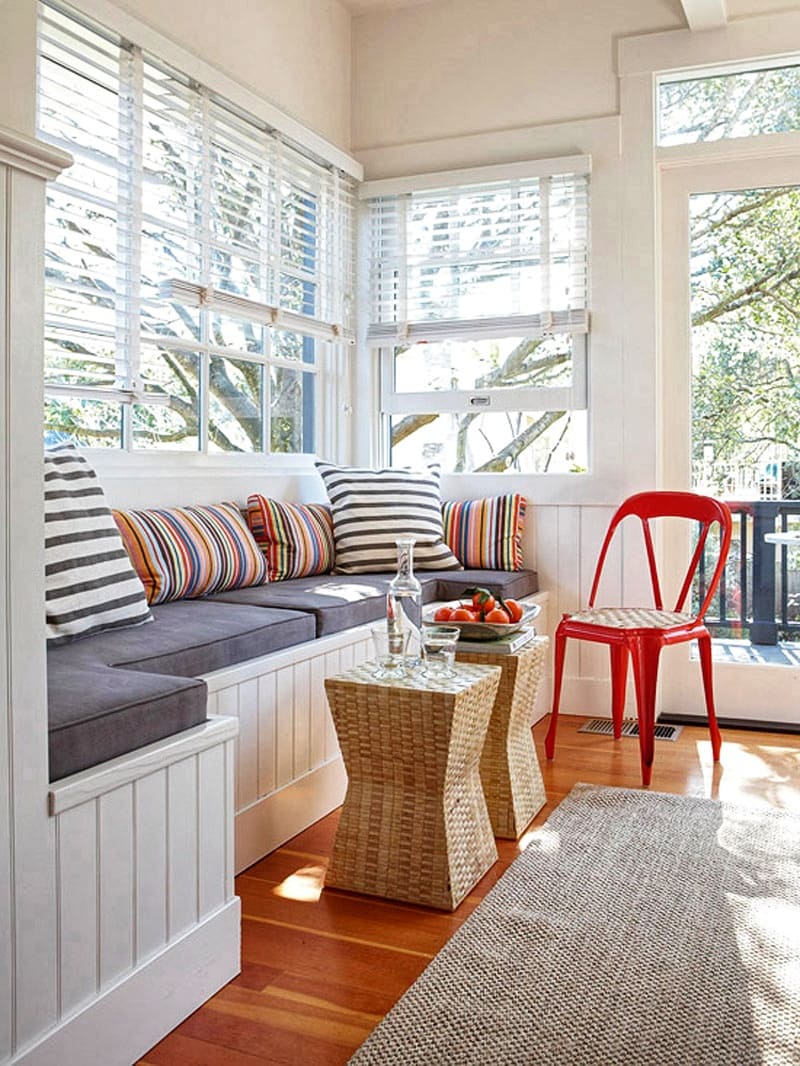 In case you lack the space for a full-fledged sunroom, you can still put your creativity to good use and find alternative solutions. The small sunroom shown here can inspire you to craft a similar look for your home. It's more like a part of the living room that's been enhanced with extra windows to create a little sunny corner.
To avoid clutter, the homeowner decided to include a built-in bench that offers plenty of storage space inside and some compact wicker stools. Similar to a meditation corner, you don't need a lot of space for a relaxing sunroom atmosphere.




20.

Natural Style





Sunrooms that incorporate mostly natural materials seem more pleasant and inviting. This is because of the casual vibe which enables you and your guests to relax with ease. Another great aspect of this approach is the way the sunroom reflects the natural beauty outdoors.




To obtain a more natural aesthetic, all you need to do is pay closer attention to the furnishings and accessories in the sunroom. The ivory sofa here feels warmer thanks to being paired with the wicker chair. The surrounding greenery and the rattan ottoman contribute to the casual ambiance as well.




21.

Hammock in the Sunroom





The fact that hammocks are usually associated with the outdoors make this a very alluring idea. Including a hammock in the sunroom sounds great as you're able to blend the indoors style of your house with a classic outdoors element. This means you can relax in the hammock whenever you want without worrying about the weather.
22.

Tropical Sunroom





A tropical aesthetic for the sunroom would be suitable if you live in a warm area and have palm trees outside your house. For obtaining this kind of vibe, it's recommended to use wooden and wicker furniture. Even if you have lots of surrounding plants and trees near the house, you can enhance the tropical atmosphere with some potted exotic plants. A source of ambient lighting is also welcomed.




23.

Garden-Inspired Sunroom





Take inspiration from the beauty of your garden if you wish to design the sunroom in a lovely way. There are many elements here that are carefully mixed together for an ideal marriage of the indoors and outdoors. One of the most striking combinations is made by the furnishings as the slipcover sofa is paired with black wicker chairs.




The distressed look of the metal side table provides a charming visual effect. We also like the large green artwork on the wall that reflects the natural world outside. The theme of this sunroom is the seamless integration of indoor and outdoor pieces.




24.

Guest Space





If you don't have a lot of space to accommodate guests, perhaps creating a sunroom for this purpose would be an ingenious idea. The idea is to include a built-in window seat that's flexible to allow guests to sleep on a comfortable bed when needed.
Considering the relaxing view of a sunroom, this is definitely an appealing way to impress your guests. Just make sure you include some blackout curtains so that everyone can adjust the level of sunlight to be most comfortable. Check out these 100% blackout curtains from Amazon.




25.

Sunroom with Glass Doors





Those who prefer to create a more versatile sunroom should take into account the idea of incorporating glass doors. This home's sunroom features matching glass doors because the area also acts as an entrance. It's safe to say that this sunroom feels closer to a patio thanks to its flexible design. The elegance of this sunroom is accentuated by the gallery wall and crystal chandelier.




26.

Outdoor Fireplace





Sunrooms reach their peak potential during the hot months of the year. Once the weather outside gets cold and dreary, using the sunroom isn't as fun and enjoyable. An interesting idea to extend the time spent in the sunroom is to add a fireplace which provides adequate heat to get you through the winter months. The standout feature in this colorful sunroom is the fireplace which allows you to take advantage of the cozy atmosphere inside for longer.




27.

Perfect Lounging Spot





After you've decided on the kind of aesthetic you want for your sunroom, the only thing left to do is to add some fitting furnishings and decorations. Given the main relaxation purpose of this area, seating plays a vital role. You need a nice way to lounge around whenever you feel the need to take a break from responsibilities.




As we've seen so far, including a hammock is a highly recommended seating option but another one that you should consider is the hanging chair. This could be a great accessory to improve your lazy Sundays in the sunroom. Here's a nice model from Amazon. To finish off this stylish look, you just need to add an indoor tree and a little bar area.




28.

Statement Piece





If your sunroom has a tall ceiling, you can take this opportunity to display a statement piece like a pendant light or chandelier. Choose a unique design if you'd like to add a whimsical touch to the area. The pendant light here adds some welcomed visual interest to the casual breakfast nook.




29.

Industrial Sunroom





Thanks to the lighting fixtures and custom-made furniture, this eye-catching sunroom has an industrial influence that sets it apart from others. We like the minimalist flair of the area that helps the industrial aesthetic.




Decorations are sparse and meaningful without making the room feel cold. The bluestone flooring also contributes to the rugged vibe of the industrial style. Check out this vintage pendant light from Amazon that provides a similar look.




30.

Modern Sunroom





Fans of modern aesthetics should check this sunroom designed to have a contemporary appeal. There's a lot of space available that gives the area a breezy vibe. Even if you don't have a large sunroom, the secret to pulling off a modern look lies in choosing the right furnishings and accessories. Don't be afraid to keep the area clutter-free and more minimalistic as this is always welcomed in contemporary designs.




31.

Trellis Design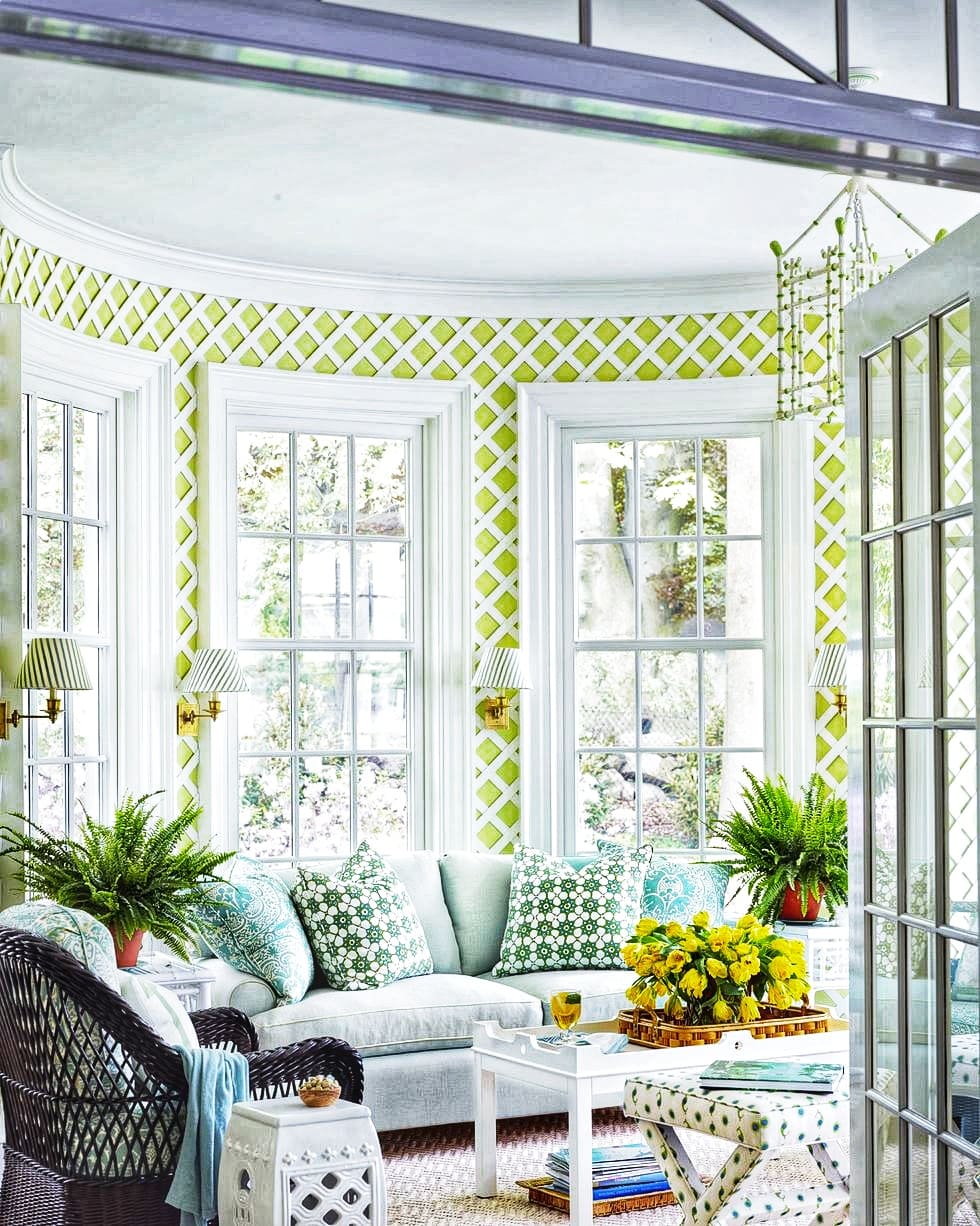 An easy way to enhance the summer vibe of your sunroom's décor is by using a trellis design. Combined with a coat of pale green paint, this area feels incredibly inviting. We like the focus on texture boasted by this sunroom as it follows the direction of the mounted latticework. The overall color scheme gives off a hearty garden feel.




32.

Chic Semi-Sunroom





While sunrooms are usually considered additional rooms in a house, there are some exceptions. Sometimes you might prefer to have a stronger outdoor influence and opt for a screened-in garden pavilion like this elegant semi-sunroom. You can dine in the backyard while avoiding the usual problems of unsuitable weather.




The dining table and chairs come with a distressed vintage look which seems very appealing in contrast with the luxurious style of the ceiling and frame of the sunroom.




33.

Neutral-Toned Sunroom





One of the most effective ways for your sunroom to get in touch with nature is to integrate neutral tones and organic textures. The whole point of a sunroom is to make you feel like you're lounging outdoors. This is why teak and wicker make a good combination when used for furnishings.
Shades of beige and tan dominate the color palette here allowing the patterns on the throw pillows and the splash of navy blue color from the cushions to act as beautiful accents. With the help of this neutral-toned sunroom, you can enjoy nature in a unique way.




34.

Farmhouse Sunroom





While this area was a porch originally, the entire structure has been covered and modified to create a farmhouse style sunroom. A wooden dining area has been included and there's enough space for a relaxation corner thanks to the placement of a rattan sofa.
Besides the wood furniture, the stone flooring also contributes to the farmhouse aesthetic of the sunroom. One final touch to complete the look is the addition of lantern-style lights. Take a look at this pendant light from Amazon that has a bit of farmhouse flair.