This post may contain references and links to products from our advertisers. We may receive commissions from certain links you click on our website. As an Amazon Associate Rhythm of the Home earns revenues from qualifying purchases.
Share this article:
1.

The Beauty of Gallery Walls
If you don't know what to do about that blank wall why not create a gallery wall to show off your unique style and personality through beautiful photos or artworks? Gallery walls represent the ideal solution to add some visual interest and contribute to the overall aesthetic of the room.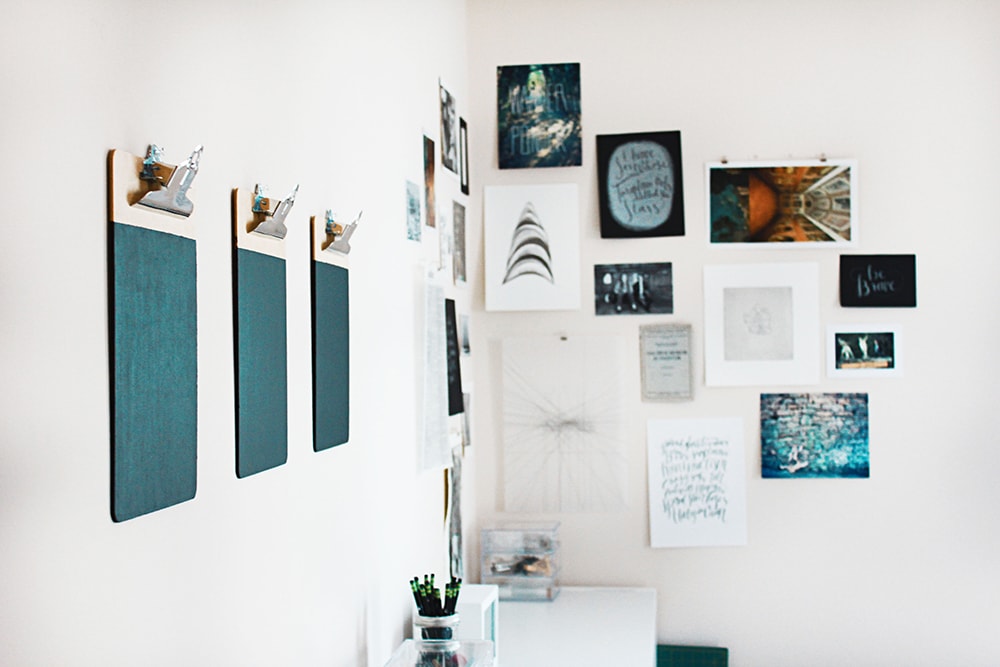 Guests will be intrigued by your sense of style and might be captivated by your particular arrangement. That being said, there are some important rules to follow when creating a gallery wall because if you're not careful, you might end up with a chaotic look that's unappealing. This article will show you some tips and tricks to ensure that your gallery walls will look perfect.




There's a bit of thoughtful planning involved, but there's no need to worry as gallery walls are simple projects that even novices can tackle without issues. It doesn't take a lot of effort to obtain some cohesive and well-polished results. Even if you have a specific aesthetic that you wish to restrict yourself to, these tips will allow you to get a professional-looking gallery wall full of visual elements that inspire you.
2.

Find the Right Style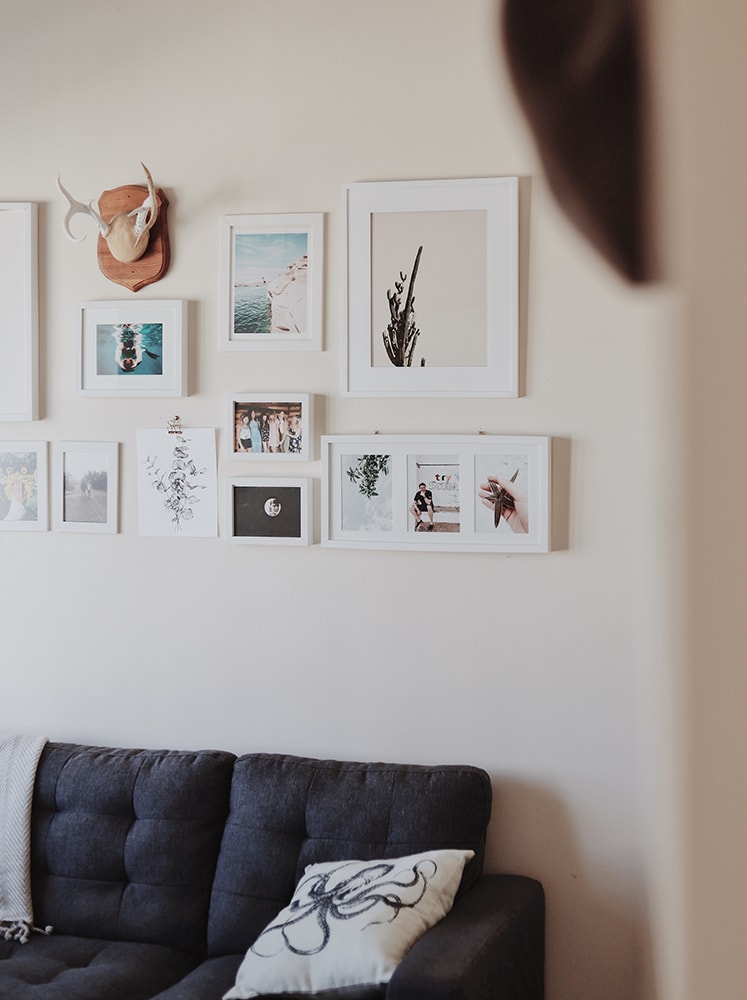 Before you go looking for the supplies to start building the gallery wall, it's critical to plan the aesthetic. Try to imagine how should your ideal arrangement look like. Some people prefer a bit of disorder and want to go for an eclectic design. Others might favor a more classic style which usually translates to a more structured approach. As opposed to gallery grids, you don't have to use frames in the same style or follow a specific color scheme. You can safely mix artworks with photos and other decorations and come up with your own unique look.
A great tip that you can use is to ensure that your grid is spaced-out sufficiently well. This helps to avoid situations where similar pieces end up clumped together. For best results, it's recommended to keep the frames evenly distributed throughout the gallery wall. It doesn't matter if you intend to use lots of frames or just a handful. Another good piece of advice is to make sure you pick a good spot for the gallery wall to show off your style.
3.

Lay it Out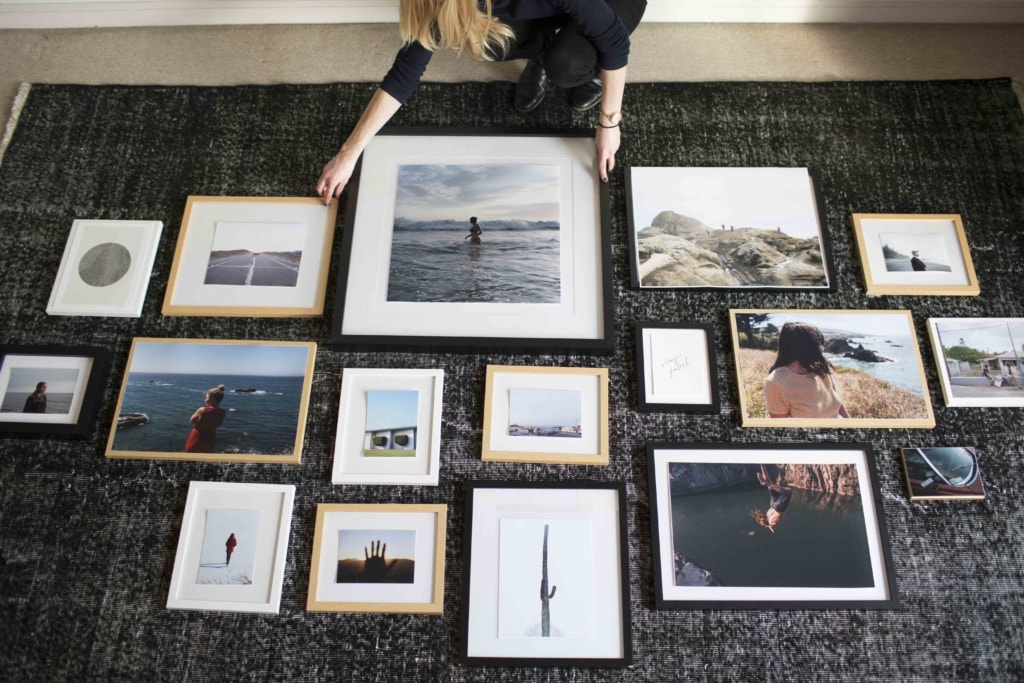 By now you probably have a rough idea about the design of your future gallery wall. It's tempting to grab the hammer and nails and start placing the frames. If you wish to get a perfect gallery wall, it's strongly recommended to lay out the pieces on the floor first. Unless you're highly experienced with interior design, you won't be able to visualize the placement of gallery wall pieces that precisely.




To make a successful arrangement, try to craft a good layout on the floor before moving over to the wall. A nice starting point to design the gallery wall is to figure out which elements can form the centerpiece of your composition. Then it's simply a matter of building the rest using that as a base. When you have similar artwork pieces, try to keep them separated to add some visual interest. The mixing of sculptural and framed pieces contributes to that same effect.
4.

Trace Your Frames
Use craft paper to trace the frames when you've decided on a specific layout. Cut out each frame and do a mock trial by placing the paper frames on the wall. Use a level like this one from Amazon to ensure that the frames are correctly placed. Tape them in the right order and step back to see if it's a good match for the nearby furniture.
Take the whole picture of the gallery wall of paper frames into consideration and analyze details such as height and filled space. While you may find this step unnecessary, it can actually save you a lot of frustration as you won't have to deal with unwanted nail holes. It will make the actual process of placing the frames a breeze.
5.

Apply the Frames
Once you're satisfied with the arrangement, the only task left to do is to apply the real frames themselves. Do some markings for the spots where the nail needs to be located by using the paper frames as guides. Some people might advise you to use double-sided adhesive instead of going the traditional nail and hammer route, but that only works well for smaller frames.




Don't forget to step back and admire your work after all the frames have been hung. Regardless of your stylistic choice, gallery walls have the power to capture the attention and transform any wall in the house in a focal point.
6.

Design Tips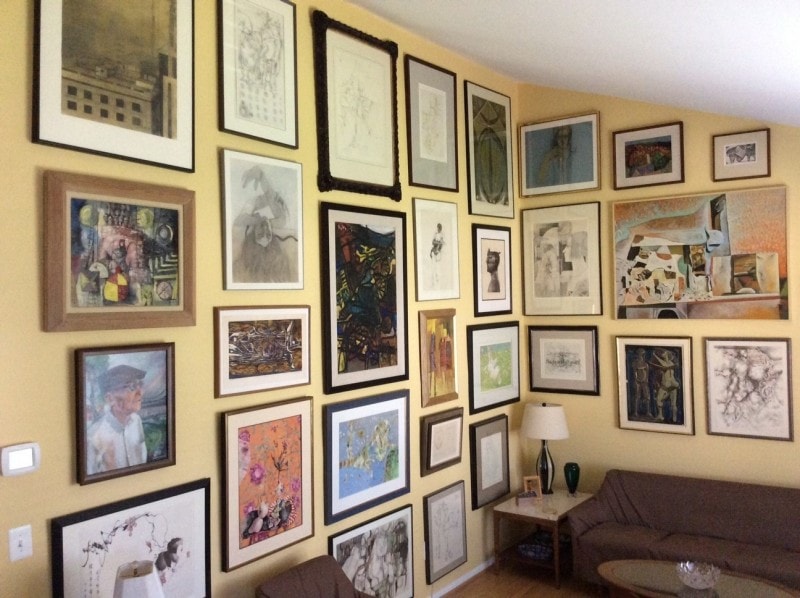 When you're deciding on a gallery wall style, it's a good idea to include some personal elements. Expressing your creativity is done best when you include a personal touch.

This also means that you don't really have to spend a lot of money on expensive art pieces. It's more about what those artworks or photographs mean to you. If you add a couple of sentimental pieces, you boost the value of the gallery wall and make it much more memorable.
A helpful tip when creating a gallery wall is to take your time. Lots of tasks can be done poorly if you rush them, and that includes building gallery walls. It may take more time than you'd expect to find the right pieces that suit your personal aesthetic. Good design is often curated so that means you have to sift through various choices before you arrive at the best decision.
Many people mistakenly believe that gallery walls have to fit a certain shape such as a rectangular one. Don't stick to a straightforward approach if you want your gallery wall to stand out. This means that you can opt for more interesting shapes and styles as well as work with other elements nearby such as the door, window, or TV. Try to think outside the box and craft a unique aesthetic to display your favorite artwork pieces.
Eclectic gallery walls will usually have the strongest visual impact. Go for this style if you're into that. Otherwise, if you feel that this kind of look would be too overwhelming, perhaps you will be better off by sticking to a theme.

Try to organize your art collection around a specific theme for a more cohesive look.

Maybe you're a fan of vintage photos or you wish to integrate the color scheme of the gallery wall with the room's décor. Adding some order to your arrangement will often work better for some particular projects.