This post may contain references and links to products from our advertisers. We may receive commissions from certain links you click on our website. As an Amazon Associate Rhythm of the Home earns revenues from qualifying purchases.
Share this article:
There is an art to decorating with throw pillows just as much as throw pillows are art on their own. On one hand, you may face the paradox of choice while sifting through hundreds of colors, shapes, textures, and sizes. But this decision is all the easier to make when you start your throw pillow designing with a location in mind.
From pushing up a bench in your foyer, adding accents to the living room sofa or creating the perfect mood in your bedroom, these are our favorite throw pillow decorating tricks that will spark your imagination to create the perfect look.
Whether you're designing for comfort or style, don't overlook the type of material that goes into the throw pillow. You want high-quality feather, synthetic down or foam so that the pillows keep their shape and form over the years. Get ready for a pillow party!
1.

Use Unique Textures
Textured throw pillows exude a sophisticated touch and add dynamics to your space. Try not to overdo it with all shag pillows, but rather balance textures with beaded pillows and flowy textures of ribbons and unique floral shapes.




The intention of a unique textured pillow should be to add dimension to the space and create an accent that pops among the surrounding elements. Go for a fluffy shag pillow in a color that creates contrast with the sofa fabric. Turquoise and teal textured pillows on any shade of grey sofa hint at calm and vibrant feelings that are easy on the eye.
2.

Pair Different Shapes and Sizes
Try mixing and matching pillows of different shapes and sizes, but lay them out in a way that doesn't overpower your sofa or bed. Stack just enough pillows to make the sofa look inviting without covering up the seating space. Pillow shapes with edges like squares and rectangles naturally blend with the shapes of common living room furniture, but don't be afraid to throw in a backrest style round pillow or saucer-shaped throw pillow into the mix!
You can pair a set of square pillows on both sides of a smaller rectangle shaped pillow for a balanced look, or go for a pillow set that features one design in multiple sizes. Pillow sets allow you to get creative with unique placements, and they are easier to pair since their dimensions and measurements have been well thought out.
3.

Combine Neutral Colors with Bold Colors
Make use and explore the powerful energy that is created by combining neutral tans, golds, and grays with bold colors like orange, yellow and blue. This is a simple way to place a boost of color in any space without appearing overbearing.




Place a single pillow of a bold color among a collection of other matching pillows to single it out. Tangerine orange pops on beige and grey fabrics nicely just as much as a fuchsia throw pillow does on white.
4.

Personalize Your Throw Pillows
The walls, desk, and mantles aren't the only places to decorate your home with family pictures or scenes of your favorite places. Similar to the classic quilt made of photographs, you can get creative with your throw pillows. Go for an antique look by using black and white family pictures on a white or black pillow.
For larger throw pillows, a picture collage is a great option and you can cover the entire pillow with images from edge to edge. Personalized throw pillows look great sitting at entryways and add a special touch to family rooms and breakfast nooks. Just be sure to choose high-quality pictures so the image appears nicely on the pillow fabric.
5.

Go Abstract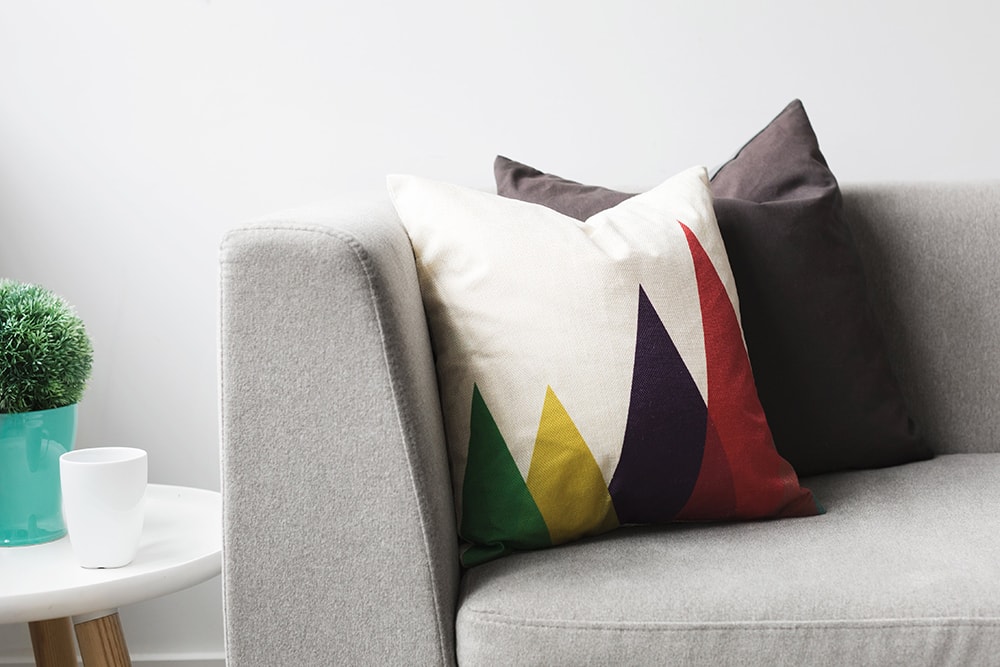 Sometimes matching gets boring. One of our favorite parts of designing with throw pillows is that they're not a stationary item. You can shift them around rooms and even pack them away when the seasons change. With that said, why not go over the top with wild designs and abstract throw pillows that create a standout impression?




From leopard prints to extra large shag pillows, make a purpose not to match the pillows to any decor at all. You might be surprised that the pillows end up matching at least one design element in the room after all. This is a great tactic to really break up the design of a room, but just enough so that it doesn't seem tacky or over the top.
6.

Use Rules of Symmetry
Nothing shouts perfection more than the eye-pleasing rule of symmetry. Incorporate symmetry into the layout of your throw pillows to create a balanced and inviting look. Sometimes this idea comes off as a bit too perfect, but that's the ultimate goal. It's the complete opposite of our fifth tip and a guaranteed way to design a cute sofa you'd rather stare at than sit in.
Throw pillows can be arranged in so many ways, but if you're the picky perfectionist type then go for this option. Once your design is balanced and set, try placing a smaller pillow in the front to attract the eye with a focal point.
7.

Match Pillows to Your Home Decor
Take a look around your space. Do you have high hanging curtains, rugs, painted walls, tiles or any other decorations that you could pair with your pillows. It's simple to match throw pillows with the design of your sofa or bed, but you can extend your favorite designs by matching throw pillows to other elements in your home.




Pull your room together by matching your curtains with a set of throw pillows or create contrast between a few pillows and the color of your carpet. The patterns do not need to be identical, nor does it need to come across as obvious – the goal is to complement the accents to keep your space stylish.
8.

Mix Earth Tones with Natural Accents
Pairing throw pillows with large natural accents like botanicals is a great way to add to the outdoor feeling inside your home. White throw pillows with green accents give off a fresh look when placed around plants.
This is a perfect tactic for outdoor patios. If you have an area landscaped with lava rocks, pair them to a set of white throw pillows. Other great options for pairing earth tones with natural accents are working with an exposed brick wall. Try pairing floral tones of orange, red and blue with red brick.
9.

Choose Colors in The Same Family
There's a pleasant design tactic for creating an appealing ombré effect using throw pillows simply by keeping the fabric of the pillow the same and working with different colors in the same color spectrum. If you have a neutral room, the ombré effect plays nicely to boost the color by using different shades of blue and green pillows.
For a mid-century modern look, try to keep all of the pillows the same size and choose fabrics with solid colors instead of patterns. You want the focus of the throw pillows to be on the color, rather than distract the eye with patterns.