This post may contain references and links to products from our advertisers. We may receive commissions from certain links you click on our website. As an Amazon Associate Rhythm of the Home earns revenues from qualifying purchases.
Share this article:
Styling a black sofa doesn't seem pretty difficult considering the impressive versatility of its color. Black can be paired effectively with almost any color meaning that you can create a variety of striking seating styles. Depending on the design of your black sofa, you will be able to decorate the living room with many distinctive aesthetics, including glamorous traditional styles and elegant modern looks. The fact that a neutral black sofa offers such great versatility can make it feel daunting when it comes to color selections and decor ideas.




Let's explore some inspirational design solutions to integrate the black sofa properly in the room and make the space as stylish as possible.
1. Try White for High Contrast





If your plan is to make the black sofa stand out in the room, the best idea is to combine it with a light color tone that will result in a strong contrasting effect. White represents the easiest choice because it's a breeze to implement in any room. The dark style of the sofa will stand out against crisp white walls. Take a look at this airy Mediterranean-inspired living room where the black leather sofa is elegantly highlighted thanks to the neutral white color palette.




2. Consider Green for a Dynamic Effect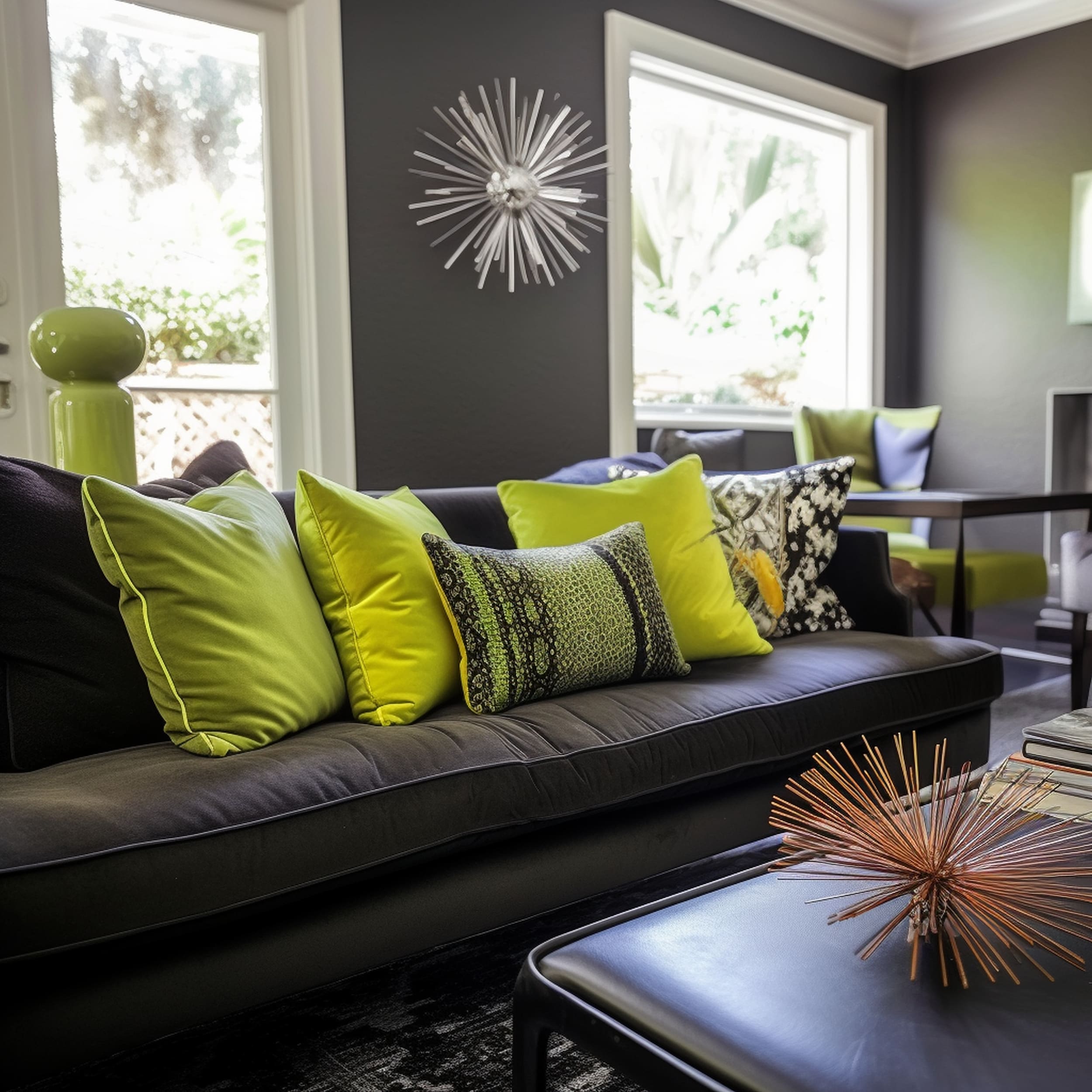 Green is another simple color to combine with the elegant look of a black sofa. It can be added through decorative accents like throw pillows and stools. These colorful elements can look more attractive next to a dark-toned sofa. Another great solution is to use plants to highlight the sofa. You can even frame the sofa effectively using outdoor greenery with the help of a large window. Lime green is an excellent shade to consider if you want to add some fresh energy to the style of the black sofa.




3. Use Wood Tones to Warm Up the Space





The neutral brown shade of wood works like a charm to elevate the visual appeal of your black sofa. It's an excellent color scheme idea for mid-century modern living room designs. The formal look of black furniture is nicely balanced by the rustic vibe of wood architectural elements and decorative accents. By surrounding the black sofa with warm wood tones, you will be able to create a cozy atmosphere and a design style that feels timeless.




4. Add Gold Accents for Extra Glamor





Want to make your black sofa appear more luxurious? The best solution is to pair it with gold accents that will highlight its dark beauty with some extra glamorous charm. A few touches of gold can be used effectively to enhance the look of your black sofa. Consider blending the couch with an accent wall in a matching black tone to make a truly dramatic visual statement. Gold accents can be used through different elements such as table lamps, throw pillows, coffee tables, and simple creative lines to emphasize wall art frames.




5. Bring Sophistication With Shades of Gray





Fans of monochromatic design styles should try mixing shades of gray with the black sofa. It will result in a mature look that seems formal and sophisticated. A light gray wallpaper can add some visual interest in the living room while contrasting with the dark-toned sofa. Create a textural mix with the help of a soft gray rug that goes well with the glossy style of the black leather upholstering. Finish the luxurious monochromatic look with the help of a metal silver-toned coffee table and dark gray flooring.




6. Include Warm Neutrals for a Cozy Traditional Look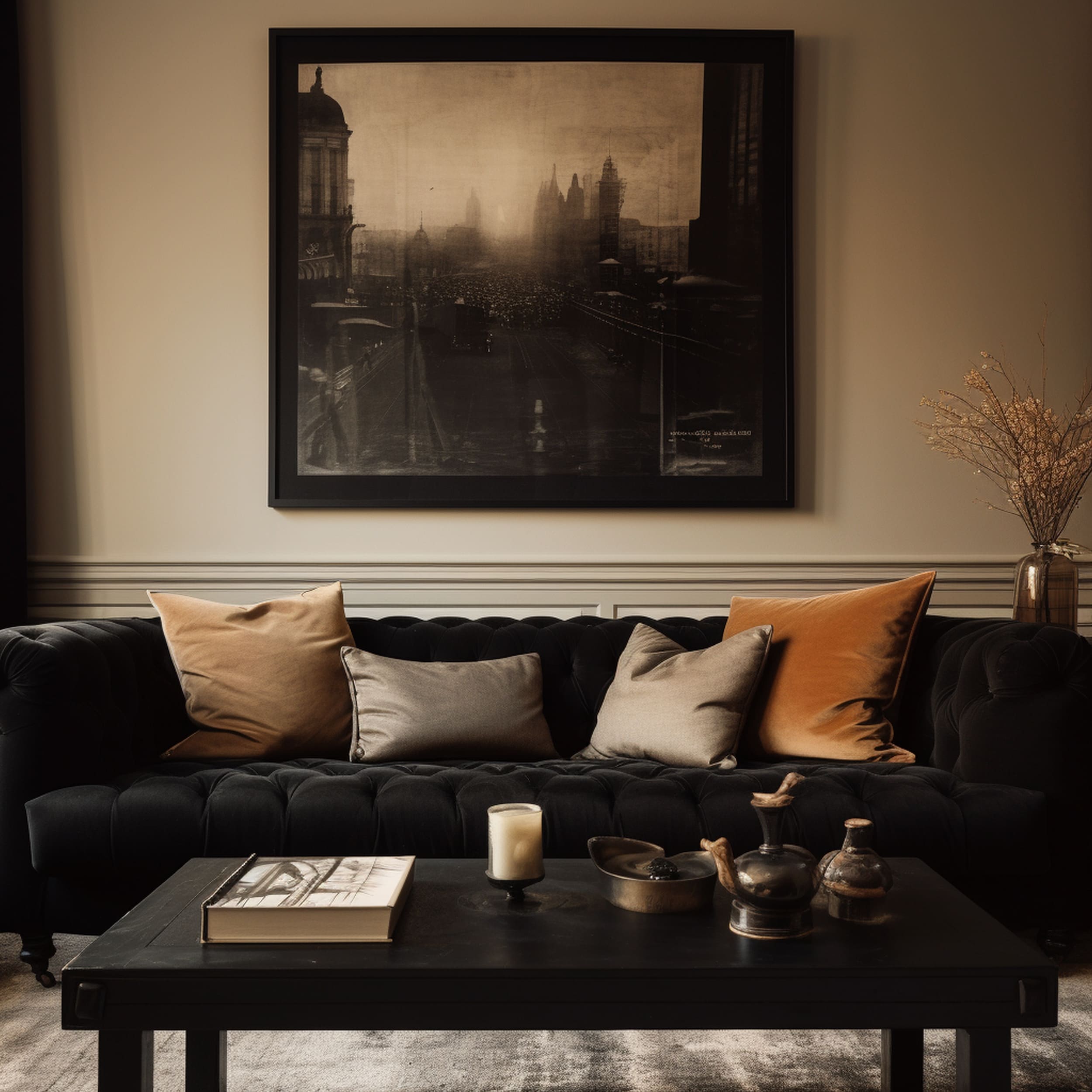 Although black sofas seem to work best with modern interior decor styles, their elegant vibe is also suitable for traditional spaces. If you're looking to make the black sofa cozier, your best bet is to rely on a warm neutral color palette. Tones of beige and cream will ensure that your black sofa feels more casual and welcoming without appearing out of place alongside traditional furnishings and decorations. Black is a dark neutral color and you'll end up with a fresh contrast that doesn't overwhelm the eye.




7. Mix a Bit of Intense Red for Romantic Charm





Red and black together can form a potent combination with a romantic flair. It could be a solid design approach if you envision a maximalist living room. Due to its natural intensity, red is best used in smaller doses, especially against black furniture elements. Throw pillows and wall art are some of the easiest ways to mix touches of red with a black sofa. If you wish to avoid a bold romantic look that might feel cliche, it's recommended to bring red together with elegant cold tones such as navy blue.




8. Decorate With Other Black Elements for a Matching Aesthetic





Having the black sofa as the only dark-toned element in the room might not always be ideal. It can attract too much attention and affect the visual harmony of the space. Including additional black elements is a great solution to maintain a sense of cohesiveness. However, there's a considerable risk of creating a look that's too somber if you integrate other dark furniture pieces and decorations alongside the black sofa. Make sure you use a solid neutral base when designing the room with various black elements.