This post may contain references and links to products from our advertisers. We may receive commissions from certain links you click on our website. As an Amazon Associate Rhythm of the Home earns revenues from qualifying purchases.
Share this article:
Creating a 'drop zone' in your entryway represents a smart decluttering idea to try. This is a recommended solution if your mornings are really chaotic and you often struggle to find essential items like keys or umbrellas. Not having well-defined areas to leave your stuff can be more than just a simple annoyance. You might end up late going to work or lose a very important thing that's difficult to replace. Instead of a disorganized entryway packed with random clutter everywhere, get inspired by the following genius drop zone ideas to restore order to your home.




1. Bulletin Board





With the help of a bulletin board, you will be able to keep track of various items in one place more conveniently. You can use it as a drop zone for mail and notes or organize your calendar schedule more effectively. The bulletin board can also fulfill a decorative role if you choose to display some treasured artwork pieces.




2. Storage Bench





Furniture items that can handle double duty work very well to reduce clutter in the entryway. A bench that features built-in storage can act as a drop zone for shoes. It's particularly convenient to store shoes in this way because they're easier to grab when sitting on the bench to put them on.




3. Woven Baskets





Whether you prefer a traditional or contemporary entryway look, woven baskets seem universal as drop zone storage solutions. Even the most basic basket styles work perfectly to keep your things organized waiting to be grabbed as you leave the house. Although great for decluttering, woven baskets can also bring a charming decorative touch to the entryway. Check out this beautiful set of wicker baskets.




4. Woven Tray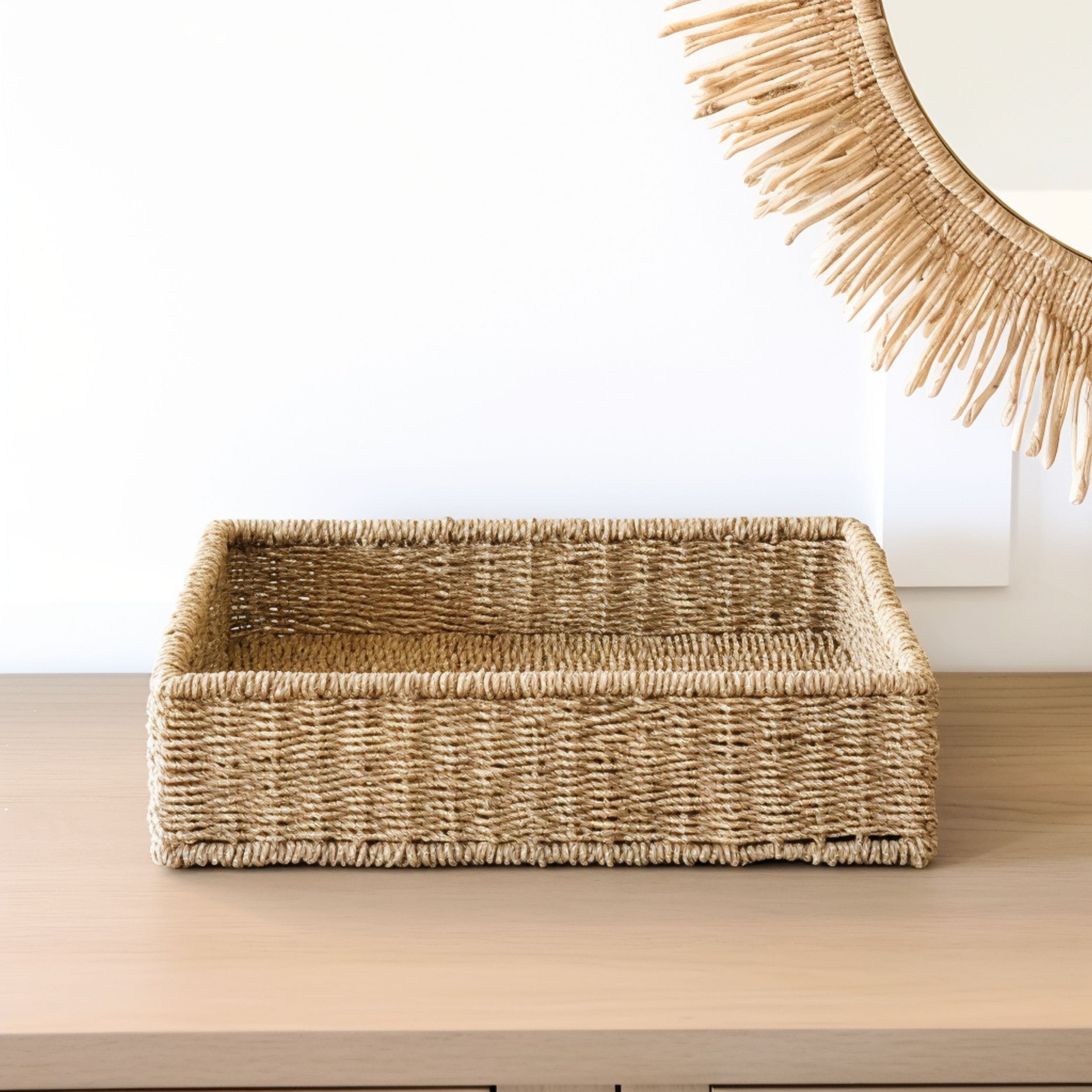 Similar to the previous drop zone idea, you can also pick a gorgeous woven tray as a practical storage solution for any small accessories. Whether it's made from seagrass or rattan, this type of serving tray can bring solid functionality to the entryway. It helps to declutter without taking up too much space. When you also take into account the durability and natural vibe of the material, this becomes a very attractive drop zone entryway addition. Try this woven tray.




5. Stylish Cubbies





Many entryway furniture pieces are equipped with built-in cubbies that provide unparalleled storage flexibility. Although most homeowners use them to store shoes, you can also organize other kinds of items more efficiently. The cubbies can work as a drop zone for accessories like hats and scarves. You can place identical baskets in each cubby to keep similar things together more easily.




6. Rustic Vibe





If you want to add some rustic vibes to your mudroom, consider including wooden crates that function as individual drop zones for different members of the family. You can personalize them with names or numbers. Together with the calming blue paint, the storage crates give off an authentic DIY rustic feel that's incredibly stylish.




7. Lots of Hooks





Making use of all the vertical space available in the entryway is an important aspect when it comes to creating a drop zone. Some people might argue that using lots of hooks can be detrimental to your decluttering goals. However, it doesn't hurt to display some well-chosen accessories such as wicker bags and stray hats. This simple bohemian-inspired drop zone is packed with great style.




8. Proper Labeling





Maintaining the entryway clutter-free doesn't have to be such an arduous task. Good storage containers take care of that. The challenging part is organizing the items to always have an easy time when searching for any particular thing. This job can be efficiently managed with the help of a proper labeling system. This ensures everyone in the household knows where to drop specific items while colorful labels can contribute to the overall style of the entryway area.




9. Color-Coded Alcove





Looking for a fun way to encourage children to be more organized with their stuff? A clever solution involves the repurposing of an entryway niche. You can dedicate this area to a kid-friendly space to store shoes. By using color-coded cubbies positioned at a convenient height for children, you will be able to maintain a clutter-free entryway even if you have a big family.




10. Compact Drop Zone





Just because you live in a small apartment doesn't mean you can't take advantage of the decluttering effect of a drop zone. Having a small entryway can pose a challenge but it's often enough to set up a small table and a few wall hooks to enhance the organization of essential accessories. The concept of a drop zone has evolved considerably but you don't need a grand mudroom-style area to reduce clutter.




11. Floating Cabinet





Want a neat and minimalist-looking entryway? Consider creating a drop zone by adding a floating cabinet that brings convenient storage with a minimal footprint. The result is an airy atmosphere as the cabinet is attached directly to the wall leaving open space underneath. Essentials that you need to grab quickly before you exit the home can be left out on a sleek tray or bowl on the cabinet.




12. Organized Drawers





Gathering all the items lying around the entryway and throwing them in a drawer haphazardly isn't a good way to get rid of clutter. It's important to maintain your drop zone organized, whether things are stored out in the open or hidden away in some drawers. If you can't remember what kind of items each drawer should contain, consider using labels. The inside of the drawer can be efficiently organized with the help of separate containers and little boxes.




13. Beadboard Backing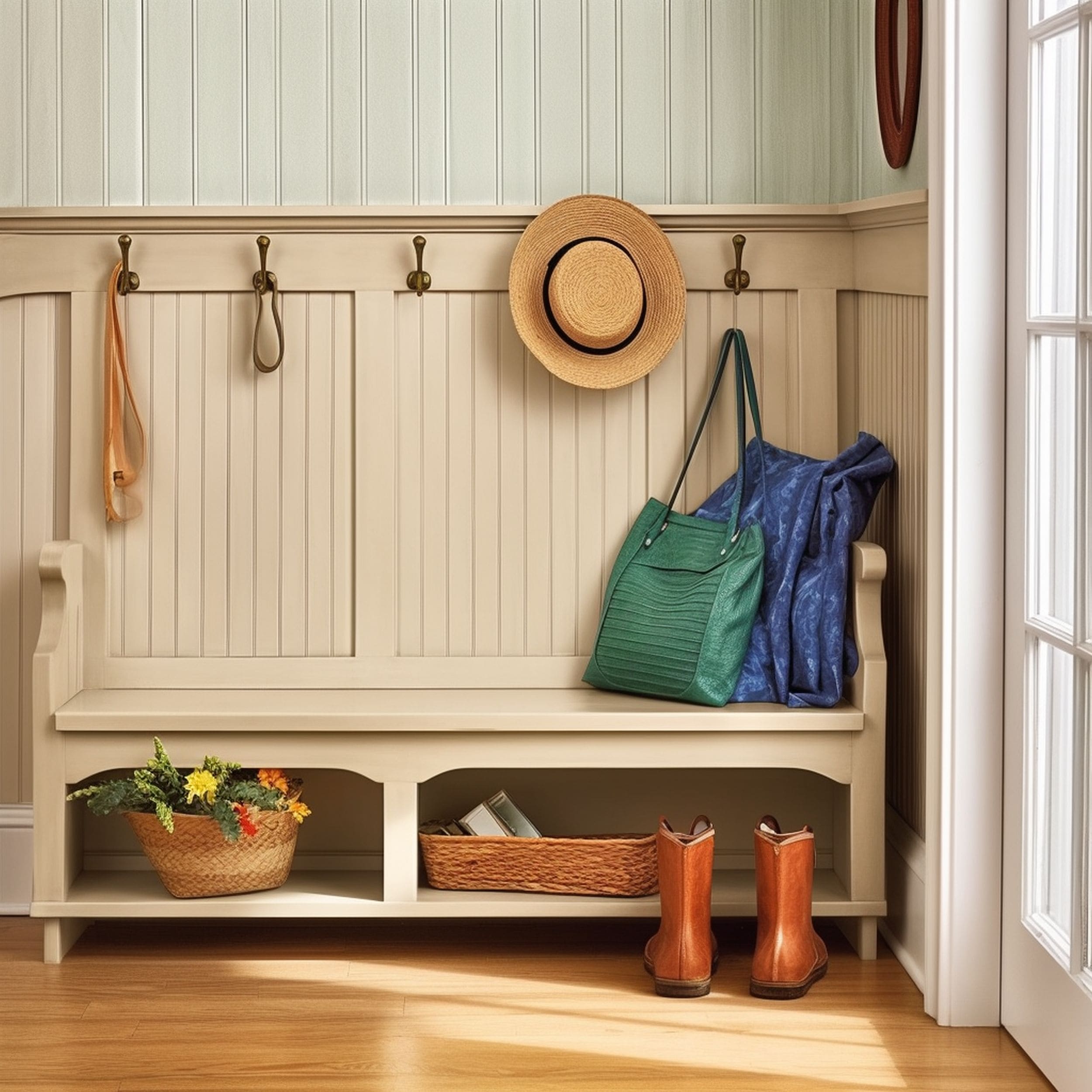 Instead of a plain bench and an empty wall, you can take advantage of beadboard backing to add a touch of style to your drop zone. Check out this neutral beige beadboard that brings a charming visual effect to the entryway. It also provides some extra functionality because various items can be hung or displayed on the shelf at the top. The beadboard is seamlessly integrated with a bench to provide matching seating.




14. Multiple Storage Options





Combining multiple storage options together can help you keep the clutter in check. This could be particularly important for small entryways where you need to make the most out of the available space. Adding a console table with drawers is a great start for a drop zone but you can expand the storage capabilities with additional baskets or accessories that cover double duty.




15. Pet Gear Storage





Pet owners should also take into account the needs of their pets when designing a clutter-free drop zone in the entryway. This location is perfect to set aside a basket that contains all the pet toys and other essential gear. When it's time for a backyard playtime session, you can conveniently take out the dedicated container of the pet right as you're getting ready to leave the house. This is a solid solution to the issue of dog toy clutter.




16. Key Holder





Tired of misplacing your keys? The best way to stay more organized is with the help of a dedicated holder to enhance the functionality of your entryway. Check out this practical organizer from Amazon that can become a reliable addition to your drop zone. It features multiple hooks with attractive rounded knobs where you can hang various sets of keys. Mail or other accessories can be stored on the incorporated floating shelf.




17. Compact Bench





Not everyone may have the necessary entryway space to accommodate a standard-sized bench. Thankfully, compact seating options exist and they can be a convenient solution for any drop zone. This tiny bench arrives with hidden shoe storage to ensure quick access to all essential footwear needed when you're getting ready to leave the home. It's totally possible to create a practical drop zone in the entryway even when space comes at a premium.




18. Rustic Charm





Just because you prefer a more traditional entryway aesthetic doesn't mean you have to deal with rampant clutter. A rustic console table and vintage wire baskets will ensure that you get to enjoy an efficiently organized drop zone with minimal effort. Complete the traditional vibe with an antique mirror frame or wood ceiling beams. The sturdy stone floor keeps mud at bay while contributing to the cozy charm of this rustic space.