This post may contain references and links to products from our advertisers. We may receive commissions from certain links you click on our website. As an Amazon Associate Rhythm of the Home earns revenues from qualifying purchases.
Share this article:
With their neutral color style and practical storage features, wicker baskets are extremely popular among homeowners. The woven aesthetic brings a pleasant textural touch to any décor style while the natural vibe allows the basket to fit nicely into different aesthetic themes. Wicker baskets are amazingly versatile when it comes to matching various interior design styles such as minimalist, bohemian, Scandinavian, farmhouse, and many more. That being said, these baskets are mainly prized for their practical abilities because they're ideal for organizing things around the house and keeping clutter at bay.
There are lots of types of wicker baskets on the market. If you're primarily interested in a low footprint, your best bet is to purchase a hanging wicker basket. Using vertical space in the home is a more efficient storage solution compared to others. A high-quality hanging wicker basket needs to be practical to store various items while also enhancing the beauty of the wall or whatever else is used for mounting the baskets. Check out the following selection of products focused on the best hanging wicker baskets in terms of functionality and style.
Buy On AmazonBuy On WalmartBuy On Home Depot
A great set for anyone who needs hanging wicker baskets, this model from La Jolie Muse could be a stylish storage solution worth trying. There are two baskets provided in the set and they're both crafted from natural seagrass. The result is a beautiful handmade product that's also very eco-friendly. The woven basket offers a faux leather handle sturdily attached to its wicker body to ensure proper hanging anywhere.
Whether you wish to organize daily essentials or plan to create an inviting display of some of your favorite decorations, these wicker baskets are highly versatile. Aside from basic storage, you can simply hang them on the wall with dry plants to add a stunning natural touch to the room. The fibers of water hyacinth haven't been treated by chemicals to let you admire their natural beauty wherever you choose to hang the baskets.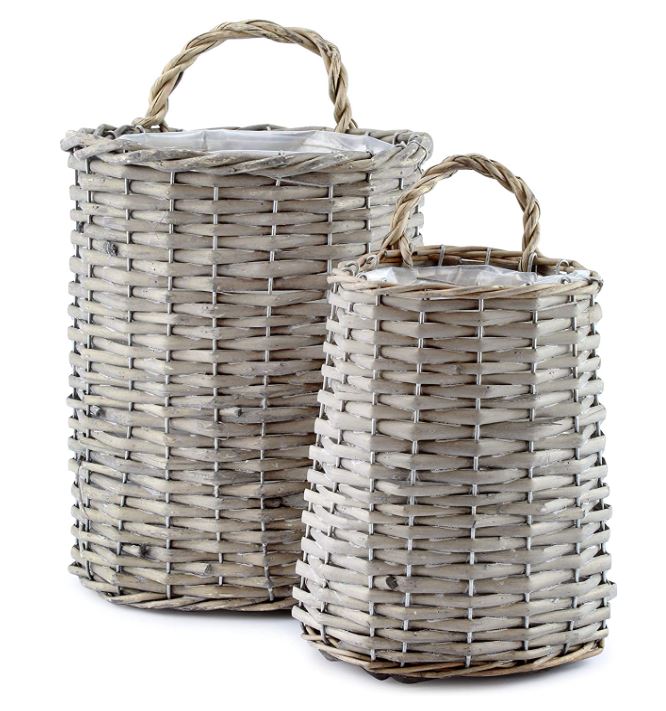 Buy On AmazonBuy On WalmartBuy On Home Depot
If you're searching for a farmhouse-styled hanger wicker basket, this set made by AuldHome could be an excellent pick. These are different-sized wicker baskets featuring a gray washed finish that adds a vintage vibe to the woven rattan construction. Fans of rustic country aesthetics will be pleased by the decorative potential of these hanging wicker baskets. They can match both traditional and modern farmhouse themes.
Thanks to having a plastic interior liner, the basket can be used to create a floral display on the wall. The handle of the basket is also crafted from rattan with a matching finish. To maximize durability, the woven fibers are reinforced with a metal wire frame. This ensures that you don't have to worry about storing or displaying heavier items. You can create a rustic "vase" for dried flowers or greenery arrangements. Despite the decorative focus, this hanging wicker basket is also recommended for practical storage.
Buy On AmazonBuy On WalmartBuy On Home Depot
Designed with versatility in mind, the StorageWorks hanging wicker basket could be a must-have addition to the kitchen or bathroom. This is a practical set that can help you store various essentials or accessories as well as creative stylish décor displays. There are two natural wicker baskets provided in this pack. With the help of strong metal hooks, you can hang the baskets anywhere you need functional storage.
The set of baskets offers different material styles to choose from. Whether you opt for the seagrass or the water hyacinth version, it's safe to say that both provide the same natural vibe thanks to the wicker woven design. The reduced size of the basket makes it ideally suited for the organization of smaller items such as toiletries, condiments, postcards, makeup, etc. The two wicker baskets included here feature the same size to create a uniform display on the wall.
Buy On AmazonBuy On WalmartBuy On Home Depot
Anyone looking for creating a stylish household decoration should try Motina's hanging wicker basket. This model brings a charming visual appeal through its natural woven rattan construction. Thanks to its spacious design and neutral color scheme, it can be easily integrated into many different applications. The hanging ability makes the wicker basket particularly practical if you wish to create a balcony garden.
This basket is equipped with a plastic film inside to cover multiple planting needs. This is a special lining that retains moisture while keeping the environment breathable for the health of your hanging plants. Installing this wicker basket is a breeze considering the built-in handle made of the same rattan material that offers flexible mounting options. Keep in mind that it's built exclusively for hanging as it won't stand up on a tabletop. Suitable for both interior and exterior use, the Motina hanging wicker basket represents a great investment for the cost.
Buy On AmazonBuy On WalmartBuy On Home Depot
With a sturdy frame and classic country design, this hanging wicker basket represents a valuable choice for the cost. It's made by MyGift and features space-saving construction to help you store various items vertically without taking up extra square footage in the room. The large storage space inside the basket seems suitable for organizing your books, magazines, remotes, and other essential accessories.
When it comes to durability, this wicker basket won't disappoint. It's made using extra-sturdy seagrass that's been carefully woven to show off a beautiful texture. As opposed to other hanging baskets on the market, this model is more versatile because it features a flat bottom to stand up easily on tabletops. In terms of installation user-friendliness, the basket comes with two steel brackets for convenient rear mounting on the wall. Overall, this is a practical storage solution for decluttering the home in style.
Buy On AmazonBuy On WalmartBuy On Home Depot
The mDesign hanging wicker basket combines functionality and coastal-inspired aesthetics to help you store various essentials throughout the home. There's plenty of space to organize things such as books, mail, scarves, toiletries, and more. This is a set of two woven water hyacinth baskets that appear perfectly suited for a boho-styled interior. The size makes the basket ideal for coordinated storage but you can also display some lovely decorations as well.
With the help of their built-in brackets and handles, the baskets provide flexible mounting options. The flat bottom can also let it stand up easily on flat surfaces. Even if you don't have some fancy décor pieces or eye-catching plants to display, the wicker baskets can serve a solid decorative purpose by themselves when hung on the wall. It's worth mentioning that one of the baskets in this set is larger to contribute to the better overall organization of stored items.