This post may contain references and links to products from our advertisers. We may receive commissions from certain links you click on our website. As an Amazon Associate Rhythm of the Home earns revenues from qualifying purchases.
Share this article:
Floating shelves are both attractive and incredibly practical as a storage solution. Thanks to their minimalist design with hidden hardware, they're suitable for any home décor style. The main advantage of a floating shelf is that it doesn't take up precious floor space. You can think of it as a sleek way to store and display items even in areas where space comes at a premium. Floating shelves are particularly recommended for entryways because these areas are often small and cannot accommodate bulky furniture items.
If you just need to store a few small items and accessories at a convenient-to-reach height, floating shelves provide great functionality for the entryway. There's also some great décor potential to make a pleasant first impression when receiving guests. The market offers many floating shelf options specifically designed to be used in the entryway. If you're interested in that kind of minimalist storage solution, check out our top picks. We've selected the best floating entryway shelves in terms of durability, aesthetics, and overall value for the price.
Buy On AmazonBuy On WalmartBuy On Home Depot
Easy to install and sturdily built, the Prepac floating shelf represents an excellent pick for your entryway. It's available in different color finishes to match pretty much any décor style. There are also multiple sizes available to work around wall space constraints. This shelf is intended to let you keep all the important belongings easily accessible as you leave the house. Aside from shelf cubbies, you can also take advantage of small hooks to add various clothing items.
The compartments of this entryway shelf should provide generous storage space while letting you add some décor pieces as well. While the shelf is crafted from composite wood, it benefits from a laminated finish that makes it more resistant to wear. Installation might appear a little daunting at first, but Prepac provides an advanced hanging rail system to simplify the job. Make sure you rely on wall studs when mounting the shelf to safely hold the weight of coats and other heavy items.
Buy On AmazonBuy On WalmartBuy On Home Depot
Designed as a stylish organizer, the Dahey floating entryway shelf has a lot to offer for the money. This model provides the convenient organization of keys, sunglasses, and other small items usually kept in the entryway. It also features a dedicated space for storing mail and newspapers. Aside from its practical abilities, this floating shelf can also bring a decorative effect to the entryway through its stylish wood construction.
The shelf is available in different finishes to help you choose according to your personal style. If you favor a more traditional design aesthetic, the rustic brown finish would work like a charm. Those who prefer modern home styles should probably go for a sleek black or white finish to create a consistent look. Installation is a breeze given the reduced size of this floating entryway shelf. The required nails are included in the package.
Buy On AmazonBuy On WalmartBuy On Home Depot
If you're searching for a vintage-style entryway shelf, consider this model made by MyGift. It features a distressed wood design that works beautifully with many contemporary décor styles. This is a fairly small shelf that's suitable for a small area such as the entryway. It comes with four sturdy metal hooks where you can store keys, pet leashes, or other lightweight accessories that can be hung.
In terms of mounting difficulty, this floating shelf arrives with all the necessary hardware to be quickly and efficiently attached to the wall. While this is an ideal entryway shelf, it's safe to say it can work nicely for other areas of the house such as the kitchen or bedroom. There's not a lot of storage space provided but that's expected considering the reduced dimensions of the shelf. You can bring a few personal and decorative items to spruce up the style of the entryway.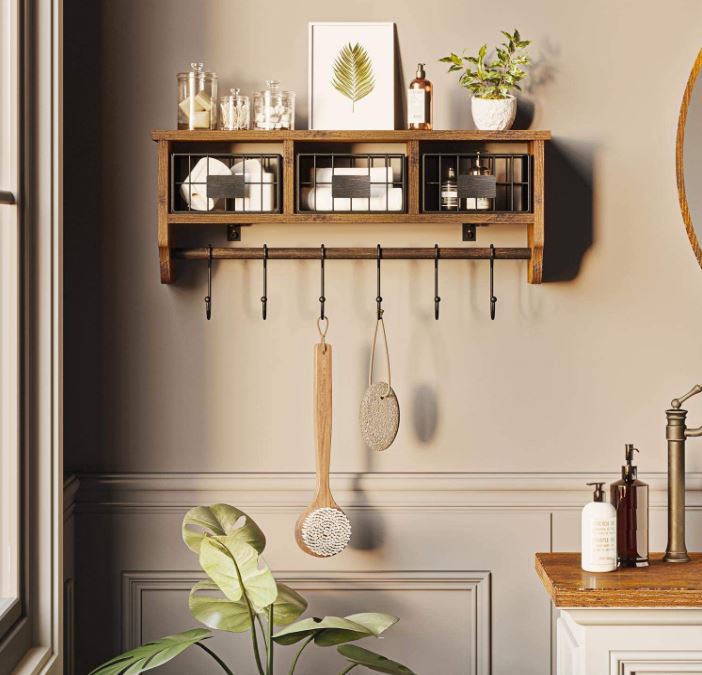 Buy On AmazonBuy On WalmartBuy On Home Depot
The Rolanstar floating shelf can be considered a great choice to organize the entryway area more efficiently. This isn't just a basic shelf as it contains practical cabinets and long hooks to enhance functionality to a new level. Thanks to its floating design, the shelf can save a lot of space while delivering a generous area for storing essential items. The strong hooks can be used to hang clothing items and accessories while the top shelf allows you to display extra décor pieces.
When it comes to décor appeal, this entryway shelf seems quite promising. It's built using engineered wood that has a rustic brown finish to match most interior design styles without problems. The construction material is simple to maintain clean while offering decent resistance to general wear. In terms of assembly, there's a bit of work involved, but the instructions are very user-friendly to speed up the process.
Buy On AmazonBuy On WalmartBuy On Home Depot
Anyone who wants to get their hands on a sleek floating shelf for the entryway should take a close look at Rebee Vision. This company offers a premium key hanger incorporated into a minimalist floating shelf. It provides a simple yet effective upgrade to the way you're organizing small accessories when leaving or entering the home. The shelf is primarily designed to store a variety of items like mail, newspapers, and sunglasses.
To match your home design aesthetic, this entryway shelf comes in a stylish selection of color finishes such as gray, brown, black, and white. The wood boasts a weathered finish that looks particularly attractive in rustic or industrial-styled interiors. This floating shelf is equipped with European-style hooks that match the antique design of the wood. Additionally, the cut-shaped black panel contributes to the overall elegant appearance of the floating shelf.
Buy On AmazonBuy On WalmartBuy On Home Depot
With a rustic farmhouse design, the Sageme floating shelf could be a must-have addition to the entryway. It makes a great first impression through its slightly distressed pinewood finish and matte black key hooks. There are other versions with bronze hooks or lighter-toned wood finishes if you prefer a different aesthetic. Regardless of your choice, this floating shelf looks stunning in any room designed in a country style.
When it comes to functionality, this entryway shelf won't disappoint. It provides a space-saving storage solution while allowing the more reliable organization of keys or small accessories such as pet leashes. The shelf has a fairly small size which makes it only suitable for items with reduced dimensions. It's mainly recommended for displaying some cute décor pieces or photo frames. Installation is a breeze thanks to the sturdy mounting hardware supplied in the package.