This post may contain references and links to products from our advertisers. We may receive commissions from certain links you click on our website. As an Amazon Associate Rhythm of the Home earns revenues from qualifying purchases.
Share this article:
Are you looking to make a great first impression when guests visit your home? The right furniture pieces and decorative accessories can help you achieve an ideal look and the most welcoming atmosphere for any visitor. A stylish bench can be considered an essential element that shouldn't miss from your entryway. Aside from the visual upgrade provided by the bench, this piece of furniture is just as important for its practical benefits. It's a convenient spot that lets you put on or take off shoes.
Considering its functional role, the entryway needs to be comfortable. Many homeowners may enjoy the idea of a multi-functional entryway bench that provides generous storage space for shoes or other important accessories. Versatility could be a key factor when deciding to purchase this kind of bench. However, it's very important not to neglect the decorative potential of the bench. It's among the first things seen by your guests which means it should pack a considerable visual punch. Take a look at the following entryway benches that provide the best features for the money. We've focused on a varied selection of stylish and practical models to help you make a smart investment for your home.
Buy On AmazonBuy On WalmartBuy On Home Depot
Designed to strike a great balance between functionality and style, the ACME Furniture Charla represents an excellent bench to add to your entryway. It's crafted from sturdy oak wood while the durable polyester upholstery is available in a nice selection of colors to match the aesthetic vibe of your home. The cushion provides generous padding for a decent level of comfort while sitting.
When it comes to storage capacity, this entryway bench provides a slatted shelf where you can easily organize shoes or other items. Thanks to the tufted buttons and tapered design of the legs, this entryway bench can be easily incorporated into traditional and contemporary home interiors. The fairly minimalistic style of its design is reminiscent of the clean lines of craftsman furniture. The polyester upholstery can only accept spot cleaning but that's not a big issue considering the overall good resistance to stains.
Buy On AmazonBuy On WalmartBuy On Home Depot
If you're searching for a more minimalist-style entryway bench, Décor Therapy Kyoto could be more up your alley. This is a solid wood model that could be ideal for transitional interiors. It's available in multiple neutral tones such as black, white, and gray. The bench isn't particularly large meaning that it can fit smaller areas without problems. While it lacks advanced storage features, the bench provides a lower shelf to make it more functional.
The main highlight of this bench is its attractive look considering the clean lines and modern finish. It's a fairly versatile furniture piece because you can easily customize it to your liking with accent pillows or find a different location to place it. When it comes to assembly work, there's minimal effort involved in putting together this bench. It takes less than 10 minutes to mount it in your favorite entryway spot to welcome guests.
Buy On AmazonBuy On WalmartBuy On Home Depot
The HomePop ottoman-style bench could be an essential addition to the entryway. It's crafted using a stylish combination of metal and faux leather to impress any arriving guests. The fabric upholstering is available in different colors while evoking a sense of masculinity together with the sharp metal lines of the black frame. Whether you prefer a rustic or industrial aesthetic, this entryway bench represents a great fit for your home.
Although the bench is designed with a pretty large open frame, it doesn't occupy a lot of space in the room. The open design contributes to an airy vibe of the furniture piece as it prevents the bench from overwhelming the space. There are no dedicated storage features but you can use the area under the bench for organizing some things. The use of faux leather makes the upholstery very easy to maintain in top condition.
Buy On AmazonBuy On WalmartBuy On Home Depot
With a set of shoe racks and comfortable padding, the Songmics entryway bench brings a lot of functionality to your home. This model is equipped with a dense layer of foam to create a comfortable sitting experience. The texture of the linen fabric used on the upholstery contributes to that impression. It's a breathable fabric style that looks quite attractive as well in any contemporary décor setting.
When it comes to storage features, this bench seems perfectly suited for the entryway considering the sturdy incorporated racks. You can use them to store and organize shoes more conveniently. The powder-coated metal frame of the bench can hold quite a bit of weight as it's rated to support a maximum of 440 pounds. There are no worries about wobbling while the size of the racks allows users to store up to eight pairs of shoes.
Buy On AmazonBuy On WalmartBuy On Home Depot
If you like the idea of an entryway bench with multiple storage features, check out Sauder North Avenue. This model provides open storage through its dedicated rack underneath but also comes equipped with hidden storage inside the seat. Just flip up the panel to reveal a convenient compartment where you can keep various entryway essentials without cluttering up the space. There's a practical divider inside to enhance organization.
In terms of materials used, the bench relies on engineered wood with a gorgeous smoked oak finish. The frame is crafted from strong powder-coated metal. The design is based around simple lines which evoke an industrial feel together with the rustic brown finish. There's no fabric upholstery or foam padding provided which reduces the level of comfort. However, this is a reliable storage bench that you can embellish with some comfy pillows if you prefer.
Buy On AmazonBuy On WalmartBuy On Home Depot
Anyone who prefers the visual appeal of modern industrial design would be pleased to have the Whitmor entryway bench. It features a distinctive look thanks to a stylish combination of engineered wood and powder-coated metal. This is a rectangular bench equipped with a practical storage rack for shoes or other accessories. It's ideal for the entryway considering the lightweight construction and small footprint.
Assembling this industrial-style bench is a breeze because no special tools are needed. The wooden top shelf sits on a sturdy steel frame and can hold a maximum weight of 250 pounds. It's a great bench for sitting but it also offers a decorative touch to the entryway. The woodgrain has a slightly distressed look that matches the rustic aesthetic often found in modern industrial interiors. Overall, this entryway bench promises great value for the money.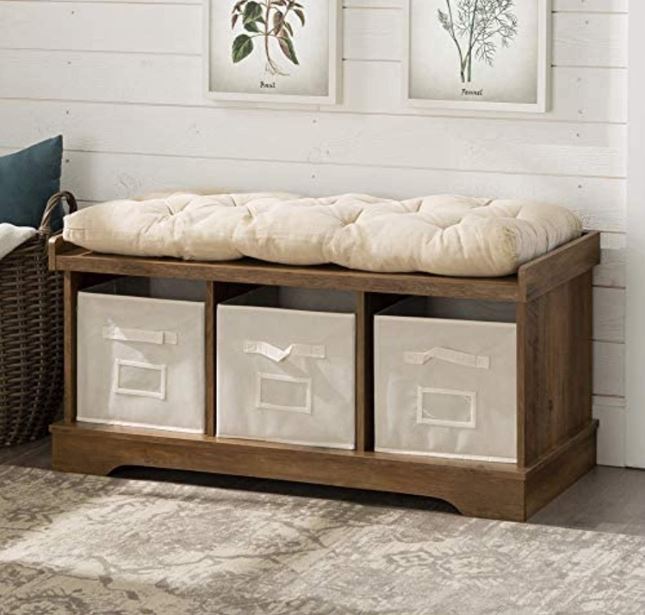 Buy On AmazonBuy On Walmart
There are lots of rustic-styled entryway benches on the market but they're not particularly versatile. If you're searching for a fresh design suitable for both traditional and modern interiors, take a close look at this farmhouse bench from Walker Edison. It delivers plenty of rustic visual appeal while showing off distinctive elegance to match any contemporary décor style. Aside from its attractive wooden look, the bench boasts some reliable practical features as well.
Thanks to its dedicated cubbies and included bins, the bench allows you to organize entryway essentials more conveniently. As opposed to other wooden benches out there, this model offers better comfort with its fluffy cotton cushion that matches the style of the storage bins. When it comes to colors, the engineered wood frame can be purchased in many different finishes such as rustic oak, espresso brown, dark walnut, and barnwood.