This post may contain references and links to products from our advertisers. We may receive commissions from certain links you click on our website. As an Amazon Associate Rhythm of the Home earns revenues from qualifying purchases.
Share this article:
The beauty of a red brick house cannot be underestimated. This traditional exterior finish offers a rich combination of texture and color to enhance the beauty of the home with an air of distinguished character. If you have a red brick house, you need to pay attention when choosing a front door paint color as not all styles go well with the bold intensity of red shades. The brick exterior will not have such a great visual impact unless you complement its traditional look with a matching door color. Here are the best paint colors for the front door of your red brick house to make a solid first impression.




1. Brown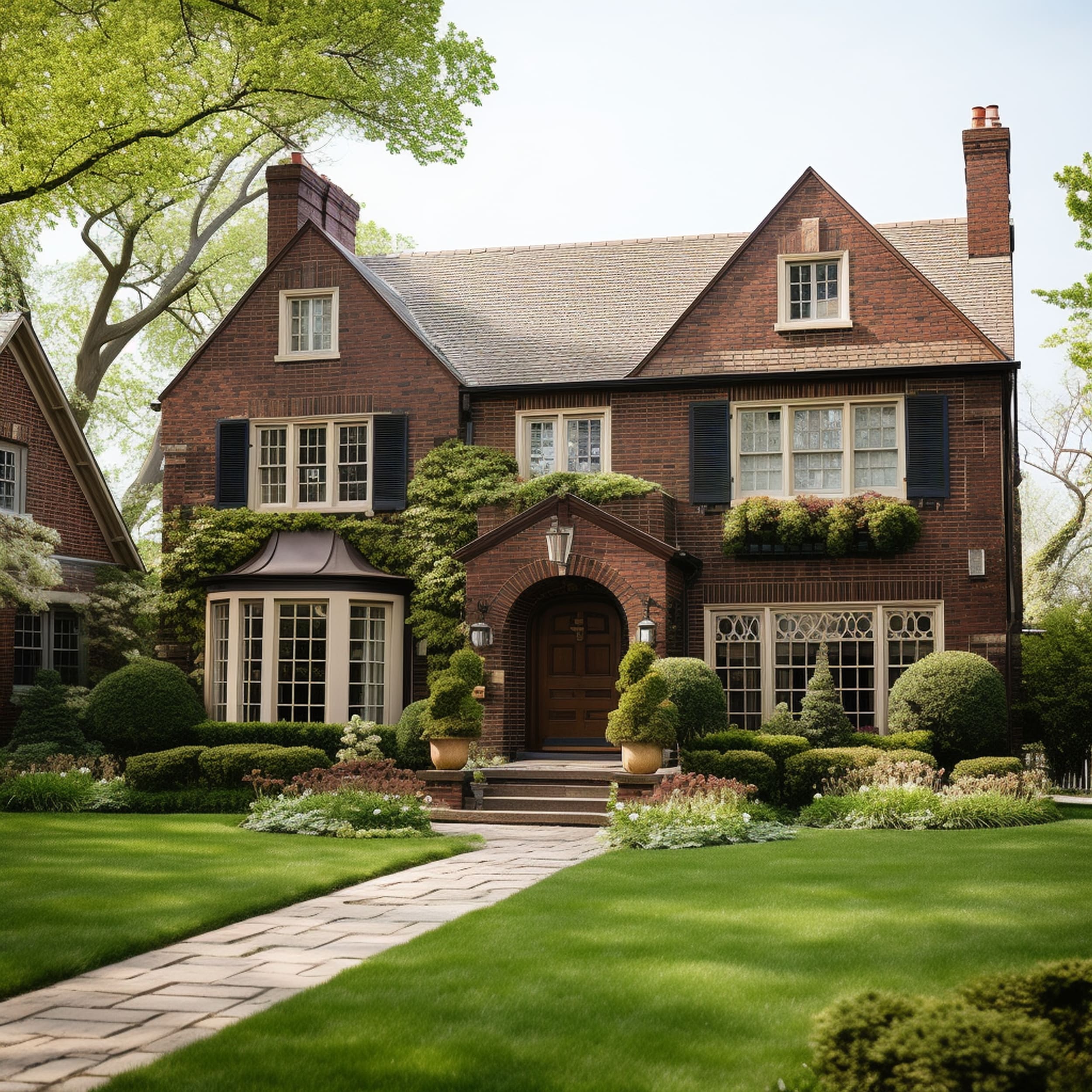 If your red brick house has a traditional design, painting the front door brown could be a safe choice to obtain a timeless look. Depending on the brightness of the red brick exterior, it's recommended to pick a suitable brown tone. Consider a chocolate brown shade that's rich and dark if your house features a lighter brick style. It can create a more accentuated contrast effect and helps to highlight the beauty of the brick even further.




2. White





White is a classic neutral color tone to use against the vibrant red backdrop of a stylish brick house. Aside from its versatile ability to integrate with different brick finishes, white has great potential in terms of highlighting the front door and making the entire entryway area more welcoming. A white front door is also capable of brightening up the entire exterior of the house. It goes particularly well with red brick exterior designs that incorporate thicker white lines resulting in a more inviting atmosphere.




3. Yellow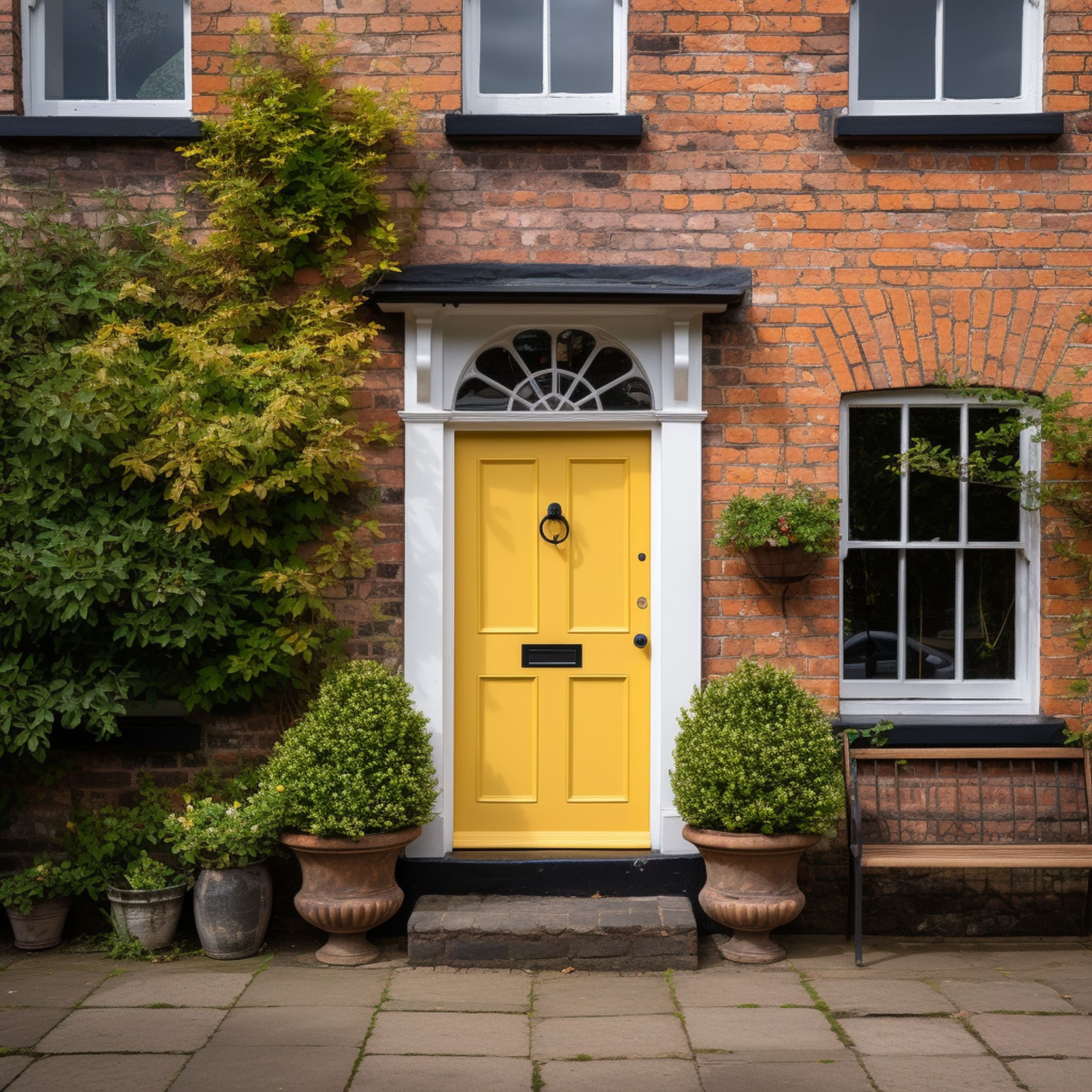 Looking to make the front door of the brick house more eye-catching? Try using a bolder color such as yellow to complement the reddish appeal of the home's exterior. Yellow may not seem like a great option considering its excessive vibrancy and cheery vibe. It's best to select a more muted shade like a dark mustard which complements red brick quite effectively. Bolder tones of yellow can also be used effectively if you're going for a more intense visual impression.




4. Black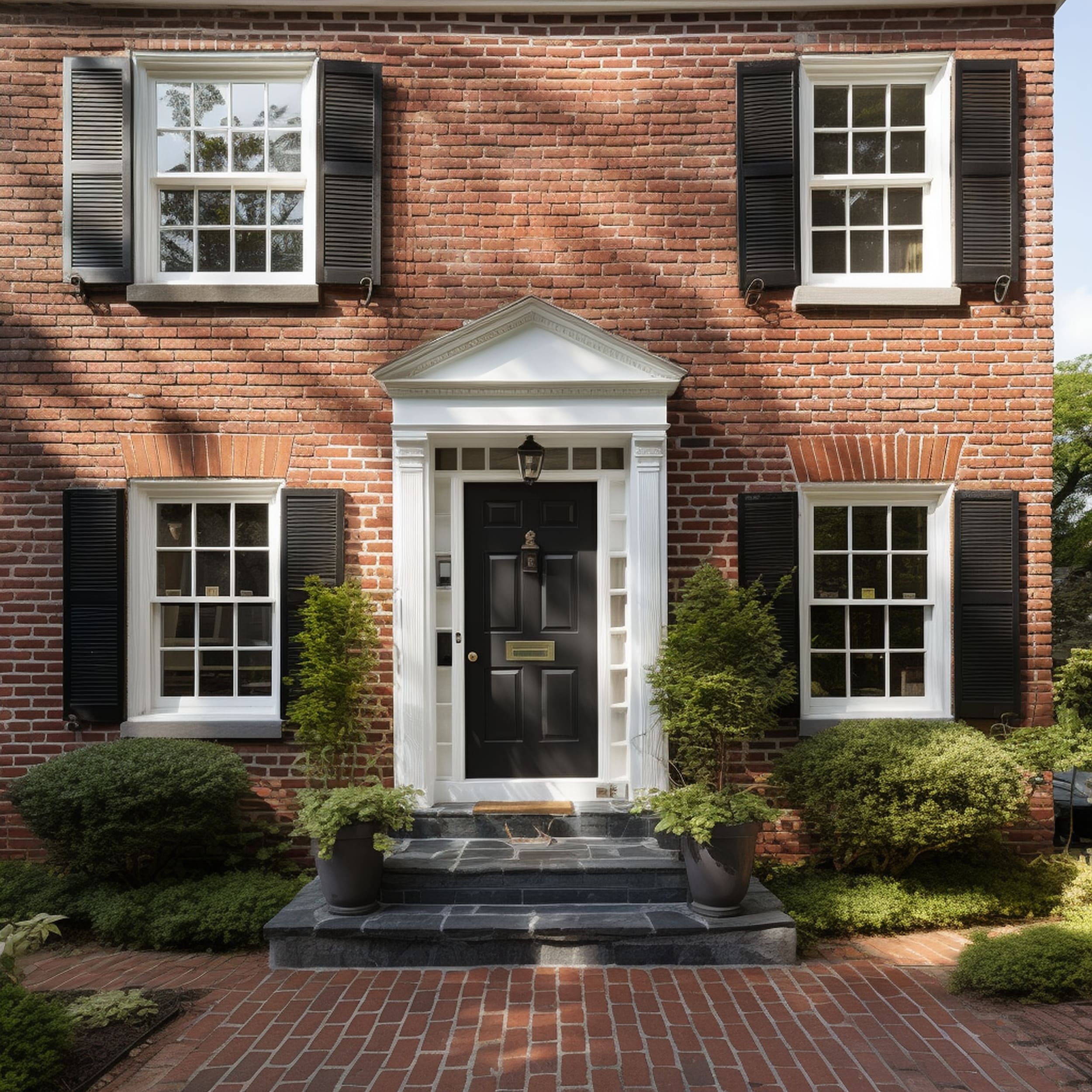 Black brings a sophisticated touch of elegance to a red brick house, especially if it features traditional architectural details. Together with matching window shutters, the black front door of this home creates a stunning look that feels incredibly fresh. Although black is neutral enough to be paired with any brick tone, it's safe to say that it elevates the style of red bricks most effectively. It enhances the natural vibrancy of traditional red brick to highlight the timeless beauty of this material.




5. Red





Red front doors can stand out a little too much against houses whose exterior features plain neutral colors. However, this intense color shade makes a completely different statement in a red brick house. The exciting energy of red is matched by the front door to ensure you'll make a great first impression on your guests. There's no warmer color than red so it won't be difficult to increase curb appeal and transform the entryway with an inviting air.




6. Pink





Anyone who wants to add a whimsical vibe to their red brick house should consider painting the front door in a pretty shade of pink. This is an unexpected color that works surprisingly well against the traditional aesthetic of red brick. It adds some distinctive charm to the entryway bringing the entire area up to speed with the current design trends. Pink provides a touch of femininity to the red brick exterior while the pop of color can match the vibrant plant life in the front garden.




7. Blue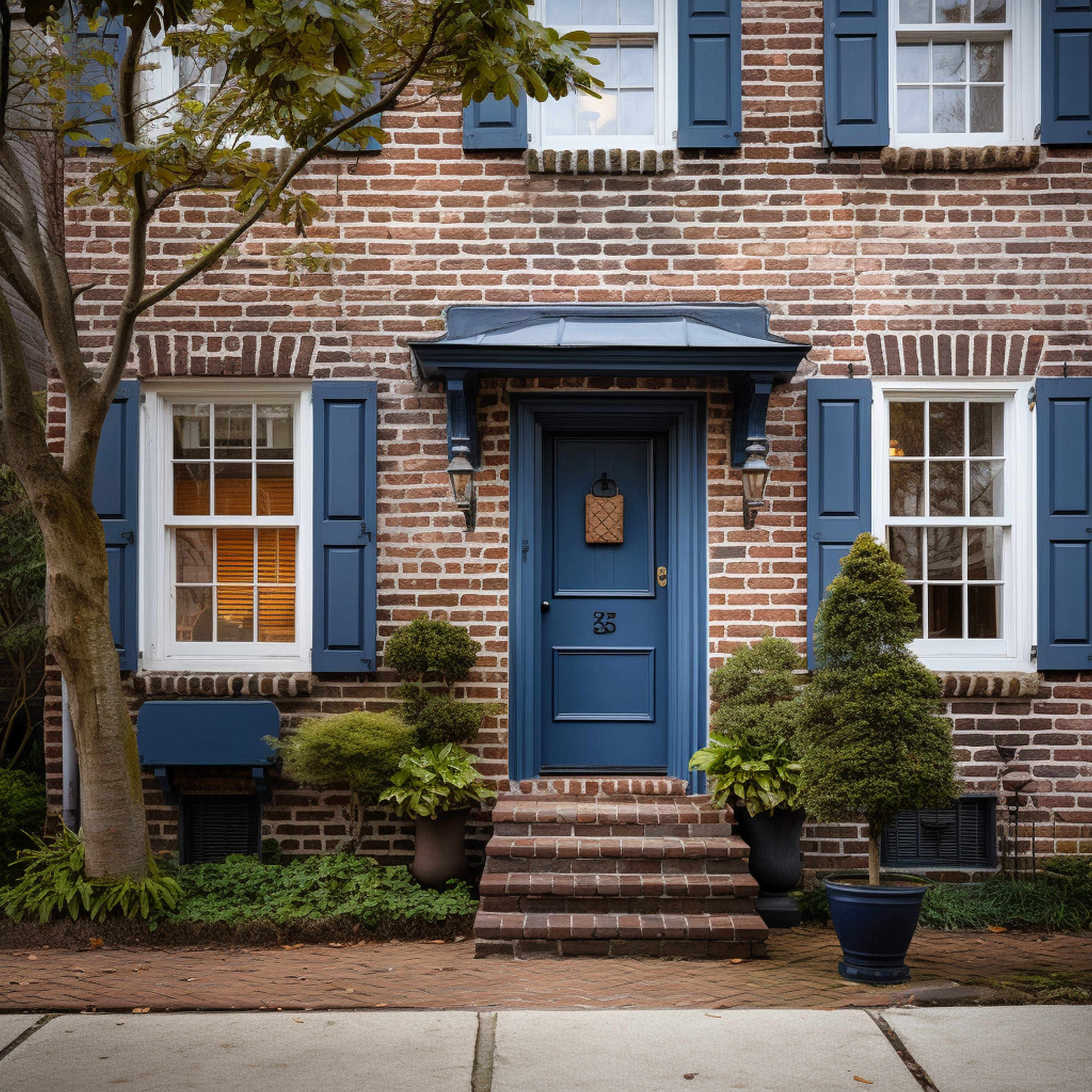 The fiery intensity of a red brick home exterior can be tamed with a touch of serene blue paint used for the front door. Whether you prefer a classy navy blue style or a more fun almost-purple style, it's safe to say that blue can complement the red brick quite beautifully. A bold shade of blue is recommended to modernize the appearance of a historic brick residence thanks to its unexpected appeal. If you don't want to grab too much attention, a darker blue tone could provide a more enduring look.




8. Gray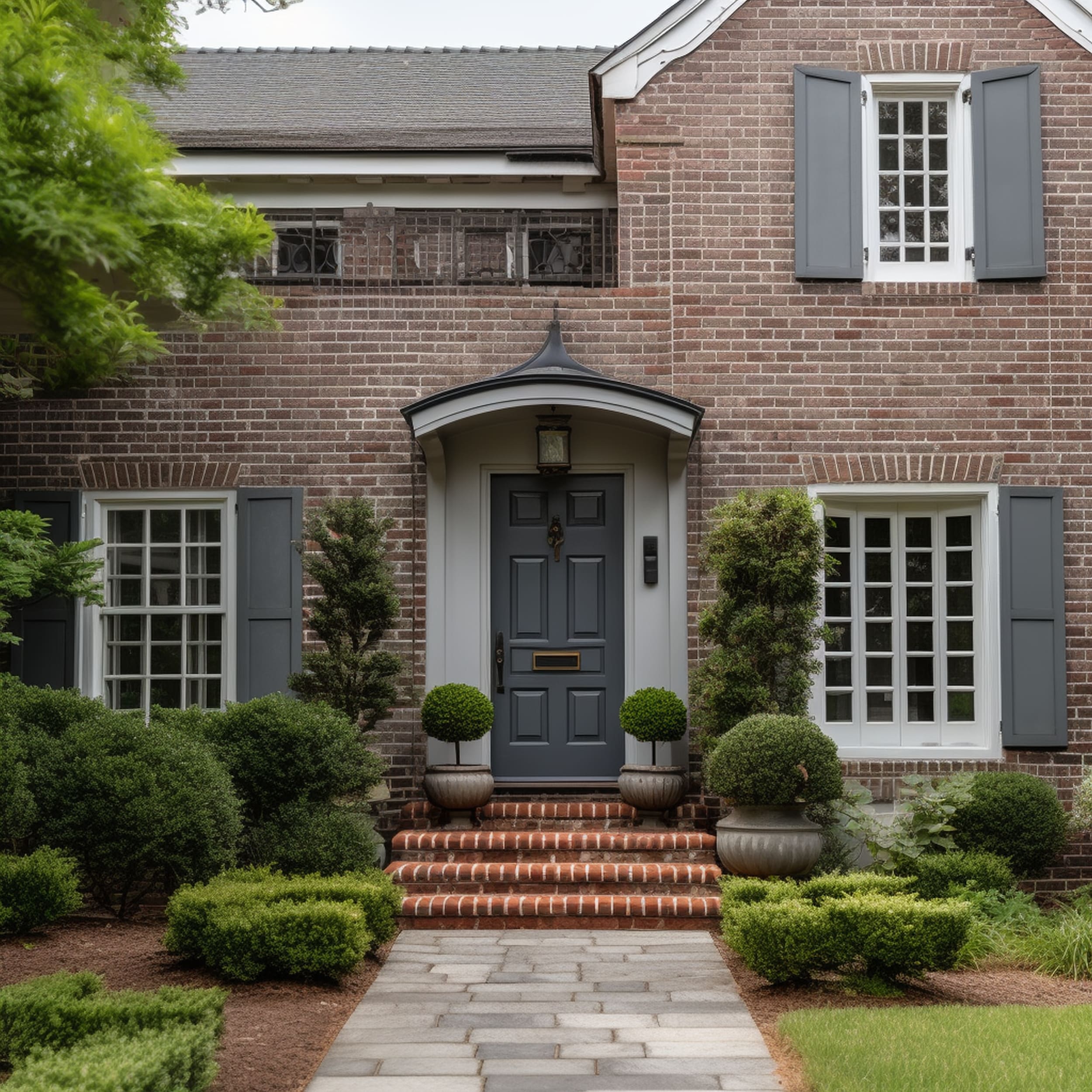 If your brick house shows off deep red bricks, you will likely prefer to use a neutral color for the front door. Although white is universal and works well enough, the crisp contrast with the vibrant exterior could be too intense. In that case, it's recommended to select a stylish shade of light gray that incorporates an air of sophistication with its cool understated appeal. Dark gray can also be used if your red bricks aren't as bright. The front door will stand out elegantly by painting the door in a suitable shade of gray.