This post may contain references and links to products from our advertisers. We may receive commissions from certain links you click on our website. As an Amazon Associate Rhythm of the Home earns revenues from qualifying purchases.
Share this article:
The driveway gate is one of the first things that will be seen by guests visiting your home. It makes sense to pick an aesthetically-pleasing design that matches the theme of the house and creates a stylish impression. Although the driveway gate has primarily the functional purpose to ensure adequate home security, this is also an important architectural element that defines your property more clearly.
When it comes to selecting the right driveway gate style, you can get easily overwhelmed by so many materials and distinctive designs. It's recommended to take into account various aspects, including practicality. If you like a particular gate design, make sure it fits properly with its surroundings and doesn't look out of place on the property. Take a look at our inspirational driveway gate ideas to make the decision process smoother.




1. Modern Horizontal Lines





Wood and steel provide an excellent combination of materials when it comes to designing a modern driveway gate. It adds a sleek visual effect to the property and can complement many house exterior designs. Despite the popularity of durable metal gates, it seems that wood occupies an important place among the preferences of homeowners. The material brings some much-needed warmth, especially if you use concrete fencing.




2. A Balanced Level of Privacy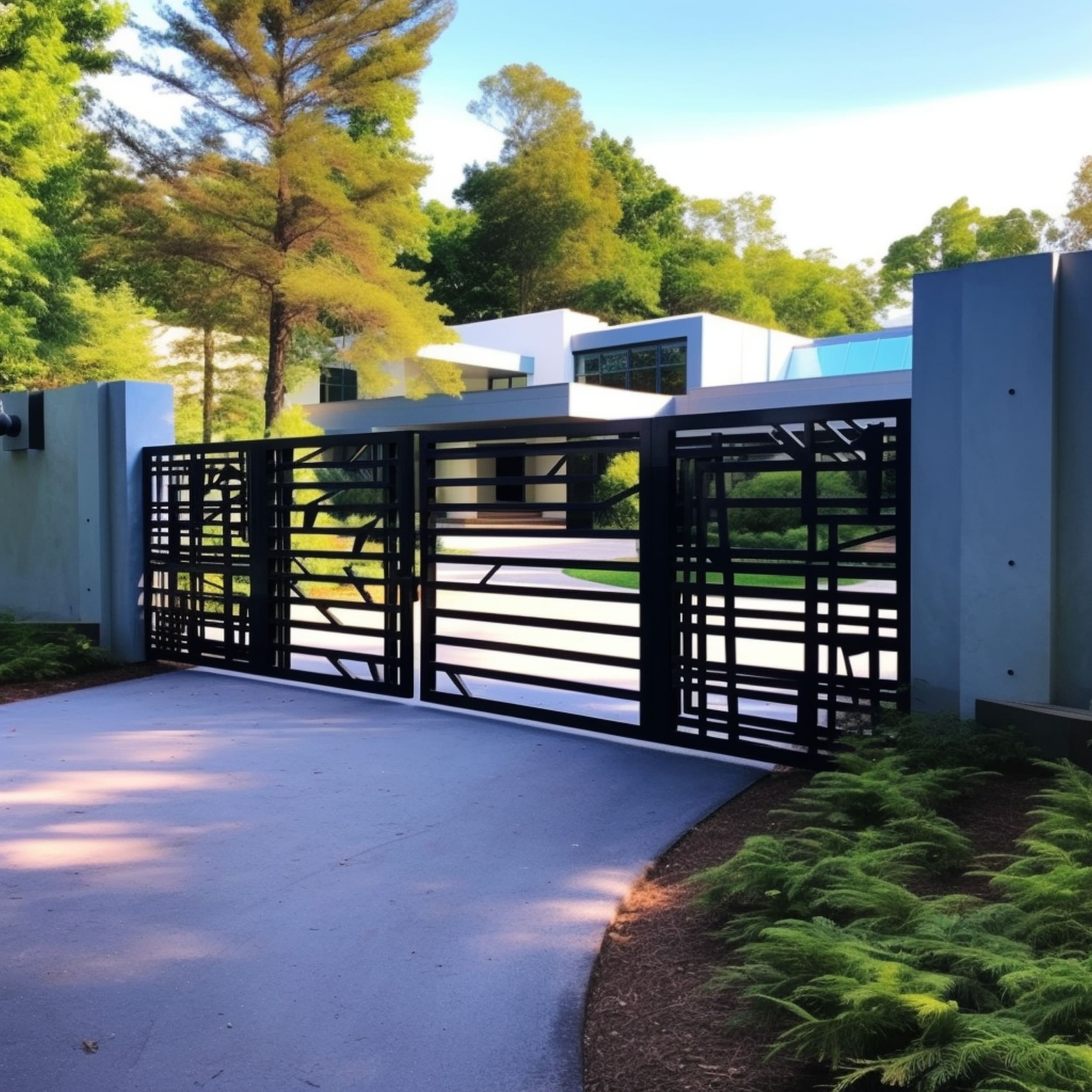 Some homeowners prefer driveway gate styles that offer decent privacy. There are lots of great options that feature closed panels or other designs that don't allow prying eyes to check out your property. If you like the idea of privacy but still need to maintain good airflow and not block off the sunlight, you should try this type of balanced driveway gate design. It makes use of grated slats that let you retain some amount of privacy without fully disallowing light and airflow.




3. Airy Feel





Not everyone is excited about the idea of blocking the facade of the home with the driveway gate. The solution is to use a more traditional gate style based on a metal frame with thin bars. It results in a light and airy feel that can instantly make the property appear more welcoming to guests. This type of driveway gate provides good functionality as well because it's not particularly difficult to install and operate.




4. Cozy Vibes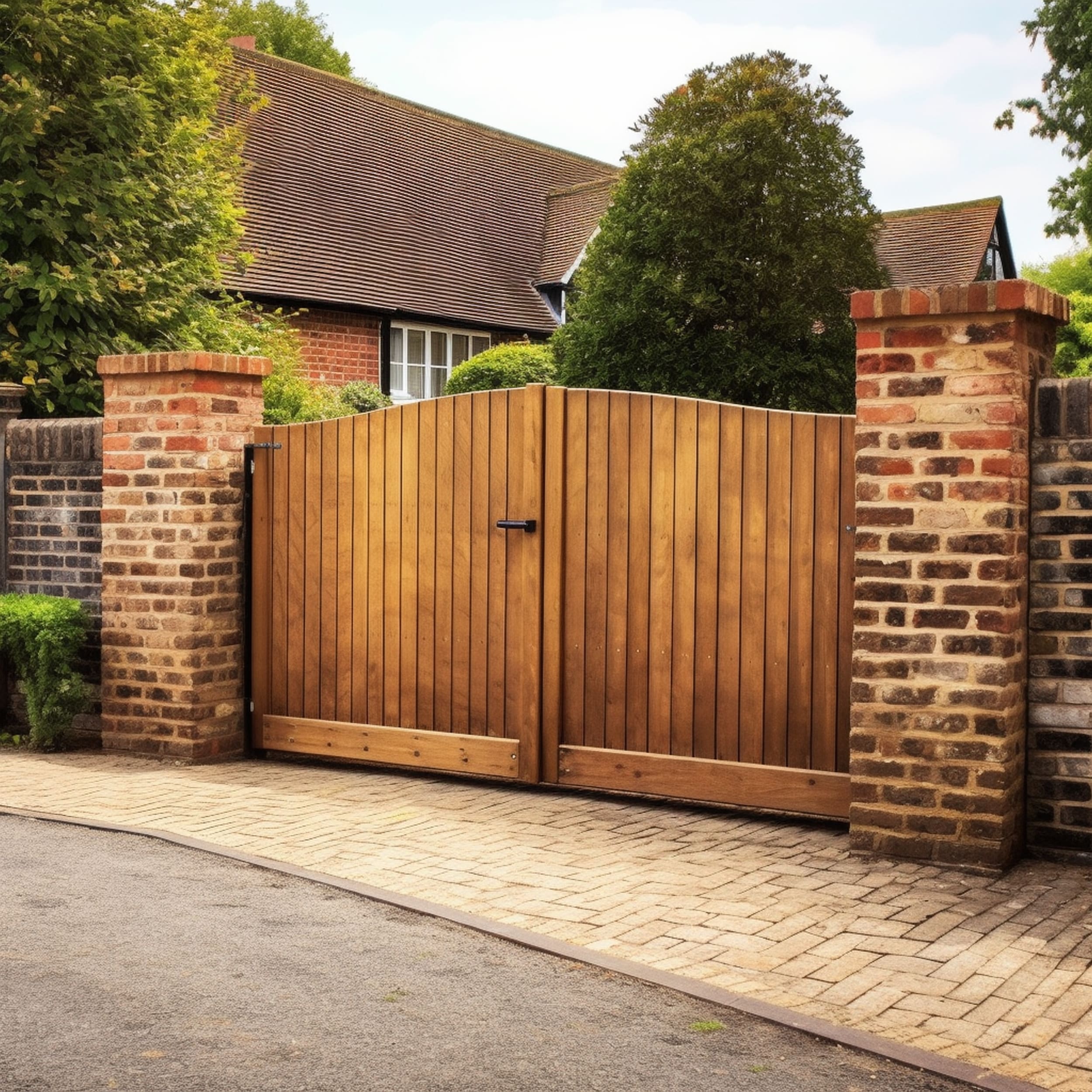 If your garden is surrounded by a rustic brick wall, you should pick a suitable driveway gate style that matches that rustic vibe. A simple timber design works like a charm for this purpose because it offers cozy appeal without looking out of place next to the traditional brick wall. The color palette remains harmonious thanks to a similar warm hue that complements the surroundings of the gate.




5. Pedestrian Side Gate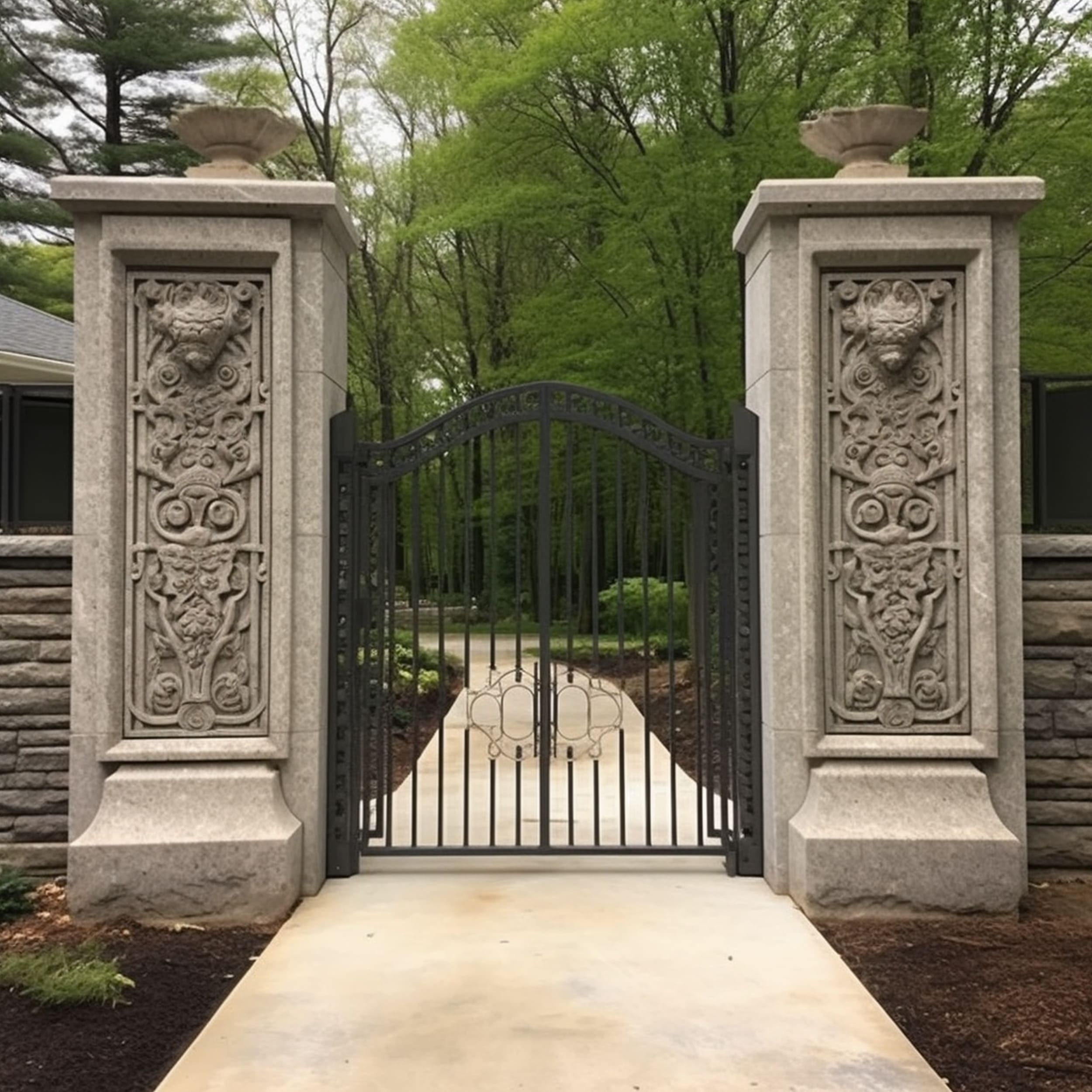 When designing a driveway gate, you have to take into account the possibility that visitors may not always arrive on your property via vehicles. It's recommended to set up a pedestrian-friendly side gate that matches the style of the main gate. This can be particularly helpful if there's a considerable distance from the driveway to the front door. People coming on foot can use a designated pathway from the side gate to improve walking efficiency.




6. Modern Materials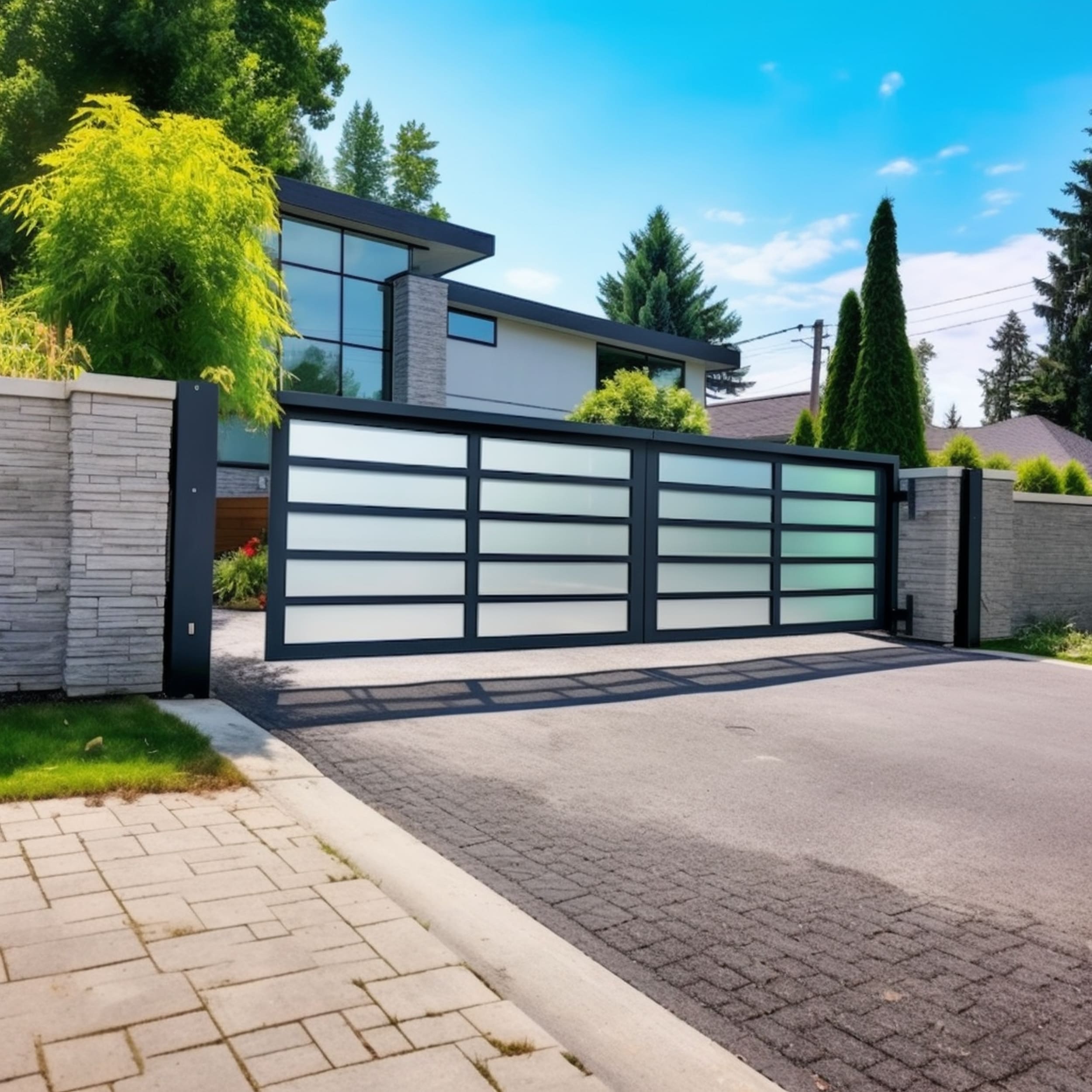 Looking for an attractive contemporary driveway gate design? One solution is to go all out on modern materials. Pair steel and glass together for a sleek mix that will look particularly impressive next to concrete fencing. This combination of materials is typically used together with exposed aggregate driveway designs. The raw beauty of concrete makes a contrasting effect with the clean finish of the gate to add a touch of character to your property.




7. Simple Elegance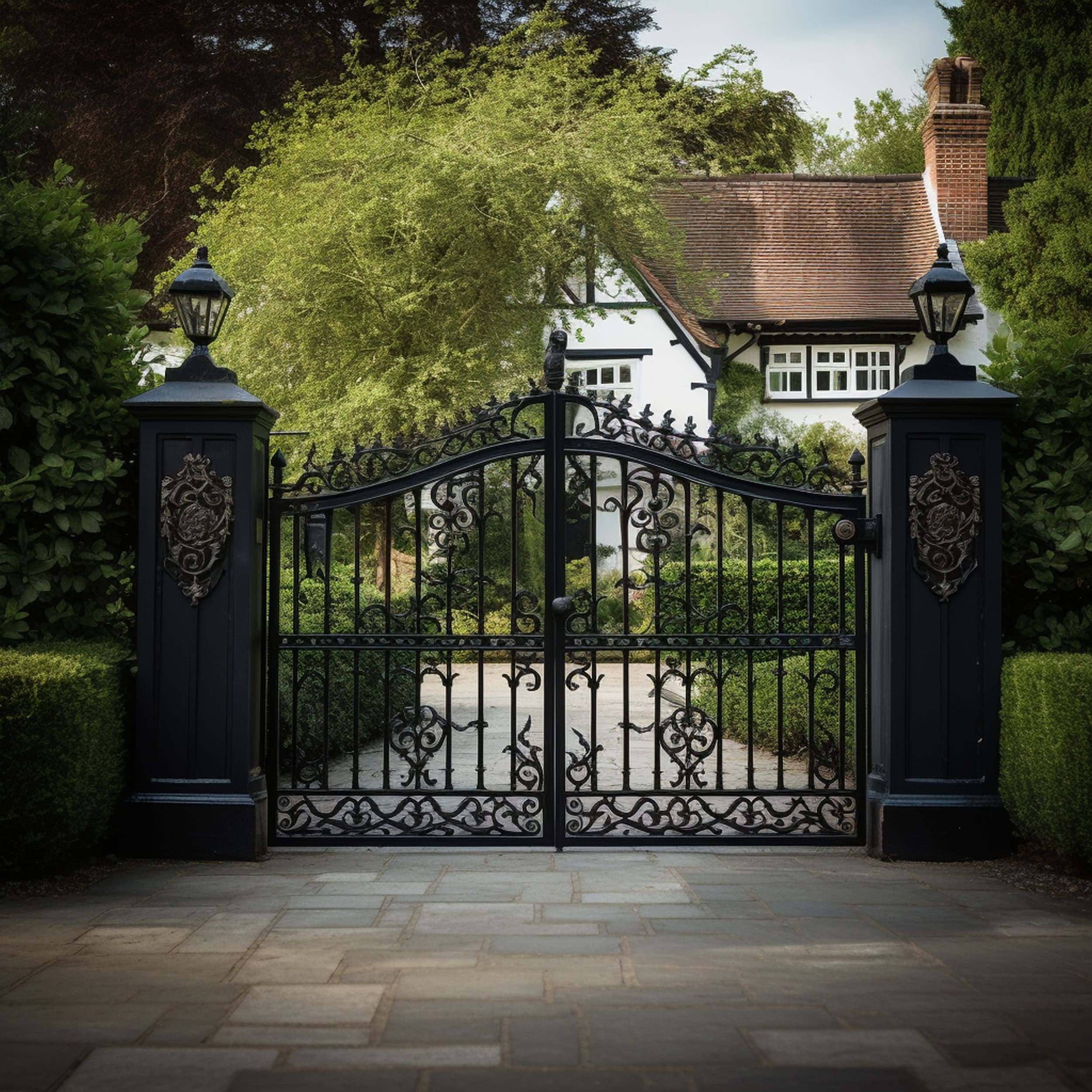 If you're aiming for a luxurious driveway gate look, you can't go wrong with a classic metal design. Ornate details offer some visual interest while tall and thick pillars complement the elegance of the patterns. This majestic design looks particularly striking thanks to the use of a dramatic black color scheme. Any fancy ornaments can be highlighted properly on a dark backdrop while intricate patterns won't stand out too much.




8. Seamless Design





Although many modern driveway gates incorporate different designs compared to the surrounding fence, it's safe to say that a seamless look can appear quite attractive. There's a sense of visual cohesiveness provided by the matching driveway gate. It results in a uniform cottage garden style that pairs well with rustic or traditional homes. The crisp white paint color adds some charm to the overall driveway gate and fence construction.




9. Beautiful Lighting





Installing a lighting feature for your driveway gate can accomplish two things at the same time. You can use the light fixture to frame the gate and add aesthetic value while also illuminating the entranceway for extra security. There are plenty of excellent choices in terms of driveway gate lighting. Wall-mounted fixtures are quite popular but many traditional designs incorporate decorative post-mounted lights. Pick a model that goes well together with the color scheme and overall decor theme of the driveway gate.




10. Green Color Style





Most driveway gate paint color styles tend to lack variety. If you want a different look that stands out from monochromatic or neutral color palettes, consider painting the gate in a green shade. Although other colors can also work well, green feels ideal in many situations such as for properties surrounded by lots of greenery. It's a smart idea to incorporate the color scheme of your garden and make the driveway gate appear better integrated with its surrounding elements.




11. Wood Panels





There are lots of flexible design ideas when it comes to wood-based driveway gates. If you don't like the look of wood slats, you might consider a different look that makes use of panels connected to a steel frame. This is a type of modern driveway gate that has experienced a surge in popularity in recent times. It's preferred by many homeowners due to how the panels enhance the sense of depth while the wood material brings some warmth to the dark-toned metal.




12. White Picket Fence Look





White picket fences offer a timeless visual appeal that makes it highly unlikely for the design to go out of style any time soon. Some homeowners want to borrow the style and incorporate it into driveway gate designs. It's a great aesthetic choice if you love the classic white picket fence look. When applied to a driveway gate, the design might reimagine the traditional style and modernize it in some way. The most consistent element is the presence of the white-painted slats.




13. Frosted Glass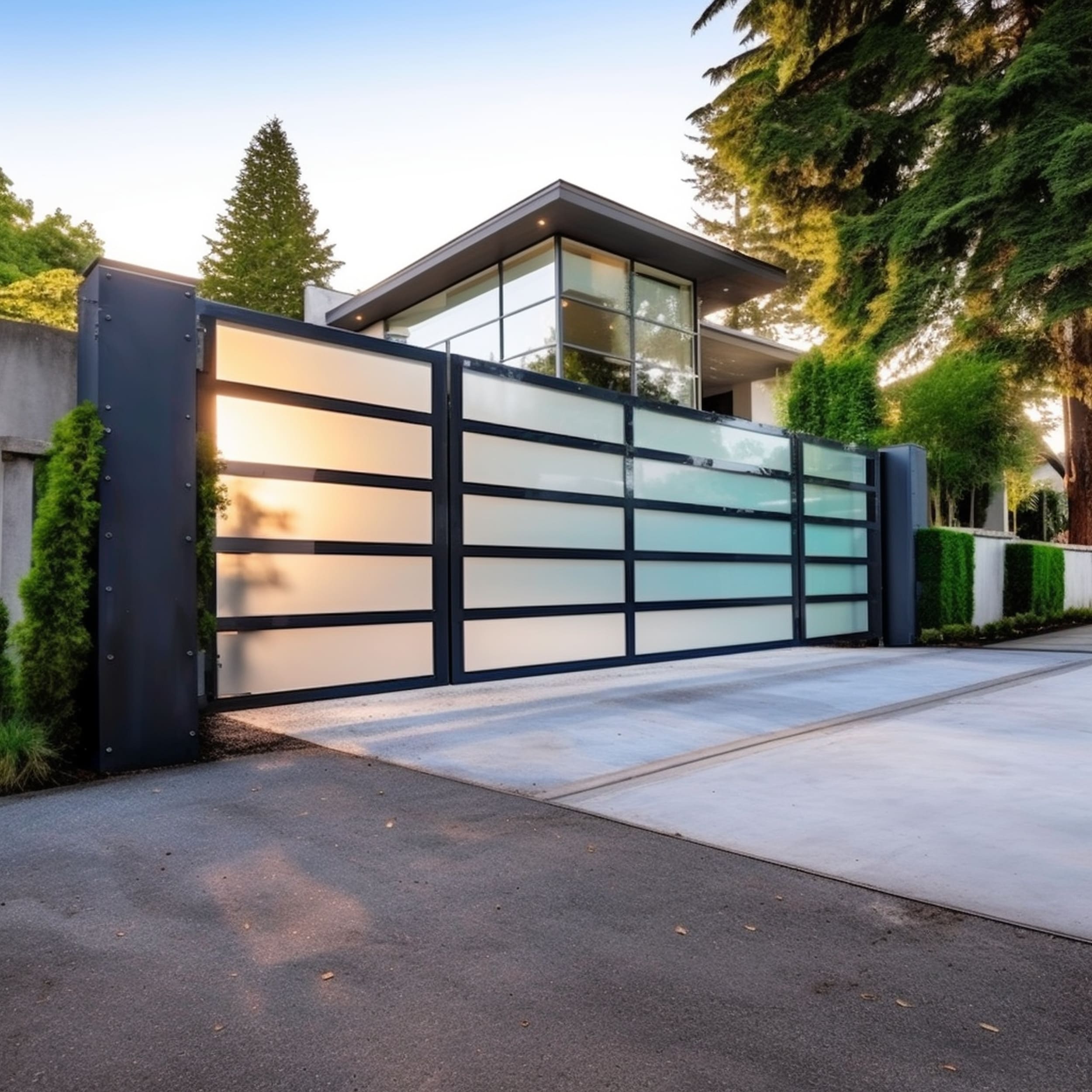 Frosted glass panes can be used successfully in driveway gate designs that focus on privacy. You can maintain a fresh modern look without sacrificing the sense of openness. The glass panes are designed to let light pass through but block the view of your property from outside. It's a convenient solution to enjoy good privacy without turning your house into a fortress. The style of the gate can be adjusted depending on the desired level of privacy. Glass panels at the top can be left without the frosted effect to improve visibility at eye level.




14. Custom Appearance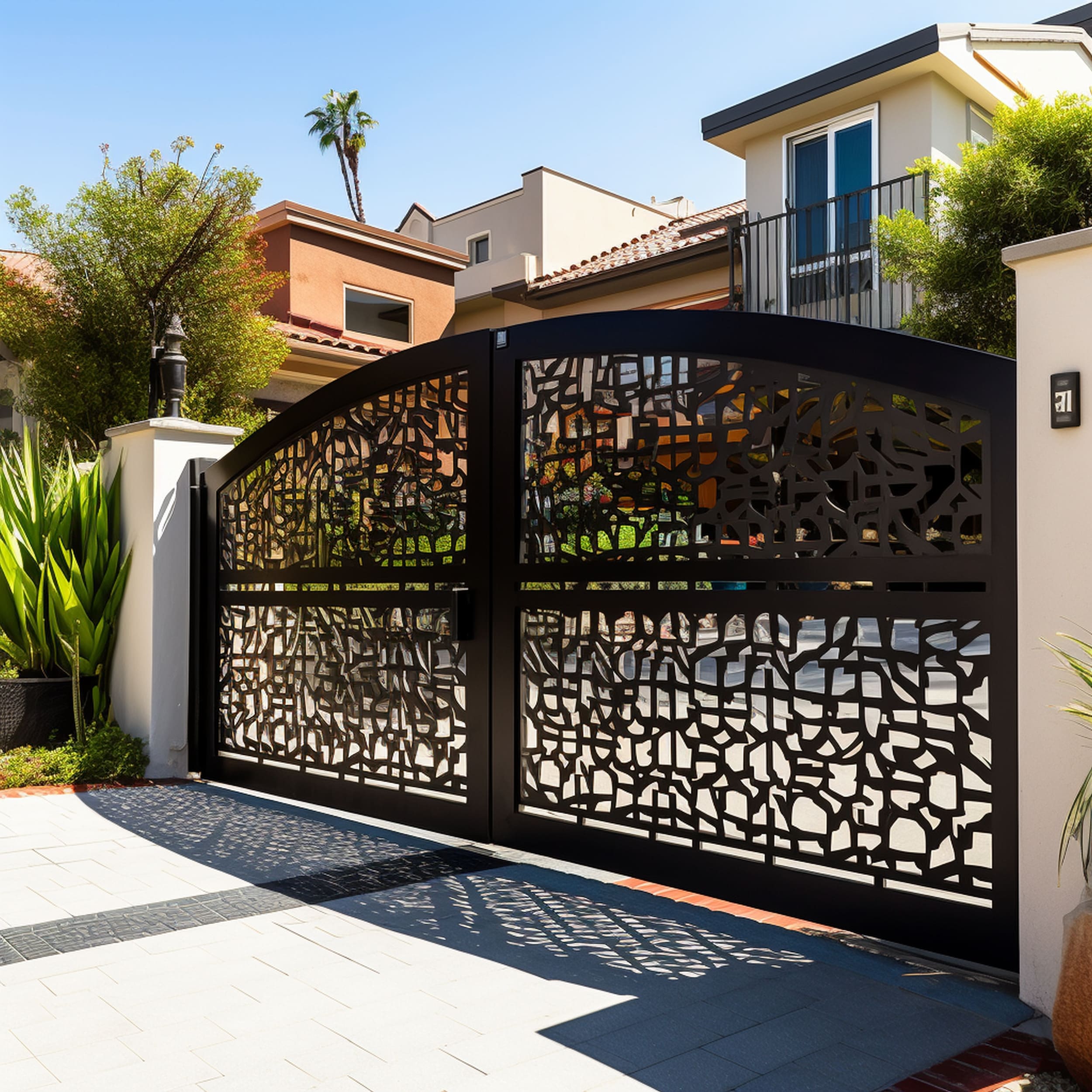 Not satisfied with the variety of standard driveway gate options out there? Trying out a custom design might work better for your aesthetic needs. Check out this unique driveway gate that offers stylish geometric patterns through a laser-cut effect. It's an interesting solution to make the gate stand out compared to the rest of the driveway. The custom appearance fits the modern surroundings and can add a whimsical geometric effect to traditional properties as well.




15. Grid Patterns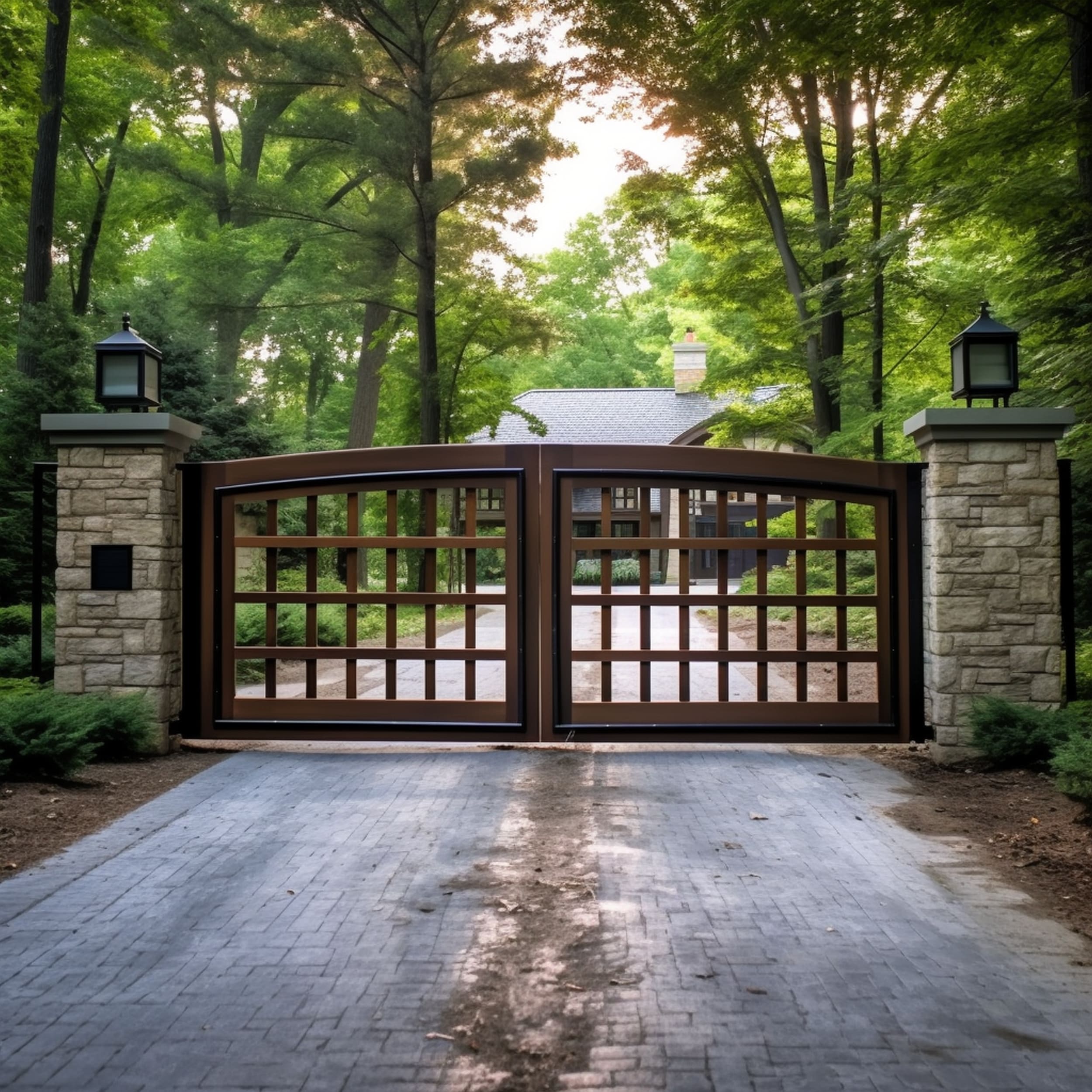 If you prefer an airy vibe for your wooden driveway gate, consider opting for an open grid pattern style instead of traditional panels. Some level of privacy is sacrificed in this way but the charming rustic look of the design compensates for it. Accentuate the cozy style of the driveway gate with ornamental iron straps along the wood frame which can also increase the impression of solidity. This rustic driveway gate can be paired most effectively with thick natural stone posts.




16. Ornamental Cutouts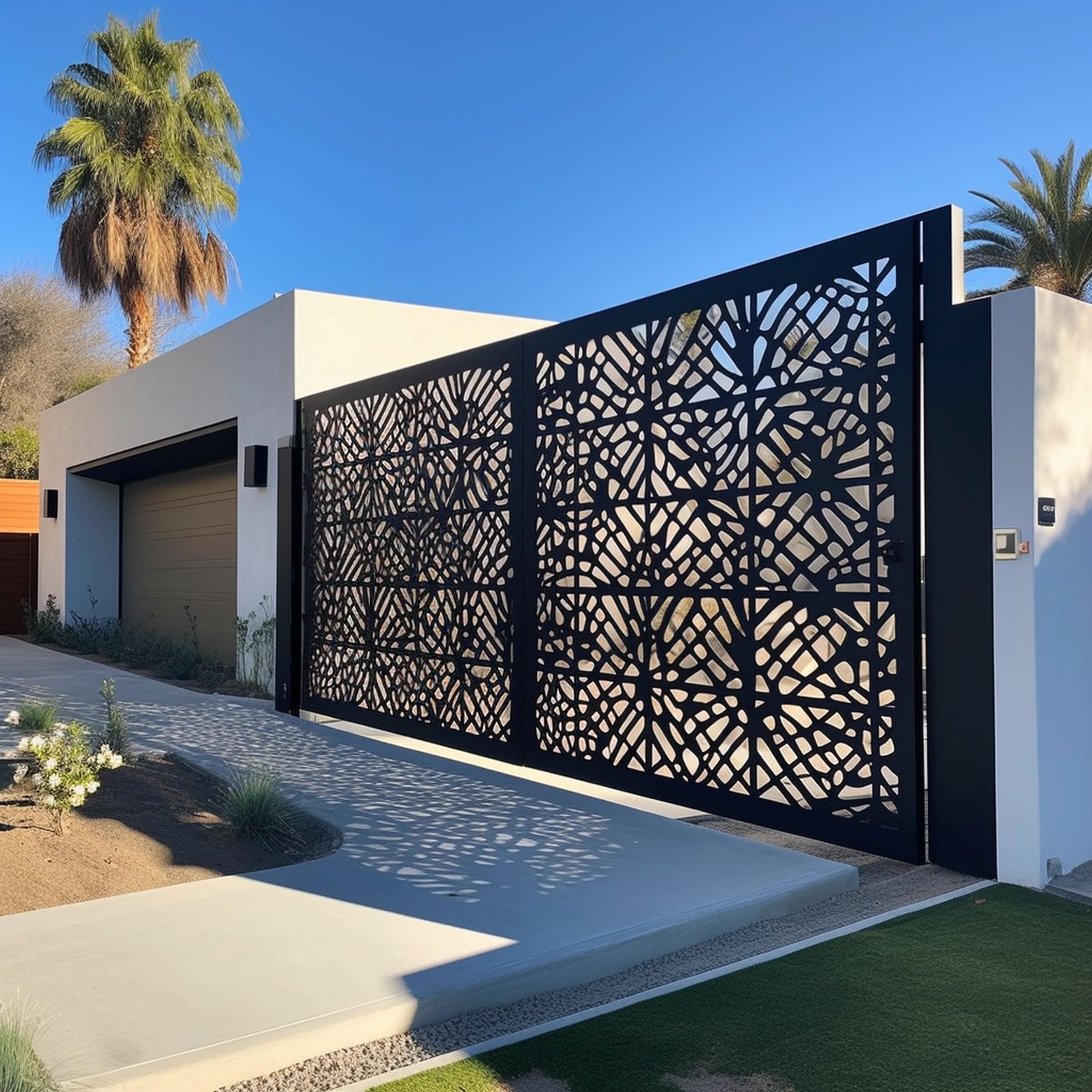 There's nothing wrong with a plain iron driveway gate but you can increase curb appeal considerably by adding some ornamental details. Gates that feature intricate cutouts show off a personalized look that's much more visually interesting compared to simple metal panels. This elegant driveway gate features an attractive cutout look inspired by Frank Lloyd Wright's design. It's also equipped with an automatic opening system so it's also a practical choice.




17. Farmhouse Atmosphere





With a characteristic cozy appeal, a farmhouse-inspired driveway gate represents a versatile choice for many homeowners. The beauty of this style lies in its pure simplicity. It evokes a charming rustic feel that will make your property appear more inviting. This driveway gate style will almost always rely on wood construction and a variety of beautiful finishes. Another advantage of this design is that you can enjoy great security when combining it with sturdy natural stone posts.