This post may contain references and links to products from our advertisers. We may receive commissions from certain links you click on our website. As an Amazon Associate Rhythm of the Home earns revenues from qualifying purchases.
Share this article:
Working with small spaces can be difficult when it comes to interior design. This is especially the case when your living room is both long and narrow. It's hard to avoid the tunnel effect look that can create a negative impact on the openness of the place. If you wish to transform your long and narrow living room with a touch of coziness, there are a few tricks you can try to create a welcoming atmosphere.




Some layout tweaks will probably be required if you want to eliminate the visual effect equivalent of a train carriage. Despite what most people think, rocking a narrow living room is possible if you follow the following tips. Regardless of the space available, you can learn to decorate your long and narrow living room and work around limitations to get a satisfying look.




1.

Create a Seating Area





A simple trick to use to avoid that bowling alley effect is to create a comfy seating area in the middle of the room as you keep furniture pieces away from the walls. It's a recommended solution for anyone looking to craft a cozier and more welcoming atmosphere.




Keep in mind that you need to be careful when making furniture arrangements in a long and narrow living room. It's essential to maintain a sense of organization by maximizing space use as much as possible. Don't forget about creating a path like a walkway in the room so that it feels balanced with the seating area which can become the centerpiece of the area.




2.

Make Different Focal Zones





Defining separate areas represents an ideal method you should try to create a harmonious décor style when it comes to long and narrow living rooms. Different zones in the same room can have an enlargement effect to make the entire area seem bigger than it really is. It's recommended to make a good plan regarding how the separate areas will be used.
You can integrate a small office space together with a conversation area as long as the narrow living room is spacious enough. Just make sure different zones are more clearly divided. Area rugs can be very useful for this purpose. A stylish model like this Safavieh rug from Amazon can separate areas while contributing to the overall look of the room thanks to its decorative potential.




3.

Use Paint to Your Advantage





Small and narrow spaces can often make some architectural details more noticeable. For example, white skirting boards will stand out even more if your living room is long and narrow. This is where paint can help you. Keeping a consistent look involves painting the walls and skirting boards with the same color. The resulting effect is a seamless blend of shades as the skirting is nicely camouflaged. The sudden contrast can have a bold effect in some areas but this kind of narrow space makes better use of a continuous and fluid look.




4.

Draw the Eye Upward





Long and narrow living rooms look great when you maximize the full potential of the vertical space. This has the visual effect of drawing the eye upward resulting in a more pleasant look. To make better use of vertical space, we recommend setting up some cabinets or an armoire. High bookshelves and gallery walls can have a similar effect.




Alternatively, consider investing in a dependable wall storage system. Add some open cubbies and shelves that are both functional and fitting for displaying your favorite possessions. Even though you need to work with some limitations, this is no excuse to let the living area become dull. Check out this set of square cube shelves from Amazon. It represents a low-cost option to take advantage of all that vertical space you have.




5.

Place Your Sofa Smartly





A large and comfortable sofa is a great addition to any long and narrow living room. Your first impulse would probably be to choose a long sofa and place it along the wall to fit the style of the room. It's actually recommended to go against this instinct to create a more interesting look and break up the long room.
Instead of the usual long sofa, going for a set of smaller love seats represents a smarter choice. If you really want to have that large sofa, the best compromise is to get a couch with a side chair extension that goes perpendicular to the length of the room. This will make the living room feel cozier and reduce the tunnel-like visual effect.
6.

Try Circular Pieces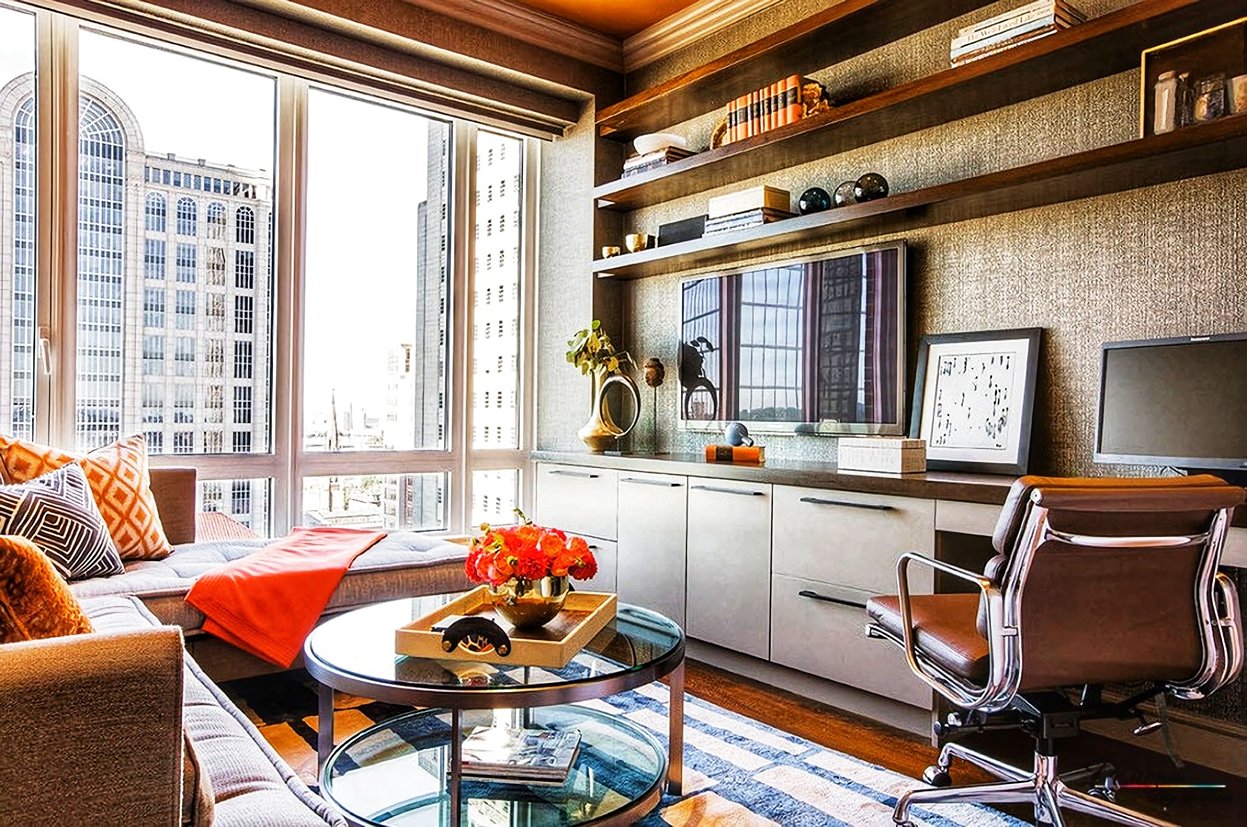 When it comes to adding furniture pieces in the long and narrow living room, you should focus more on circular or oval ones. This is once again to steer clear from that bowling alley look. Round edges are highly welcomed in this kind of room where straight lines seem to dominate.




A good example to try is a round coffee table that's usually positioned in the center of the seating area. Check out this circular piece from Amazon. It can be a huge help to achieve a more pleasant aesthetic style in narrow spaces. We also recommend side tables and round light fixtures.
7.

Go for an Efficient Design
Long and narrow living rooms can benefit a lot from a symmetrical look. It's important to keep the area as uncluttered as possible so you can avoid a crowded feel. Don't over-accessorize as too many items can create an inefficient design resulting in a disorganized place.
Every piece should have its place in the living room as clutter will be particularly noticeable in small and narrow areas. You need to be careful when arranging and incorporating various furniture pieces. Even smaller ones can have an augmented visual impact so that's why we recommend sticking to multi-purpose pieces like an upholstered bench with storage inside.