This post may contain references and links to products from our advertisers. We may receive commissions from certain links you click on our website. As an Amazon Associate Rhythm of the Home earns revenues from qualifying purchases.
Share this article:
Whether you wish to use them to decorate the hallway or to create a new seating option in the living room, upholstered benches are comfortable and attractive in lots of areas in your home. This is a fairly simple furniture piece which doesn't necessarily have to be restricted to a specific purpose. You can find a spot for it into your walk-in closet to try out outfits or place it in the guest bedroom for a comfy seating area in an unused corner.
There are endless possibilities to use upholstered benches to fit with your particular aesthetic as well. Besides the functional role, these benches have great potential to complement the room's décor and ambiance. Choose a fitting upholstery style that matches the look and vibe of the other elements of the room for a harmonious design. If you plan on investing in a stylish and well-made upholstered bench, check out the following products that have been carefully selected thanks to their superior value for the money.
Best Storage Upholstered Bench
Buy On Amazon
Thanks to generous storage and elegant construction, the Homelegance Claire is our top choice for an upholstered bench. It's crafted using solid wood and PU leather upholstering with different color finishes and offers solid features at a reasonable cost. The bench needs minimal assembly work and provides a spacious interior where you can store things.
There are lots of uses for this kind of upholstered bench. Thanks to its stylish design, you can simply integrate it as an accent piece for the room's décor. The compartment inside is helpful to keep the area uncluttered and you can use the bench as convenient seating. One thing we really appreciate is the smooth opening and closing of the lid. All things considered, the Homelegance Claire is well-put together and has a high-quality design with plenty of storage space. It offers all that you'd need in an upholstered bench at this cost.
Best Upholstered Bench With Arms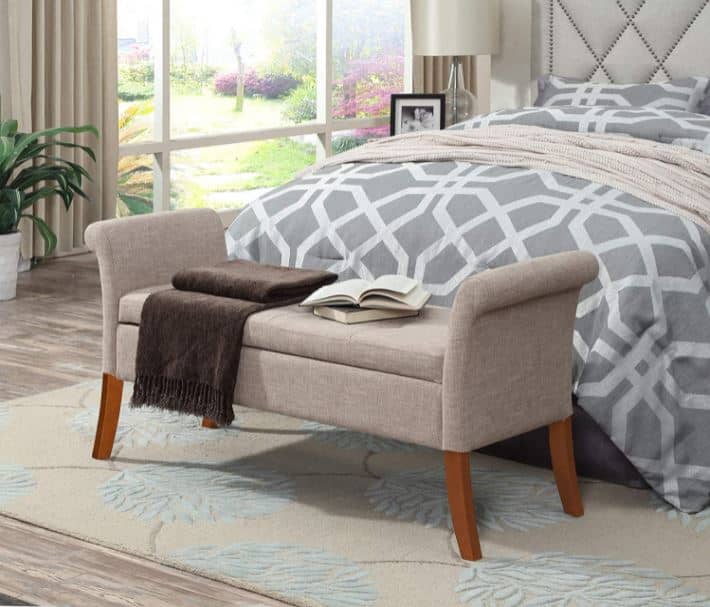 Buy On AmazonBuy On WalmartBuy On Home Depot
A key aspect when purchasing an upholstered bench is whether it can be used for multiple purposes. Some people might not prefer bulky-looking benches with a lot of storage. If that sounds like you, the Convenience Concepts Garbo is a balanced bench in terms of functionality and looks. It provides an elegantly cushioned bench seat without compromising too much on storage.
By inspecting the design of this model closer, you will quickly realize that it has a graceful silhouette which pairs beautifully with modern and traditional décor. The look of the bench is enhanced by the presence of rolled arms and button-tufted accents. Inside the bench, you will be greeted by a nice compartment where you can store various items out of sight. There are multiple fabric colors and patterns to match your style. The solid wood construction means the bench can handle some abuse over the years.
Best Bedroom Upholstered Bench
Buy On Amazon
Are you looking to add a functional and stylish accent piece for your bedroom bed? The Pulaski Selma upholstered bench could be the perfect choice for that. It doesn't have storage capabilities, but it's equipped with lots of features to make it worth the investment. The bench's plywood panel construction has been engineered for long lasting durability. Thick padding takes care of all your comfort needs.
Thanks to its neutral fabric design, the bench can be easily integrated into almost any décor style out there. If you purchase a matching headboard, you can take the look of the bed to a new level. The antique brass trimming and welted edges are just some of the lovely details that contribute to the style of this upholstered bench. A nice contrast is created by opting for a dark finish on the solid wood legs. The Pulaski Selma is durable, beautiful, and an all-around well thought out furniture piece.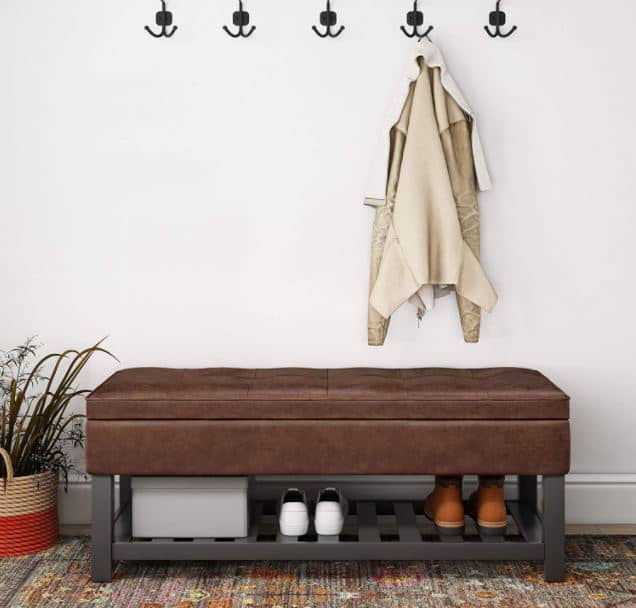 Buy On AmazonBuy On WalmartBuy On Home Depot
Those searching for a stylish and functional bench for the hallway should check out the Simpli Home Cosmopolitan upholstered model. This unit is made with durability in mind allowing for versatile placement. A lot of effort went into the design to create a tufted look and plenty of storage space. The upholstered bench features an open slat bottom area where you can organize your shoes or other items.
There's also interior storage space available thanks to the lift-open lid which is great for placing items that you'd rather keep hidden from view. A smart safety feature has been integrated for the lift mechanism to prevent it from slamming. The faux leather upholstery can be selected in different color variations from simple brown, black, and grey to more eye-catching tones of red and olive. In conclusion, the Simpli Home Cosmopolitan is a traditional-looking upholstered bench that's attractive, versatile, and sturdy.
Best Living Room Upholstered Bench
Buy On AmazonBuy On Home Depot
Upholstered benches can become even more useful if you choose a model with included storage space. Check out the Best Selling Mission ottoman that's designed with fabric upholstering and a hidden storage compartment. The lid has been enhanced for comfort to offer a pleasant sitting experience. Thanks to its textural style and light tan color, the bench fits well in both casual and formal settings.
Considering the affordability of this model, you might have some doubts about construction quality. It's worth mentioning that the bench is quite lightweight yet it feels sturdy enough for most purposes. It's definitely not flimsy in any way and balances durability with comfort quite well. A functional décor piece, the Mission bench deserves a spot on our list considering the tight fabric, large storage compartment, and overall cost-effectiveness.
Best Budget Upholstered Bench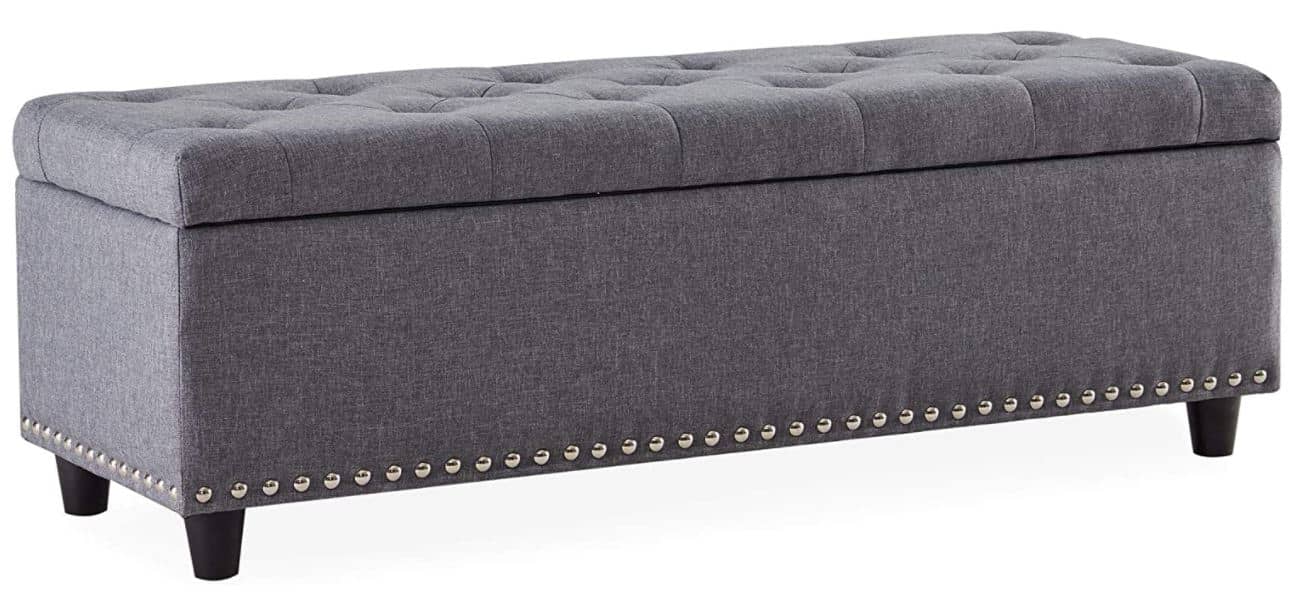 Buy On AmazonBuy On WalmartBuy On Home Depot
Inexpensive and practical, the Belleze upholstered bench measures 48" and can be used successfully in different ways. Whether as a footrest, seating area or coffee table, this bench can tackle all these jobs in style. On top of its flexible uses, you can also take advantage of the storage spaces provided. The linen-like fabric makes this a stylish choice if you like the idea of furniture with a bit more character.
Assembling this unit takes only a few minutes as you just need to attach the wooden legs. The frame of the bench is fairly sturdy as it's built from Rubber Wood. In terms of comfort, you can enjoy a comfy seat thanks to the dense foam used for the top cushion. It's hard to match the value per cost of this upholstered bench when you consider the solid construction, quality fabric, and overall looks.
Buy On AmazonBuy On WalmartBuy On Home Depot
Easy to clean and designed with a leather-like fabric, the HomePop upholstered bench has great potential on this crowded market. This is a rectangular storage bench equipped with solid wood legs that are easy to install. The bench has been built with durability in mind considering its overall sturdiness and the fabric that's simple to care for. Judging by its dimensions, you won't have storage space issues as the bench is very roomy.
Even though this upholstered bench seems to focus on functionality above all else, this doesn't mean lots of compromises have been made in the looks department. It's actually an attractive furniture piece thanks to small details that make a big difference. Some good examples are the tufted buttons and decorative stitching. The thick padding used boosts comfort to a high level, better than you'd expect for the money.
Best Entryway Upholstered Bench
Buy On Amazon
The Homelegance Afton is a well-crafted upholstered bench that features a blend of modern and traditional elements. It provides an exquisite look thanks to its button-tufted lift top that covers a generously-sized storage space. This bench is also equipped with a sturdy spring hinge that makes opening and closing the lid a breeze. That could be an important aspect if storage matters a lot for you.
The assembly for this upholstered bench only involves attaching the legs. This takes a couple of minutes as they're traditional turned feet. One detail that you'll probably like about this bench is the extra padding on the top and footrest. The bench makes an ideal seat for the entryway to put on shoes. A slight drawback of this model is the durability which is on par with what you pay for. In conclusion, the Homelegance Afton is a decent upholstered bench for the cost.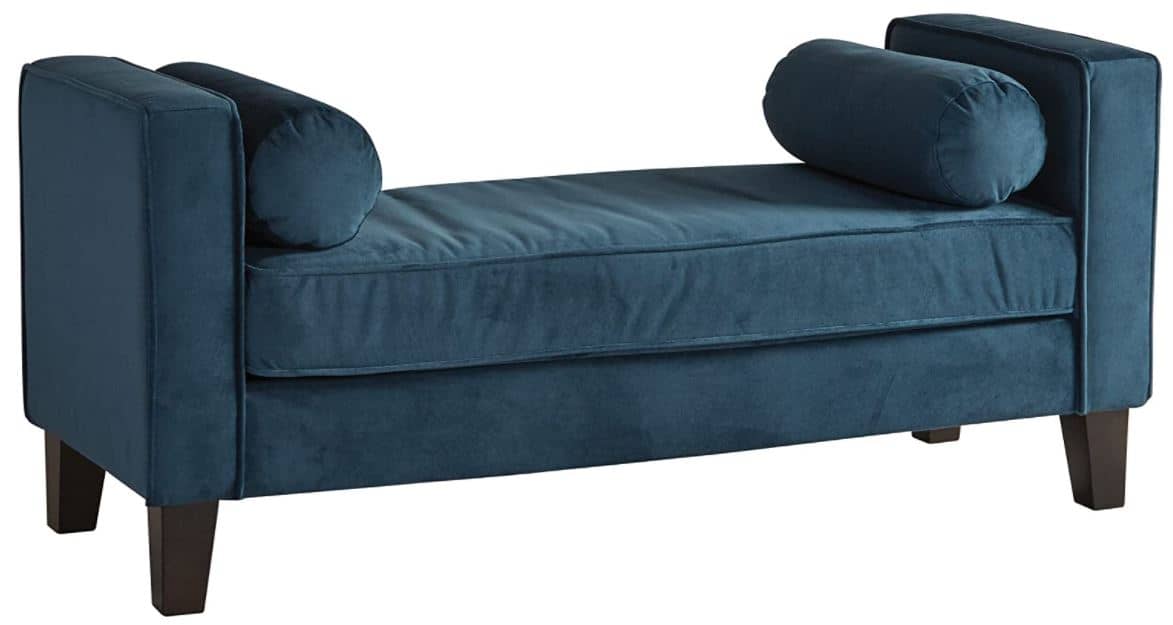 Buy On Amazon
If you want a premium look for your upholstered bench, check out this sophisticated model from Avenue Six. This bench comes with two bolster pillows and a stylish fabric upholstering that boasts easy maintenance. When it comes to the dimensions, you might be surprised to find that the bench is quite large so it looks best in areas that can properly accommodate its size.
The upholstered bench has a lovely design and the fabric used provides a pleasant textural feeling to the touch. It can definitely exceed your expectations in terms of construction and overall design. The bench is sturdy enough to be used successfully for different purposes whether you need a relaxation spot in the office or an extra seating option in the bedroom. The lack of storage space could be considered a disadvantage, but if you aren't looking for that, this upholstered bench is a great investment.
Buy On Amazon
There are few upholstered benches out there that come with a more elegant and classier design than the ACME Aston. This is a beautiful piece that will look amazing together with vintage décor or in more traditional settings. While the looks are impressive, the bench has other qualities to show off as well. The microfiber material and soft arms take this unit to a new level of comfort.
You can sit and relax very well in this bench or you can mostly use it to improve the style of the room. It can become an excellent accent piece for the bedroom, particularly if you pair it with a bed that matches the same aesthetic. The upholstery is stylish and seems tightly attached. At normal usage rates, the bench should last quite a long time. Taking into account the comfortable cushion, elegant design, and overall price per quality ratio, the ACME Aston is strongly recommended.