This post may contain references and links to products from our advertisers. We may receive commissions from certain links you click on our website. As an Amazon Associate Rhythm of the Home earns revenues from qualifying purchases.
Share this article:
Instead of thinking about changing the flooring completely why not update the look of the living room by investing in a stylish area rug? With the help of this kind of large rug, you will be able to improve the style of any room and make a statement. There are so many color and pattern combinations as well as different materials and shapes to enable you to discover the right area rug for the particular vibe and look you desire.
Area rugs are incredibly versatile and have the ability to act as excellent accent pieces to complement the room's décor. You can choose a very large one to craft a focal point in the living room or go for a small rug to include a bit of welcomed texture. In this article, we've tried to make a selection of the best area rugs on the market. Things like cost, design, and material quality have been taken into account to ensure you will have no trouble finding the best option for your needs.
Best Moroccan Area Rug
Buy On AmazonBuy On WalmartBuy On Home Depot
Inspired by authentic Moroccan design, the Safavieh Hudson Shag Ogee Trellis area rug is one of the best options on the market. It's not exactly cheap, but this is the kind of investment that you won't regret considering the exquisite level of quality. One of the main features of this area rug is the amazingly soft material that's thick and satisfying to the touch.




It's hard to find an area rug that can match this level of comfort. The manufacturer added special polypropylene fibers to the rug to ensure long-lasting durability. There are lots of color variations available as you can pair beige, grey, red or navy with ivory trellis patterns. We recommend going for an extra large model like the 10' x 14' rug which can cover your spacious living room with its elegant lushness.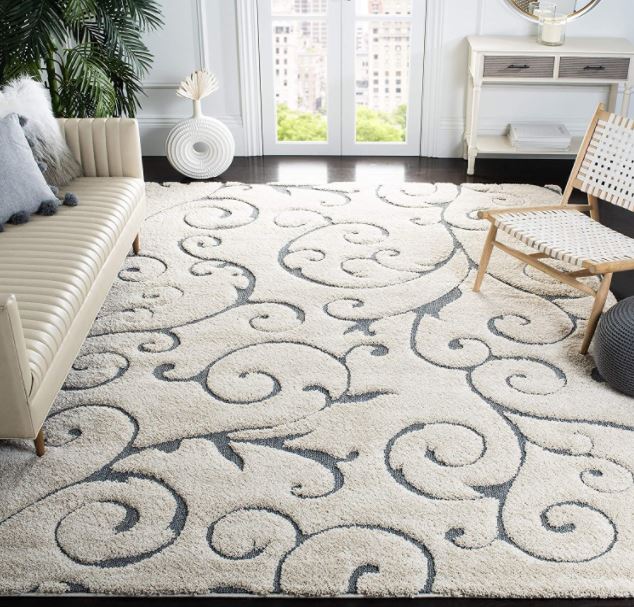 Buy On AmazonBuy On WalmartBuy On Home Depot
Scrolling vine patterns can add some much-needed visual interest to any living space. Choose an area rug with this kind of design to amplify that effect. This shag area rug from Safavieh has been crafted with a power-loomed construction to ensure the most satisfying level of quality. The colors are vibrant and the fibers have been enhanced to prevent shedding or difficult maintenance.
Thanks to the plush 1.18-inch pile height, this area rug will delight anyone stepping on it. The rug feels so cozy that it will make any room seem more inviting. It's the perfect accent piece for decorating an area for friends and family gatherings. Taking into account the superb texture, attentive craftsmanship, and beautiful patterned look, it's safe to say that the Safavieh Scrolling Vine Shag area rug has all it takes to elevate the style of any room.
Best Budget Area Rug
Buy On AmazonBuy On Walmart
Area rugs don't necessarily have to be huge to make a stunning visual impact. Even if you choose a size of 5' x 8' for your area rug, the textural and colorful effects will surely improve the style of the living room. Unique Loom has a Solid Shag area rug that seems perfect for a more modest budget. It doesn't come with patterns, but it provides plenty of color variations to suit a flexible range of design visions.




This is the kind of area rug that can handle some abuse. It's designed with enhanced durability in mind as evidenced by its waterproof and anti-shed properties as well as resistance to stains and mold. The 1" thickness of the rug offers a plush feeling underfoot and seems fitting for the cost. A solid all-around shag area rug, this Unique Loom model deserves an important spot on our list considering the overall value for the money.
Best Multicolored Area Rug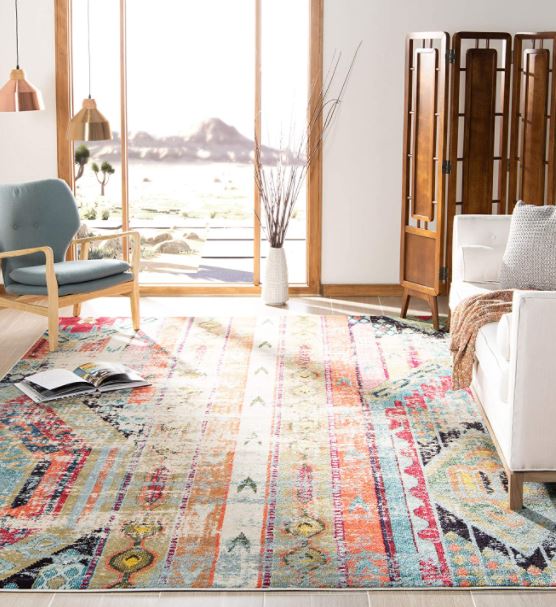 Buy On AmazonBuy On WalmartBuy On Home Depot
If you're into a Bohemian distressed aesthetic, the Modern Monaco area rug from Safavieh could be an excellent choice. The stand-out feature of this accessory is definitely the free-spirited design which can match even the more eclectic interior design styles. In terms of texture, this area rug focuses on keeping a sleek look instead of extra softness. This is why it features a medium 0.5-inch cut pile.
The stylish boho design of this area rug can infuse any living room with a healthy dose of color while the distressed look prevents it from becoming too overwhelming. Durability-wise, the rug comes with some notable features such as the enhanced polypropylene fibers and power-loomed construction. Although some people will find this area rug expensive, you can also choose smaller sizes that come with a more affordable price tag.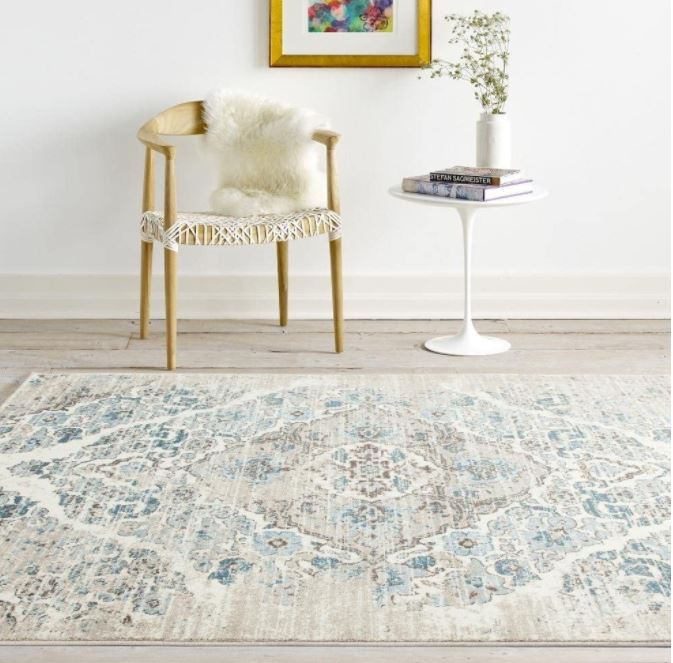 Buy On AmazonBuy On WalmartBuy On Home Depot
Oriental-style area rugs never seem to go out of style. If you're a fan of this aesthetic, you should check out the catalog of Persian Area rugs. They're specialized in authentic oriental area rugs that boast intricate designs and stylish colors. Regardless of the particular room that needs the floor covered, this area rug represents a solid choice to beautify and add that finishing touch.




Whereas other area rugs look great in pictures and not so spectacular in real life, this model is definitely an exception. The high level of construction quality is even more apparent when you see and feel the texture of the rug yourself. It may not seem that plush, but the rug is surprisingly soft. Another advantage is the easy maintenance. Overall, if you're in the market for an oriental area rug with a washed-out appearance that gives it a unique character, this is worth a look.
Best Thick Area Rug
Buy On AmazonBuy On WalmartBuy On Home Depot
Those searching for an area rug with a high-density pile should check out the Milan Shag collection from Safavieh. There are lots of dimensions and color variations to suit your particular specifications and style. The rug boasts a thick 2-inch pile height that feels great underfoot. It's made in Turkey with superior craftsmanship and extra attention to details.
This model seems able to accomplish the primary purpose of an area rug – it promotes a cozy ambiance where you and your guests can feel comfortable and relaxed. There's some solid tactile appeal for the Safavieh Milan and that's we added it to our list. One detail that you will probably really appreciate is the lack of fabric trimming on the edge allowing you to take advantage of maximum shag covering. Overall, this is a high-quality area rug at a reasonable price.
Buy On AmazonBuy On WalmartBuy On Home Depot
The Maples Rugs Pelham is built in the USA and you can immediately notice the superb level of quality. This is an area rug that comes with a nylon pile which means it won't be amazingly soft, but it makes up for this through its exceptional stain resistance. Another element that contributes to the durability is the padding on the back which has anti-slip properties.
Thanks to its low profile, you can accommodate this area rug with a wide range of settings. This model's patterns together with the dual-color design make it especially suitable for providing a slight vintage flair to a room. The living room is a great placement, but it can fit nicely for the bedroom as well. Given its lightweight design, you won't have difficulties moving it around as needed. A pretty and sturdy area rug overall, this model offers solid value for its cost.
Best Round Area Rug
Buy On AmazonBuy On WalmartBuy On Home Depot
When it comes to round area rugs, few are as attractive and well-made than the Safavieh Hudson Shag area rug. This model is built with longevity and convenience in mind. Thanks to its soft and thick pile, you can add some much-needed texture to any room. There's also the possibility to choose a more striking color such as navy or red while the Moroccan motif makes the rug more interesting.




Lots of extra-thick area rugs can be found on the market. This one stands out due to its simple maintenance process compared to other soft area rugs. It could be perfect to decorate the living room and ground the rest of the elements for a unique aesthetic effect. The cost of this area rug is quite fair when you consider what you get. You won't be disappointed by this investment considering the look and comfort.
Best Area Rug Design
Buy On AmazonBuy On WalmartBuy On Home Depot
If you're a fan of the Moroccan décor theme, one element you definitely need is an area rug that uses patterns and motifs of this interior design style. The nuLOOM Blythe area rug feels like an ideal choice considering the simple yet beautiful design and the affordable cost. Aside from the attractive patterned look, the rug has been engineered for durability. Don't worry about getting the off-white model as it's highly resistant to stains.
The design of this area rug provides a blend of classic and modern elements. This means it has a versatile placement potential. In terms of softness, the rug offers a pleasant experience as the edges stay flat and overall provides a sense of plush softness to the touch. A nice bonus you can expect for this area rug is the lack of that chemical smell that's usually a problem with others.
Best Abstract Area Rug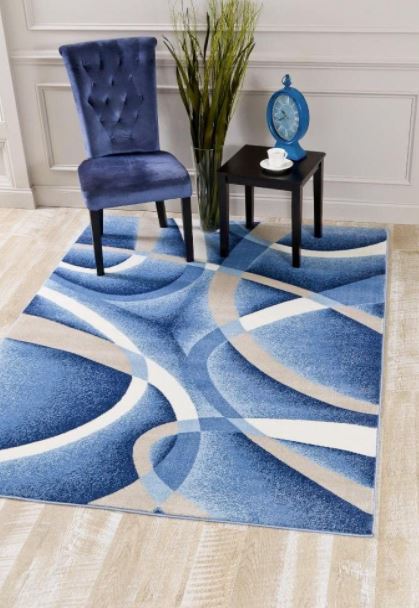 Buy On AmazonBuy On WalmartBuy On Home Depot
There are various methods you can try to add some visual interest in a room. One simple way to consider is bringing in an area rug with a flashy design like these modern abstract patterns. Persian-Rugs has exactly the model for you with an eye-catching look available in multiple colors. This is the kind of rug that adds a wow factor anywhere it's placed.
The rug doesn't cost too much, but you can expect a decent level of construction quality. It's relatively easy to care for and the polypropylene used comes with anti-stain resistance. The rug has a balanced thickness as it's not too thin or too bulky. It's soft enough underfoot and looks even better in person. Colors are true to the photos as opposed to other rugs that can show some noticeable differences. The Persian-Rugs modern abstract area rug is a vibrant and valuable textural addition to any room.
Buy On AmazonBuy On WalmartBuy On Home Depot
The best way to make your fancy glam furniture and metallic accents pop is to include a large area rug with a washed-out look. It will act as an ideal background to display your Bohemian elements and accessories. Take a look at the Safavieh Madison collection if you're interested in a high-quality distressed area rug that offers some great chic vibes.




Thanks to its multicolored design and vintage effect, the area rug can pull the room's style together showing off a striking designer look. The distressed effect is obtained with the help of an advanced construction technique that also takes into account durability. No need to worry about shedding or difficult cleaning as the rug's fibers have been enhanced to make your life easier. Don't hesitate to check out this area rug more closely as it's truly a great investment.
Best Area Rug for Dogs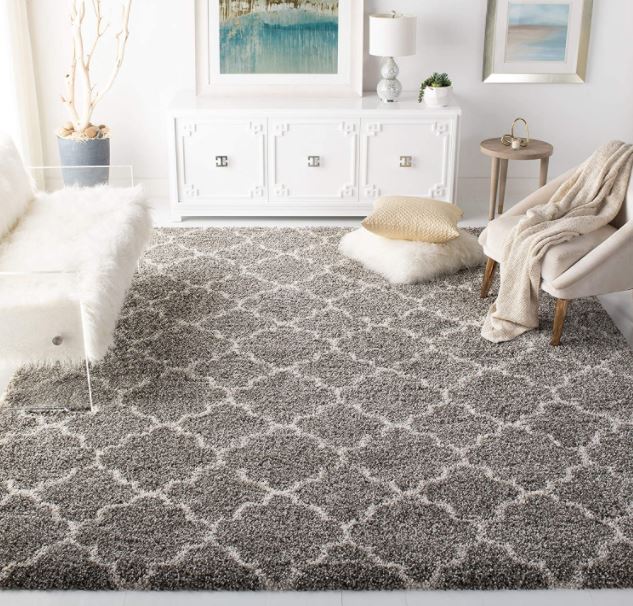 Buy On AmazonBuy On WalmartBuy On Home Depot
Geometric patterns are very popular when it comes to area rug designs. Those who favor a more contemporary look will prefer them in particular over other styles. The Safavieh Hudson Shag Quatrefoil is a great model to consider given its soft power-loomed construction and captivating patterned design. There's a hint of Moroccan style when it comes to the overall look of this area rug.
The pile height of 2 inches promises a lush experience. It can really impact the comfort of the room and make everyone feel cozier. A slight drawback to keep in mind when it comes to cleaning is the need for a powerful vacuum. Choose a low-traffic area to place the rug if you don't want to clean it that often, particularly if you have small children or pets. When you factor in all of its qualities, this area rug is worth the expense.
Buy On AmazonBuy On WalmartBuy On Home Depot
Simple but sophisticated, the Ottomanson Shag Collection comes with a wide range of reasonable-priced area rugs. It's sturdily built and features a versatile design for convenient placement regardless of your décor style. This shag rug is quite sleek while it offers an adequate level of comfort to boost the overall coziness of your living space. Some of the available colors you can select are turquoise, charcoal gray, and orange.
The manufacturing process makes use of 100% polypropylene which gives the rug natural resistance to stains. Despite the low price, the area rug is surprisingly well-made. You won't have to worry about shedding or weird smells with this one. The area rug is soft and a breeze to clean. If you prefer a more minimalist look and don't want to spend too much, this Ottomanson area rug is a very cost-effective choice.
Buy On AmazonBuy On WalmartBuy On Home Depot
Anyone who's looking to elevate the look of their modern living room with some elegant clean lines should check out this striped area rug from nuLOOM. The Classie shag rug is made from polyester and provides a multi-colored look that can easily become a focal point in the living room. In terms of thickness, the area rug is fairly impressive as it delivers the kind of soft and comfortable underfoot experience that you'd expect at this price.
It's not easy to figure out if a particular area rug will last a long time, but this one feels durable to the touch and has been designed to handle some extra abuse. We recommend this shag rug for homeowners with pets and small children as it's easy to clean and extremely plush. The color of the rug can differ slightly from the one in the picture. All in all, the nuLOOM Classie deserves some attention if you're in the market for high-quality area rugs.
Buy On AmazonBuy On WalmartBuy On Home Depot
If you want to make a colorful statement in the living room, the easiest way is to incorporate a vividly-colored area rug with fun abstract patterns. Check out the modern rugs from Well Woven that come with a vast range of stunning geometric patterns to beautify any room in your home. Thanks to its jute backing, the rug represents a fitting choice if you have wood floors.
The use of polypropylene yarn makes this area rug convenient to maintain. It will naturally repel liquid stains as well as prevent fading in the long run. The 0.5-inch pile height isn't that high, but the low-profile design keeps a good balance between softness and easy cleaning. One of the best features of this area rug is the saturated multicolor palette which takes the look of any living room to a new level.