This post may contain references and links to products from our advertisers. We may receive commissions from certain links you click on our website. As an Amazon Associate Rhythm of the Home earns revenues from qualifying purchases.
Share this article:
The coffee table is an essential element for any living room. It's one of the most versatile pieces of furniture in terms of functionality while having the potential to become an aesthetic centerpiece. There are lots of options on the market if you're looking to update the look of your living space with a brand new coffee table. It can get quite overwhelming having to sift through all of them, particularly if you're searching for something very specific.
Whether you want to focus on design elements and wish to invest more for a luxurious piece or just prefer a basic table that does its job well, this article will provide you with the best options available. We've assembled together both cheap and expensive tables as well as modern and traditional models. Check out this list of coffee tables if you're tired of endless searches and want a cost-effective model suitable for your particular tastes.
Best Rustic Coffee Table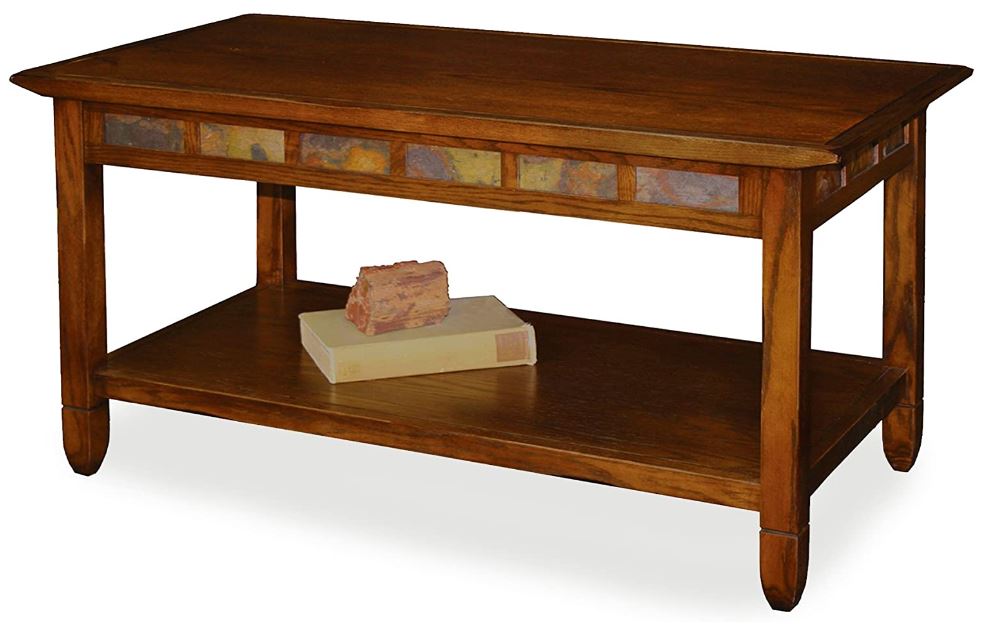 Buy On AmazonBuy On WalmartBuy On Home Depot
Fans of a rustic design will probably love this coffee table from Leick Furniture. It makes use of dark grain wood with elegant slate for a charming look that can fit right in for a wide range of living rooms. One of the main advantages of this model is the easy assembling process. There's a bottom shelf which should cover your storage needs with ease.
Considering the cost, this rustic slate coffee table is very well made and attractive. You can immediately notice that real thick wood has been used that feels reliable to the touch. If your interior space needs a strong rustic accent, this coffee table is probably your best bet for a harmonious look. Make sure you check the dimensions carefully so you won't be surprised by its relatively small size.
Best Budget Coffee Table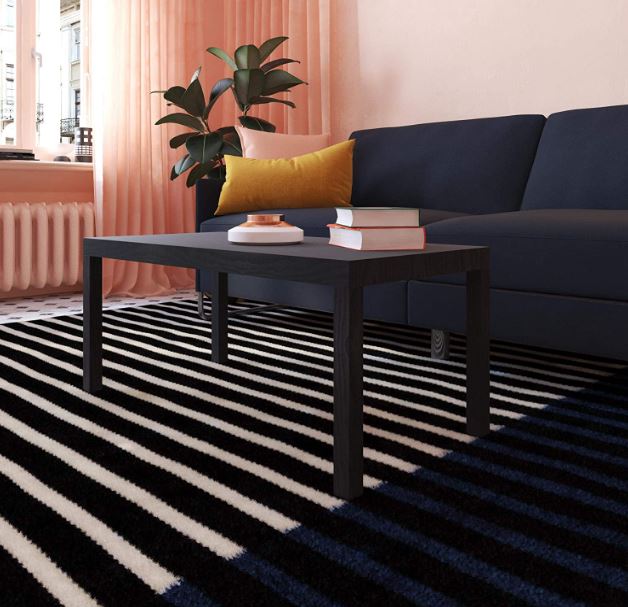 Buy On AmazonBuy On WalmartBuy On Home Depot
Simple and inexpensive, the DHP Parsons coffee table is an attractive furniture piece that comes with plenty of color variations. Those who prefer a more lightweight coffee table should check out this table. It features a hollow core construction to make it more convenient to move it around the house. Given its reduced cost, you can expect some shortcomings when it comes to durability.
Despite the use of more affordable materials, the coffee table comes with a stylish MDF laminate finish that protects it from scratches. Whether you choose rich black, natural, or espresso variations, you will be most likely pleased by the overall simple look of this model. This coffee table is ideal for apartments or living rooms where space comes at a premium. When you take into account the effortless assembly process, cost-effectiveness, and overall stability, it's safe to say that you won't be disappointed by the DHP Parsons rectangular coffee table.
Best Oval Coffee Table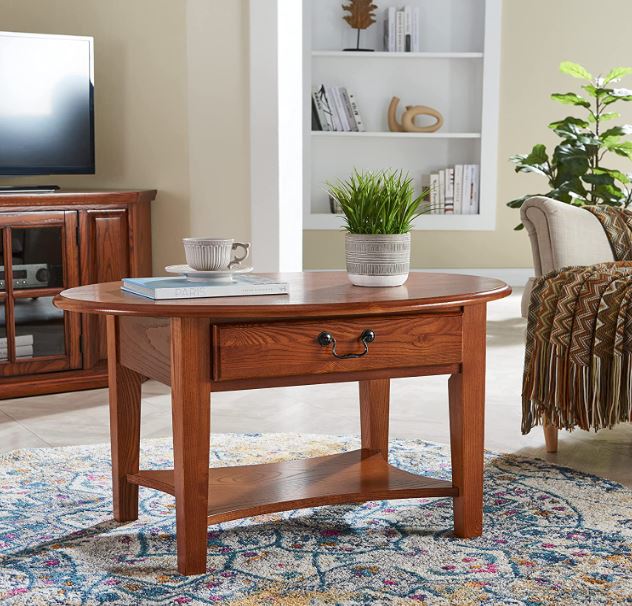 Buy On AmazonBuy On WalmartBuy On Home Depot
If you're in the market for a highly compact coffee table, the best choice is usually to go for an oval model such as this one from Leick Furniture. Built using solid wood with a beautiful oak finish, this table can act like an elegant complement for any interior. Despite the reduced size, the coffee table offers a large drawer that can be used for storing various accessories.
A lower shelf allows you to place things you need to grab more quickly such as books or magazines. Assembling this oak oval coffee table should take only a few minutes thanks to the way the parts fit so well together. The design is attractive in its simplicity without compromising on overall durability. If you want to invest in a coffee table made of real wood, this one could fit your needs like a glove.
Best Glass Coffee Table
Buy On AmazonBuy On WalmartBuy On Home Depot
Glass coffee tables are popular options for those who prefer a clean and airy look. Walker Edison has lots of interesting models you could try and one of our favorites is this oval coffee table with frosted lower shelves. Sturdy steel legs form a reliable structure where you can safely store many items thanks to the use of tempered safety glass.
When it comes to looks, this coffee table can easily impress your guests with the polished and beveled finish. The distinctive curved lines of the table are very alluring making it suitable for a modern aesthetic. While assembling this piece won't be very difficult, you need to pay close attention to some details to ensure maximum stability. The overall design enables even those with limited space to enjoy a stylish coffee table. Recommended for its great value for the money.
Best Industrial Coffee Table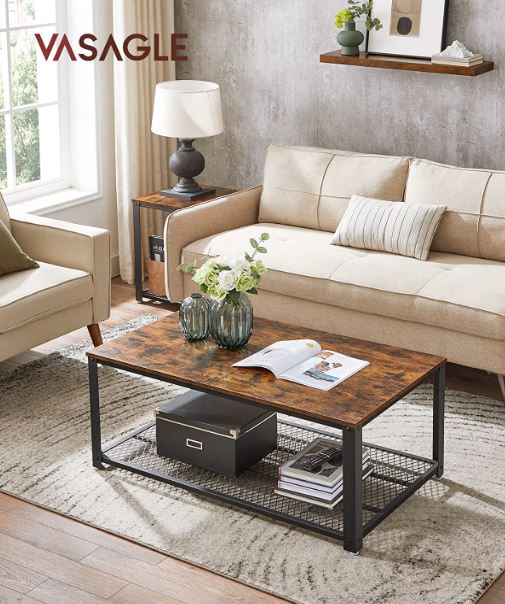 Buy On AmazonBuy On WalmartBuy On Home Depot
Do you love the industrial aesthetic? If the answer is yes, it only makes sense to get your hands on a coffee table that has an industrial flair. Check out this interesting model from VASAGLE. Their rectangular coffee table has many promising features including a matte-black iron frame paired with warm wood tones. Another highlight of this table is the metal grid underneath where you can store a maximum of 88 lbs. of items.
Some people might be hesitant to purchase this kind of table when they'll notice the low cost. It may seem a bit hard to believe but the quality of this industrial coffee table can exceed your expectations. It comes with a high-end look perfect for an interior where the rustic and industrial design styles dominate. When you also factor in the simple assembly and overall durability, this coffee table is a safe investment for the cost.
Best Coffee Table For Storage
Buy On AmazonBuy On WalmartBuy On Home Depot
Some coffee table designs are really ingenious. Take this model from Dorel Living as a good example. It features a faux marble top that can be lifted to reveal a hidden storage compartment. This is very convenient to have if you want to maintain an uncluttered look as some items don't need to be displayed. The combination of the faux marble top with the wood legs crafts a glamorous aesthetic.
Considering the extra height of this coffee table, some people can find it particularly convenient, especially when it comes to eating snacks during a movie. To assemble this coffee table, all you need to do is screw on the legs. It's good to know that the lifting mechanism is already ready to be used. The main elements that make the coffee table worth the money are the balanced dimensions, smooth lift motion, velvety surface, and the overall elegant look.
Best Round Coffee Table
Buy On AmazonBuy On WalmartBuy On Home Depot
Lots of round coffee tables on the market suffer from a common issue. Their frame is often not strong enough to maintain optimal stability. Here's a round model from Household Essentials that deals with this problem very effectively by incorporating a robust metal frame. The top of the table is smooth due to the laminated texture that shows off a walnut brown style.
Assembling the legs is a breeze. You can have an attractive coffee table in your living room in no time. Keep in mind that the surface of the table is fairly sensitive to finger marks so it will need regular maintenance. That's not a great issue considering the small cost. Overall, the table feels sturdy enough to last for a long time. It's rugged yet small enough to use it with ease in an apartment.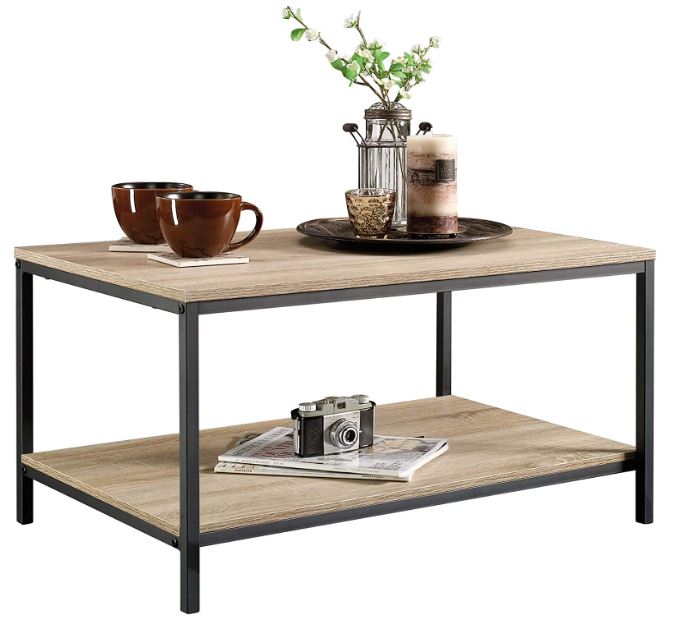 Buy On AmazonBuy On WalmartBuy On Home Depot
In case you prefer open shelving, the Sauder North Avenue coffee table could be an excellent unit for the cost. This coffee table has a rectangular design with a Charter Oak finish and a reliable black metal frame. There's a bit of assembly required but nothing that you can't handle with ease. The table is manufactured with engineered wood which is a more sustainable choice compared to solid wood.
Given the metal frame and wood finish, the table can be easily integrated into an industrial interior. It looks like it's much more expensive than it truly is. Despite the metal design, the table is fairly lightweight and has excellent potential in terms of storage. You can place lots of items on the top and bottom. Fans of coffee tables that aren't bulky will love the design and style of the Sauder North Avenue.
Buy On AmazonBuy On WalmartBuy On Home Depot
The Leick Furniture Delton is designed to handle some abuse thanks to its durable solid hardwood construction. This coffee table has a timeless look and it's obvious that the manufacturer paid extra attention to details. The Sienna finish has been applied by hand to ensure optimal protection for the surface of the table. You won't have to worry about fading looks.
There's no fiberboard used for this coffee table as this unit is made for everyday use. The wood on the top has a nice thickness. To store more items, you can take advantage of the lower storage shelf. Putting this table together doesn't take long as parts fit very precisely. All in all, the Delton coffee table checks all the boxes for a quality model that's a pleasure to use for many years to come.
Best Coffee Table Design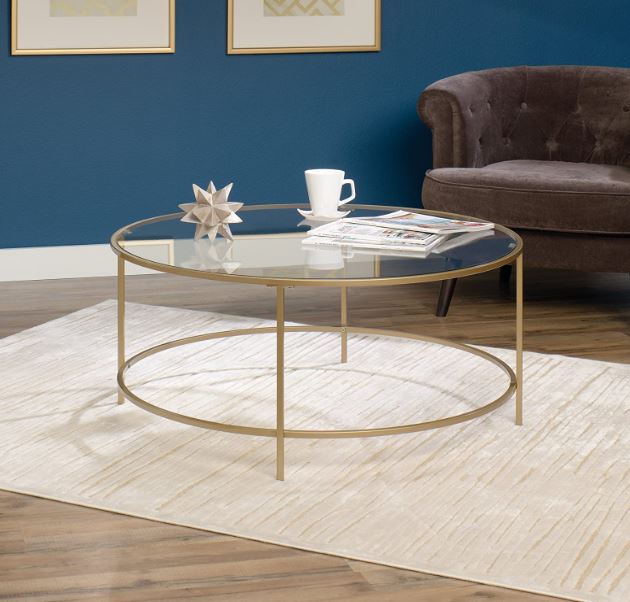 Buy On AmazonBuy On WalmartBuy On Home Depot
Are you looking to add some glam and glitz style to the living room? Get an elegant coffee table with gold finishes such as the Sauder Lux round model. This furniture piece can easily bring a touch of luxury thanks to its sophisticated blend of gold metal legs and a glass top. It's versatile enough to be integrated into a wide range of aesthetics though it works particularly well for Bohemian interiors.
This coffee table is a great investment if you value looks above all else. The modern design will add a great complement to the sofa in a stylish living room. Aside from the fabulous look, the table doesn't disappoint when it comes to putting it together. It's simple to assemble and comes with the right dimensions to fit nicely even in a studio apartment. The Sauder Lux coffee table is highly recommended considering the solid value for the cost.