This post may contain references and links to products from our advertisers. We may receive commissions from certain links you click on our website. As an Amazon Associate Rhythm of the Home earns revenues from qualifying purchases.
Share this article:
Painting your house in a shade of green could be an easy way to give it a distinctive personality. Green is a popular color in nature but it's not seen very often when it comes to the exterior look of houses. However, it looks like more and more homeowners have opted for this color when designing their homes because it features lots of calming shades that go well with the surrounding greenery. Whether it's a sage, mint, or forest green tone, it's important to select the right roof color that will match the green exterior of the home in an eye-pleasing way. Here are our best picks.




1. Dark Brown





Brown and green work like a charm together, especially if you like the idea of a rustic home exterior. Houses surrounded by lots of trees and other natural elements will seem particularly well integrated with their environment if you focus on a dark color palette of browns and greens. Although lighter tones can still make a rustic home look good, a darker green exterior helps to provide a bit of elegant contrast with the vibrant greenery. The addition of a dark brown roof complements the sophisticated style of green paint.




2. Gray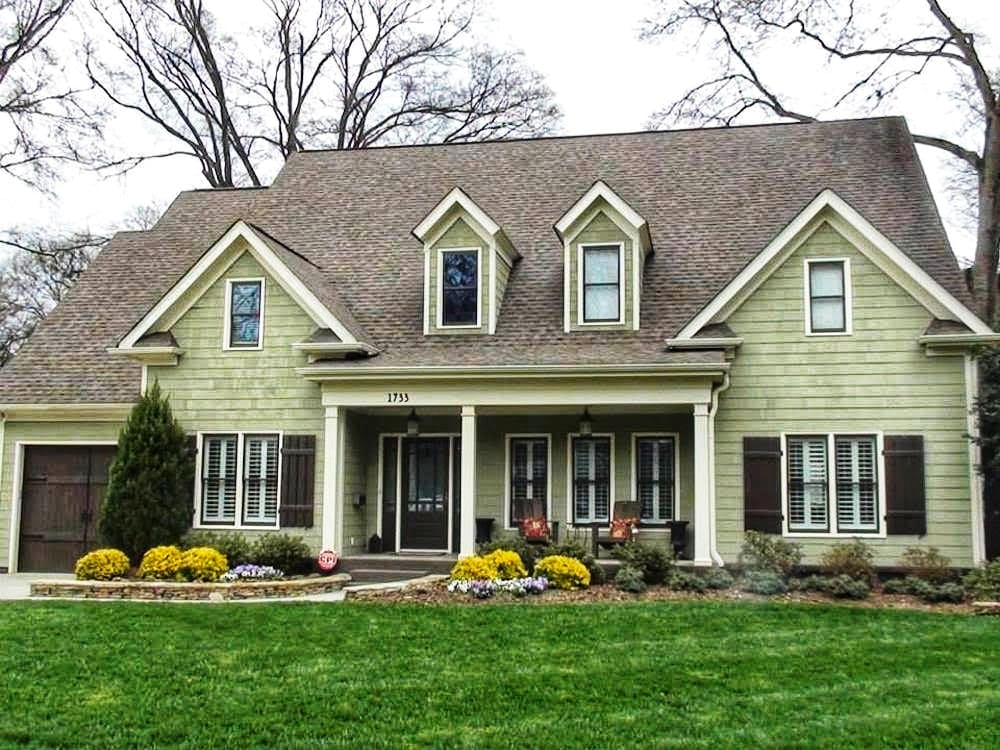 Many traditional Craftsman-style homes can incorporate a modern exterior paint touch by using a light shade of green such as sage. It can bring a sense of unique freshness that will easily make the home stand out. If you wish to emphasize the beauty of this sage green exterior as much as possible, it's recommended to select a neutral tone for the roof. Gray is probably the best choice in this case because it allows the green to take center stage while complementing its modern elegance.




3. White





White may not appear as the first roof color choice for a green house. However, it's arguably the best option to complement the green exterior of a vacation home situated in a coastal area. The use of classic white can help to brighten up the visual appeal of a house designed in a light shade of mint green. It's a great choice for practical reasons as well considering how the white roof will help to maintain a cooler environment inside the home.




4. Terracotta Red





Red and green are complementary colors that can appear very attractive together. Pick an earthy tone like terracotta red for the roof if you intend to paint the exterior of the home in a darker green tone. Whether it's an elegant shade of hunter green or a verdant forest green style, it's safe to say that a muted red hue can complement it very well. This terracotta tone offers an eye-pleasing understated effect compared to a more vivid shade of red.




5. Light Brown





If you plan to remodel the home's exterior with a delicate sage green coating, it's best to use a similarly light tone for the roof. Considering the nature-inspired vibe of this green hue, brown feels like the right choice to complement its beauty. Darker browns might create a contrast that's a bit too overwhelming against sage green. This beautiful tone can be highlighted more effectively by a light brown shade that offers excellent neutral qualities.




6. Green





A monochromatic house look can work nicely for other colors so why not try this design style with green? Check out this classy Victorian house that has been revamped with the help of a lively mint green exterior color. The roof has been painted in a similar light green style but the shade is slightly different thanks to the noticeable presence of a blue undertone. It's an elegant solution to provide a sleek contrast effect while creating a more calming atmosphere.