This post may contain references and links to products from our advertisers. We may receive commissions from certain links you click on our website. As an Amazon Associate Rhythm of the Home earns revenues from qualifying purchases.
Share this article:
View this post on Instagram

Short Answer: Generally yes, as long as the shades complement each other nicely. I explain the complexities of matching the rugs and curtains in detail below.




Given the considerable visual impact of curtains in the room, it can be argued that you need to pay attention when shopping for a new set of drapes to ensure that it's a good match for the other decor elements in the space. Many homeowners can worry about obtaining a proper visual match between the curtains and the rug or carpet. This is perfectly understandable considering the potential of beautiful curtains to complement the design of the floor.




If you want to avoid an unbalanced look, you should match the look of the rug when getting new curtains. But how exactly do you create a good match? It seems like a daunting task but it's simply a matter of tying together the designs of the curtains and the rug allowing each element to serve its own purpose while being integrated into a cohesive room theme. Matching doesn't just mean using the same color tones and pattern styles but it's more about blending the design elements together so that they work in harmony.




1. Make Eye-Pleasing Color Combinations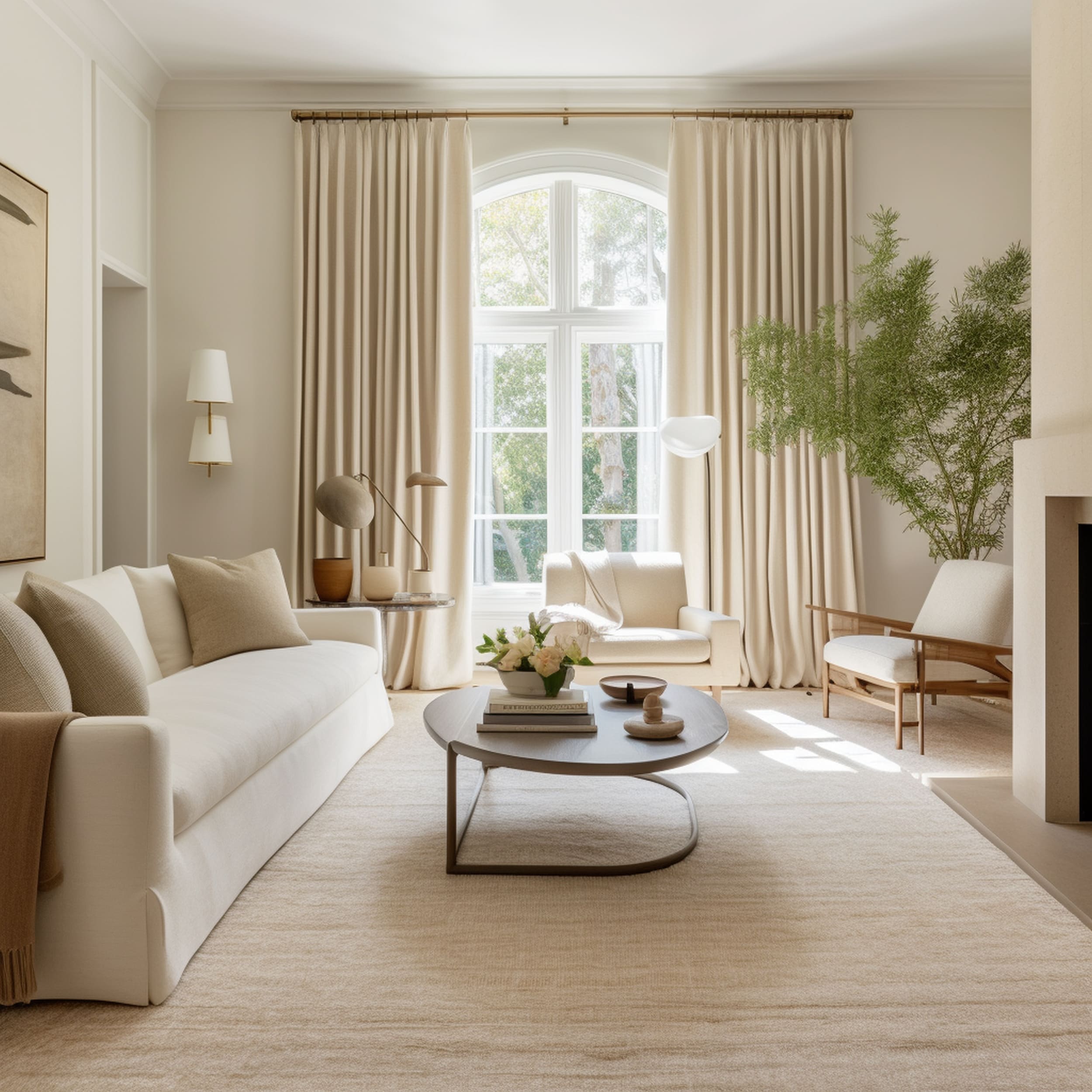 Although there are no strict color-matching rules that you need to worry about, it's worth taking into account color theory for an eye-pleasing color scheme when matching curtains with the rug. Decor elements such as curtains and rugs are often used as colorful accents to complement the style of the room based on a neutral-tone color palette. If that's the case and you wish to bring some fresh pops of color, it's recommended to rely on complementary colors that are found at opposite ends of the color wheel.




Combinations such as orange-blue, purple-yellow, or red-green can bring some intense contrast to the space but there's still a sense of aesthetically-pleasing stability. Complementary tones work like a charm to naturally match colors between curtains and a rug. However, if you don't want any sort of intense contrast and vibrant splashes of color, it's best to stick to neutrals.




Instead of making the curtains stand out against the rug, it's recommended to keep the color palette restrained to classic neutral tones such as white, beige, and gray. It's safe to say that you can obtain a visually harmonious look with minimal effort by focusing on neutral color combinations. Whether you favor warm and cozy creams and tans or dark and sophisticated grays, you can bring timeless appeal to the room using neutrals.




2. Consider Patterns for Visual Interest





Patterns can be used ingeniously in home decor to prevent the space from feeling too plain and one-dimensional. Curtains are good elements to use when you want to bring patterns to the room. Due to the fact that this kind of window treatment creates a large visual block, it's recommended to match the curtain patterns with other accents to maintain a balanced style.




The rug doesn't necessarily have to feature the exact same patterns but you will obtain a more cohesive look by using some eye-catching patterns that offer a similar aesthetic vibe. For example, curtains that feature geometric patterns can match the look of a rug that has tribal patterns showcasing various lines and shapes. If you don't want to commit to a really patterned look, a contrasting style can also work by using a solid-color design for the curtains to match the playful patterns of the rug.




3. Pay Attention to Textures





As opposed to other design elements of the room, there's typically a greater emphasis on featuring a certain type of texture on the rug. Curtains are also textural elements that should play nicely together with the rug to make sure that you create the desired room atmosphere. Even if the colors of the curtains and the rug seem to clash, their matching textures can prevent visual incongruity.




If you have a thick rug that's particularly soft and cozy, the room will feel more balanced if you add heavy curtains. The two elements will complement each other well through their matching textures. The same balance can be obtained when combining light and breezy curtains with a slim carpet to result in a relaxed atmosphere. Blending different textures could be recommended in some cases but it's best to pay close attention to match the colors more carefully.




4. Take Into Account Curtain Size





The size of the curtain panels can be considered another important detail when it comes to making stylistic matches with the rug. Pair long curtains that brush the floor with rugs that are richly dense and fluffy to make an attractive combination. This curtain style offers a certain level of elegance and sophistication that can be complemented well by glamorously-textured rugs and carpets.




Depending on the visual style that you're aiming for, you can select a certain curtain size to create a better match with the rug. For example, if you wish to let your colorful rug make a bold statement, you can pick shorter drapes that are not as visually overwhelming as curtains that reach the floor completely. Want to evoke a lightweight feel for the atmosphere of the room? Mix small rugs with short curtains to keep them as matching accents in an understated style.