This post may contain references and links to products from our advertisers. We may receive commissions from certain links you click on our website. As an Amazon Associate Rhythm of the Home earns revenues from qualifying purchases.
Share this article:
Whether you have a faulty bathroom faucet in need of replacement or simply plan to remodel the entire space, there are some considerations when buying a new faucet. The market is packed with lots of different styles of bathroom faucets making it confusing to pick the right one. While choosing a faucet that's compatible with the sink or tub is important, you need to take into account factors like aesthetics and user-friendliness as well. Let's explore the most popular types and styles of faucets to enhance the visual appeal and functionality of your bathroom.




1. Single-Handle Faucet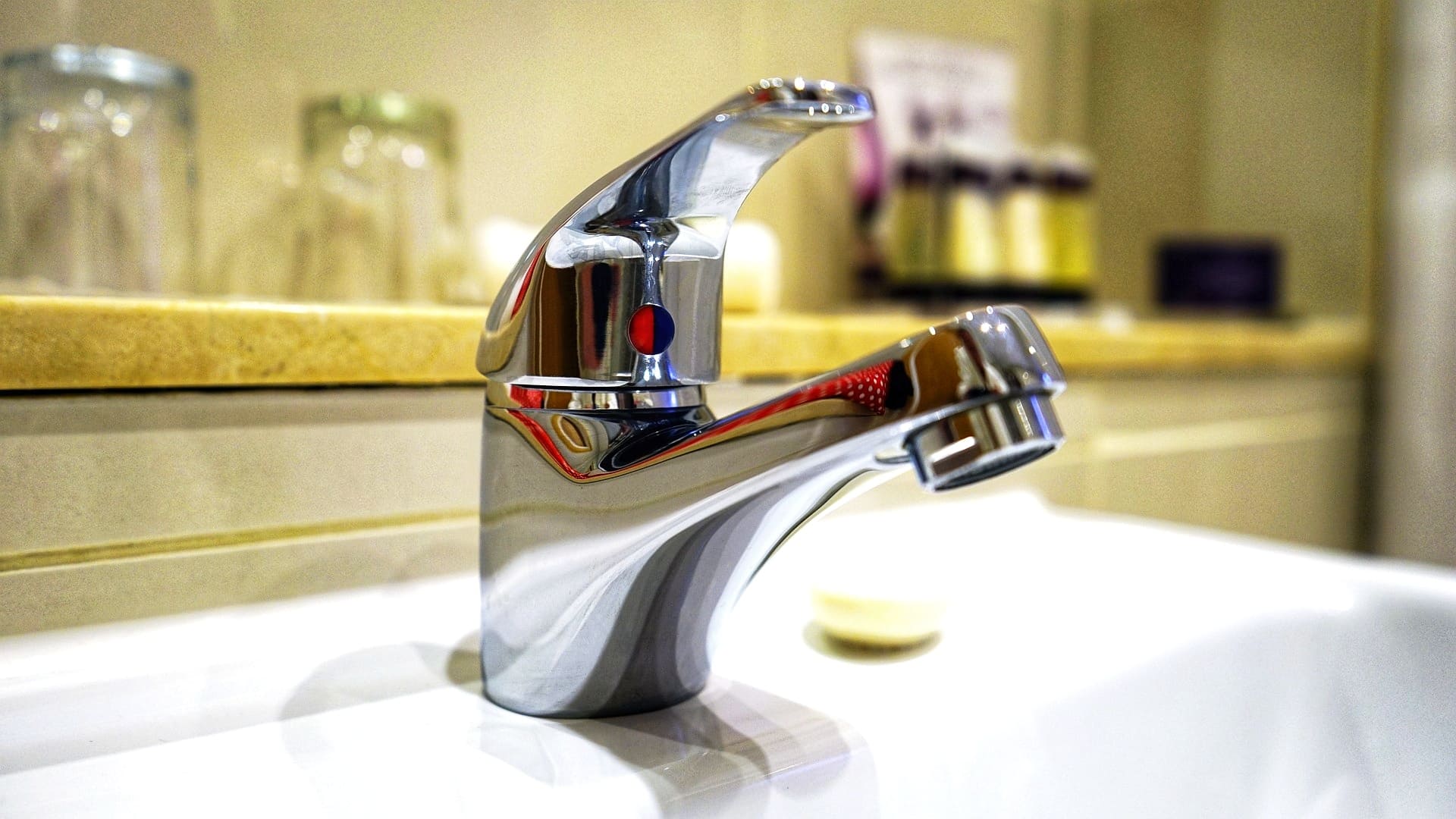 Both hot and cold water are controlled using a single handle if you select this common type of faucet. It's a pretty basic style but it does the job well and there's not a lot of effort required to install it. Single-handle faucets are affordable and practical but they also have some decent aesthetic potential if you select a stylish finish and spot design. This type of faucet works ideally for small bathrooms because it requires less mounting space than others.




2. Center-Set Faucet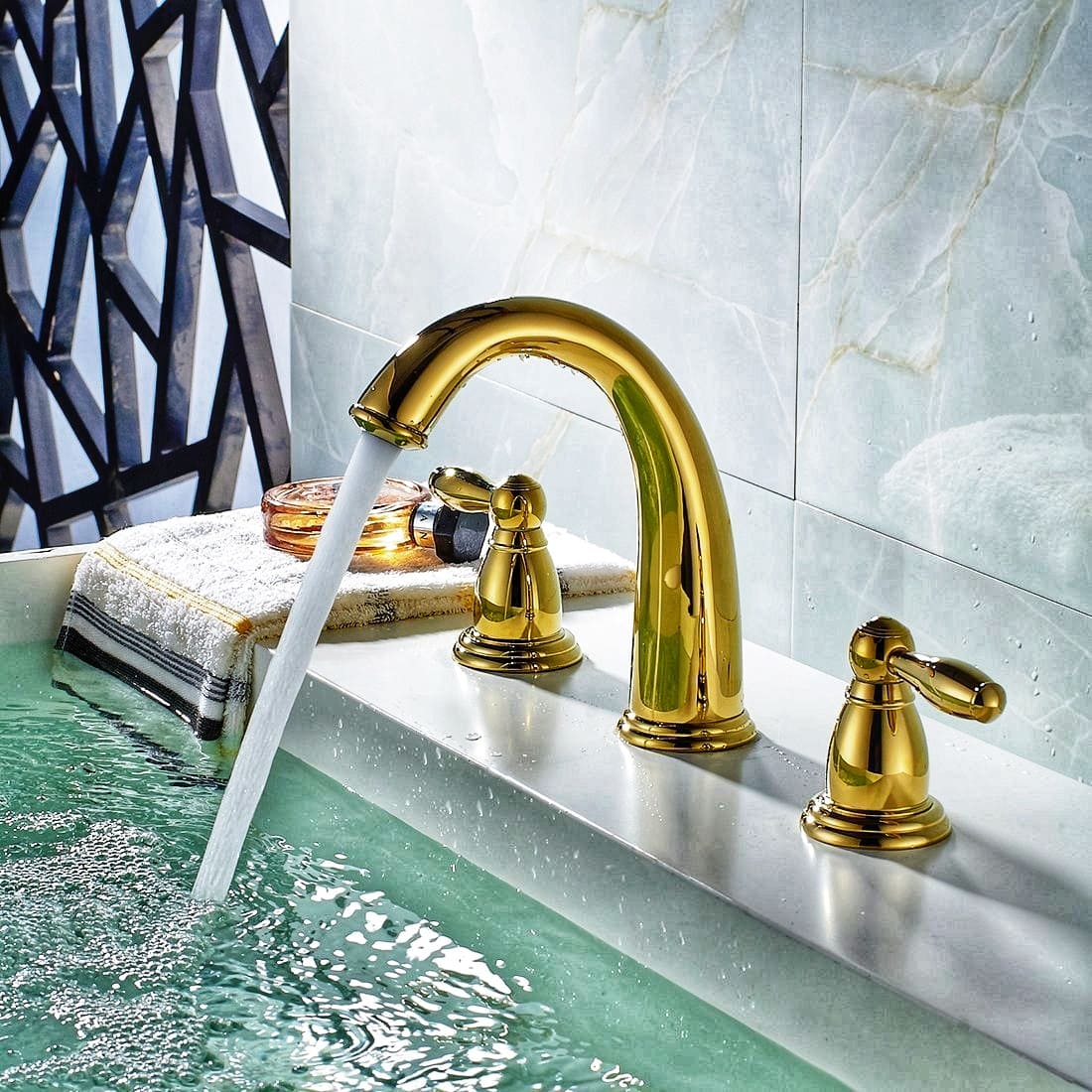 If your sink features three holes to install a faucet, it means that it's primarily meant for mounting a center-set faucet. This type has a spout installed on a base unit with separate handles flanking it. Center-set faucets are commonly encountered in bathrooms because of their practical design and classy aesthetics. Instead of handles, some faucet models can feature knobs to control the water flow.




3. Bridge Faucet





The bridge faucet type integrates vintage style in a modern design by removing the need to drill an extra hole for the spout base. The hot and cold water controls are elegantly connected through a bridge-like design. Levers branch off to a single component resulting in a clean and stylish look. Lots of undermount sinks tend to feature this style of bathroom faucet. Cleaning around the main spout is easier if you select a bridge faucet.




4. Spread-Fit Faucet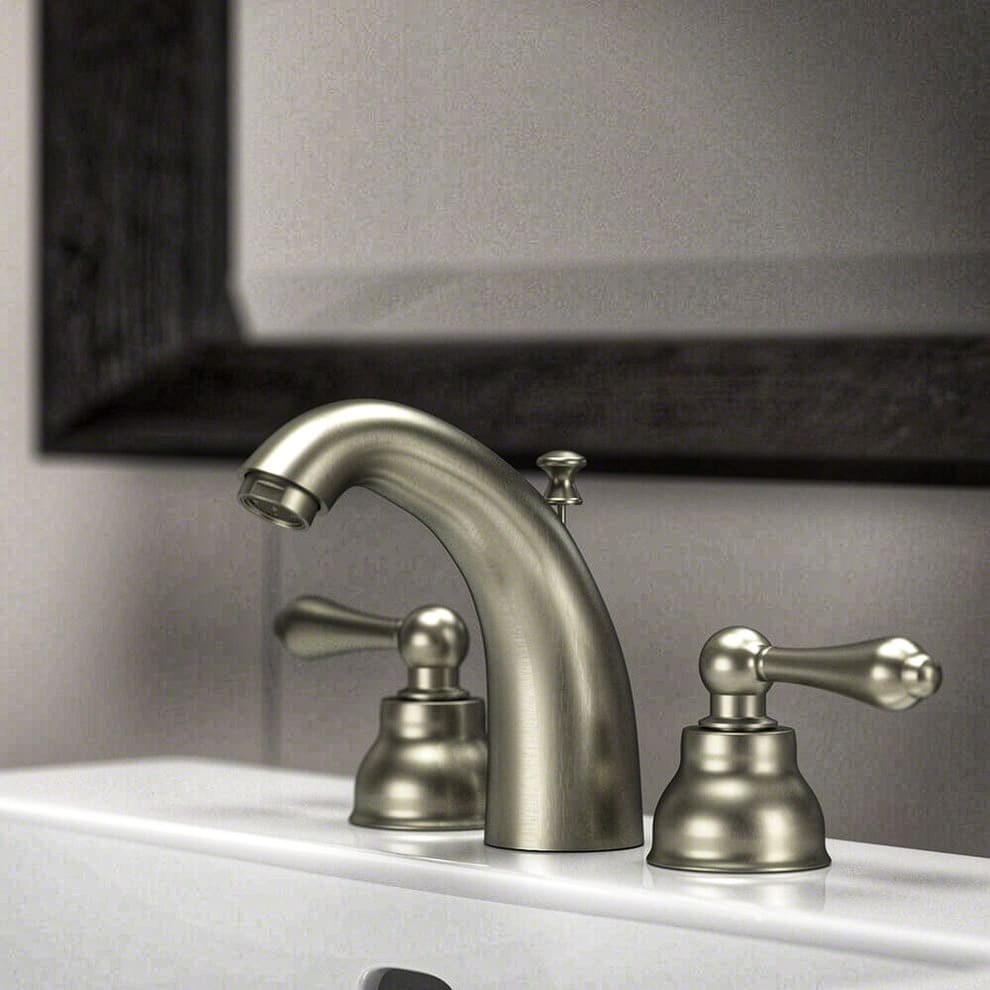 As the name of this type of bathroom faucet suggests, spread-fit designs show separate handles mounted quite some distance apart from the main spout. The individual pieces of the faucet can resemble center-set types but there's considerable spacing provided which also allows for more atypical faucet configurations. Holes can be spaced anywhere from 4 to 10 inches while the connections are neatly concealed.




5. Wall-Mount Faucet





If you're looking for a unique type of bathroom faucet, the wall-mounted style will likely stand out because it's more distinctive compared to standard faucets installed on the sink countertop. Deciding on a wall-mount faucet isn't simply a matter of aesthetic preferences because this style requires a compatible sink that allows for proper wall attachment and keeps splashing to a minimum. Having a wall-mount faucet provides an additional benefit by simplifying the cleanup of dirt and mineral deposits on the sink.




6. Deck Mount Faucet





This type of faucet offers a straightforward installation style because it's intended to be mounted on the sink or tub countertop. Similar to a wall-mount faucet, this style comes with the added benefit of simplifying cleaning chores. Both the bathtub and the sink can be maintained more easily because the faucets and handles are placed at an extended distance. It's recommended to add a deck mount faucet in bathrooms that have large countertops.




7. Sprinkle Faucet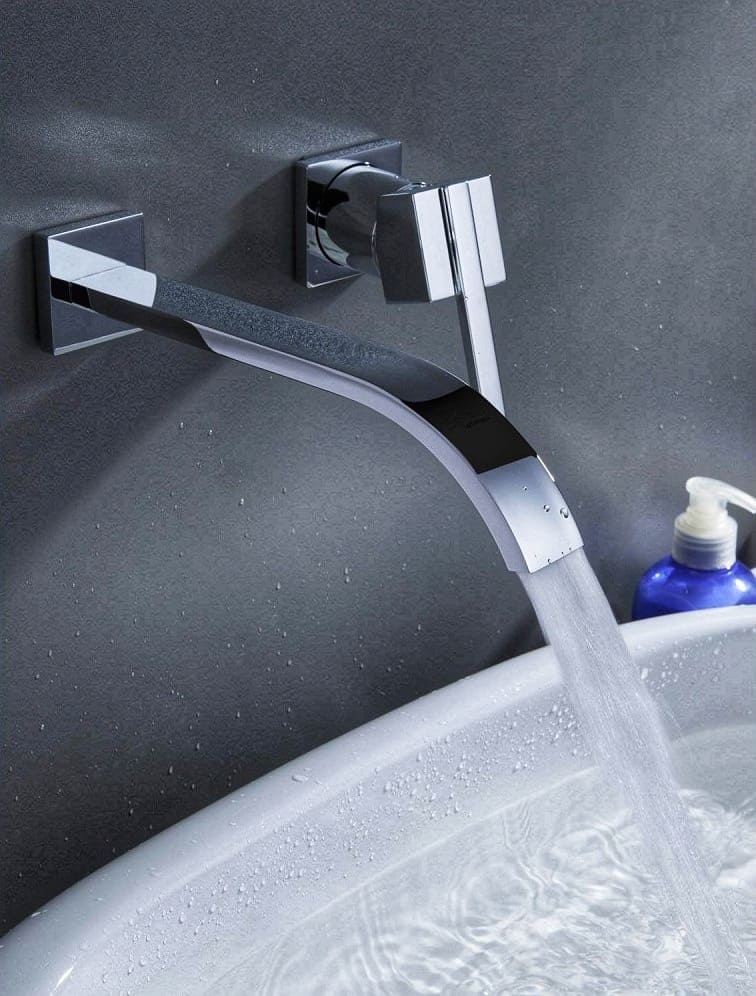 Sprinkle faucets get their name from the special design of the spout that allows water to flow in a rectangular shape. This is a modern type of bathroom faucet that creates an elegant sprinkling effect through an incorporated spout grate. It can bring some fresh aesthetic appeal if you're searching for a distinctive design compared to the typical faucets designed with cylindrical spouts. Sprinkle faucets are sometimes called waterfall faucets due to their characteristic water flow.




8. Freestanding Faucet





Commonly used for bathtubs, the freestanding faucet is intended for floor installation because they don't depend upon countertops or other elements for a proper attachment. If you have a stand-alone bathtub, it might be a good decision to opt for this type of faucet because it can provide some additional flexibility in terms of water flow functions. However, the downside is that you will need to deal with a special plumbing configuration because freestanding faucets require a water line connection through the floor.




9. Stainless Steel Faucet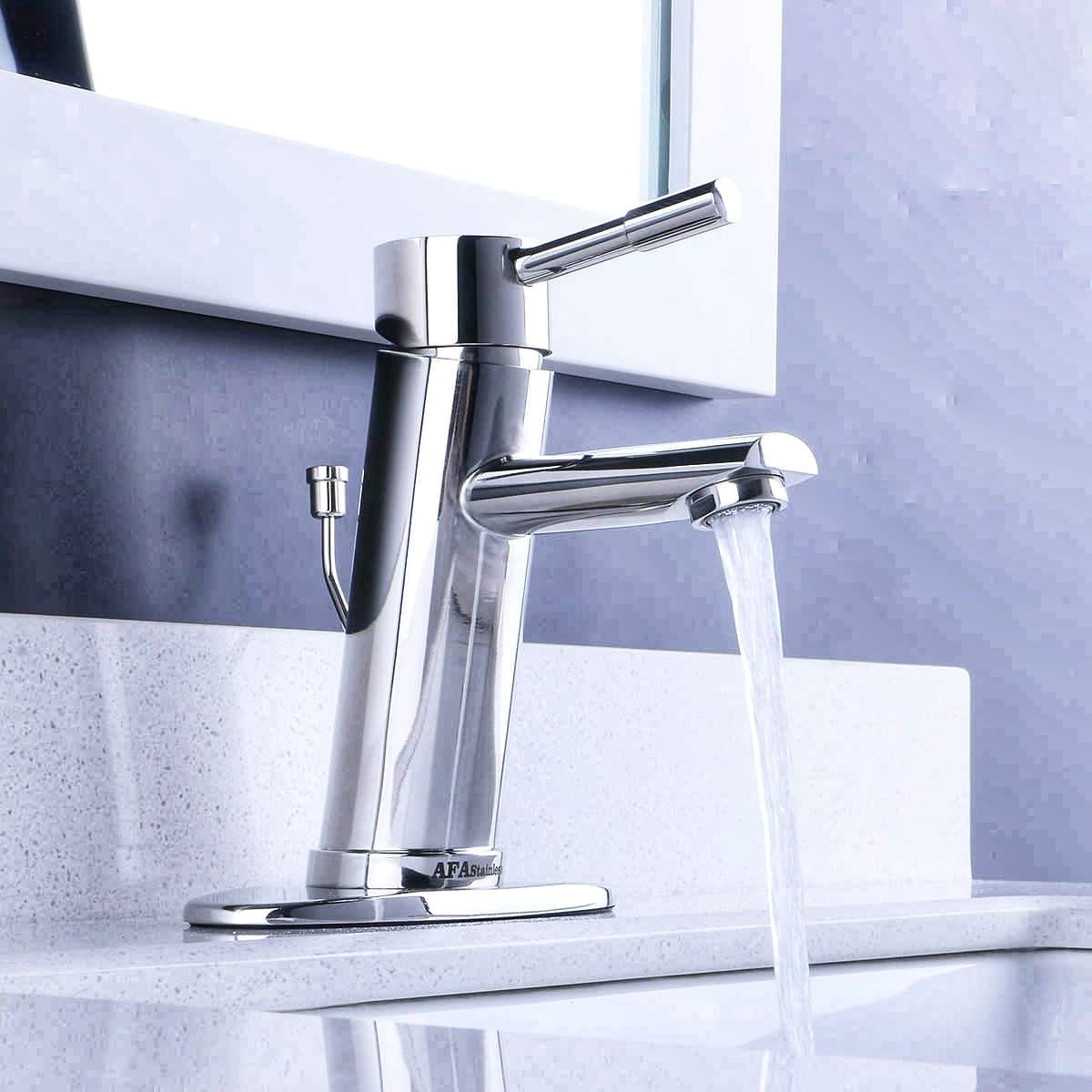 When it comes to bathroom faucet materials, stainless steel is probably the most popular because it provides an excellent balance between durability, style, and cost-effectiveness. Although stainless steel faucets can withstand the test of time more reliably than other materials such as brass, the classy silver surface can be heavily affected by watermarks which results in the need for frequent maintenance work.




10. Brass Faucet





Brass finishes can make bathroom faucets attractive and luxurious thanks to the characteristic golden appearance of the material. If you're redesigning your bathroom with a vintage makeover, it's safe to say that brass works like a charm to make the faucet a stylish decor accent. The finish material is also welcomed in more modern bathroom styles where it can add a glam touch to the sink or bathtub. Brass faucets are decently strong and can be reinforced with aluminum for extra resistance to corrosion.




11. Chrome Faucet





If you like the idea of a high-gloss faucet design, it's worth using a shiny chrome finish. Considering the relatively affordable price tag and striking aesthetics, chrome faucets enjoy an immense level of popularity, especially when used for the bathtub or the shower. The shiny visual appeal of chrome can be combined effortlessly with other bathroom colors as the silver tone has solid neutral qualities. Chrome faucets require some maintenance to keep the finish as shiny as possible for a long time.




12. Brushed Nickel Faucet





With a similar shine to chrome but slightly different in its own way, the brushed nickel finish is another great option for bathroom faucets. It looks more expensive than it really is. Compared to classic stainless steel, brushed nickel shows off a darker silver tone that brings some extra sophistication to the faucet. This finish style can be considered more long-lasting than chrome if you're willing to pay a little more for the premium look.




13. Copper Faucet
Due to copper being a soft metal, it's not usually considered the best choice for bathroom faucets. However, the impressive style of a copper finish cannot be underestimated. With the help of a copper faucet, you can add an artistic vibe to your bathroom and make any sink or bathtub stand out. If you're willing to make some durability compromises, there are lots of elegant copper faucet designs worth considering. Keep in mind that copper is also less affordable than stainless steel or other finish types.