This post may contain references and links to products from our advertisers. We may receive commissions from certain links you click on our website. As an Amazon Associate Rhythm of the Home earns revenues from qualifying purchases.
Share this article:
1.

The Shiny Power of Disco Balls
While most people associate disco balls with the retro-style dance halls from the 1970s, this is actually a much older element that found its way into the popular club culture ever since the 1920s. The fashion world has experienced a resurgence of the disco ball as a stylish décor piece which doesn't belong only in 1970s-themed rooms. You can learn how to take advantage of this trend in a vast range of methods. It's not necessary to transform your living room into a dance floor as the disco ball represents a great decorative piece to add a sparkling touch to any typical living area in the house.
There are a few tricks to using the disco ball correctly without falling into a kitschy trap. Styling with this retro-inspired element requires subtlety and creativity. You need to learn how to take a unique approach without seeming gimmicky. The disco ball décor trend gives off some unexpected vibes, which is why so many people choose to include it for maximalist interiors. That doesn't mean disco balls are only good for creating flashy looks without much substance. It's actually possible to incorporate them as fun accents in modern décor and fresh design styles. Take a look at the following inspirational ideas to bring some shine into your décor with the help of disco balls.
2.

Place it on the Floor
We're used to seeing disco balls hanging from the ceiling so placing the disco ball on the floor can be an unexpected decision with a great visual impact. This can be a décor solution to try if you need to work with high ceilings. The main idea is to subvert expectations by placing the disco ball in a strange area.




Consider using an empty corner of the room to decorate it with a disco ball. Another option is to rely on other elements like the fireplace. Leaving the disco ball nearby will definitely draw attention more compared to hanging it as usual. Ideally, you need to avoid creating a look that suggests you forgot to take down party decorations and instead seamlessly incorporate the disco ball and let its characteristics shine.
3.

Spice Up the Look of the Home Office
Functional areas in your home like a small office will benefit from the glitzy touch of a disco ball. There's a trend in recent times to give your working area a personality of its own. It is your home after all. Adding some fun decorations can really boost your productivity as they affect your mood positively.

Spicing things up at the home office with disco balls isn't very difficult. Consider adding small disco balls on the desk to create some stylish textural contrast. The mix of metal and bamboo feels quite pleasant. This party decoration can act as a reminder of the importance of balancing working sessions with fun times.
4.

Decorate with Different-S

ized Disco Balls
When it comes to disco balls décor, it appears that size plays an important role. Check out this bedroom whose look has been achieved through an ingenious combination of two disco balls. The large piece next to the smaller one improves the glamorous effect as they're positioned side by side, so the different ball size is immediately noticeable.
5.

Make a Disco Ball Planter
Here's a very interesting idea to decorate with disco balls while taking into account a functional aspect. Disco balls have just the right shape to act as a planter for your favorite fern or succulent house plant. The shimmery design of the disco ball can become a glamorous home for your plants.




We like this décor idea due to its unexpected contrast. Take a natural element like a plant and mix it with an over-the-top shiny disco ball. While these disco ball planters are available for sale in some places, you can make one yourself without too much effort by using your DIY skills. Check out this disco ball planter guide.
6.

Try Mini Disco Balls as Decorative Accents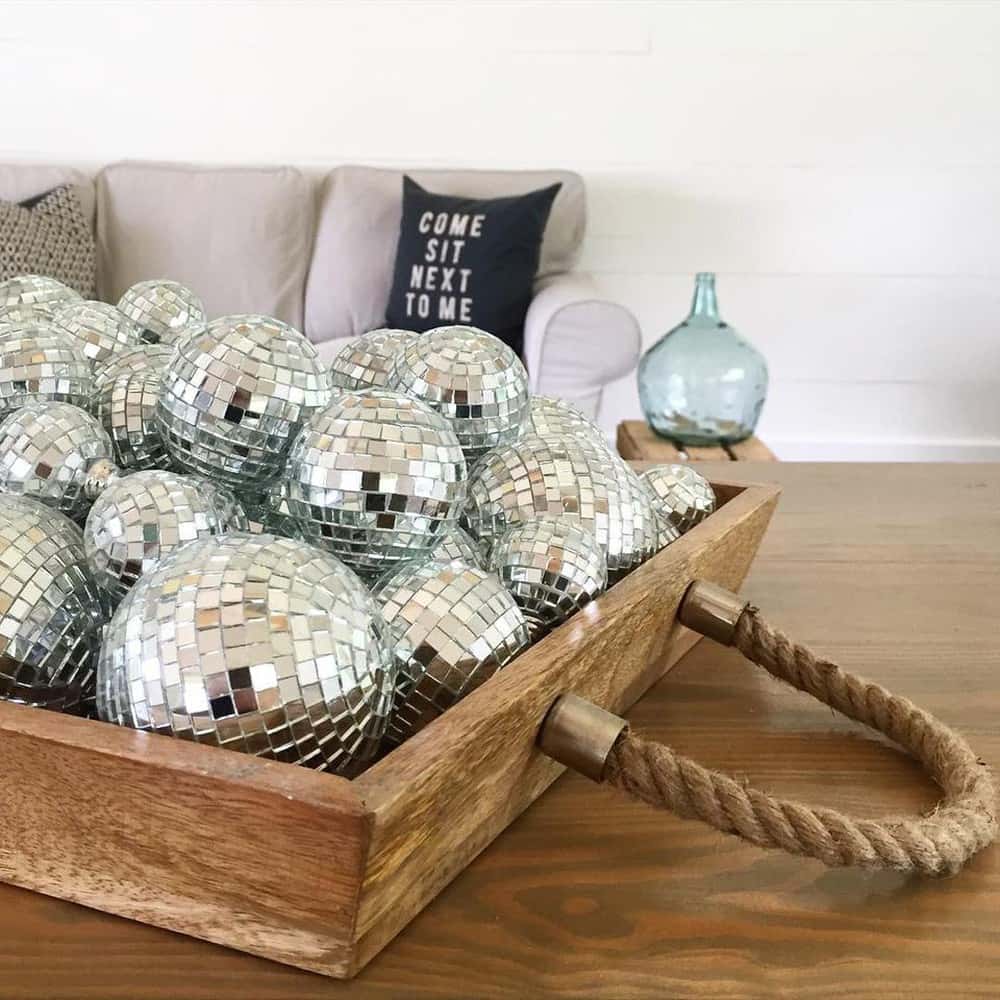 If you wish to bring some glitzy vibes to your coffee table, there's no need to use a full-sized disco ball. Go for mini disco balls to fill your decorative bowl instead of pine cones or other conventional items. Even if it appears that they won't fit in with the rest of the décor, the little disco balls are sure to create a great impression on your guests.
7.

Pay Attention to the Location
In case you've decided to hang the disco ball somewhere in the house, it's important to pay close attention to the room. This is because a disco ball has the potential to become the focal point when positioned correctly. It depends on the kind of statement you wish to make, but living rooms usually benefit from a strong glam vibe provided by a disco ball.




Bedrooms will also look great with disco balls. We recommend sticking to a more understated style as this area doesn't have to be too visually overwhelming. No matter the location, make sure you add some complementary accessories to fit the shimmery aesthetic. Consider incorporating some iridescent decorations as well.
8.

Combine the Disco Ball with Natural Light
A simple and effective method to use a disco ball into your home décor is to hang it near the window or skylight. Natural light will illuminate the room with sparkly reflections coming off from the disco ball. The result is a mood-lifting effect as the light bits envelop the entire room. This is the kind of magical solution to try if you wish to showcase your brilliant disco ball.
9.

Add Small Disco Balls to the Chandelier
Instead of hanging one imposing disco ball from the ceiling, why not go for an alternative approach? Check out the way small disco balls have been added to this chandelier to boost its look with some shiny ornaments. It's recommended to go for this look if you want to create a festive atmosphere with the help of an eclectic touch.
10.

Use the Space Under the Table
When you look through the room in search of an ideal spot to place a disco ball, don't overlook the area under the table. It could be a coffee table or a desk. Either way, this seems like a great spot to create a beautiful decorative display with the help of a disco ball. We recommend going for glass or Lucite tables as they provide a better view of the shimmery ball.




11.

Craft a Disco Ball Snowman
Disco balls have a playful, round shape which you can take advantage of and design some original decorations. The disco ball snowman shown here is a great example. It's built from different-sized disco balls making a very festive display for the winter season. Of course, this kind of ornament can beautify a room all year long if you prefer.
12.

Hang it From the Hammock Chair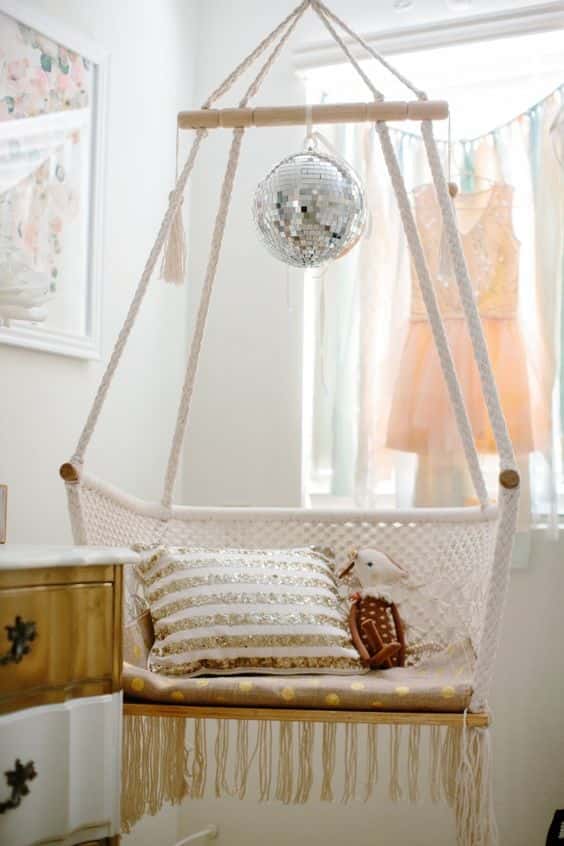 If you like the look of a hanging disco ball in the room, there are different approaches to consider aside from simple ceiling placement. Other elements in the room can be used as the support needed to hang a disco ball. This hammock chair is a very good example. The addition of a sparkly disco ball represents the finishing touch to complete its glamorous look.




13.

Go for Golden Disco Balls
Silver is the most common color used for a disco ball but that doesn't mean you can't try to break the usual conventions. Check out the powerful visual impact made by this golden disco ball which projects a sea of sparks in this Mid-Century modern room. Although the room is already quite colorful, the golden disco ball turns up the intensity with its extra color splash.
14.

Create a Sparkling Disco Ball Wreath
The design of the disco ball makes it a fitting ornament to include for your holiday decorations. We've already seen how you can build a snowman using a few disco balls. Another great idea is to create a sparkling wreath where the central elements are tiny disco balls. You can definitely impress your guests with this kind of unique decoration.