This post may contain references and links to products from our advertisers. We may receive commissions from certain links you click on our website. As an Amazon Associate Rhythm of the Home earns revenues from qualifying purchases.
Share this article:
Anyone looking to transform the attic area into a more functional space has lots of interesting options to choose from. A great one is to turn the attic into a bathroom. It may seem like a strange idea to some but it actually makes a lot of sense considering the lack of a bathroom on the upper part of the house. Having an extra bathroom here can prove very useful and you may even get a great design opportunity to craft a one-of-a-kind bathroom thanks to the roof and ceiling style of your house.
With the help of an attic bathroom, you can make use of this often unused area to create a dedicated sanctuary where you can come to relax and escape the stress of everyday life. Working with the unique features of the attic such as sloping angles and exposed beams will allow you to create a bathroom that's both functional and incredibly attractive. Add a personal touch through accessories and extra features and transform any bland attic into a cozy bathroom that suits your particular aesthetic. Check out the following attic bathroom to get some inspiration and create something special.
1.

Minimalist Attic Bathroom
Using only clean lines and a neutral color palette to add character to the area, this attic bathroom is perfect for people who are into minimalist décor. Natural textures, such as the wood from the vanity, help to bring in some warmth to the sparsely furnished bathroom. When relaxing in this bathtub, you can enjoy a great view of the outside thanks to the skylight placed right above.
2.

Cottage Style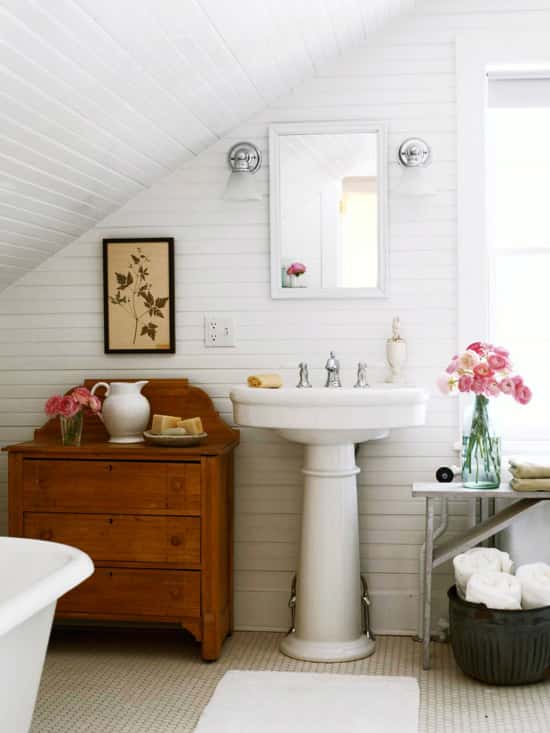 Considering the hygge vibes that are often found in cottage-style interiors, it makes sense to rely on this aesthetic for a bathroom built in a small area like the attic. Notice how the bathroom's furnishings have been efficiently integrated to accommodate the slanted roof design of the room.




Thanks to a predominantly white color scheme and bathroom flooring used, the area feels larger and more breathable. While there's not a lot of storage space here to include regular bathroom shelves, you can opt for rustic baskets to keep your towels close at hand.
3.

Zen Vibes
When you think of transforming the attic into a bathroom, it's safe to say that you want to create a dedicated sanctuary where you can relax. The positioning allows you to build an area that feels somewhat disconnected from the rest of the home. You don't usually visit the attic unless you have a good reason to.

By focusing on a Zen aesthetic for the attic bathroom, you can bring your specific vision to reality. Check out this modern bathroom that delivers a tranquil atmosphere thanks to various elements and accessories. The two skylights infuse the room with generous amounts of sunlight while materials such as stone and natural fibers complete the relaxing scene. Small decorative accents like the potted plants contribute to the atmosphere as well.
4.

Exposed Beams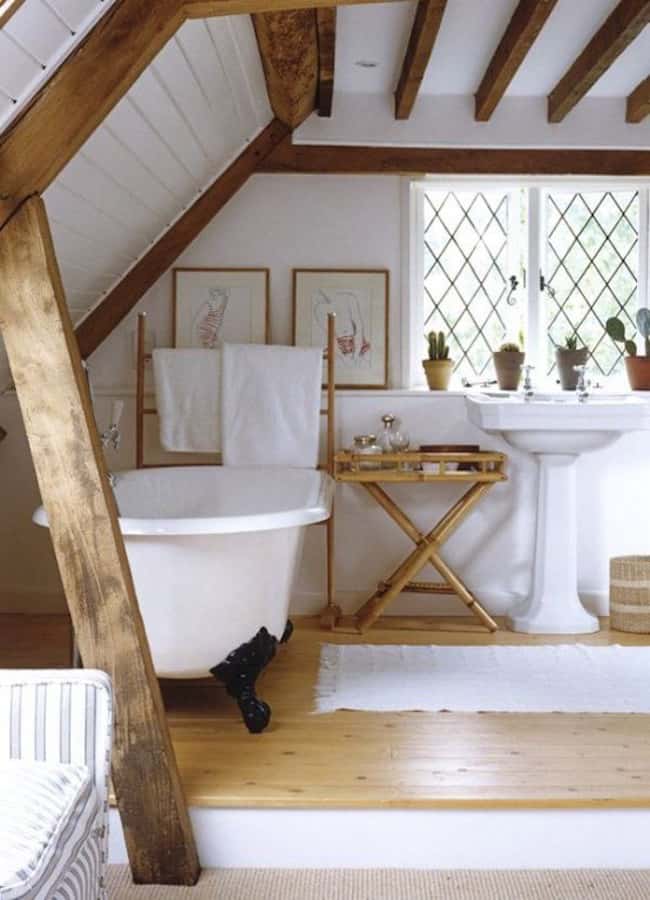 If you favor a rustic design style, exposed beams are must-have architectural elements to decorate your new attic bathroom. It's great if you can take advantage of exposed beams that are already in place which seem to boost the sense of spaciousness.




To complement the natural beauty of the wood from the beams, we recommend using furniture pieces built from the same material. A good example is this towel rack here or you can focus on creating a contrast with the help of bright white panels on the wall.
5.

Bathtub Highlight
Anyone lucky enough to have a large attic shouldn't miss this opportunity to make a statement when designing their bathroom. Highlighting the bathtub represents a great method to craft an aesthetically-pleasing bathroom in the attic. Pair your gorgeous tub with a luxurious lighting fixture like the chandelier used here. Find a similar Mid-Century style chandelier on Amazon.
This combination looks amazing thanks to the high ceiling which easily creates a point of interest. Gold accents are scattered throughout the bathroom for a glamorous touch in the all-white room.
6.

Modern Attic Bathroom
Not all attic bathroom should have rustic appeal or a design with a traditional vibe. People with modern homes would rather design the attic bathroom to keep a consistent style with the rest of their house. Take a look at this modern attic bathroom featuring contemporary furnishings built using sophisticated materials.




The pale peach-colored floor and walls make this bathroom warm and inviting. Ambient lighting underneath the bathtub contributes to that effect. Another detail that makes the area livelier is the addition of an indoor tree. Overall, this attic bathroom is an excellent example if you're planning on a modern design.
7.

Large Skylight
As opposed to other areas of the house, the attic gives you the opportunity to enjoy a great view of the outside if you install a skylight. Opting for a large window like this will increase the sense of openness in the room as it bathes the entire space in natural light from above. A functional place like the bathroom can definitely take advantage of being positioned in an attic with a large skylight.
8.

Jacuzzi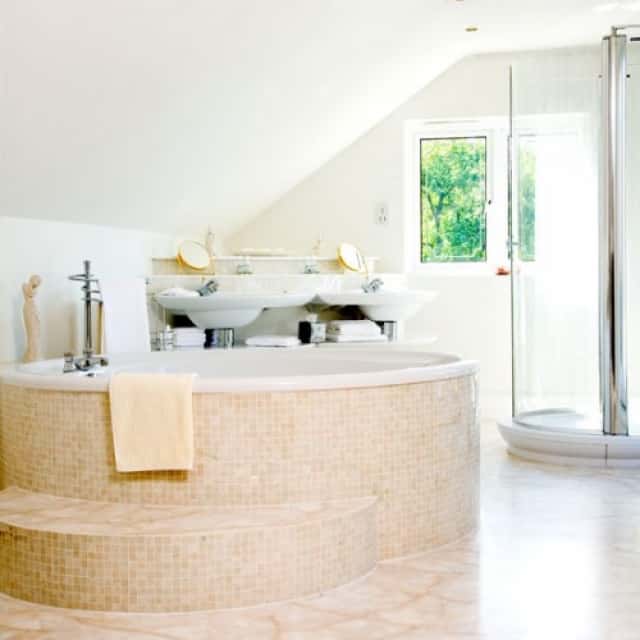 If you have a lot of space to work with, you can take advantage of it and make the attic bathroom a more special place. Adding a jacuzzi represents a solid idea to transform the bathroom into a true oasis of relaxation. Depending on the visual impact of its design, the jacuzzi can also be used to make a statement and complete the rest of your modern attic bathroom look.
9.

Cheerful Space
Having a small attic can result in getting some claustrophobic feelings when you create your dream bathroom. This is why we suggest enhancing the atmosphere with some bright colors and as much natural light as possible. The sumptuous tub in this attic looks very welcoming with its yellow brick backdrop. Notice the addition of an extra window aside from the skylight to create a cheerful space where you don't feel oppressed by the limited square footage.




10.

Shower in the Attic
While some attics can pose various design challenges due to how they're built, there are lots of solutions you can try to bring your dream bathroom to life. Check out this custom glass shower enclosure that's been carefully designed to work around the awkward angles of the attic. A small window has been included to enjoy the view from above while taking a shower.
11.

Spa Elegance
While hardwood bathroom flooring isn't usually a recommended option, it can be costly to replace the flooring of the attic to accommodate a bathroom. This is why sometimes it's best to try to find a workaround. With a bit of special protection for boosting the water resistance, this wood flooring can be successfully used.




To bring some spa vibes to the area, you can even cover the tub's exterior with the same wood material and obtain a more cohesive look. The contrasting white tones from the walls and ceiling are sure to contribute to the chic atmosphere of the attic bathroom.
12.

Wallpaper in the Attic
Instead of focusing primarily on the functionality of the attic bathroom, it's important to keep in mind the aesthetic qualities of the place. You should ask yourself – what décor elements can I use to give my cozy retreat its own personality? Sometimes the answer can be really easy.
Try some patterned wallpaper that can rejuvenate any bland-looking walls. Your attic bathroom will definitely look better with the help of an extra textural element. Certain bathrooms can look a bit overwhelming with all the walls covered in removable wallpaper, so you should be careful about the chosen patterns and colors. The grey feather wallpaper used here is elegant without feeling excessive.
13.

Free-standing Bathtub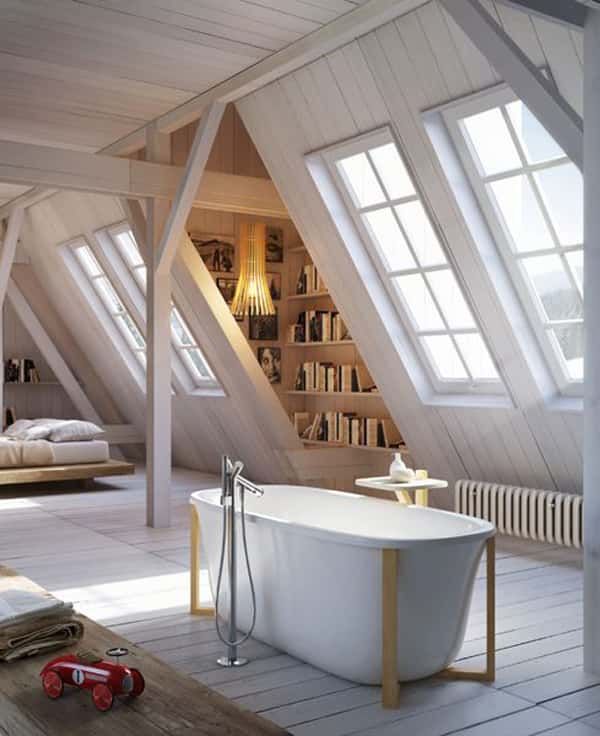 The bathtub is usually a must-have addition in any bathroom. To make the attic bathroom more distinctive, consider featuring a free-standing bathtub. Instead of being fixed and occupying a large portion of a corner of the room, the tub can be freed and positioned in a bolder way to be properly showcased. It's a bit harder as many plumbing installations don't offer this kind of flexibility, but it's worth trying if you're truly determined to achieve a similar look.




14.

Vintage Farmhouse Aesthetic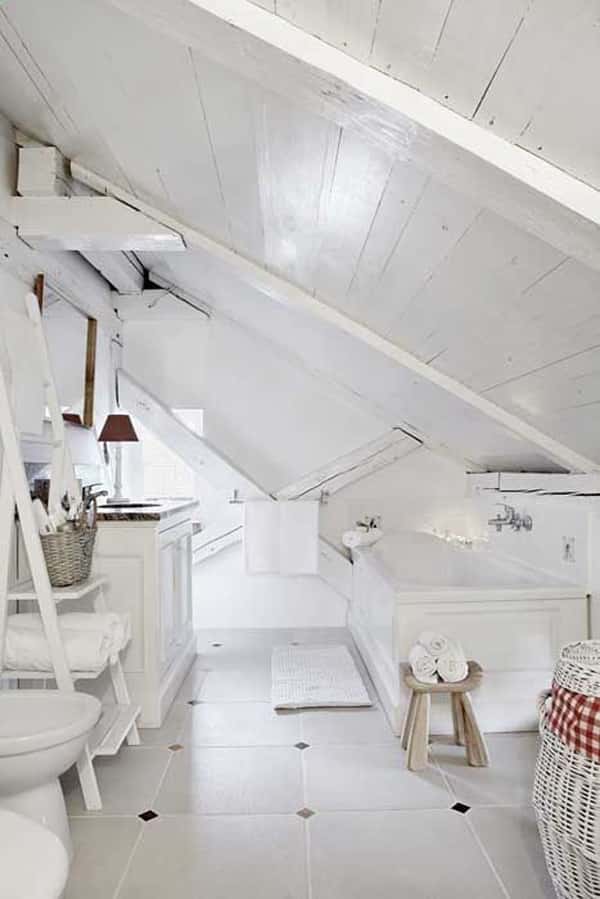 The attic is an ideal area for showing off a rustic-styled bathroom. And not just any rustic design but a vintage farmhouse aesthetic. To pull off this look, you need to focus on mirroring the traditional beauty of the slanted roof and other architectural elements towards the furniture pieces and other features in the room.
This attic bathroom makes use of a bright all-white color palette for its furnishings and accessories. While the exposed beams deliver the main farmhouse vibe, other decorative elements play an important role as well. One notable example is a rustic ladder used for storing bathroom essentials.