This post may contain references and links to products from our advertisers. We may receive commissions from certain links you click on our website. As an Amazon Associate Rhythm of the Home earns revenues from qualifying purchases.
Share this article:
There's nothing that can match that feeling of sitting in a hammock slightly swaying in quiet relaxation. It's easy to easy why hammocks are very popular products. You don't have to be a hiking enthusiast to enjoy the advantages of a hammock which can be installed in lots of places. You can take a nap in the backyard or pack it neatly for a camping trip. Hammocks are versatile, portable, and highly functional.
To get your money's worth, it's recommended to invest in a more high-quality hammock that can find the best balance between durability, comfort, and weight. The usual hammocks you can find on the market are built for campers to relax or sleep, but you can also purchase models with stands geared towards home users. No matter the purpose, a hammock needs to be comfortable, above all else.
If you're hunting for a very comfortable hammock look through its features to figure out if it can give you a superior relaxing experience. The material quality is a good indicator in this regard, but you can also look at the overall weight of the hammock. Sturdy hammocks are more comfortable as they feel more dependable when it comes to supporting your weight. Take a look at the following list of hammocks which have been carefully selected to cover the needs of anyone regardless of their budget. These are the best hammocks in terms of features per cost. You might also be interested in our articles about the best futons and the best zero gravity chairs.
Buy On AmazonBuy On Walmart
While there lots of great choices for a high-quality hammock on the market, few can rival this model from Wise Owl Outfitters. This camping hammock is crafted using durable materials while keeping the entire design as compact as possible. Apart from the hammock itself, the manufacturer includes all the required essentials for a pleasant experience when camping. The cost is very reasonable as well.
The hammock is built with parachute nylon so you can really count on its strength to hold you. What's great about this fabric is that it's both durable and soft to the touch. There are two sizes available so you can relax by yourself or with a friend. Even the large double hammock only reaches a weight of 26 oz. so that means you can place it in a backpack and then unpack it to its full size anywhere you go.
In terms of accessories, you will get nautical grade ropes and solid steel carabiners. These two items are crafted to fit together perfectly so the locking mechanism won't cause rope abrasion. All in all, the Wise Owl Outfitters hammock is comfortable, versatile, and boasts excellent value for the cost. Avid campers everywhere should strongly consider it.
Buy On AmazonBuy On Home Depot
If you're not a camper and only wish for a more convenient way to relax in the backyard, take a look at the Vivere Double Hammock. This model is available in three fabric styles and comes with a practical steel stand to set it up wherever you want. There's a wide range of colors to select for the cotton, polyester, and Sunbrella fabrics, and you can even choose a different colored frame.
If you prefer a tight weave with superior comfort, cotton is the way to go. Getting this fabric style for the hammock represents a solid investment as cotton helps to increase the lifespan of the hammock. In case you wish for a more colorful-looking hammock, then you could try the polyester fabric which is both durable and fade-resistant. Finally, there's the Sunbrella type which is a fabric designed to face tougher outside conditions while maintaining decent comfort.
The stand is strong and stable while keeping the weight to a mere 35 pounds. It's also a breeze to assemble, so you can enjoy the relaxation provided by your new hammock in no time. Considering everything regarding the Vivere Double Hammock, it's safe to say it represents a good investment. This hammock and stand combination is simply amazing in terms of comfort and durability.
Buy On AmazonBuy On Walmart
For those looking to get a sturdy double camping hammock, Winner Outfitters has just the right model for their needs. The hammock features an impressive 500lbs weight capacity allowing two persons to easily fit together. It's large and comfortable enough to let you stay with a loved one. There are other interesting features regarding the construction of this hammock.
With the help of the durable parachute fabric used in its creation, the hammock can deliver this level of excellent weight support. The material used is also fairly lightweight to make it easy to handle. This means the hammock should be strongly considered for backpacking adventurers as it's very portable. Setting it up will take just a few minutes. It will probably take longer to find a suitable place when camping.
The hammock comes with all the necessary tree straps and carabiners. The color variation is pretty limited, but overall, this model by Winner Outfitters checks all the boxes for a high-quality camping hammock. It's comfortable, durable, and lightweight. More importantly, it's fun to use together with a partner.
Buy On AmazonBuy On Walmart
Eagles Nest Outfitters has been in the business of creating great camping hammocks for quite some time. Their most appreciated model is the DoubleNest which is designed to handle two people at the same time. It features a handy compression sack that's attached to the body of the hammock for packing up quickly when it's time to leave. You'll be amazed when it's time to turn the large hammock to a very compact size and how it simplifies the transport.
The DoubleNest is available in an impressive assortment of colors, with lots of vibrant combinations to fit any personality. It's safe to say that the hammock looks attractive, but what about its comfort and durability? The fabric is the main element responsible for these qualities and there is some good news in that regard. The 70D Taffeta Nylon material is dependable enough to handle up to 400 pounds of weight and works well for taking comfortable naps.
There are few feelings as pleasant as lounging around in one of these hammocks. Any camping enthusiast needs a trustworthy place to relax and the DoubleNest from Eagles Nest Outfitters fits the bill. Compared to other hammocks on the market this is more expensive, but you can't go wrong by investing into one. It's also excellent for sleeping comfortably outdoors.
Buy On Amazon
The aptly named hammock manufacturer Honest Outfitters provides an excellent model that shouldn't miss from anyone's camping backpack. With an affordable cost and a compact design, this model has great potential on the market for hammocks. The manufacturer is known for a very responsive customer support and their products are designed with user-friendliness in mind.
Setting up this hammock is a breeze. In the package, you'll find handy accessories such as straps and steel carabiners. Even novices can learn to install the hammock anywhere they like within just a few minutes. The nylon cloth used for this hammock has mildew-resistant properties and it provides solid comfort. If you're worried about falling over or other accidents, the manufacturer includes triple interlocked stitches for safety.
Fast to install and great to relax in, the hammock made by Honest Outfitters sets a new standard for the camping industry. It features everything you could ask for in a camping hammock and the price is also kept in an affordable range. This product is recommended for budget-conscious users who still demand quality in their hammocks.
Buy On AmazonBuy On Walmart
A practical method for taking a nap during your next adventure outdoors is by getting a double hammock. Legit Camping provides a very balanced model in terms of features, accessories, and overall value for the money. The selection of colors is also one of the widest we've seen. You can easily get a stylish hammock to match well with your other camping gear.
Stuffing this hammock in a sack is possible thanks to the ingenious design which allows packing the hammock in a very compact manner. When you find a satisfying spot to place the hammock, just take it out from the backpack along with the included carabiners and straps. The quality of the accessories on this model is really impressive as the manufacturer focused on ensuring excellent resistance against the elements.
Capable of redefining grab-n-go camping, the Legit Camping double hammock is a cut above many of its competitors. There's hardly anything you can complain about it as everything from the fabric to the accessories has been built with top-quality in mind. Cost-wise, the hammock should fit most people's budgets with ease. Recommended for being able to balance strength with comfort so nicely.
Buy On Amazon
Sporting an impressive collection of color combinations and patterns, the MalloMe double camping hammock brings a lot to the table when it comes to relaxation in the wilderness. Having more room to get comfortable together with a partner could be considered a great advantage. No need to set up individual hammocks as you can just pack a large one like this model and use it for two persons.
Two large adults can relax together in this hammock without feeling uncomfortable. The strap design used for this model promises a 1000 pounds breaking strength which means you can swing in perfect safety. As the hammock relies on 210T nylon ripstop fabric, it's safe to say that this model has a particular focus on durability. When it's time to pack it down, the hammock's large size is reduced to resemble a volleyball.
This hammock delivers superior comfort thanks to its extra large size and to complete your outdoor relaxation experience, the manufacturer supplies straps with powerful webbing connections and high-tensile carabiners. Some other variants come with ropes instead of tree straps. As it looks and feels great, the MalloMe double camping hammock deserves a spot on this list. A must-have for campers.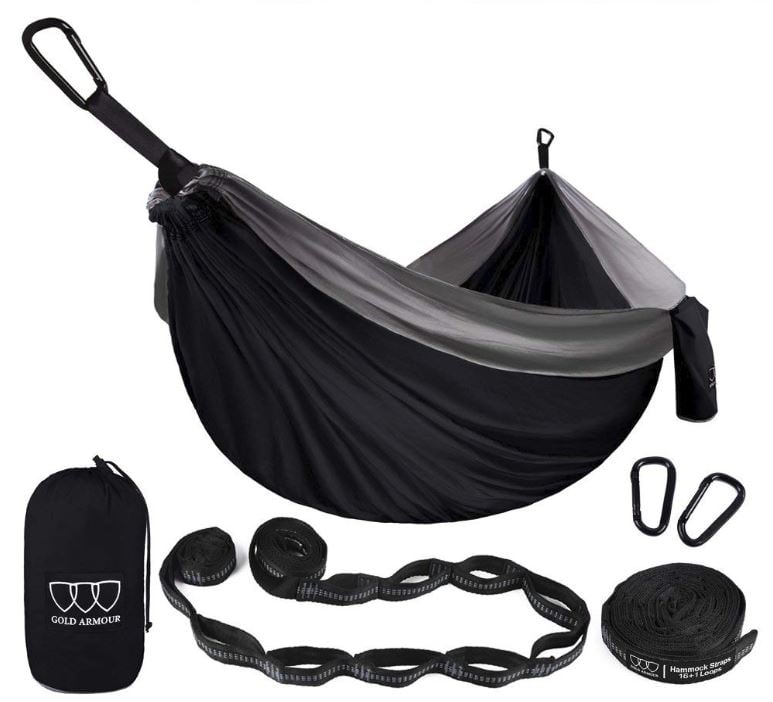 Buy On AmazonBuy On Walmart
Capable of supporting up to 500 pounds of weight, the Gold Armour camping hammock is another product that deserves some attention if you're an outdoors enthusiast. Its most defining characteristics are the ultra-low weight, the premium 210T nylon fabric, and the reliable strap design. A high-quality camping hammock needs to feel dependable and it looks like this one manages that without compromising on comfort.
The stuff sack is sewn directly into the hammock to make packing and unpacking more convenient. After a few touches of the soft material you can immediately notice that this is a well-crafted hammock. Apart from the camping hammock, you will also discover useful accessories to complement your adventure. Standard carabiners have been included as well as sturdy straps and attachment loops with triple stitched seams.
A somewhat underrated hammock on the market for camping gear, this model from Gold Armour looks like it's capable of providing excellent support and comfort in a stylish package. Considering how you can also set it up in less than 10 minutes, the final conclusion regarding this hammock is a very positive one. It can make an excellent gift for any camping enthusiast.