This post may contain references and links to products from our advertisers. We may receive commissions from certain links you click on our website. As an Amazon Associate Rhythm of the Home earns revenues from qualifying purchases.
Share this article:
Creative zig-zag prints are sure to infuse the style of a room with fresh energy. These patterns have some dynamic qualities that make them instantly draw all the attention. If you wish to make a statement through your décor, it's important to learn about the best methods to include zig-zag patterns and transform the look of your living space. There are lots of areas and elements where zig-zag patterns and prints fit right in including furniture pieces and the floor.
While you can throw some vibrant colors into the mix to enhance the charm of zig-zag patterns, even if you keep a monochromatic theme, the visual effect will be very impressive. Zigzagging chevron patterns can fit a wide range of decorating schemes and specific themes. We'll explore the most captivating zig-zag decorating ideas to help you integrate these fun patterns everywhere you wish to make a bold and distinctive fashion statement.




1.

Zig-Zag Pattern on the Rug





The rug is a great décor element through which you can add some fun zig-zag patterns. A large area rug with a bold design brings a modern twist for any interior designed in a traditional style. Choose a black and white pattern if you wish to avoid a look that's too flashy.




A floor rug with a zig-zag pattern can make your living room more exciting. At the same time, you can choose an appropriate size for the rug to ensure that the visual effect is perfectly balanced for the room's dimensions. If you want to make a bolder statement, go with a particularly large rug such as this durable and soft one from Amazon.




2.

Kitchen Backsplash





Are you looking to integrate some fun patterns into a more functional area like the kitchen? Dazzling zig-zag patterns could be suitable to enliven the atmosphere of the kitchen with a striking backsplash. Whether you use wallpaper or tile designs, these decorative patterns will bring some much-needed visual interest in this room.
3.

Chevron Curtains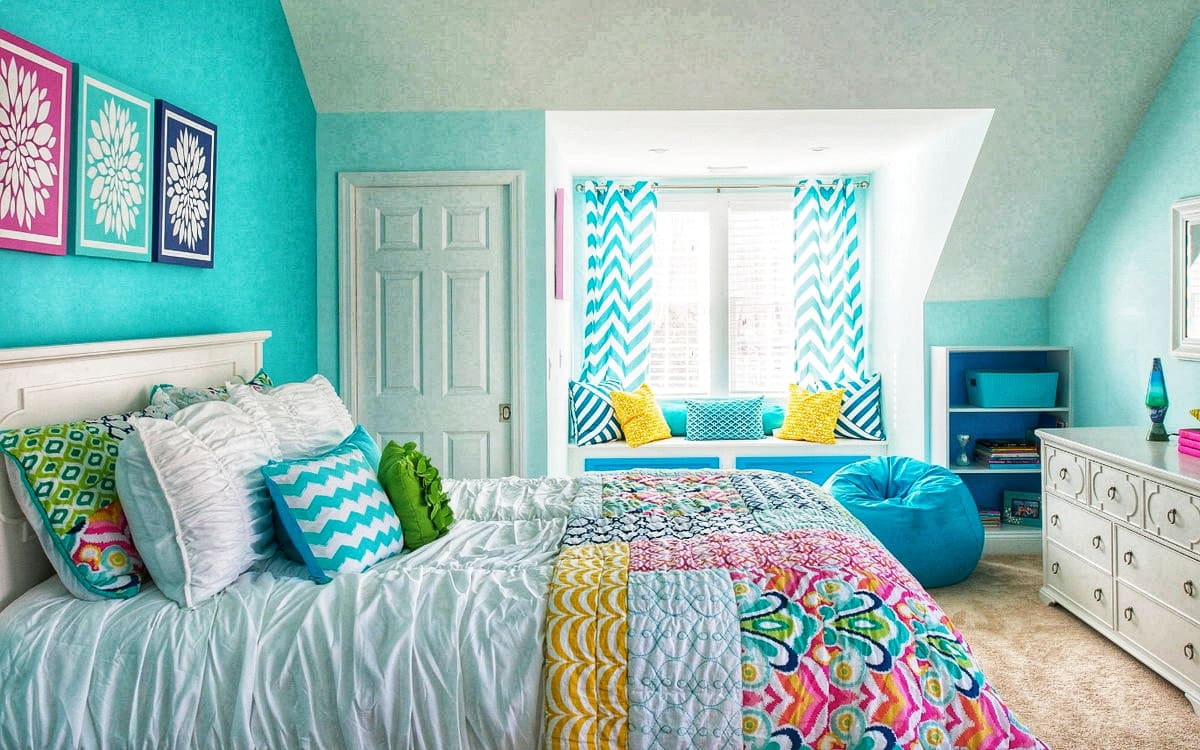 The look of the curtains needs to match the style of the room. If you plan on crafting a colorful and fun style for the bedroom, you need to choose some fitting accents and accessories. Go for a chevron pattern when it comes to the curtains to draw some attention to the window area.




Zigzagging curtains can have a strong visual impact so they work best alongside other vibrant and eye-catching elements. The turquoise and pink splashes of color in this bedroom form a beautiful pairing with various patterns throughout the room, including chevron on the throw pillow and curtains. Take a look at these zig-zag curtains from Amazon available in a wide range of colors.
4.

Zig-Zag Bookshelf Design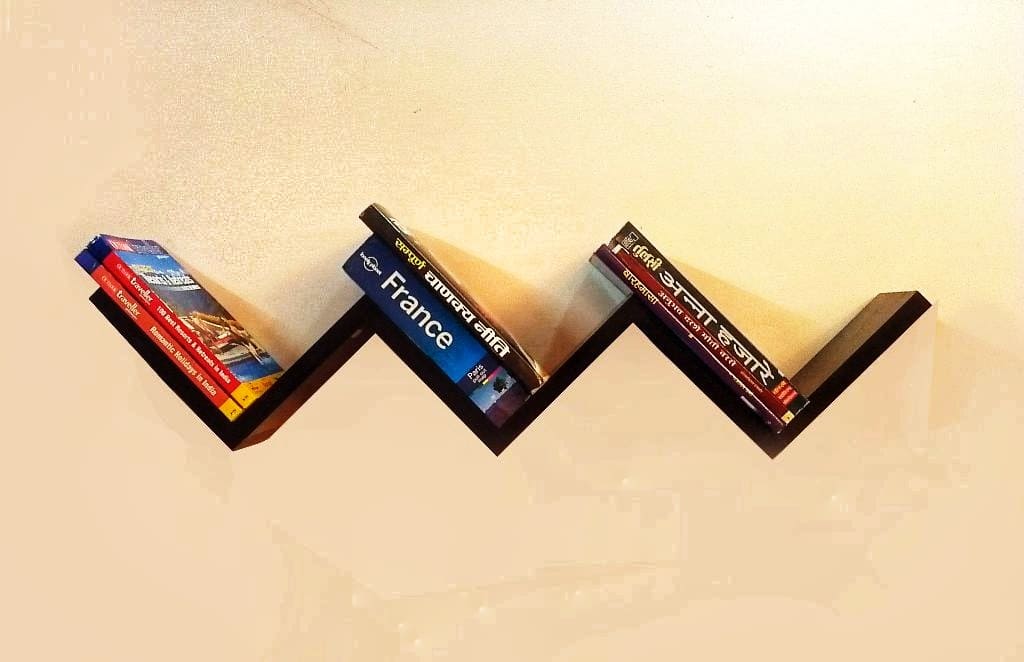 Here's a unique idea that will be a hit among book lovers. Your home library deserves some extra appreciation and the best way to do that is through a more innovative display style. Try a zigzag bookshelf design that enables you to show off your book collection letting it act as a focal point in the room.




In some cases, zigzag designs can be more helpful to organize your books, particularly smaller ones. Many zigzagging bookshelves allow you to keep other belongings organized and incorporate them together with the books for an elegant display of all your treasured items.




5.

Chevron Bedding





Geometric designs are fun to use for a vast range of décor pieces and accessories. Chevron patterns work especially well in a kids playroom or bedroom thanks to their whimsical nature. Combine these zigzagging patterns with vibrant colors and you have a winning combination to decorate any living space for children.




This comforter set with printed chevron patterns can put anyone in a great mood. It makes use of different colors like cheerful yellow and exciting pink to craft a dreamy look. This could be an essential piece for decorating a kids bedroom with a fun theme. Here's a similar bedding set from Amazon.




6.

Zigzagging Patterns in the Bathroom





If you have an all-white bathroom, you might get easily bored with this kind of minimalist look. While a splash of color can fix this issue, sometimes it's best to keep the theme cohesive and just integrate some patterns to draw the eye.
A shower curtain with a zigzagging style can provide a fresh makeover for the bathroom despite relying on a black-and-white color scheme. Go for a polyester material to make sure the curtain is resistant to mildew and doesn't wrinkle. This chevron curtain from Amazon seems like an excellent choice.




7.

Zig-Zag Wallpaper





In case you're feeling more adventurous, you should strongly consider going for zig-zag patterns directly on the wall of the room. A bold chevron wallpaper like this white-and-grey model here will add a lot of character to the living room.




Notice how the wallpaper's boldness is subdued by the neutral tones of colors allowing the wall to act as a backdrop for the more colorful elements of the room. The contrast with the indoor trees is particularly striking.




8.

Zig-Zag Patterns for the Furniture





Integrating these fun geometrical patterns on furniture elements can be more difficult. You might have to try your hand at a DIY project if you wish to make something truly unique. The drawers on this sideboard come with a mesmerizing chevron pattern and a captivating pop of green color.




This is a fun idea to keep in mind if you wish to make a certain furniture piece stand out in a neutral color palette. The zigzagging patterns give it a brand new personality making the look of the overall area more full of energy.




9.

Subtle Zigzagging Patterns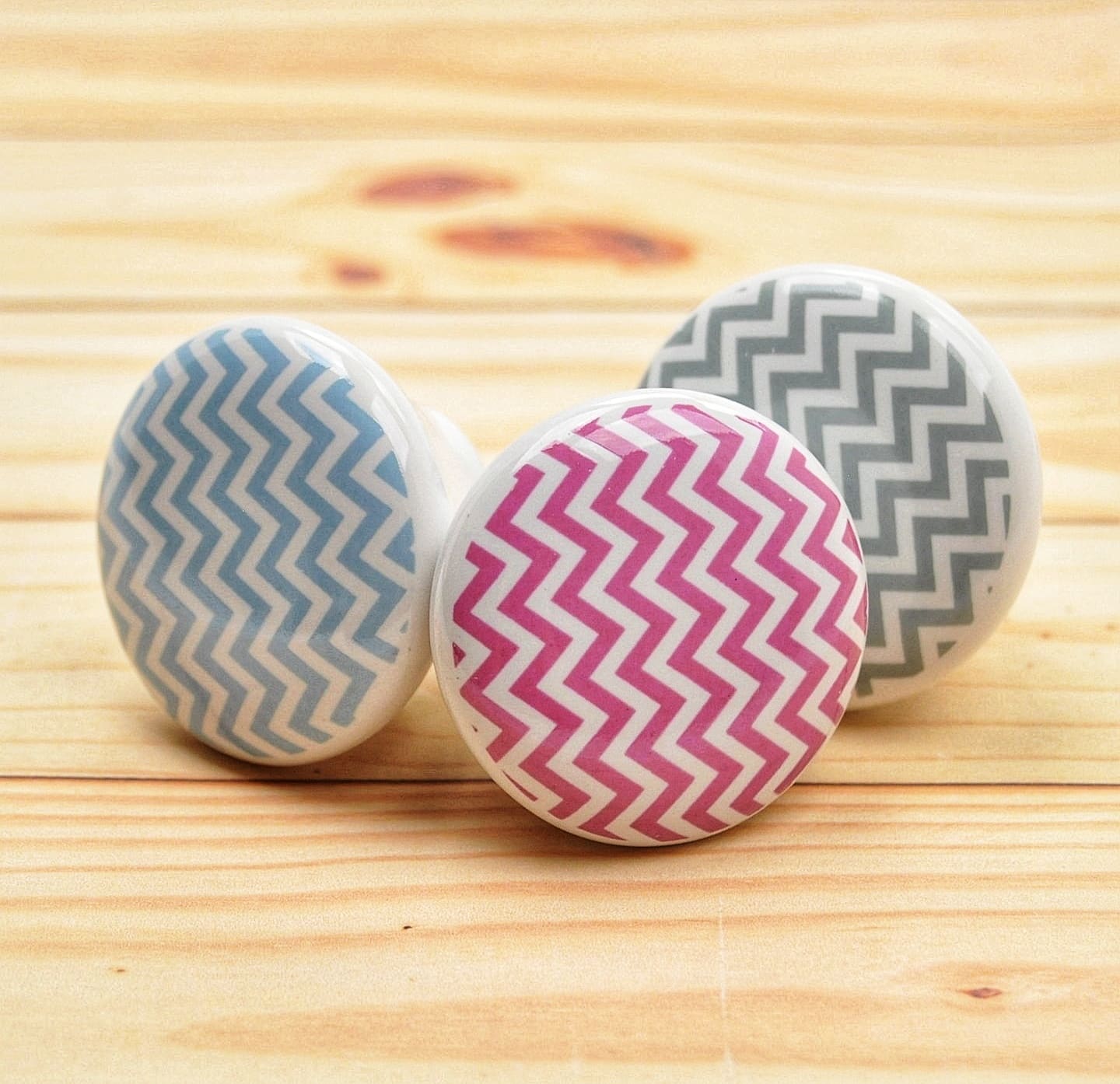 Many people can have a certain reticence when it comes to adding daring geometric patterns to their décor. They can feel that it's too overwhelming to the eye to envelop an entire wall with zig-zag patterns or incorporating it into various large elements.




The solution is simple – just go for a subtler effect. Take these simple cabinet knobs for example. They add a little punch of color and dazzling pattern. Their chevron design won't become a focal point anytime soon and that's fine. This is just a small enhancement that we recommend for those afraid of more impactful designs.




10.

Zig-Zag Patterns on the Floor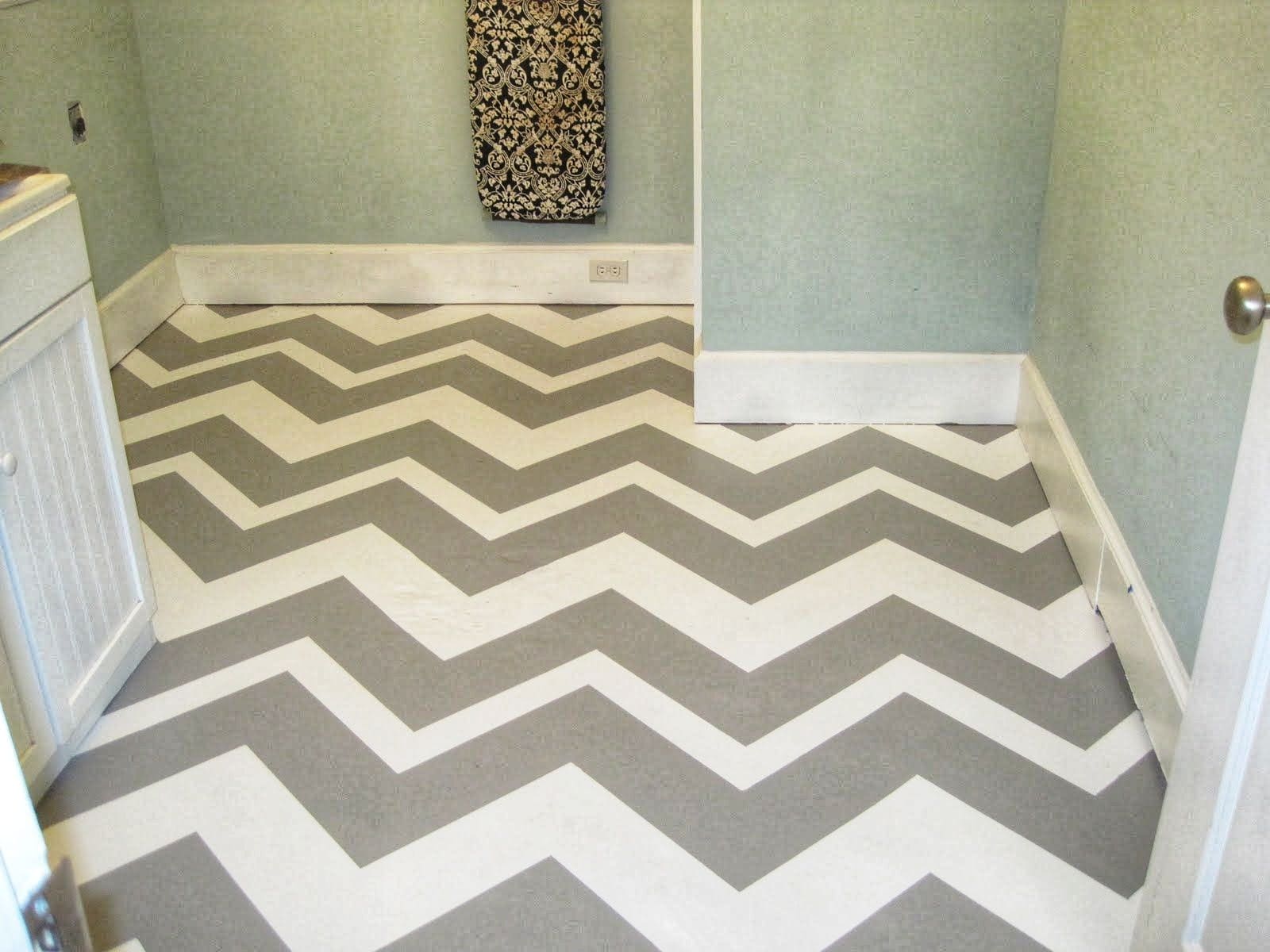 A simple concrete floor can often look too monotonous. Give it a bold makeover by painting the tiles with a zig-zag pattern. The white and gray color combination is smartly chosen to avoid tiring the eye every time you step into the room. Whether you plan on adding some fun chevron patterns to the bathroom or the kitchen, the floor has great potential to dramatically alter the look of the room.




11.

Zig-Zag Corner Shelf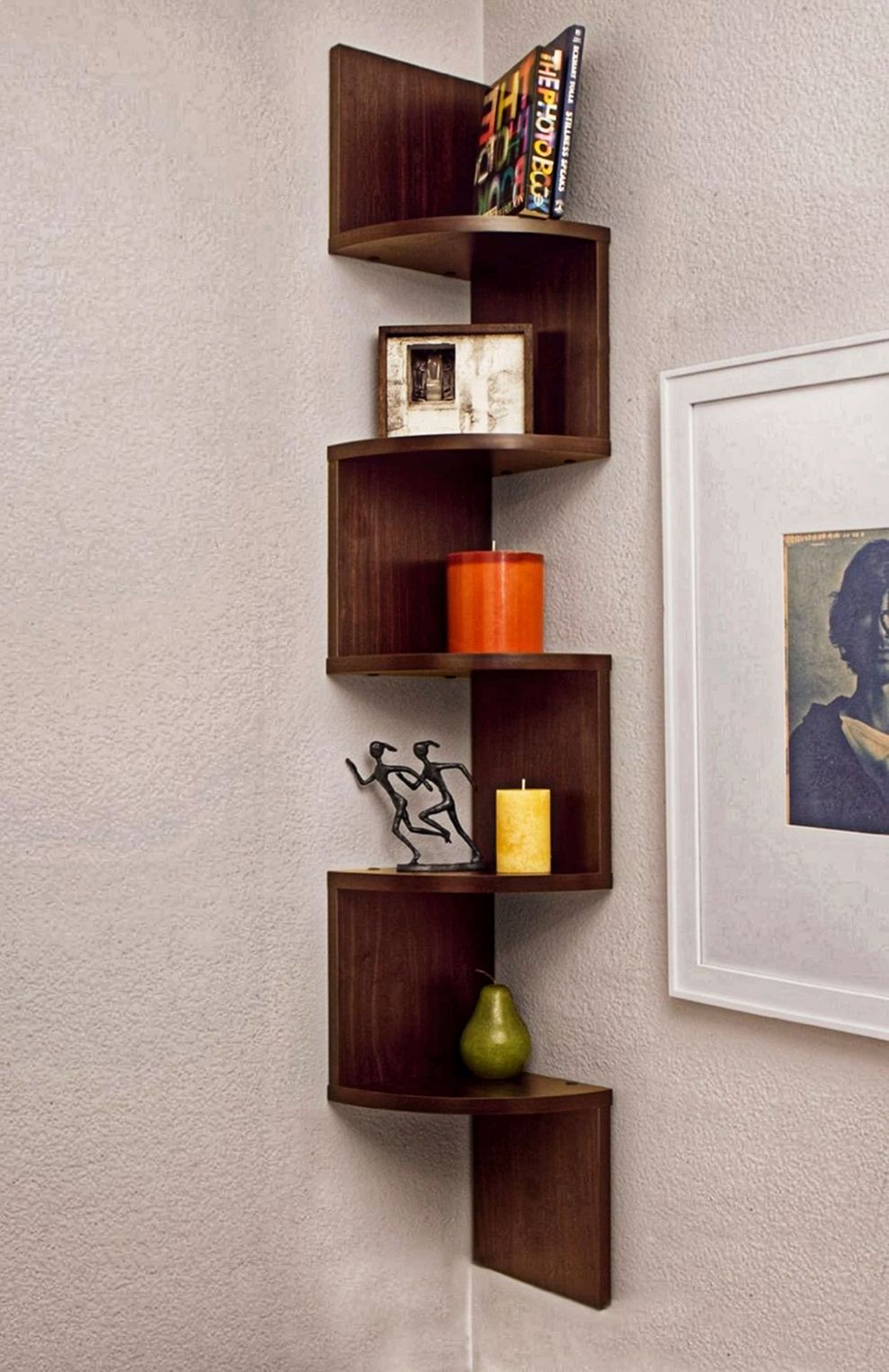 Similar to the bookshelf idea, this zigzagging shelf can be mounted in an empty corner of the room to give this area a new decorative purpose. You won't have enough space to store your book collection as this shelf is usually dedicated to showing off your sense of style.




Place your favorite decorations such as candles, photographs, collectibles, and other pieces that you wish to display in your home. The zig-zag design allows you to utilize the small space in that unused corner more efficiently. Check out this cost-effective zig-zag corner shelf from Amazon.




12.

Zig-Zag Architectural Interest





If you wish to take zig-zag décor to a new level, you should move away from paint or wallpaper and attempt to integrate zigzagging directly through architectural details. Take this elegant ceiling as a good example. It's specially designed to include this stunning pattern as if it's a built-in feature of the architecture.
There's no need for paint here because the designer tried to maintain a pleasant neutral color scheme. The focus is more on the elegant texture of the wood. While the overall décor in the room is simple, the ceiling becomes a great point of interest thanks to this unique zig-zag design.
13.

Chevron Theme





Crafting a complete chevron theme for a room is possible assuming you pay close attention to the color scheme. If you use many vibrant colors, their powerful visual effect might clash with the look of the zigzagging patterns.




Your chevron-themed room will look best if you stick to just two contrasting shades of color. The pairing of lemon yellow with light grey here is very well done. Despite the energetic nature of chevron patterns, the room looks calm and serene.
14.

Zig-Zag Design for the Tablecloth





To spice things up at the dining table, you can select a more interesting design for various accessories such as the tablecloth. This is a good alternative to making a bolder makeover like using colorful dining chairs or more striking designs. Check out this geometric tablecloth from Amazon to bring in some fun zig-zag patterns to your next dinner party.
15.

Chevron Painted Ceiling





One of the easiest ways to give your room a unique personality is by painting the ceiling. You can go for a memorable look with the help of a contrasting color choice. Another option is to incorporate patterns like this zig-zag design shown here.




It's safe to say that chevron patterns are quite eye-catching so it's recommended to tone down their visual impact by sticking to a more subdued color scheme. The painted ceiling in this stylish living room matches the patterned look of the furniture while the neutral colors blend in a harmonious manner. There's definitely a strong hint of elegance provided by the imposing chandelier.
16.

Zigzagging Stairs
The stairwell is often overlooked when it comes to adding interesting designs. By painting the stairs with zig-zag patterns you can create a whimsical effect that will offer plenty of character to the stairwell. Stick to a simple color scheme to emphasize the mesmerizing qualities of the zig-zag design.