This post may contain references and links to products from our advertisers. We may receive commissions from certain links you click on our website. As an Amazon Associate Rhythm of the Home earns revenues from qualifying purchases.
Share this article:
Deciding on the best tile style for your kitchen backsplash can be a difficult task. There are lots of great designs to consider and you need to take into account the surrounding decor to obtain the desired attractive look. Although tiles come in various shapes, square types show off extra popularity because of their versatility and eye-catching geometric effect. With the help of a creative square tile design, you can make your backsplash stand out as well as enhance the overall visual appeal of the cooking space.




Take a look at the following attractive square tile backsplash ideas to inspire your own kitchen designs.
1. Square Subway Tiles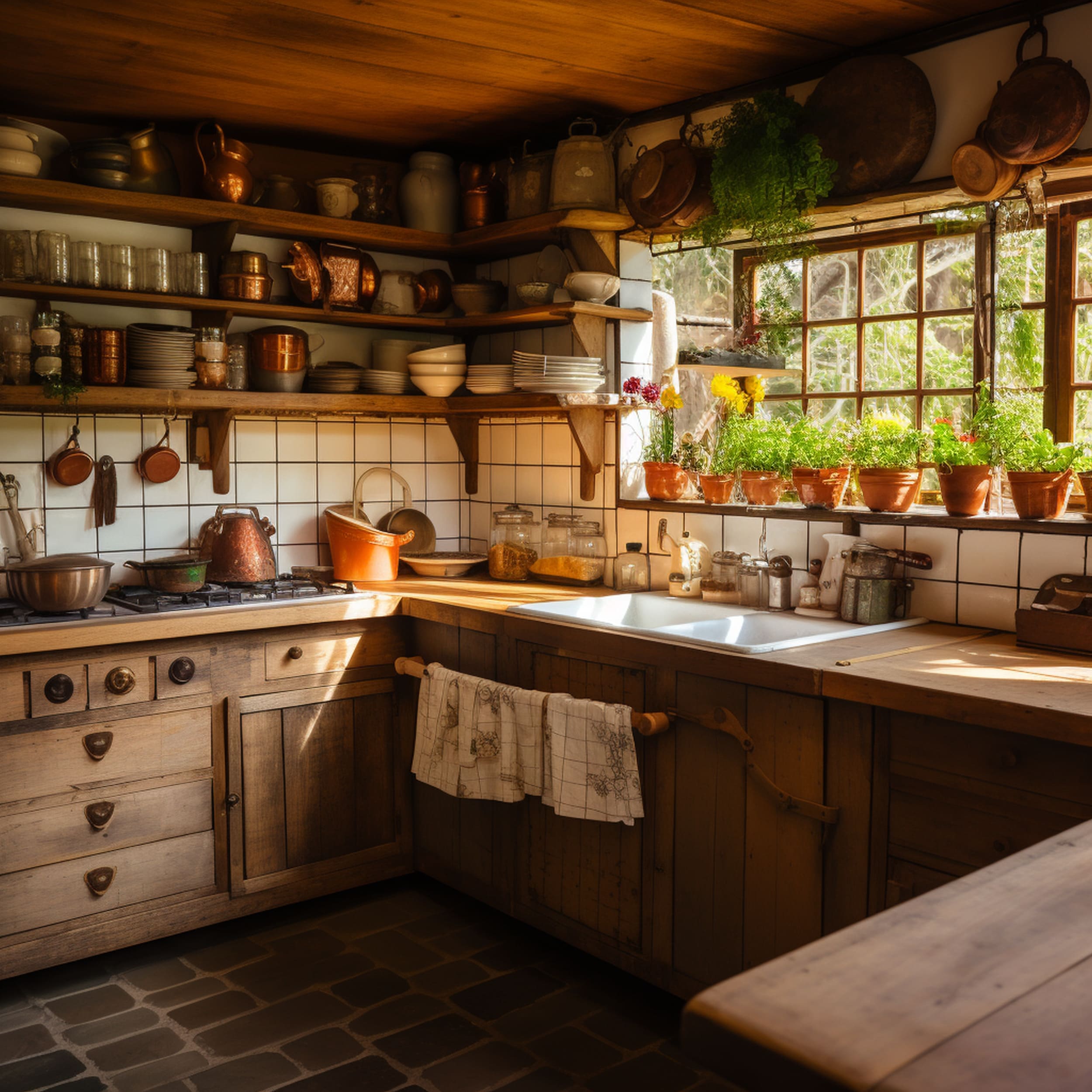 Budget-friendly and incredibly versatile, square subway tiles can add some vintage minimalist vibes to any backsplash. Although subway tiles are typically designed with rectangular shapes, many square styles are gaining popularity. This kind of tiled backsplash works perfectly as an understated backdrop where you can show off shiny textures and bolder colors. Classic white square subway tiles bring a retro feel by only drawing attention to clean dark grout lines.




2. Open Shelves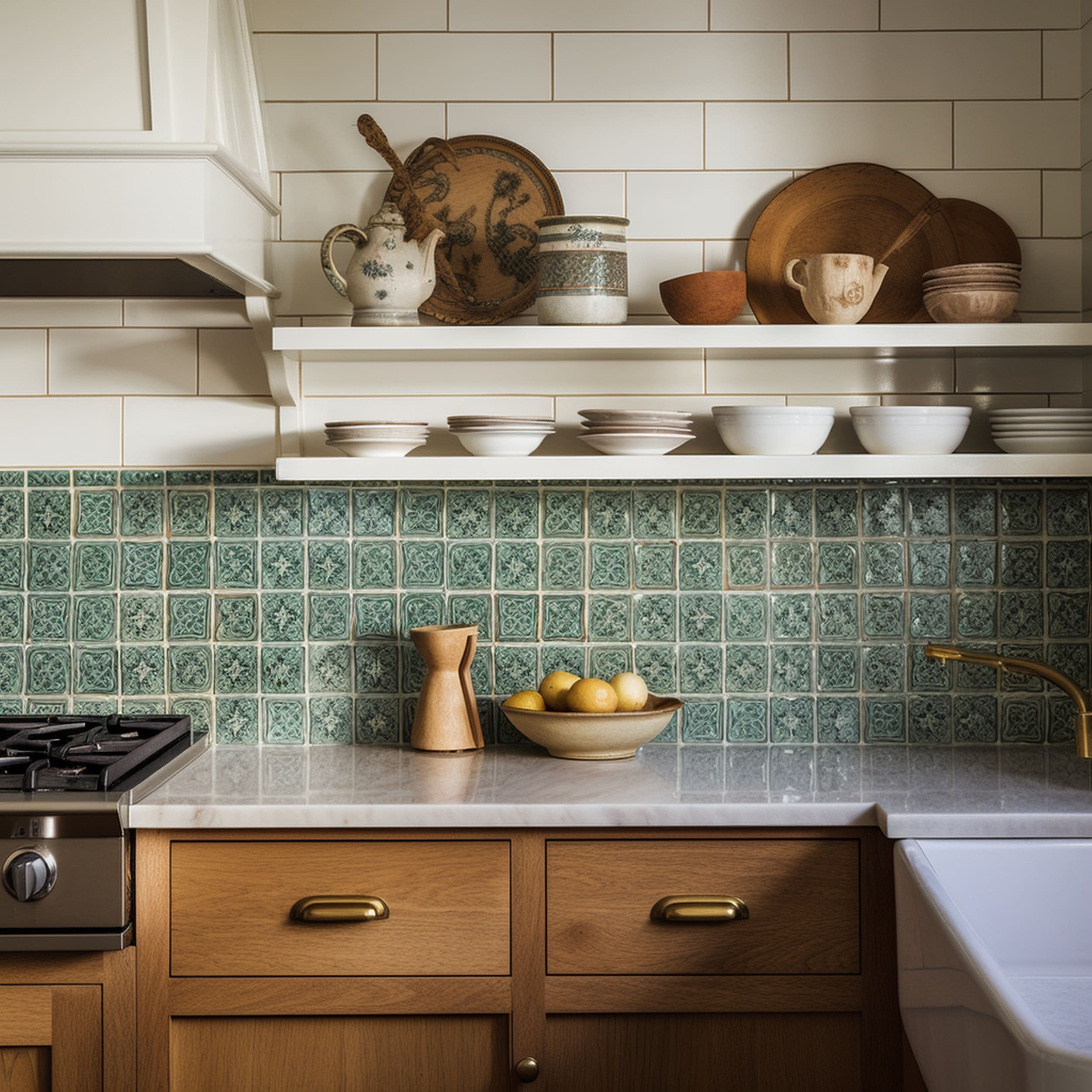 Many classic square tile backsplashes are paired with cabinets whose closed design doesn't really allow the tile design to stand out. If you want a different design approach, consider opting for open shelves instead of traditional upper cabinetry. This lets you show off a stylish backsplash look such as this tile design featuring glossy light green squares. Paired with the overall white color scheme results in a welcoming kitchen space full of airy vibes.




3. Diamond Pattern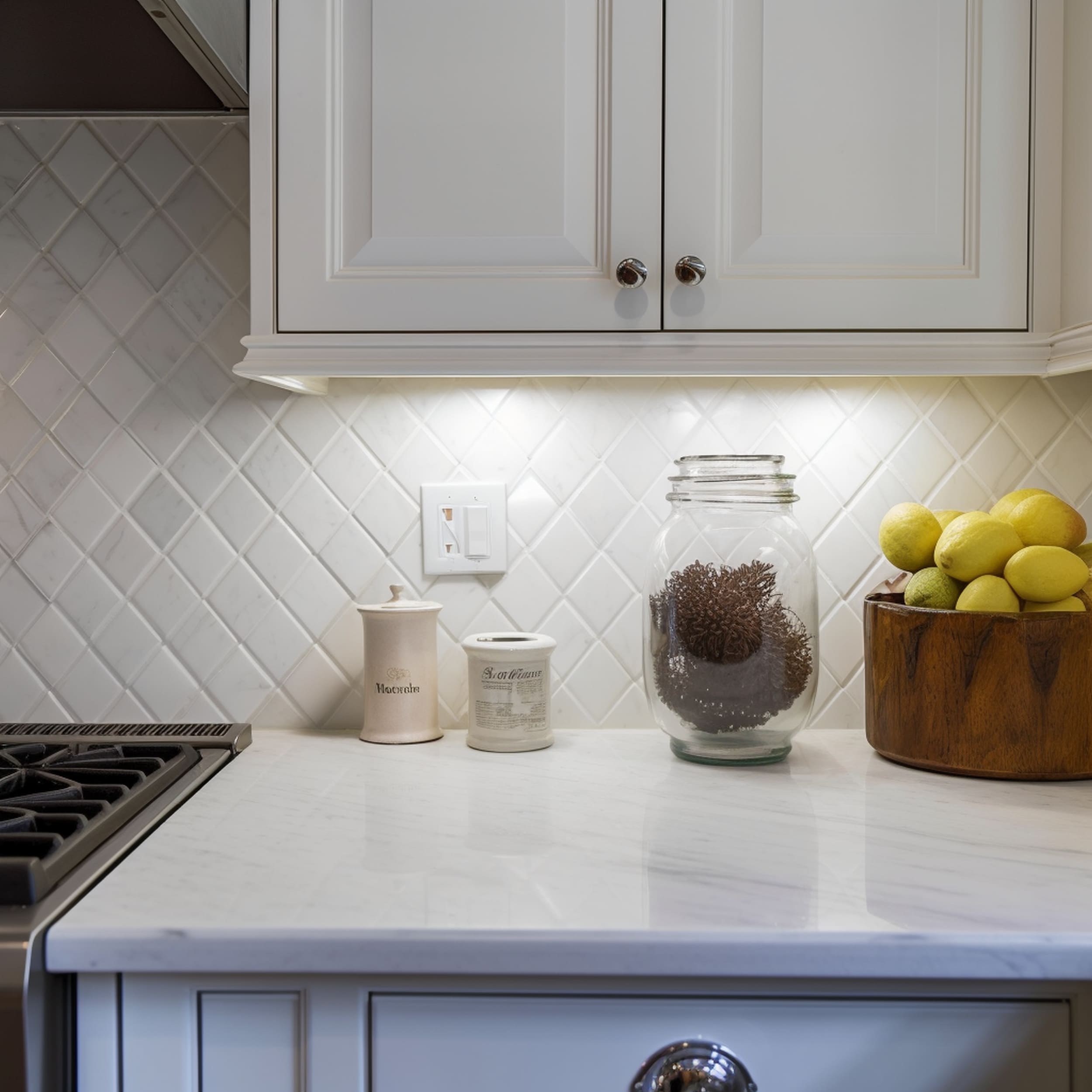 Some homeowners feel that regular square tile backsplashes look a little too plain for their tastes. Instead of trying different tile shapes or bolder colors, consider using a different arrangement. Square tiles can be configured in a more attractive diamond pattern that adds a touch of sophistication to the kitchen. This elegant cooking space shows off a great example of this type of square tile backsplash. It matches the eye-catching look of cabinetry adorned with distinctive molding details.




4. Cool Blue Look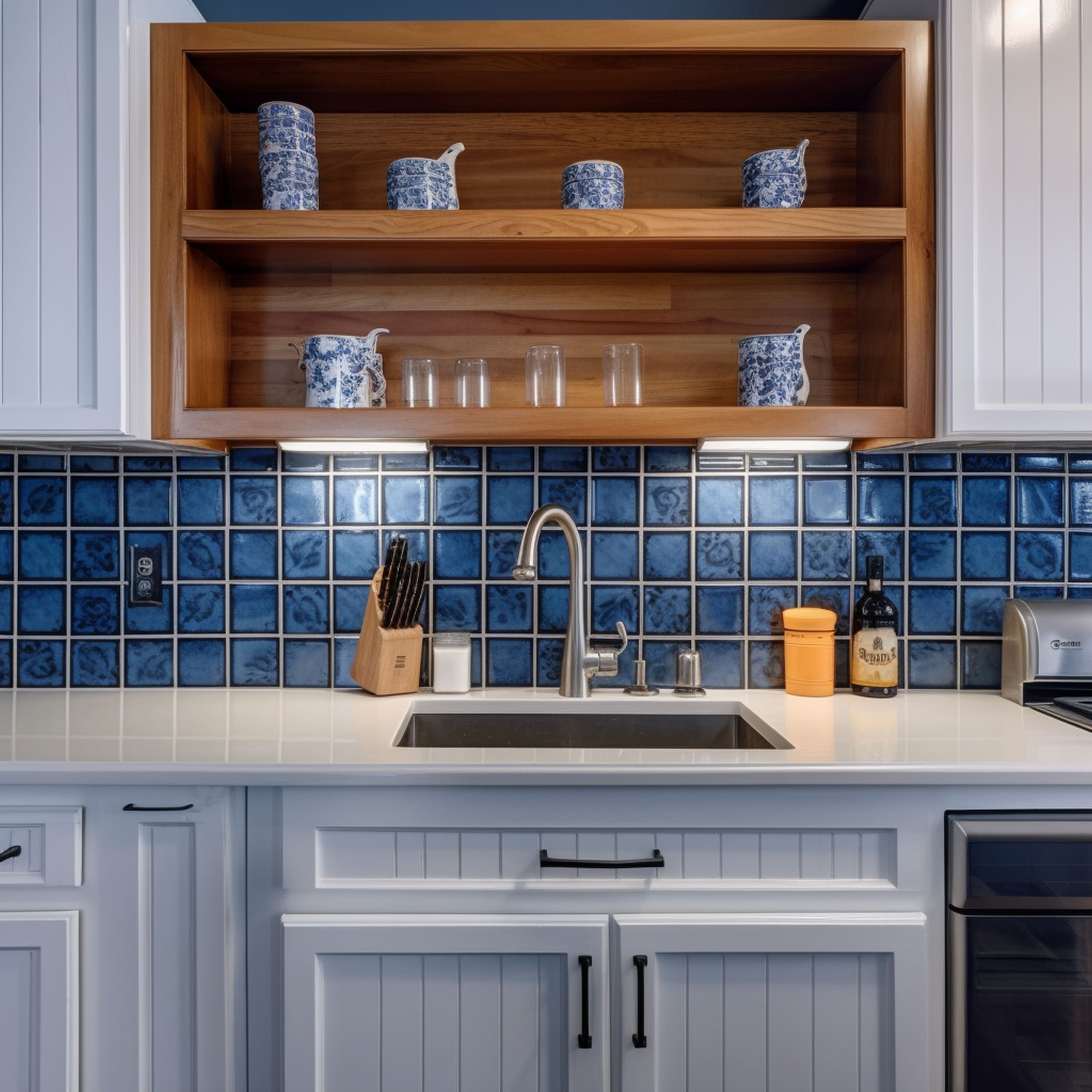 Want to draw some extra attention to your kitchen backsplash? Colorful square tiles can work well for this purpose, especially if they extend properly toward the ceiling. If you want a solid contemporary touch in a rustic-accented kitchen, it's recommended to try a dark shade of blue. This stunning square tile backsplash makes a visual statement in the kitchen while maintaining a serene atmosphere. The uniformity of this kind of tile shape contributes to a more aesthetically-pleasing design.




5. Small Tiles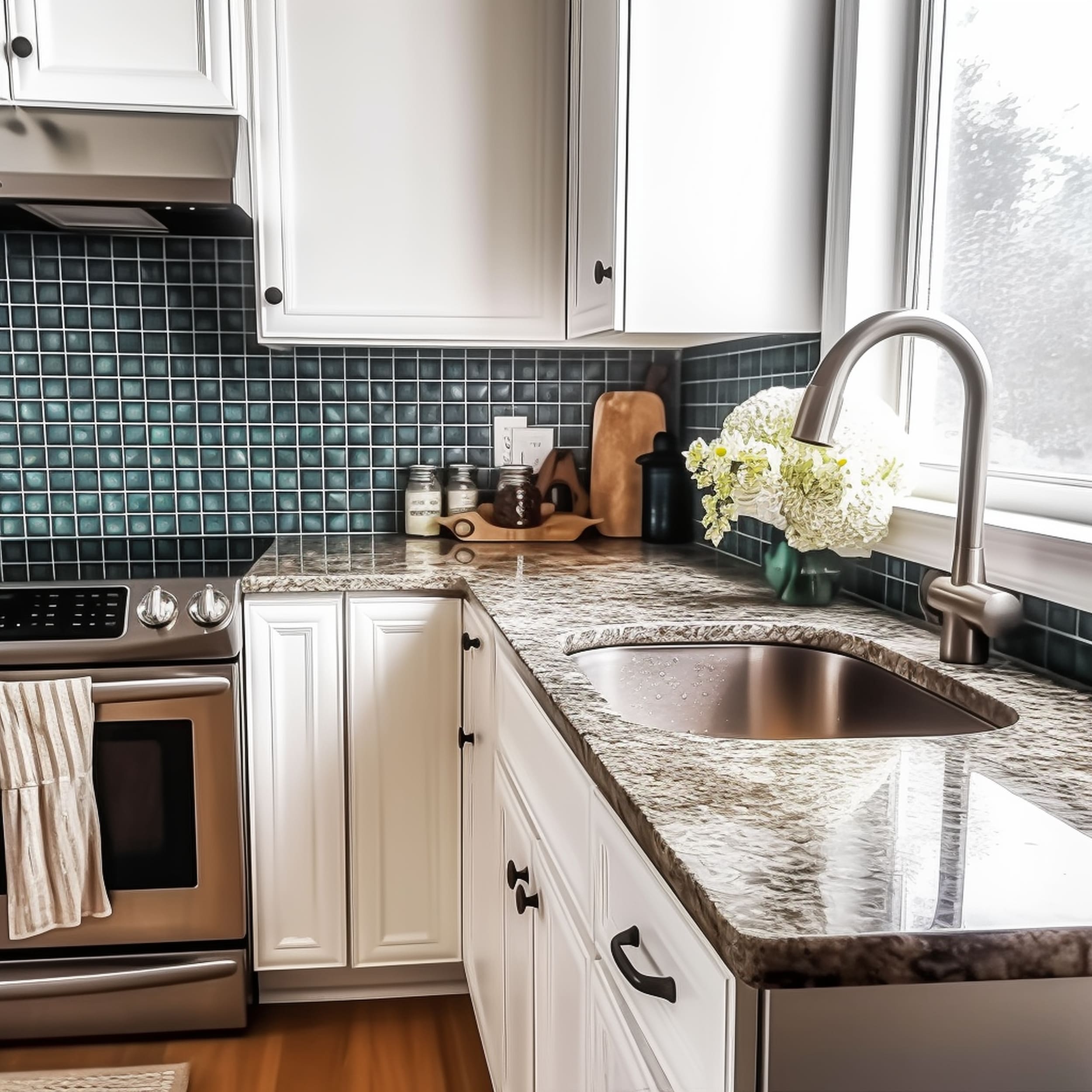 If you're not a fan of regular square tile designs and find them too large, it might be worth reducing the size of individual tiles. This backsplash style forms an attractive grid pattern that will easily stand out by itself without the need for vibrant colors or special textural finishes. Check out this greenish backsplash design featuring small square tiles that offer a refreshing look in this classic cooking space. The white color scheme forms a great combination with the colorful patterned style of the backsplash.




6. Understated Design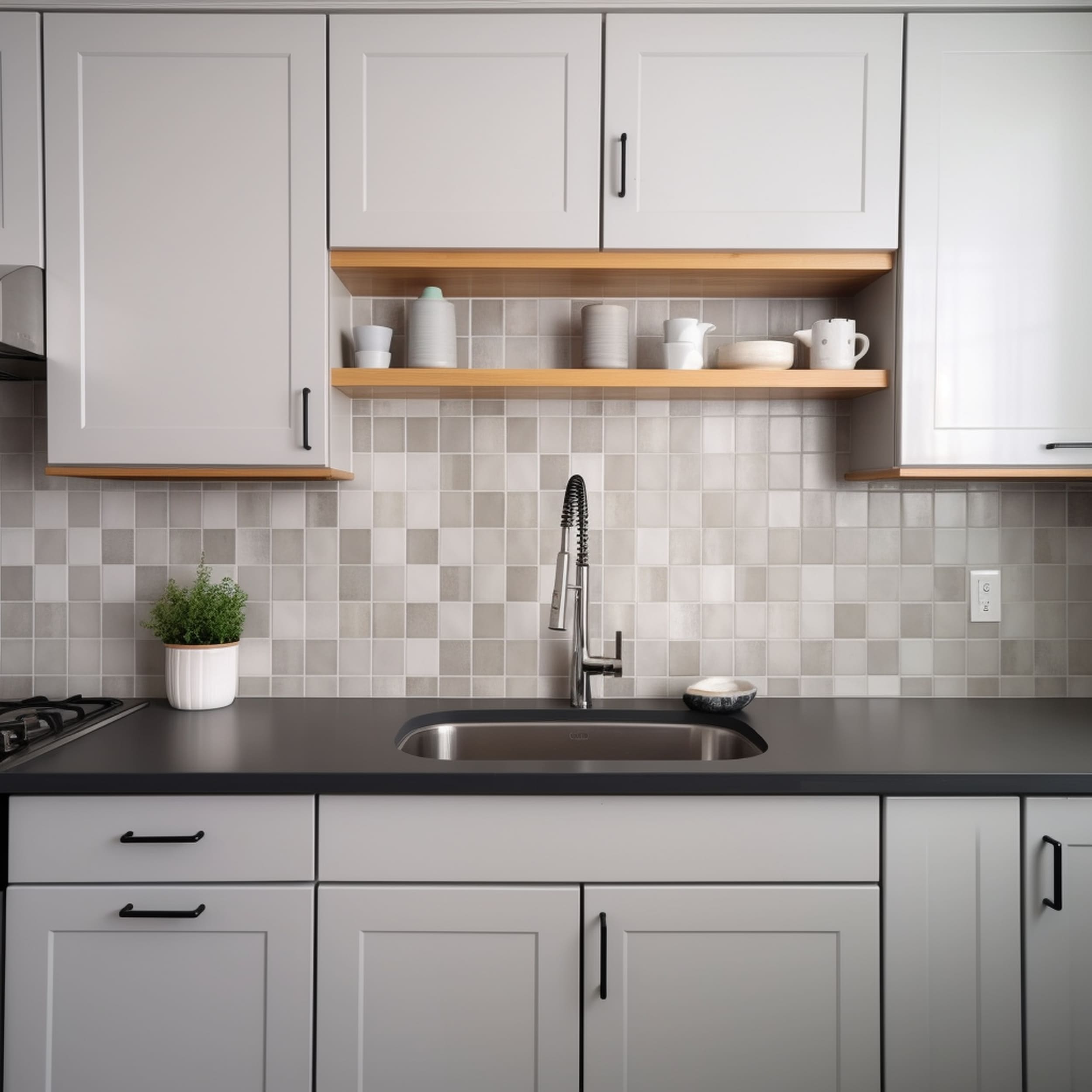 While using plain white square tiles can be considered a satisfactory choice for a neutral kitchen design, you should consider alternating different light shades for a more distinctive look. By combining white and gray tiles together, you can introduce a bit of contrast to your backsplash without drawing too much attention to the area. This is a solid idea if you favor an understated kitchen decor style that retains a sense of subtle sophistication.




7. Maximalist Look





With the help of black square tiles, you can instantly increase the level of drama in the kitchen. Fans of maximalism should consider going all out on the design by extending the tilework from the backsplash to other elements of the room such as the kitchen island. The result is an incredibly bold black kitchen that feels eclectic and unique. Add a glossy finish to the tiles for a retro vibe or incorporate modern appliances to keep the look futuristic.




8. Mosaic Square Tile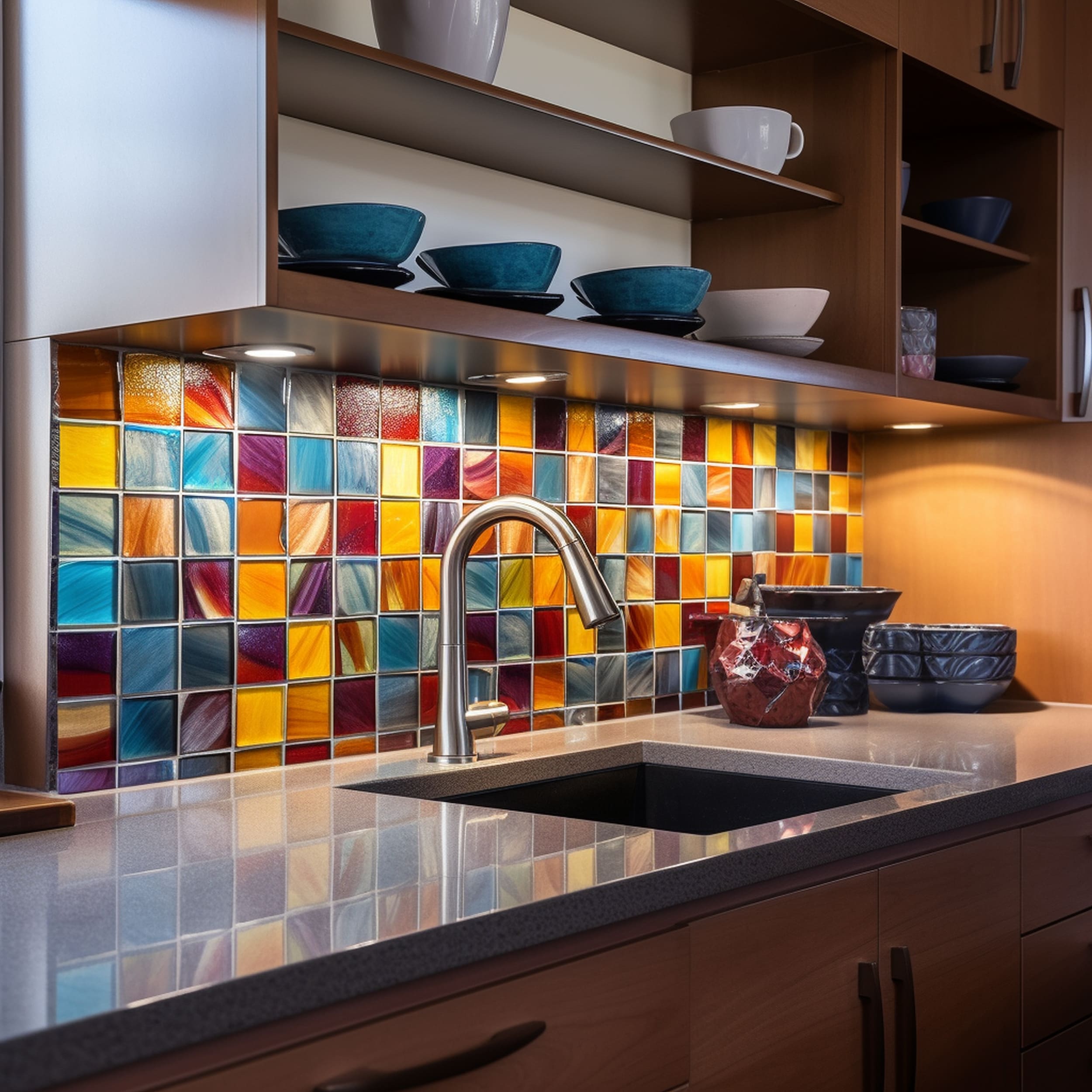 A mosaic pattern could look very attractive if you want to add a distinctive visual touch to the kitchen backsplash. Colorful square tiles work like a charm for this kind of design. You can play around with multi-colored tiles in various shades but it's recommended to maintain a visual balance. This modern kitchen relies on a neutral-toned background allowing the extra colorful square tile backsplash to grab all the attention.




9. Rustic Atmosphere





Square tile designs boast excellent versatility as evidenced by this textured backsplash that contributes to the overall rustic atmosphere of the kitchen. The natural wood details from the kitchen cabinets blend very nicely with the square tile backsplash that mimics the color and textural features. If this kind of look seems a little too rustic for your style, it's recommended to combine the textured backsplash with sleeker countertop and cabinet surfaces.




10. Artisanal Beauty





Using handmade tiles can make your kitchen backsplash more charming compared to prefabricated options. These square tiles show off an authentic artisanal feel when considering their slight color variations and textural imperfections. It's similar to the way natural wood displays irregularities that contribute to a more charming design. With the help of handcrafted square tiles, you will be able to inject the cooking space with some extra style and character.




11. Metal Design





Looking to maintain visual cohesiveness in a kitchen equipped with stainless steel appliances? Consider this unique design that relies on metal square tiles to create a one-of-a-kind backsplash. It's a perfect match for modern kitchen appliances or other contemporary decor elements. The sleek visual effect of the steel tiles can be paired most effectively with darker cabinet shades. It's not just the colors that create the contrast, but the striking texture of the different materials as well.




12. Electrifying Look





A strong dose of color can easily upgrade the look of any basic white kitchen. Check out this stylish backsplash with square tiles arranged in a diamond pattern. The main highlight is the electrifying cobalt blue color that provides an intense contrast with the white cabinetry. It would be ideal to include some coordinating elements to create a balanced blue color scheme. Alternatively, there's also the option to let the bold backsplash be the main attraction in a plain white kitchen.