This post may contain references and links to products from our advertisers. We may receive commissions from certain links you click on our website. As an Amazon Associate Rhythm of the Home earns revenues from qualifying purchases.
Share this article:
Instead of spending a lot of money to build a stylish fence, you could simply make use of plants to make the fencing surrounding your property more attractive. This is a great idea for many homeowners who are also gardening enthusiasts. Covering a bare or unsightly fence is a breeze if you pay attention to selecting the right kinds of plants. It's worth remembering that not just any plant will be able to grow successfully against a fence. Check out the best options to beautify your backyard fence with the help of colorful plants.




1. Honeysuckle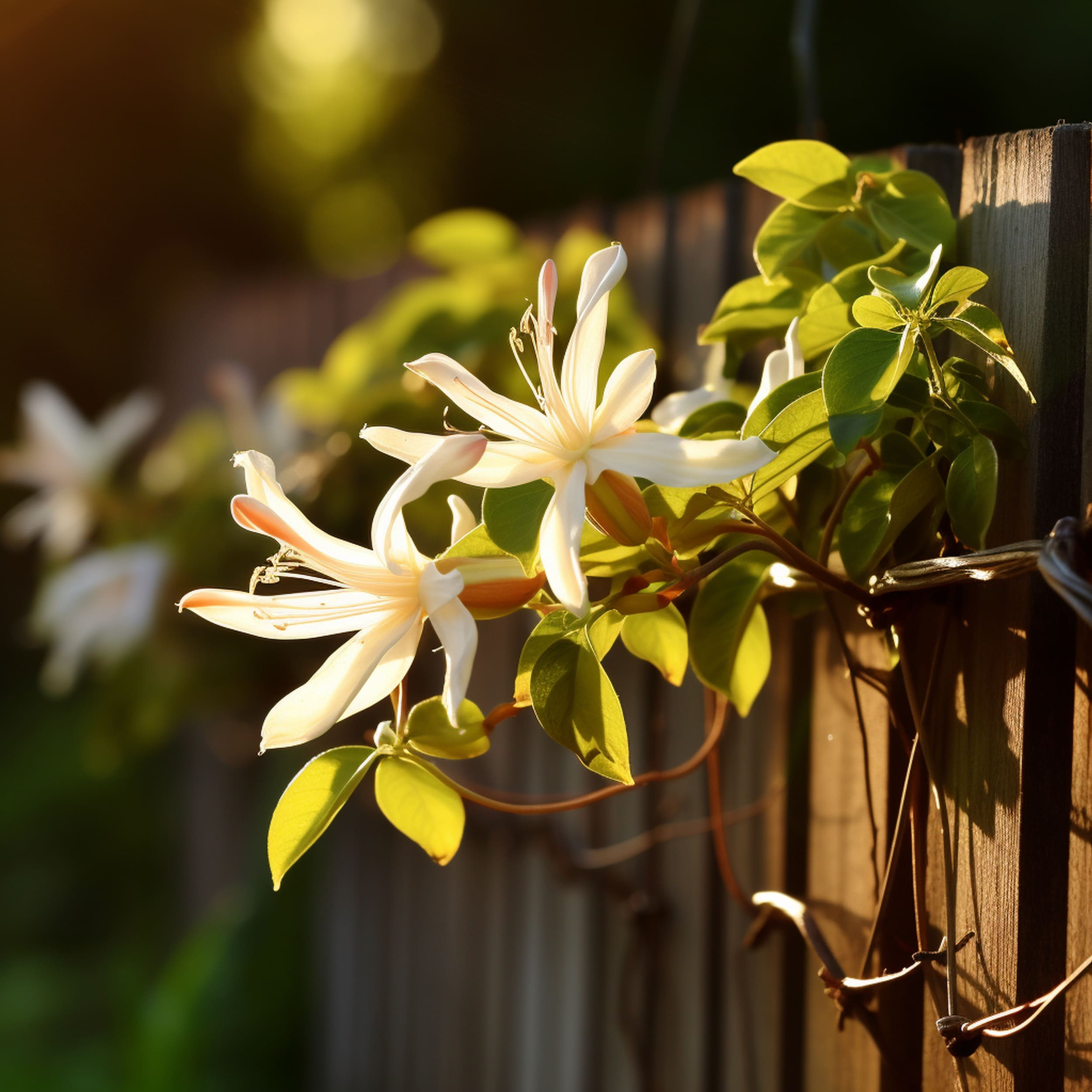 With its tubular blooms and characteristic sweet scent, honeysuckle represents an excellent pick for dressing up the fence. The slim stems of this plant can easily climb on your fence if there's adequate support provided. Honeysuckle is a climber plant that shows off its gorgeous blooms and shiny berries from summer until fall. It's the kind of plant that brings superb visual interest to your yard.




Growing honeysuckle doesn't take too much effort. You might easily run into the opposite problem as the flowered stems can overwhelm the fence and grow out of control. Pruning is necessary to keep the honeysuckle tidy. This plant can give off some strong cottage vibes, especially when grown alongside climbing roses. In terms of environmental resilience, honeysuckle boasts great heat tolerance.




2. Hydrangea





A display of hydrangeas in full bloom can truly transform the look of any basic fence. Some hydrangea varieties can be particularly well suited to climb on fence lines. Others might need a little more training and extra support to help them thrive. Hydrangea plants provide multiple clusters of cloud-like blooms in a variety of eye-catching colors. Blue cultivars are typically very sought out by gardeners but pastel pink and white flowers can look very attractive as well.




Growing hydrangea isn't particularly challenging but you need to remember the importance of moist soil. Blooms won't be able to develop as expected if you let the soil dry out. If you struggle to get the characteristic blue flowers in a hydrangea, it's recommended to pay attention to soil acidity which needs to be higher. Some fertilizers or plant food can help you increase the quality of the soil to ensure that your hydrangeas plants will thrive.




3. Climbing Rose





Rustic fence designs can benefit a lot from growing climbing roses. These plants are ideal to provide a sense of drama and cottage charm to the yard. The climbing rose is a fairly vigorous plant that can bloom in spring and during summer and autumn, depending on the chosen variety. Plants show off a gorgeous display with abundant blooms that are also fragrant.




When left to grow on its own, the climbing rose tends to reach tall heights of more than 10 feet. However, this may not provide the best look for most fence designs out there. It's recommended to train the plant to grow horizontally along the wall of the fence. This ensures proper visual balance and will also encourage the development of more blooms. Pruning is welcomed for climbing roses but it should be mostly done after the first couple of years.




4. English Ivy





If you prefer a foliage plant instead of showy blooms, consider growing the English ivy. It's a great solution for locations with more challenging conditions to grow other plants. The vine can be quickly established to cover your fence with a stylish layer of green leaves. Regular pruning is necessary to keep an English ivy plant under control as it tends to rapidly expand to other areas. The level of maintenance required is minimal, however, because vines can be chopped back easily to keep them contained to the fence wall.




Thanks to its aerial roots, English ivy doesn't require extra supports to produce thick fence coverage. Although the main appeal of this plant is the elegant foliage, it's worth mentioning that it can also produce flowers and berries. English ivy works like a charm to decorate the fence during the winter due to being an evergreen climber. If you're concerned about privacy, this could be an effective plant to grow on the fence.




5. Clematis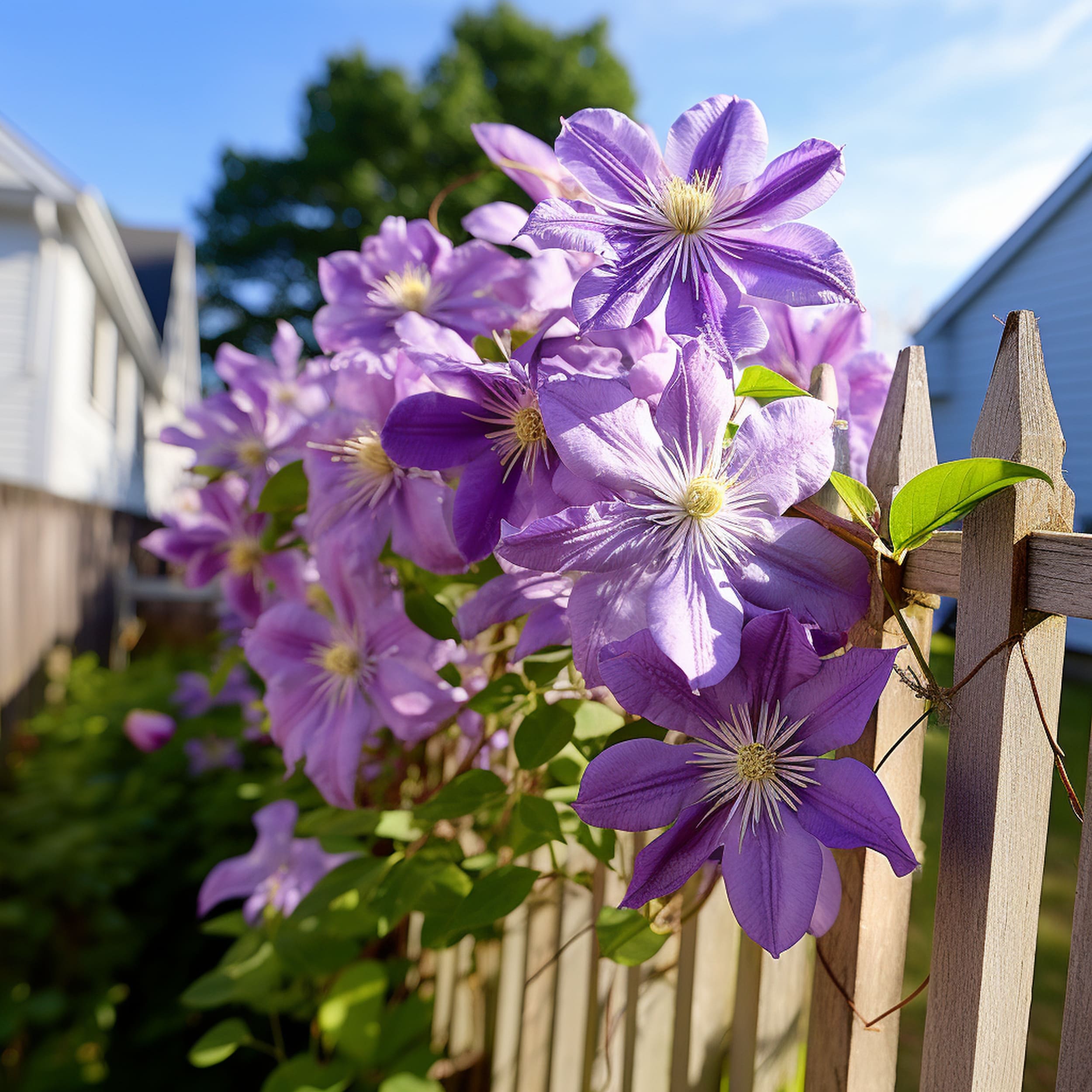 Clematis is a great climber plant to consider for decorating your fence. They are fairly adaptable and can thrive when their roots are located in the shade. As opposed to other climbers, most clematis varieties don't require pruning. It's recommended to select an evergreen type of clematis that can maintain a beautiful fence with the help of its foliage in the winter.




Training clematis to grow along a fence will take some effort because the vines require support like a trellis. This is only temporary because the plant will eventually create its own scaffolding as it becomes properly established. When it comes to ornamental potential, clematis is sure to add great decorative value to the yard. It boasts many colorful varieties with white, red, purple, or pink bloom styles.




6. Nasturtium





If you're looking for a reliable climbing plant to decorate the fence, take a close look at nasturtium. A native of South America, this plant can easily add a pop of color to all kinds of fencing structures. Aside from its round leaves, nasturtium offers brilliant blooms in bright yellow and orange colors. Both the flowers and the foliage of this plant are edible if you want to try spicing up your salad mixes.




Not all varieties of nasturtiums can be used to grow against a fence. You need to make sure you pick a climber type as opposed to dwarf varieties which are more suitable for containers or borders. As long as the soil in your fence area has good drainage, it's safe to say that nasturtium can grow easily. It's not fussy about specific types of soil needed. Full sunlight exposure works best to help the plant produce its striking flowers.




7. Climbing Black-Eyed Susan





With heart-shaped leaves and colorful little yellow flowers, the black-eyed Susan vine is a spectacular addition to cover a plain-looking fence. It shows off colorful blooms with a deep black eye that creates a wonderful contrast effect. This climber plant thrives in sunny locations where it can easily reach tall heights of more than 8 feet. The foliage can become quite dense under ideal growing conditions. You can rely on a climbing black-eyed Susan to create a solid privacy screen for your fence.




If you live in a cooler climate, it's still possible to grow this climber plant but as an annual instead of a perennial. Despite being a native of Africa, the black-eyed Susan vine might get damaged from too much exposure to direct sunlight during the hottest days of summer. Yellow blooms are most common but there are varieties of this plant in other shades such as white, red, and orange.




8. Morning Glory





Morning glory is a fast-growing plant ideally suited for fence lines. It likely gets its name due to the way its trumpet-shaped blooms open in the morning. This is a delicate-looking vine that performs best in full sun and slightly acidic soils. It's fairly easy to get morning glory established on your fence considering how the plant uses its tendrils to become firmly anchored to any vertical support provided.




Although morning glory is a stylish decorative choice for many yards, the plant can quickly become invasive in some areas. Certain varieties are even considered noxious weeds because they spread very aggressively unless they're kept in check. The funnel-shaped blooms can show off striking colors such as blue, purple, and white. Thanks to its reliable tolerance to poor soils, it's easy to grow morning glory vines on fences situated in suboptimal locations.




9. Star Jasmine





A vigorous flowering vine, star jasmine is quite popular in warm climates due to its delicate blooms that feature a pleasant fragrance. The smell is somewhat similar to real jasmine but the plant has no relation to it given how it's from a different group altogether. Star jasmine is an adept climber that grows quite fast, especially if you keep it in full sun and plant it in moist, well-drained soil.




Caring for a star jasmine vine is a breeze considering how it requires minimal maintenance once established. You can use it to decorate your fence with small white flowers and bring a perfumed touch to the area. The only thing to worry about is pruning because star jasmine can quickly expand beyond your fence to the neighbor's yard. Trimming can be done to adjust the look of star jasmine in a hedgelike form.




10. Cherry Laurel





Although it's not a showy plant, the cherry laurel brings some solid benefits when grown on fences. This plant adds a gorgeous touch of greenery to your yard thanks to its dense foliage that can act as a vibrant backdrop for other plants. Another advantage is the simple growing and care requirements. Cherry laurel can adapt to both sunny places or areas that get some extra shade. Pruning is only done once a year for an optimal appearance.




Due to being an evergreen plant, cherry laurel provides extended visual interest in the yard compared to other options. The white flowers produced by the shrub are fairly insignificant but their sweet smell can complete the charming appeal of a cherry laurel. As the name suggests, the plant features cherry-like fruits that will attract birds to the yard. Keep in mind that these berries are toxic to humans and pets if eaten.