This post may contain references and links to products from our advertisers. We may receive commissions from certain links you click on our website. As an Amazon Associate Rhythm of the Home earns revenues from qualifying purchases.
Share this article:
Do you want to add curb appeal to your exterior or make a remarkable statement in your garden? Hydrangeas are an excellent choice if you wish to add a pop of color to the outdoor space or enhance the flower beds. No wonder, as they come with lush blooms ranging from white to hot pink and jewel purple tones. When looking for the ideal addition to your garden, you can choose from the numerous hydrangea varieties. To make it easier for you, we compiled a carefully picked list of gorgeous hydrangea varieties. Once you go through it, you will find the ideal hydrangea variety that matches your preference.




1.

Incrediball Hydrangea





The Incrediball comes with elegant white flowers attached to a steady and sturdy stem. Although the blooms are large, the branch will prevent them from swaying loosely in the dirt. If you are amazed by their gorgeous appearance, there are numerous ways to bring them to your garden. Whether you prefer to shape a hedge or add an anchor to the landscape, be sure that they will make a sleek and elegant statement.




2.

Cherry Explosion Hydrangea





If you want to show off your gardening skills with unique flowers, go for the Cherry Explosion hydrangeas. This variety features large magenta-colored blooms, which come in a generous amount. Gardeners love Cherry Explosion because the blooms are long-lasting so that they can enjoy the wonderful sight for an extended period. We can say that this plant is low-maintenance, making it easier for beginners to grow those lush cherry-tone florets. With a height of four feet, the wonderful hydrangea shrubs can be shaped into a decorative hedge. If you wish to create a unique fence, have in mind that this plant is perfect for it.




3.

L.A. Dreamin' Hydrangea





If you have a small garden, the compact foliage of L.A. Dreamin' will be the ideal fit. Each shrub yields a show-stopping mix of colors, ranging from pink to purple and blue. You can enjoy the magnificent flowers all season long since they will rebloom until the first frost.




Tip: Despite enhancing your garden with their vivid blooms, these hydrangeas will do excellent in containers. If you wish to make your deck more welcoming, don't mind grabbing a whiskey barrel pot. Despite hosting your pretty hydrangeas, it will add a dose of charm to the space.




4.

Seaside Serenade Newport Hydrangea





The glorious hydrangea variety starts with green blooms, which mature to a stunning pink tone. If you are worried that the bad weather will ruin your lovely hydrangeas, the Seaside Serenade Newport is the best choice you can make. With thick petals and sturdy stems, you won't have to worry if your flowers will droop in the dirt during rain. You can admire the lovely color-changing blooms from early summer to fall.




5.

Cityline Mars Hydrangea





The dense clusters of the Cityline Mars hydrangea variety create a stunning visual touch in your garden. The lovely petals feature pink or blue jewel tones, gradually changing towards white on the edges. As with other hydrangea species, you can alter the petal color by changing the soil's pH. If you wish to modify the hydrangea colors, it is easier to do it in a container. Make sure to get a soil pH testing kit to get precise results in a short time.




6.

Monrey Hydrangea





The Monrey hydrangea will spice up your garden with lush deep pink blossoms. Whether you have a tiny garden or want to enhance your patio with plants, it is an excellent choice for growing in containers. This hydrangea requires frequent watering and partial shade, mainly thriving in zones from 7 to 9.




7.

Rhapsody Blue Hydrangea





Although the name is Rhapsody Blue, the bloom's color depends on the soil's pH value. It features sphere flower heads generously packed with deep purple or blue-toned flowers. In acid soil, Rhapsody Blue blooms gorgeous rich blue petals. Otherwise, they have nice pink colors. You can appreciate the lovely flowers in early summer, with a glorious comeback in late summer.




8.

Zinfin Doll Hydrangea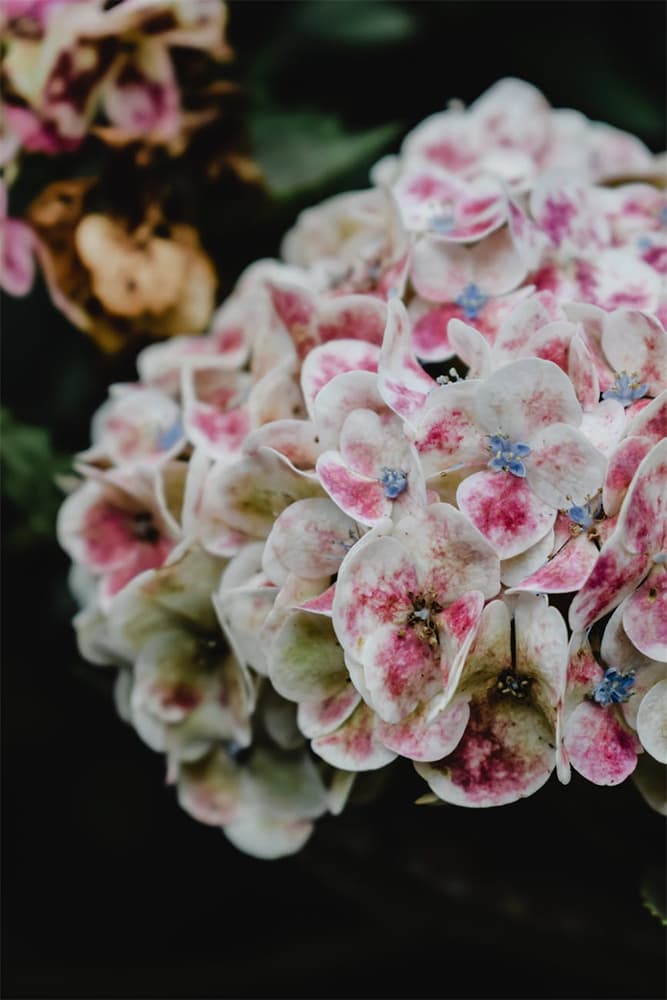 The Zinfin Doll features a romantic combination of cream and pink petals, where butterflies will make a stop throughout the whole summer. They love to be exposed to the sun, so a minimum of 6 hours is needed. The lush white blooms age gracefully into a lovely pink hue, so no soil alterations are required if you want to enjoy the spectacle. The sturdy stem will keep the flowers safe while making it easy for you to cut them and create a luxurious bouquet.




9.

Berry White Hydrangea





This spectacular hydrangea variety will fortify your garden with stunning cone-shaped clusters. You can enjoy the natural spectacle starting from July when the flowers bloom and change color. The white flowers will first get a lovely raspberry tone before reaching a deep wine tone as they age.




10.

Climbing Hydrangea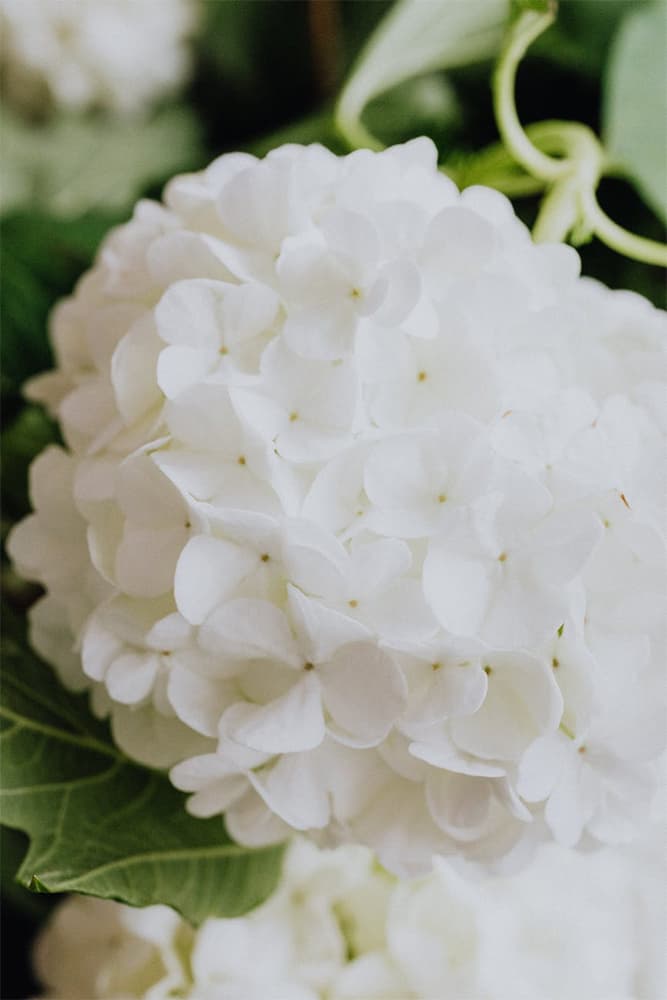 Whether you wish to turn your garden into a green oasis or add privacy, the dense climbing hydrangea will exceed your expectations. Let it crawl through the beams of your pergola to create shade or hide your outdoor area away from sight. Despite embracing the structures with greenery, the gorgeous climbing plant will enhance the outdoor space with fragrant white clusters.




11.

Gatsby Pink Hydrangea





The Gatsby Pink features sophisticated white blooms, which gradually change to a gorgeous pink tone. The foliage doesn't look less impressive than the dense clusters, as it gets a rich red color during fall. However, keep in mind that this hydrangea variety requires a warmer climate to endure the winter months. If your garden is in zone 5 or higher, you have nothing to worry about.




12.

Electric Rouge Hydrangea
Electric Rouge is one of the bold hydrangeas meant to make a fabulous statement in your garden. The authentic appearance features a vibrant combination of pink and red flowers, complemented with dark green foliage with a subtle gradient towards red on the leaf's edges. Starting from early summer, you can enjoy the wonderful sight until early fall. The city pollution doesn't stop this beauty from reaching its full potential, as it is resistant to urban environments. If you want to create a green jungle in the middle of the city, the Electric Rouge would be your best pick.