This post may contain references and links to products from our advertisers. We may receive commissions from certain links you click on our website. As an Amazon Associate Rhythm of the Home earns revenues from qualifying purchases.
Share this article:
Whether you want to decorate those unused walls in your home or enhance their functionality, floating shelves provide a very space-efficient solution. They can be hung in many different areas of the home where you wish to create a stylish display of various décor pieces or just require some convenient storage space. Floating shelves are particularly popular in recent interior design trends because they have amazing decorative potential. There are many ways to create stylish displays with the help of floating shelves. Here are some of the most inspirational ideas to consider.




1. Statement Wall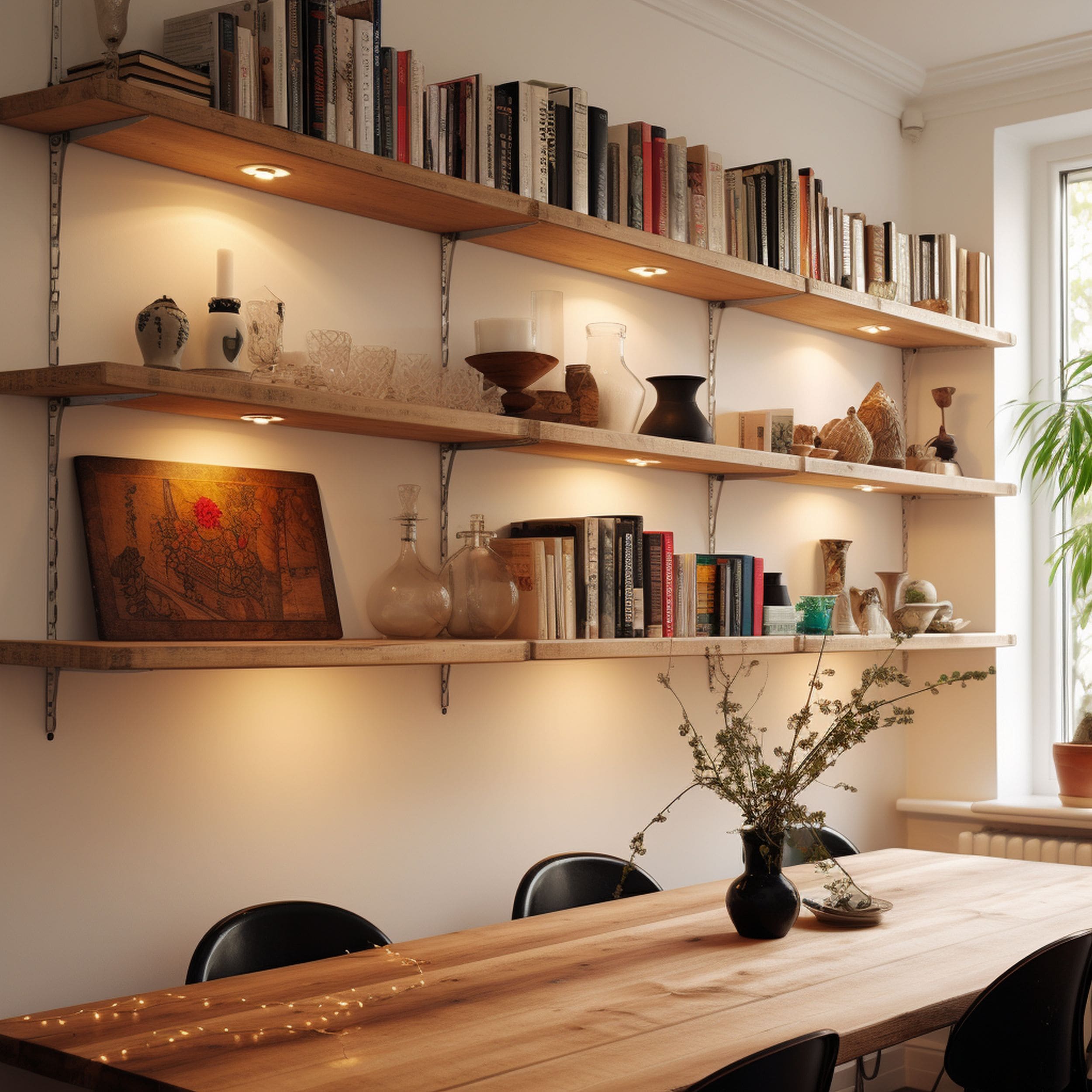 Making floating shelves become the focal point of the room can be a bold yet effective décor approach. Although floating shelves cover the entire wall in this dining area, there's no sense of being overwhelmed by the design. The shelves feature warm wood tones and clean lines that match the overall minimalist aesthetic of the room. Take the opportunity to create a statement wall by displaying various colorful items such as books or decorations.




2. Children's Books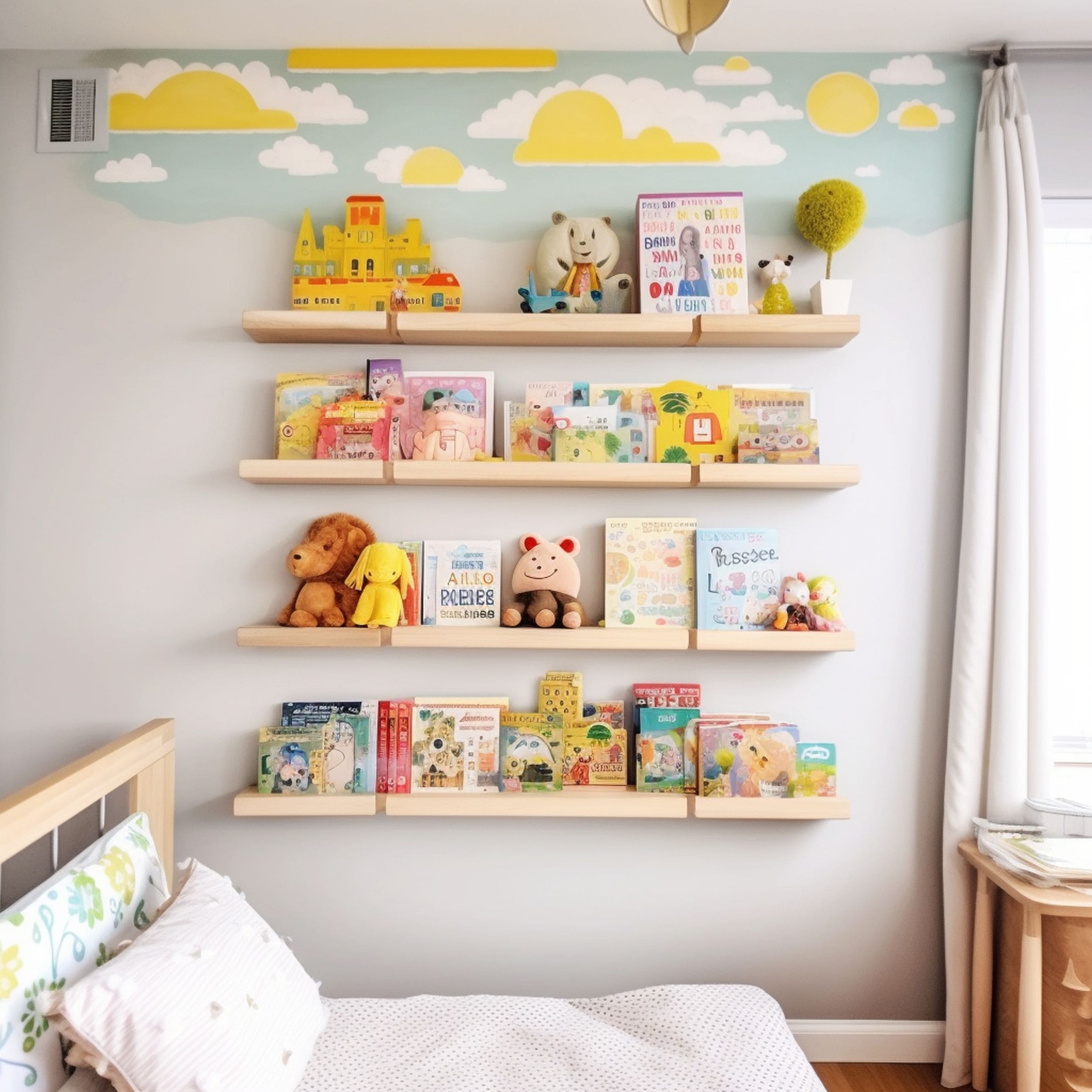 If you have a considerable collection of children's books, you should display them properly with the help of floating shelves. Although regular books might be too thick to show off in this way, this represents a great solution to put your colorful collection of children's books on display. Basic floating shelves need to be built with a lip to prevent any books from falling off. Make sure you combine different book sizes and colors together to create a more fun display of books that matches the childlike theme of the room.




3. Different Shapes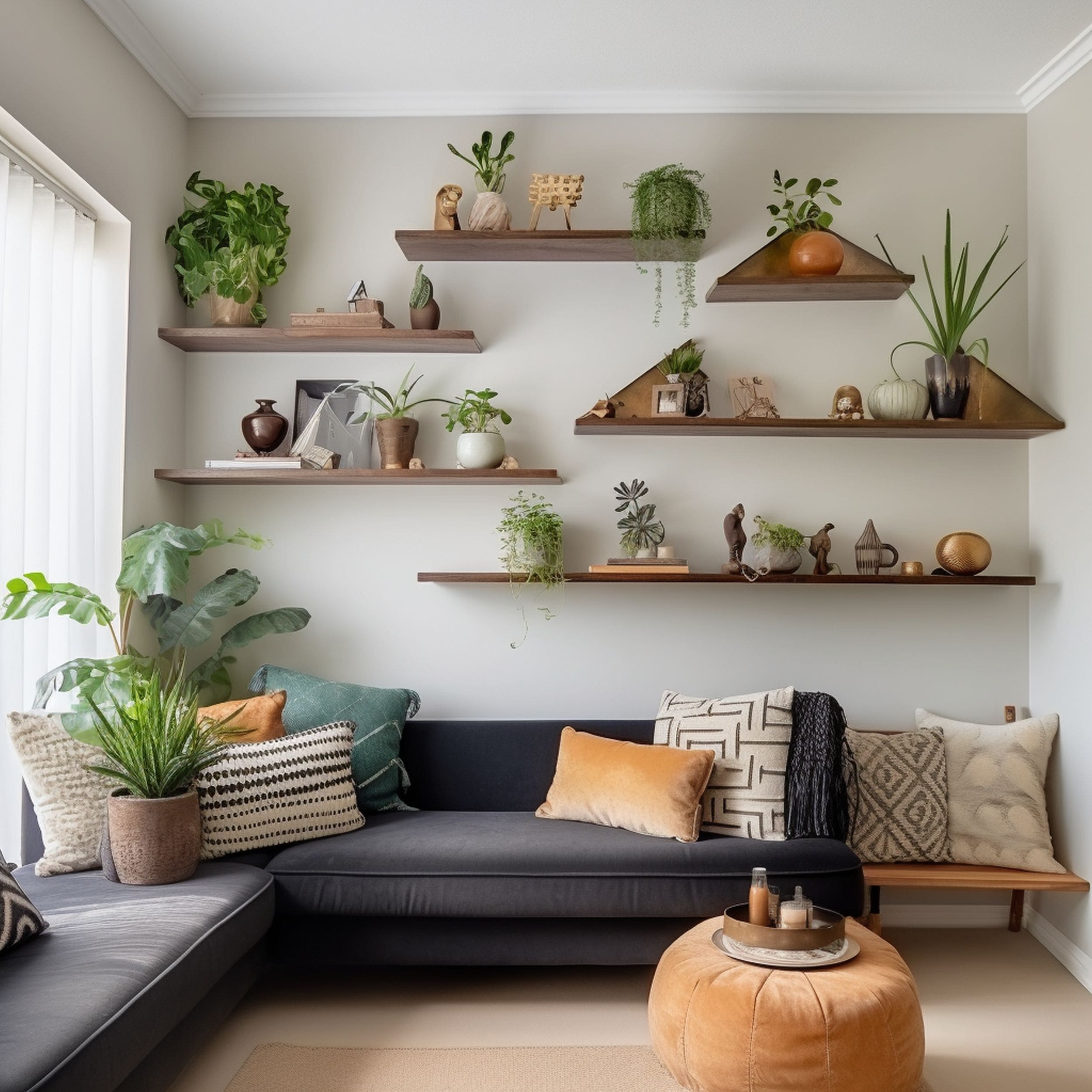 Not all floating shelves have to feature the same plain linear design. If you want to add a sense of playfulness to your display, consider mixing more distinctive shelf shapes together. Instead of simple rectangular styles, why not try some trapezoidal shapes for some extra visual interest? It's also a good idea to pay attention to the way you arrange different floating shelves together to ensure that multiple shapes and angles fit in a balanced way.




4. Accent Wall





Whether you have a custom niche or an accent wall designed in a vibrant color, you can use this opportunity to integrate floating shelves. They are effective at drawing extra attention to the accent wall. Keep the décor pieces to a minimum if you wish to avoid the sense of clutter exacerbated by the intense color. If you prefer a more eclectic approach, it's worth playing around with the bright backdrop to show off contrasting décor elements on the shelves.




5. Extra Thickness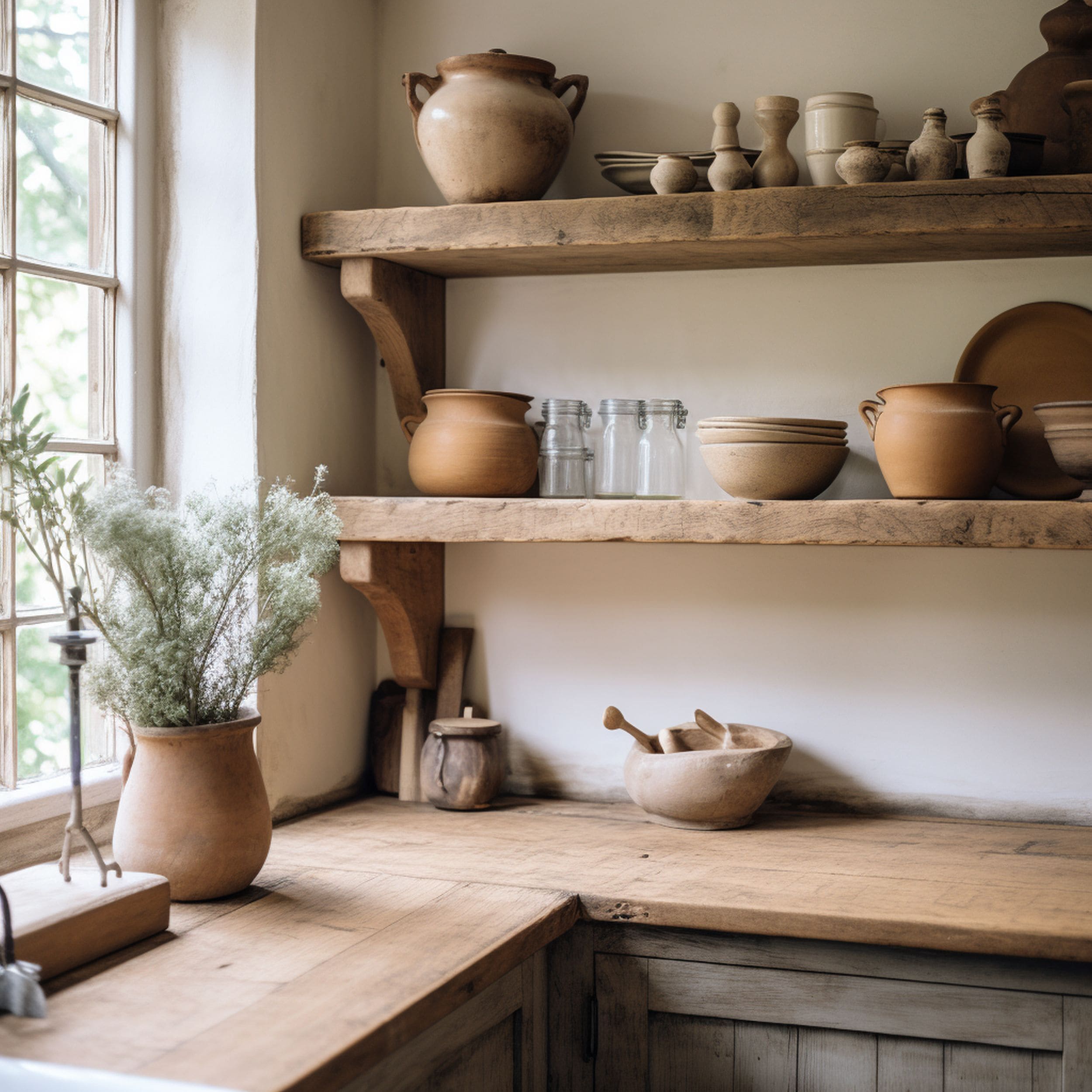 Most modern floating shelf designs tend to feature thin and sleek boards. The idea is to avoid unnecessary attention to the shelves and instead let the displayed objects stand out more. However, some people might enjoy a different visual effect by focusing attention on the beauty of the wood shelves. Check out this charming farmhouse-inspired kitchen that shows off the natural wood grain patterns on these thick wood slabs used as floating shelves. Contrast the sturdy construction by displaying delicate décor pieces such as handmade pottery.




6. Geometric Style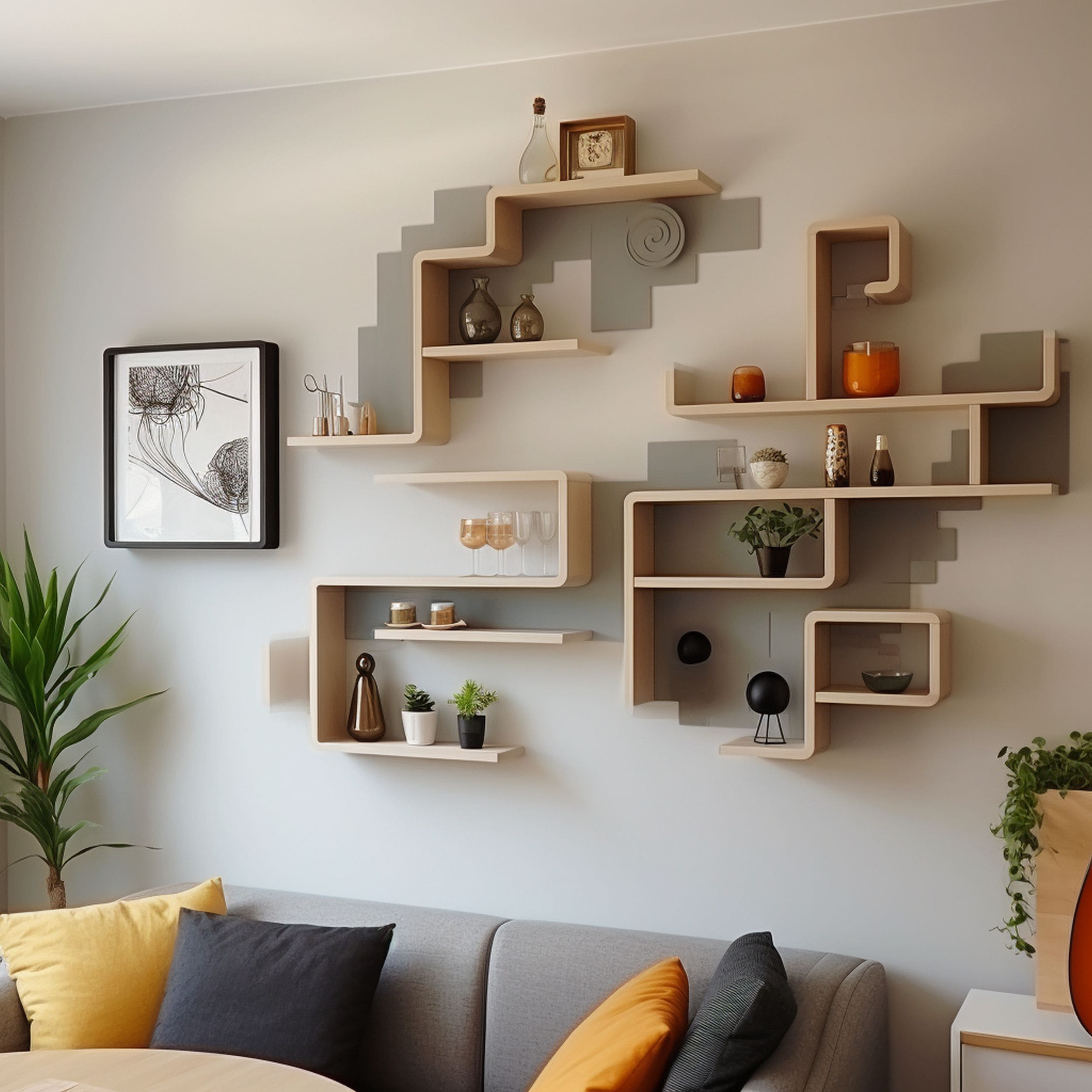 Fans of minimalism tend to prefer floating shelves when it comes to wall décor solutions. It's not difficult to see why considering the subtle and elegant way these shelves can enhance the look of the wall without taking up precious square footage. If you're searching for a creative way to bring floating shelves in a modern minimalist space, consider going for a geometrical arrangement focused on clean lines and minimal displayed pieces. These innovative floating shelves let you show off your favorite decorations while also creating a unique display by themselves.




7. Mix of Materials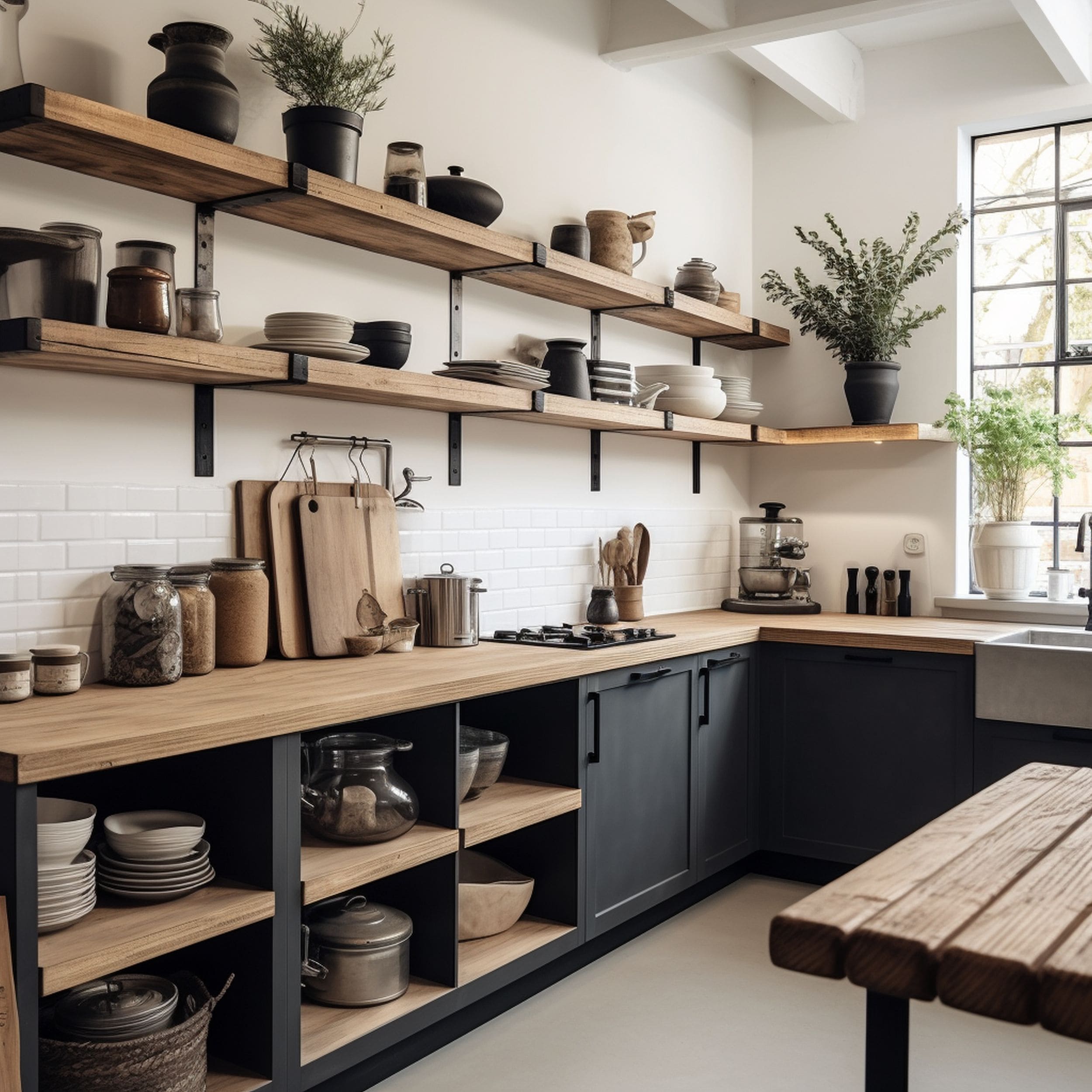 By combining different materials together, you can obtain a more visually-appealing look for your floating shelves. Plain wooden shelves get a modern edge thanks to metal accents. This could be a smart décor choice if you enjoy industrial design where rustic elements are frequently accented with metal finishes. The contrasting colors create a bolder style that suits this neutral white kitchen. The floating shelves are also reinforced with extra sturdiness thanks to the metal elements of their frame.




8. Nightstand Replacement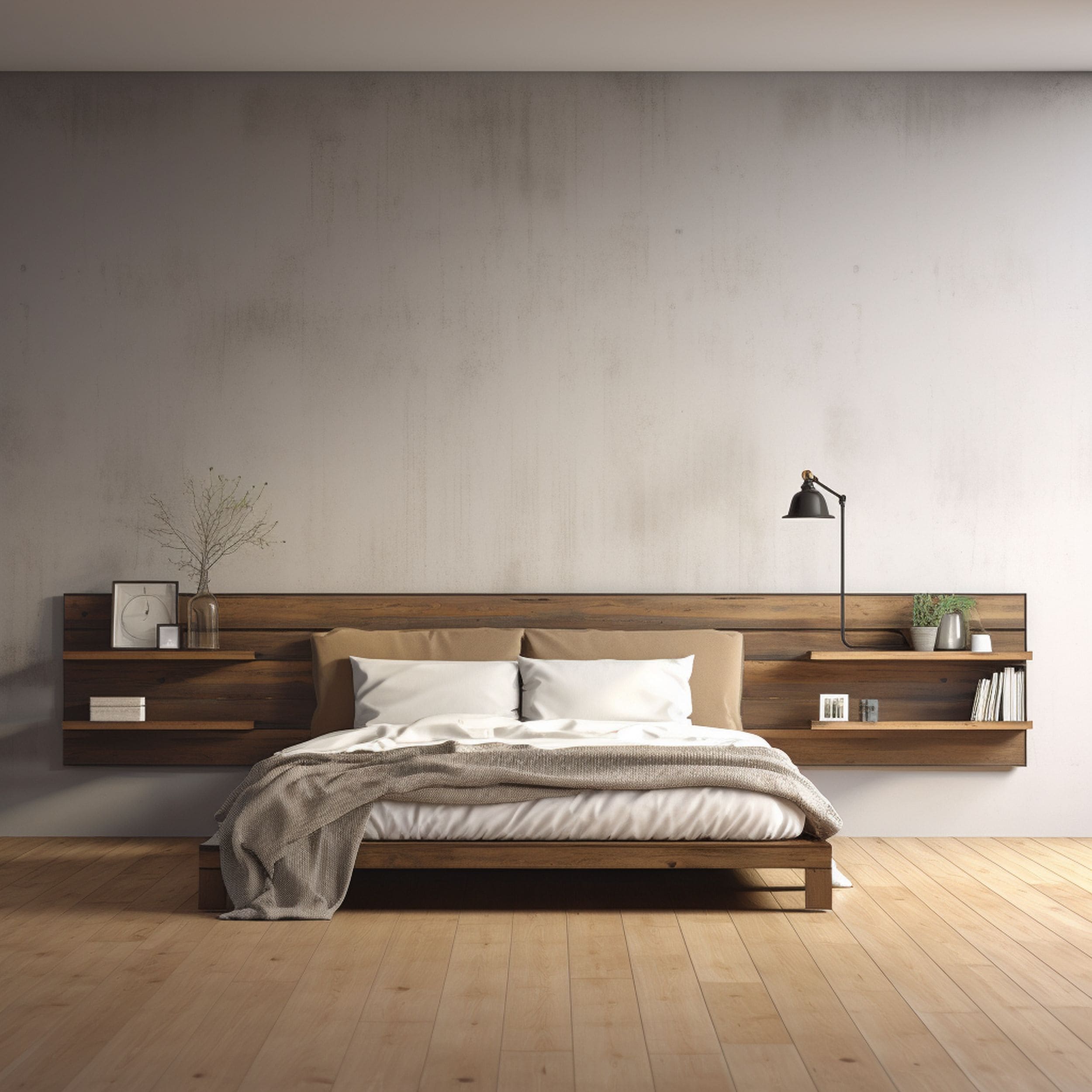 Floating shelves are commonly used in living rooms and kitchens but not as often in bedrooms. Here's a creative idea that proves you can easily integrate them and even use the shelves to successfully replace other elements such as nightstands. This is a more practical application of a floating shelf but there's also a notable aesthetic upgrade. Using the nightstand to display some décor pieces won't work well because of the risk of a cluttered surface. Meanwhile, multiple floating shelves keep the necessities close without taking up floor space.




9. Empty Corner





Exposed floating shelves are recommended for filling up that empty corner space in the kitchen. Even though this room has an important functional role, this doesn't mean you should compromise in terms of style. Keep the cupboards and drawers organized for essential kitchen items used in cooking and allow the floating shelves to show off your aesthetic sense. They provide an excellent opportunity to create stylish vignettes containing a few meaningful décor pieces that add distinctive character to the space.




10. Gallery Wall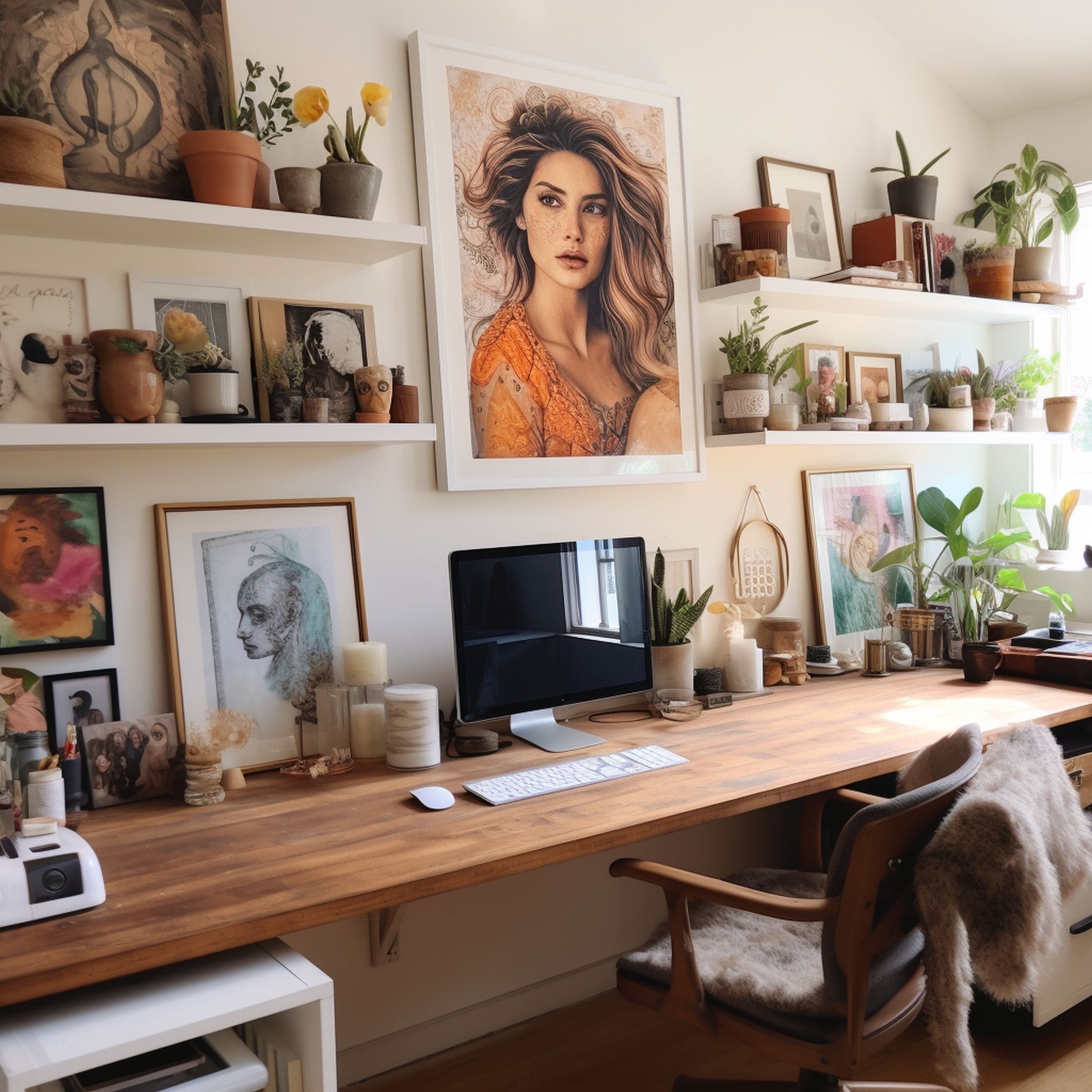 Many homeowners love the idea of creating a personalized gallery wall with their favorite mix of art pieces and photographs. This décor idea comes with some disadvantages though. There's some considerable planning effort involved in the arrangement and you won't be able to easily modify the look once the gallery wall is up. An alternative idea is to use floating shelves as picture ledges where you can display gorgeous prints to decorate the room more conveniently. Simply swap out artworks when you feel the need for a fresh design change.




11. Stairway Accessorizing





If you're trying to improve the appearance of the entryway, consider accessorizing an overlooked area such as the stairway. This can be an awkward area to decorate because there's likely not a lot of floor space to work with. Thankfully, there's one ingenious solution to consider as floating shelves can be used to create a custom display in a space-saving style. Take a good look at your staircase and its surroundings to integrate the right décor pieces on the shelves to complement the overall design of the entryway.




12. Tiny Floating Shelf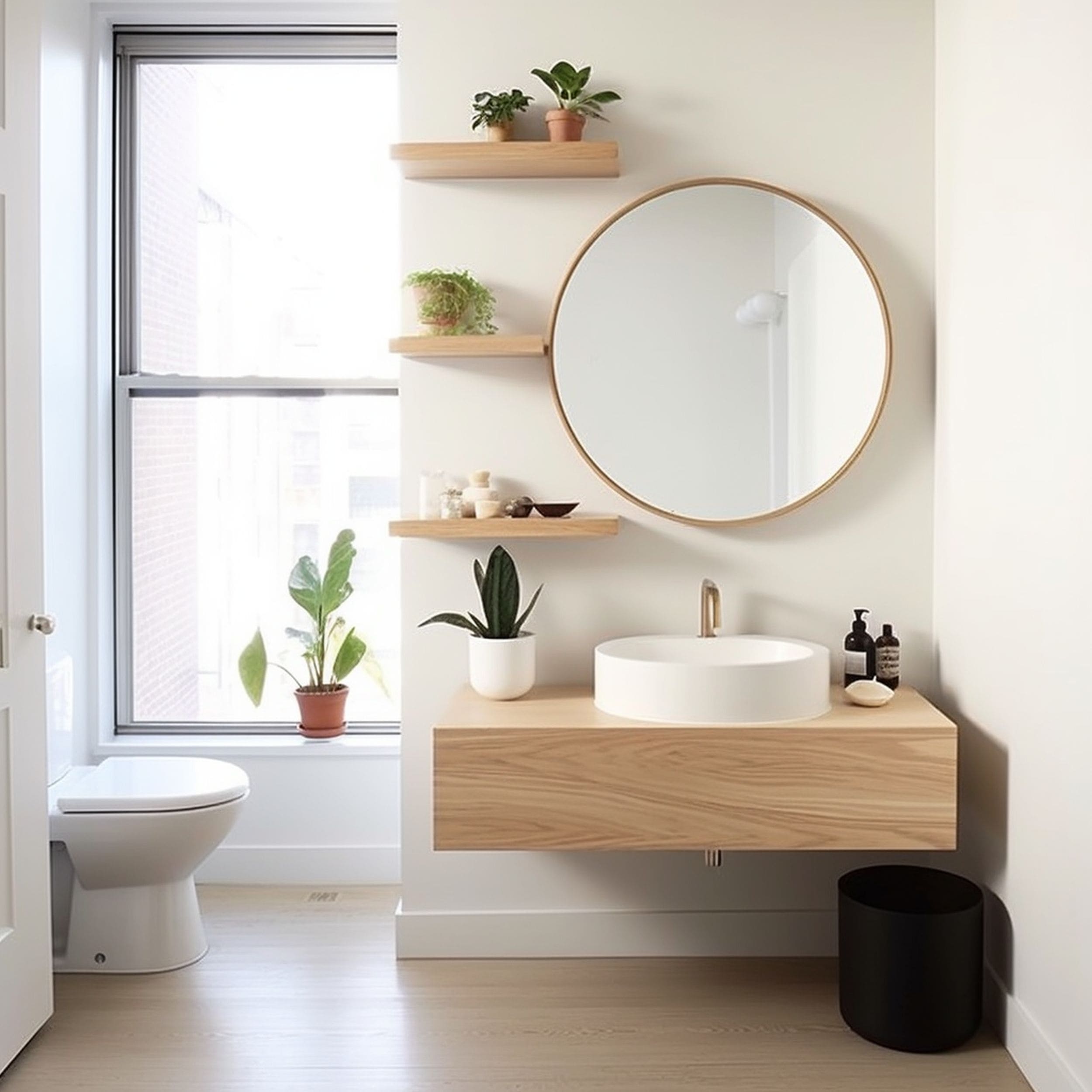 Having a small bathroom or powder room means you'll have to deal with some decorating challenges. This kind of space seems ideal for space-efficient storage solutions such as floating shelves. Check out this elegant little bathroom that makes the most out of the available space. It relies on tiny floating shelves made from natural wood neatly complemented by the round style of the mirror. The shelves are practical to keep essentials close at hand but also for displaying small decorative items if preferred.




13. Colorful Look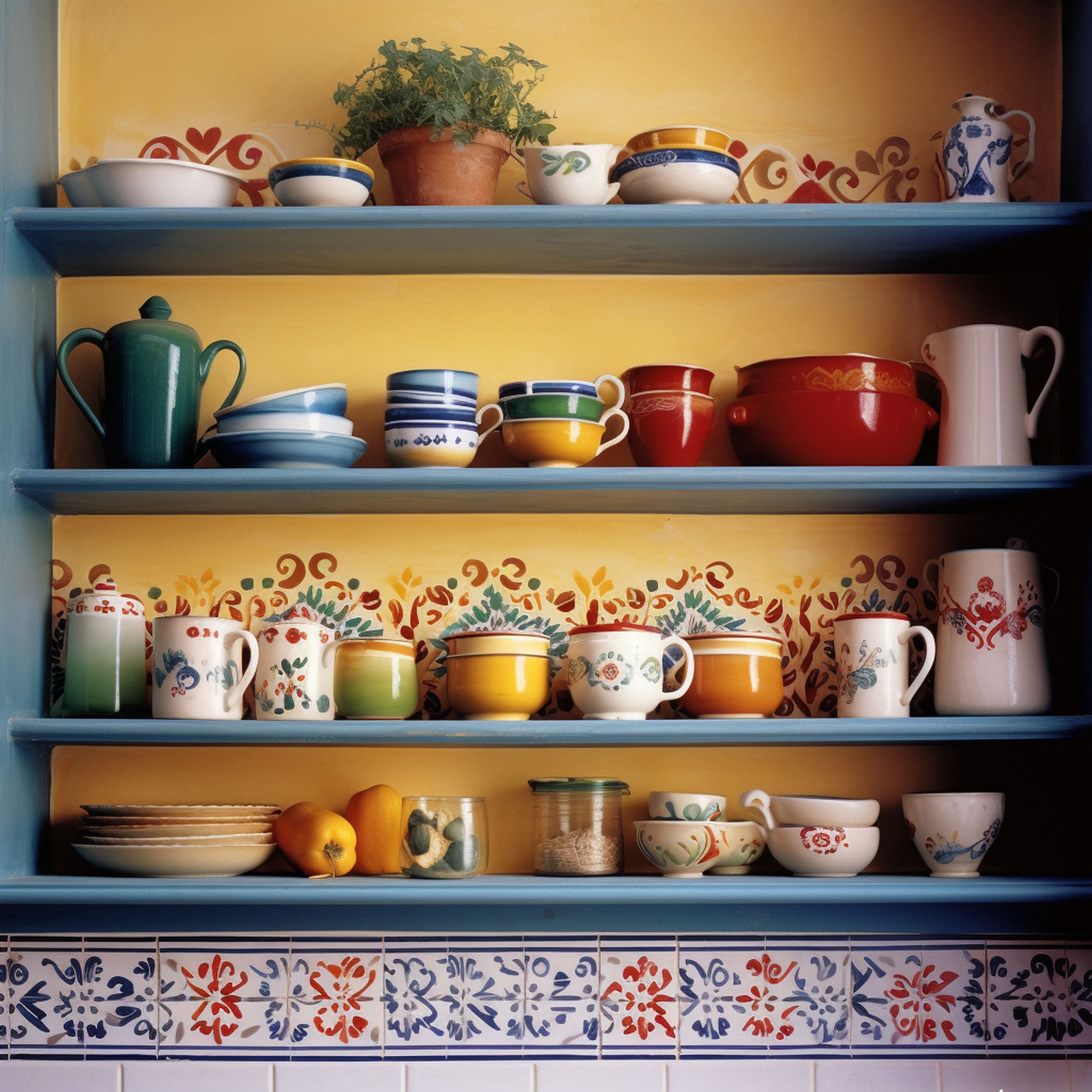 Want to focus more on the decorative potential of floating shelves? Consider embracing maximalism by using bright colors for the body of the shelves. Take the idea further by contrasting brightly-colored shelves with painted walls and ornamental wallpaper motifs. The repeating patterns on the backsplash tile strip create a balanced visual effect.




14. Triangle Design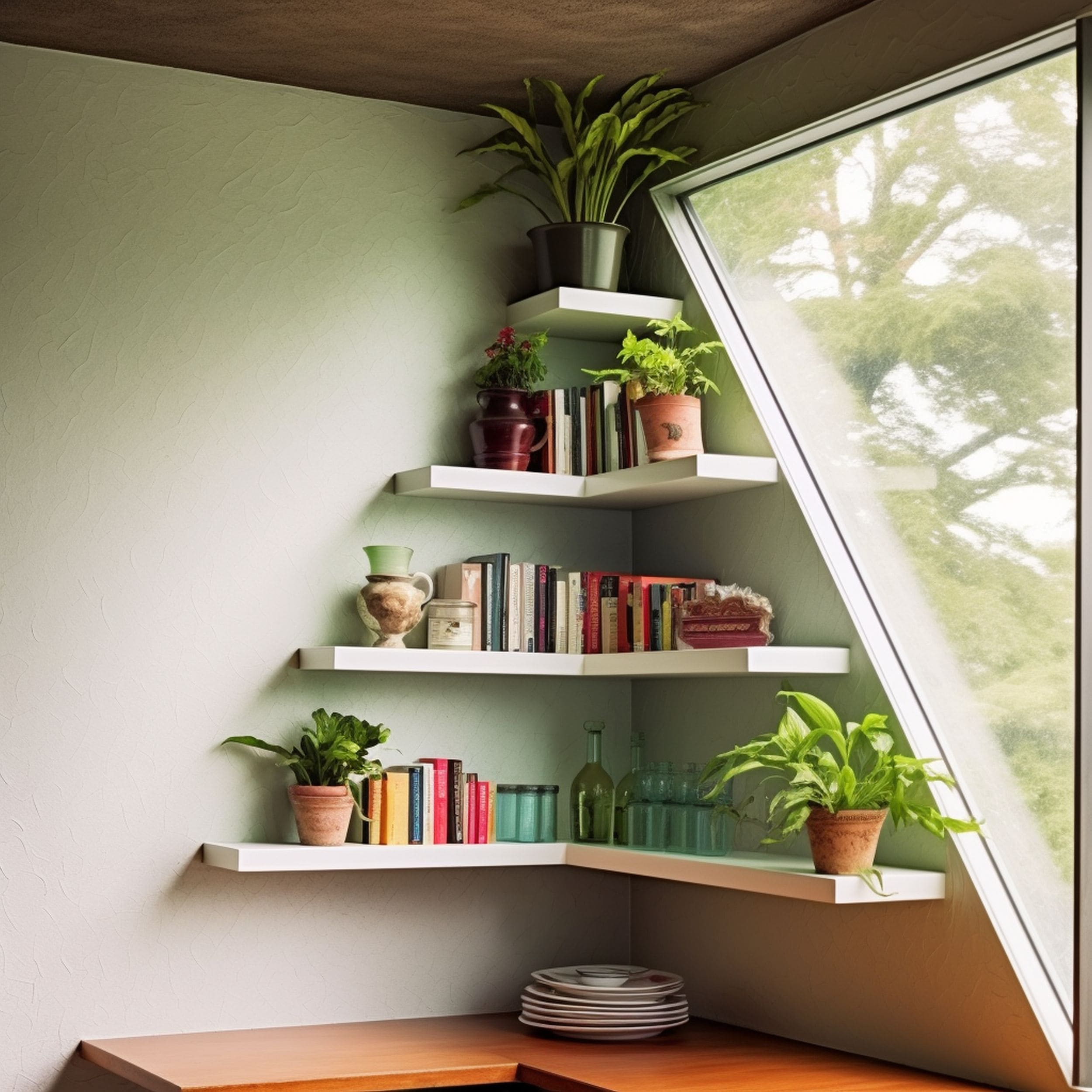 Here's another creative floating shelf idea to deal with an empty corner of the room. Instead of a classic linear style, these decorative shelves are built with a chic triangle design to maximize space use. The result is very attractive considering the geometric appeal of these tiny floating shelves. There's not a lot of storage space on them, but they're big enough to accommodate a few select decorations to enhance the look of a lonely corner in the house.




15. Wall-to-Wall Display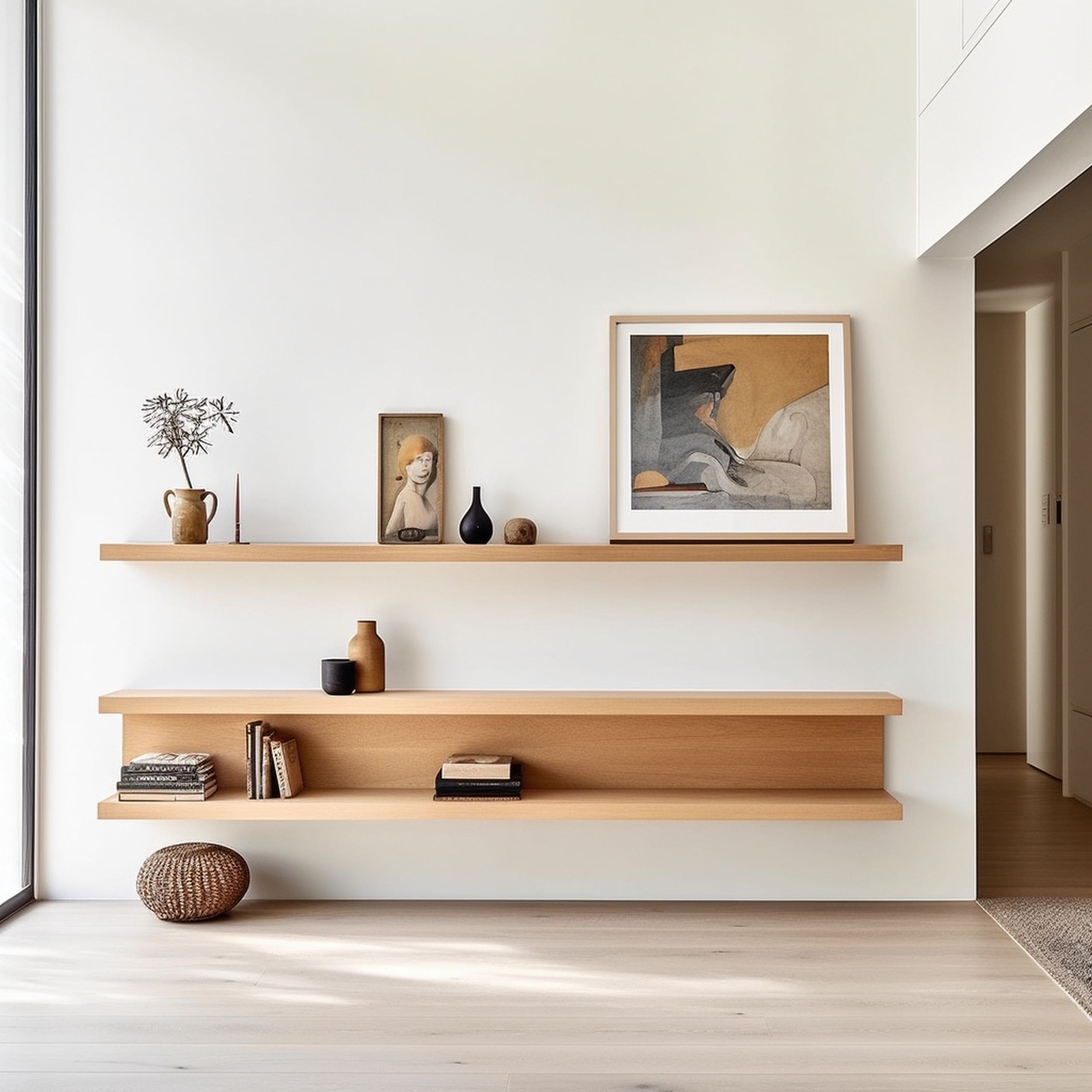 Neutral and clean-looking, wall-to-wall floating shelves are highly recommended to create a sense of visual expansion when displaying decorations. Similar to an art gallery, the idea of this design approach is to decorate the entire length of the wall and use the available wall space more efficiently. Keep the emphasis on natural materials such as wood and try to form a cohesive arrangement with your chosen décor pieces. This kind of expanded wall display looks more attractive in a balanced and minimalist-friendly color scheme.




16. Camouflaged Shelves





If you don't want the floating shelves themselves to have a big visual impact on the wall, consider an ingenious camouflaging method. You can create a stylishly understated look by using clean white shelves against a pure white wall. To blend them more effectively with the background surface, you can use shiplap walls that feature horizontal lines. The floating shelves are more effectively camouflaged by following the same linear design. This can be a particularly stunning décor idea for a farmhouse-styled laundry room.




17. Cabinetry Replacement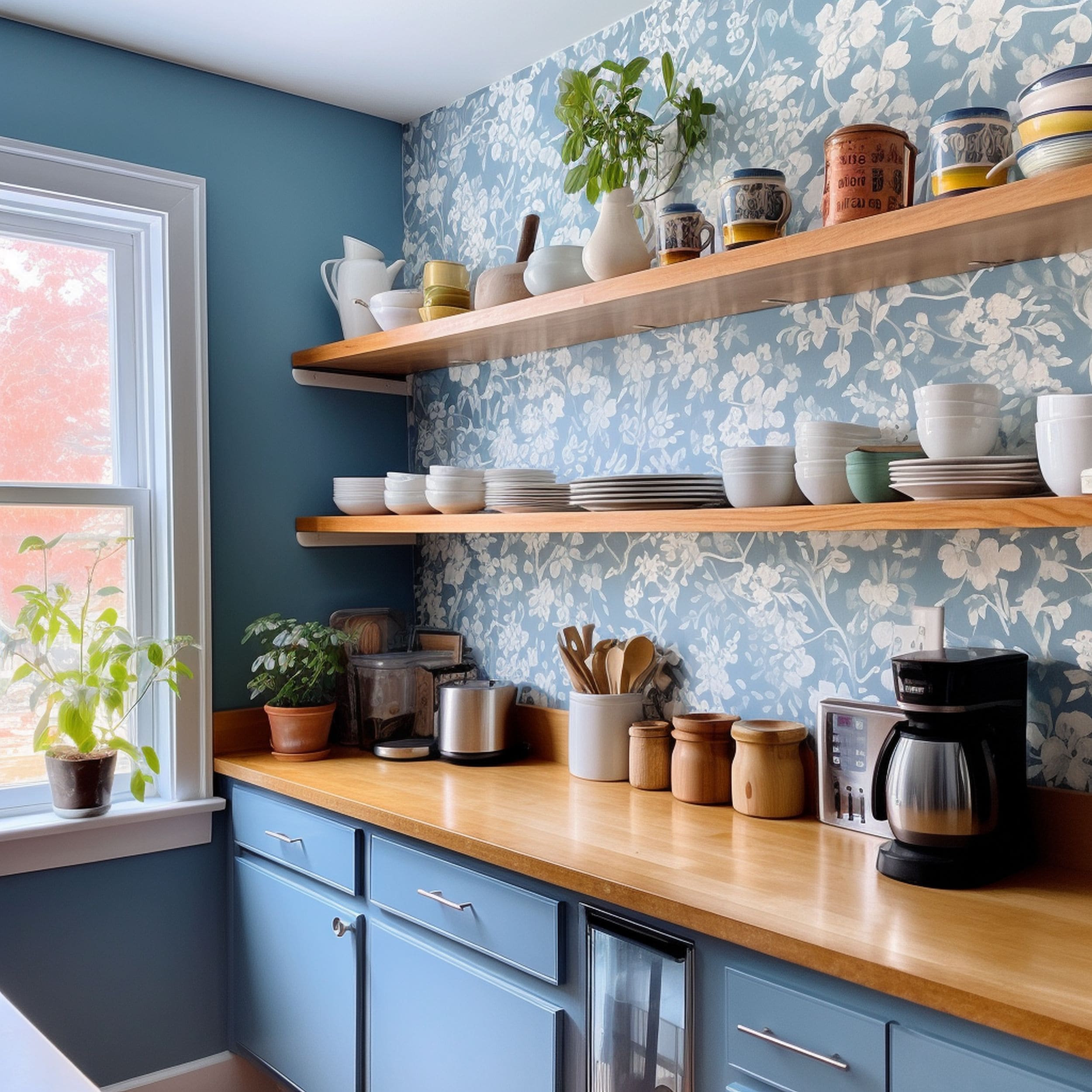 Floating shelves are extremely popular in modern kitchens. They tend to be used only to serve as quirky displays of small decorations. However, you can embrace the appeal of floating shelves in such a way as to strike a better balance between style and functionality. When used right, these exposed shelves can fully remove the need for upper cabinetry in a kitchen. You can just enjoy their sleek design hovering above the countertop. Instead of showcasing a basic selection of décor items, the floating shelves can allow you to display all your favorite dishes and glassware.




18. Reading Nook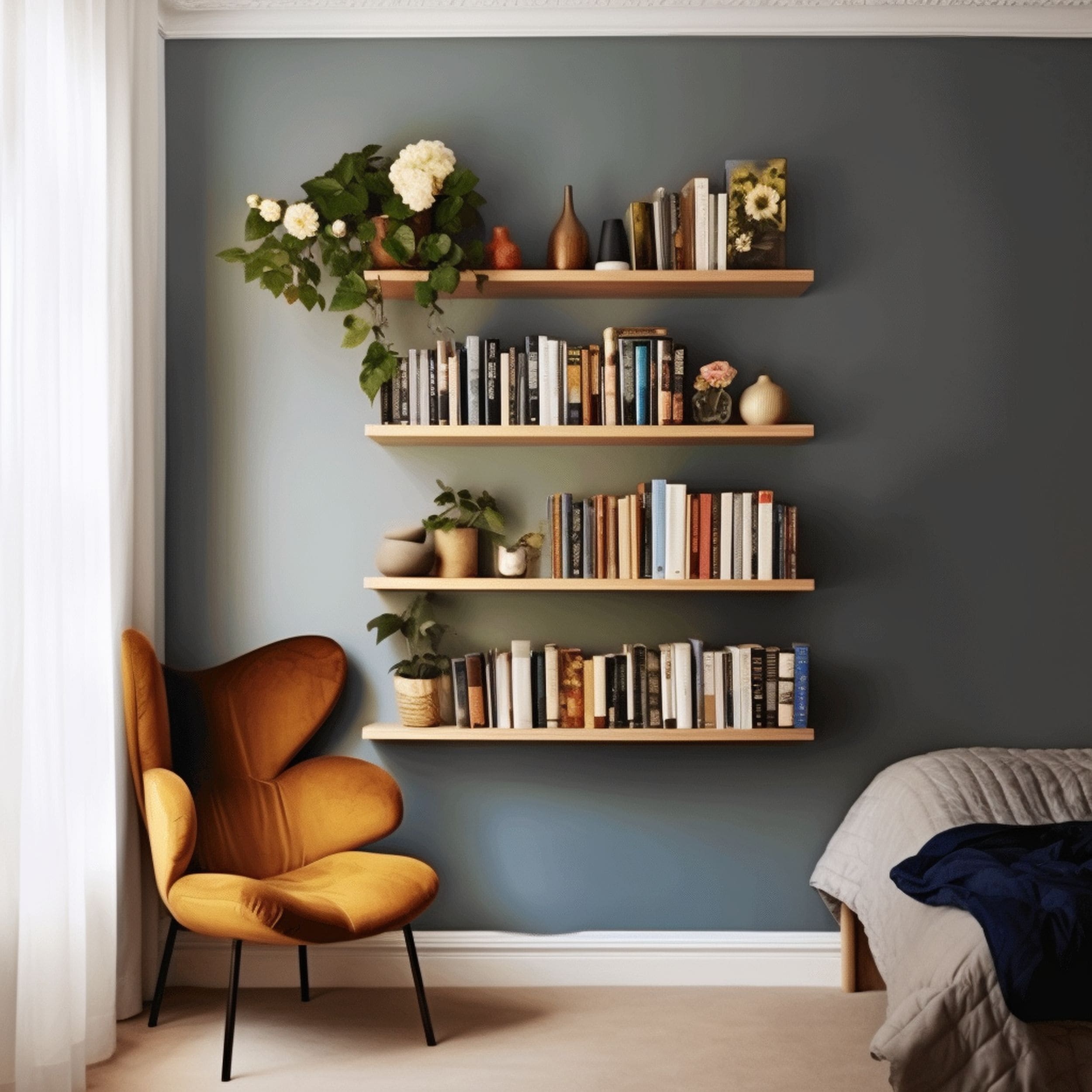 Instead of using bookcases, you might be able to store your book collection in a more distinctive style with the help of floating shelves. The books will be just as easy to reach but there's none of that bulky feel added by a large furniture piece. Multiple rows of shelves can be added as your collection grows. Although this might not be the most practical way to store books, it's probably among the most beautiful. Finish off your reading nook with a comfy padded chair to make the ambiance truly cozy.




19. Accent Lighting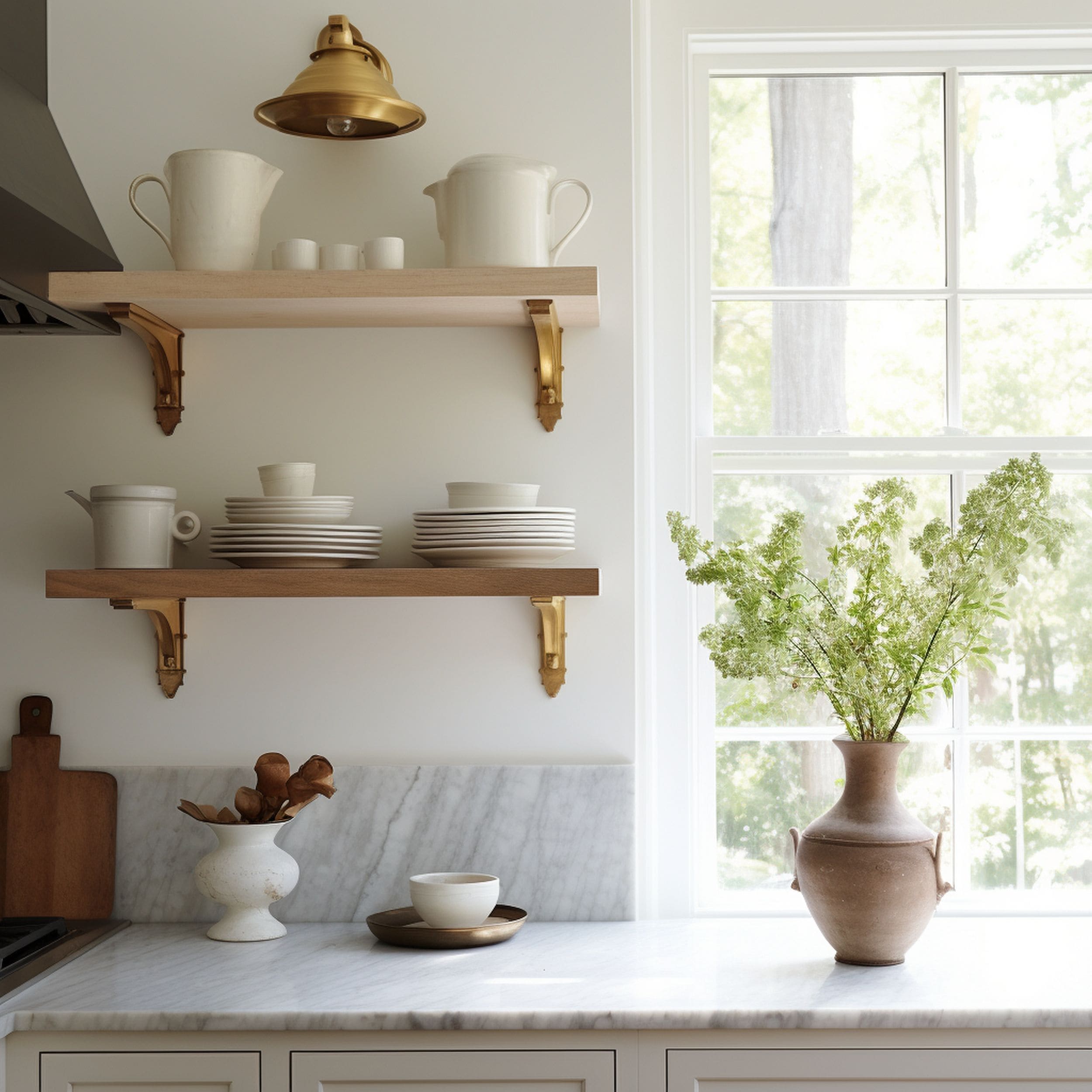 Considering the decorative nature of a floating shelf, it's not surprising that many interior designers want to attract as much attention to it. One way to do so is by using a lighting fixture that elegantly accentuates the display of your favorite decorations. For example, the wall sconce in this kitchen makes the floating shelves stand out more effectively against other surrounding elements. This is a recommended solution if you wish to display some treasured items or collectibles that should be properly highlighted in a spotlight.




20. Ultra-Thin Shelves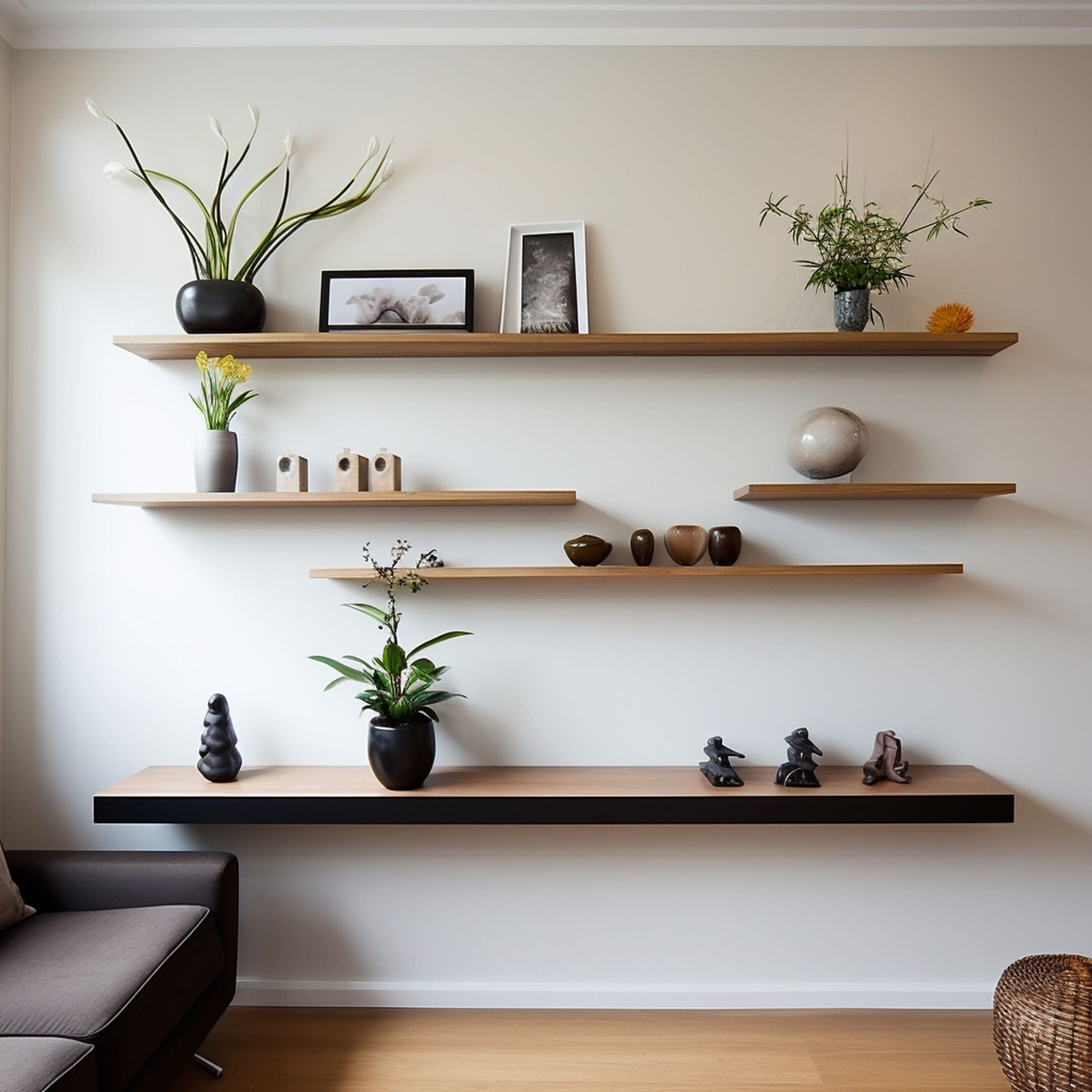 Modern design enthusiasts will probably prefer a thinner profile type for their floating shelves. The sleek design allows the displayed objects to take centerstage as the visual strength of the shelves themselves will be subtly minimized. When you're attempting to create a sophisticated arrangement of decorations, take into account how assertive the shelf's profile appears. In contrast with the refined vibe of a thin shelf, thick options feel rougher and more visually overwhelming. They're better suited for rustic or traditional interior styles.