This post may contain references and links to products from our advertisers. We may receive commissions from certain links you click on our website. As an Amazon Associate Rhythm of the Home earns revenues from qualifying purchases.
Share this article:
There are many areas in your home that can make use of additional lighting. One of the most elegant solutions comes from installing wall sconces. These are practical illumination fixtures that are highly functional and contribute to a stylish interior design. Homeowners like to integrate wall sconces throughout their homes when looking for fresh lighting ideas. Maybe you'd like to add some bright task lighting somewhere or use the sconce to bring accent lighting and make a certain area stand out more effectively.
Regardless of your preferences, it's safe to say that it can be a difficult decision to pick the best wall sconce. It's essential to take into account the decor style of your home to find a suitable model that matches the aesthetic. At the same time, you've got to pay attention to practical features such as light intensity and whether it relies on hardwired or plug-in mounting designs. Without further ado, let's explore the best wall sconces for the cost.
Best Rustic Wall Sconces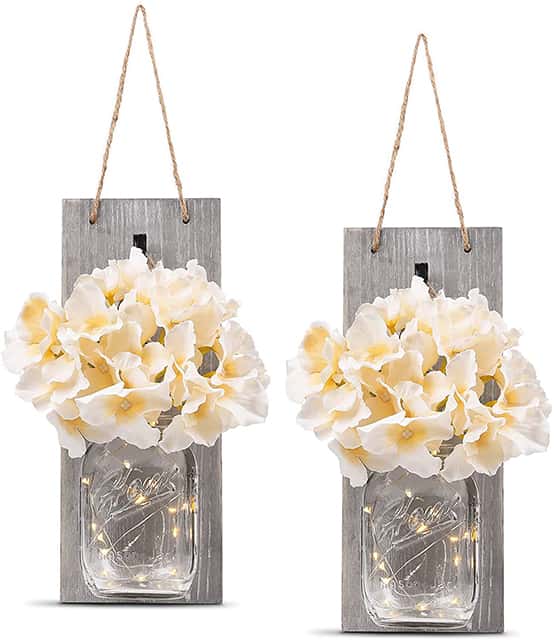 Buy On AmazonBuy On Walmart
Anyone who wants to bring rustic charm to their interior space should try these decorative wall sconces from GBtroo. They're made up of mason jars elegantly embellished with silk hydrangeas. The lighting comes from LED strips powered by batteries. Although the illumination is mainly atmospheric, the real highlight of this set comes from its farmhouse-inspired aesthetic.
The DIY wall sconces are incredibly versatile when it comes to adding a decorative touch to any room. The design fits nicely in rustic or bohemian spaces while the mason jars can also fulfill different purposes such as organizers or planters. The wall sconces require a little assembly work but it's nothing complicated. All the components are supplied in the package, including the reclaimed wood boards and fairy lights. This stylish set can also make a great gift idea. The sconces look fabulous even when they're not lit.
Best Modern Wall Sconces
Buy On AmazonBuy On WalmartBuy On Home Depot
The ChangM wall sconce set is perfect for those who prefer a modern vibe. These LED lamps are designed for wall-mounting and offer either cool white or warm white illumination to match any need. The wall sconces are crafted from a premium blend of acrylic and aluminum to bring a lot of modern appeal to any contemporary interior design. Each lamp is equipped with 12W lights that offer solid brightness levels.
These wall sconces work best for staircases or office areas but you can easily incorporate them in a wide range of places including living rooms and bedrooms. The LED lights have a long lifespan to ensure satisfying long-term functionality. In terms of installation, the process is relatively straightforward if you're familiar with hardwired mounting. It's recommended to get help from an electrician for the best results.
Best Vintage Wall Sconces
Buy On AmazonBuy On Home Depot
If you wish to add some vintage flair through wall sconces, check out this set from Licperron. It contains three beautiful antique pieces with great adjustability features and quality workmanship. The sconces are hardwired but aren't particularly difficult to install thanks to the included hardware. They work best together with Edison light bulbs to take the vintage vibe to a new level.
With the help of an elegant black-and-gold finish, these wall sconces can be neatly integrated into a wide range of interior design styles. They're recommended for industrial settings and can be easily installed at home, the office, or in a cafe. While the bulb isn't included, the wall sconces are compatible with various standard models, including LED and halogen types. Each sconce features 240-degree adjustability for its head to get the desired lighting effect.
Best Mid-Century Wall Sconces
Buy On Amazon
With a classy appearance, the Rivet wall sconce light is an optimal choice for those who wish to include a solid Mid-Century Modern accent in the room. It's available in a selection of stylish colors such as matte black, polished nickel, and gold. The elegant shape of the sconce makes it a suitable solution if you need focused illumination in a more understated style.
Although it's not designed to fully illuminate a large room by itself, this is a perfect fixture to highlight a decorative piece or to make a bold statement through lighting. The sconce is built from metal and retains the characteristic clean aesthetic of Mid-Century Modern design. In terms of functionality, the sconce can pivot up and down in a 360-degree style for your convenience. The assembly process is a breeze as well so the Rivet wall sconce light is highly recommended.
Best Farmhouse Wall Sconces
Buy On AmazonBuy On Home Depot
Beautifully designed to mix farmhouse and industrial styles, the Larkar wall sconce set represents a solid investment. It brings a distinctive look that can match various interiors easily. The lighting fixtures are painted black and provide convenient installation options. If you don't wish to create a hardwired mounting, you can just use the sconce with its plug-in cord for an effortless mounting anywhere.
One great ability of this model is the integrated dimmable switch that simplifies the control of the lighting. Another neat detail is the white coating inside the lamp to create a brighter illumination effect. Each wall sconce included here offers compatibility for US medium base sockets. It's recommended to opt for halogen or incandescent light bulbs. While the mounting hardware is supplied in the package, there's no light bulb included. Used as accent lights, these wall sconces can improve the atmosphere in any bedroom or living room.
Best Budget Wall Sconces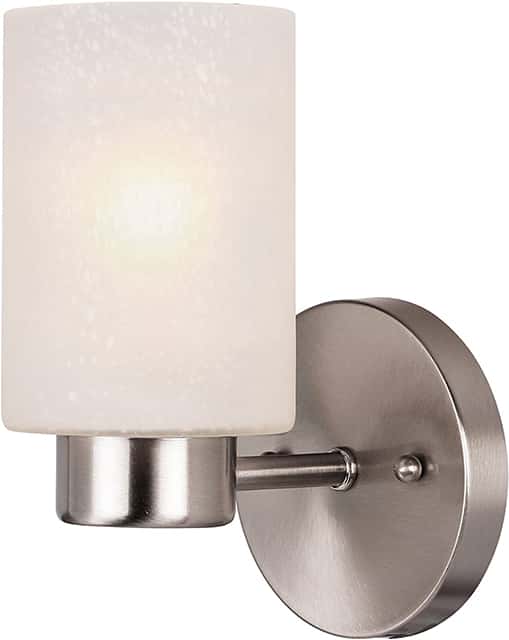 Buy On AmazonBuy On Home Depot
One stylish and affordable wall sconce set comes from Westinghouse Lighting. The Sylvestre model is designed with frosted seeded glass and a modern nickel finish to complement any kind of décor. This is not a particularly bold-looking wall sconce but it does the job if you prefer a more understated style. It's a sophisticated choice for many rooms in the house such as the bathroom, bedroom, or hallways.
Thanks to its flexible installation style, the wall sconces can be positioned conveniently in different ways, either up or down. In terms of light bulb compatibility, it's recommended to stick to 60-watt medium-base models for optimal results. Although this is a very functional wall sconce set, its true strength lies in the looks department. The elegant brushed nickel finish makes the sconce stand out. This is an attractive lighting fixture due to its frosted cylinder glass shade as well.
Best Industrial Wall Sconces
Buy On AmazonBuy On Home Depot
Fans of industrial design can find lots of interesting options on the market for wall sconces. However, few options can match the value for the cost found in this JS Nova Juns model. It's a set of adjustable wall sconces that can provide a vintage industrial flair in any room, including the kitchen or bathroom. Although the light can't be dimmed, the heads of the sconces can be effortlessly adjusted to your liking.
When it comes to installation, this is a great wall sconce pack to consider. It's quick to mount due to the reliable hardware supplied. To complement the intended aesthetic effect of the fixtures, it's highly recommended to opt for Edison light bulbs. The resulting look will make any ambiance more enchanting. These wall sconces are crafted from quality metal and show off a black paint finish in a smooth style. The lights are attached to a stable metal base.