This post may contain references and links to products from our advertisers. We may receive commissions from certain links you click on our website. As an Amazon Associate Rhythm of the Home earns revenues from qualifying purchases.
Share this article:
If you want to brighten up the atmosphere in your home and enhance the sense of space, glass doors can be considered great features to add. They match the sleek designs of modern interiors while allowing some extra natural light to make the space feel more welcoming. Although you sacrifice some level of privacy, glass doors work ideally if you enjoy watching the outdoor world from the inside. It's recommended to install this type of door as a pet owner to watch your dog or cat roam around the yard.




As we'll see in the next part of this article, there are different types of glass doors available for your home. They each provide particular benefits and we'll help you understand them better to figure out which glass door type is most suitable for your needs. One thing that all glass door types have in common is the way they allow light to freely pass. It's an excellent solution for modern home configurations focused on distributing natural light more efficiently between the rooms. Check out the most functional and aesthetically-pleasing types of glass doors to include in your home.




1. Hinged Single Glass Door





This is the classic option that features a single swinging door. These glass doors can show off just one glass panel or multiple ones in their designs. You can open a hinged single door either inwardly or outwardly. It's also suitable for internal or external use. When it comes to appearance, this type of glass door works well with a frame but it can also remain frameless to create a sleeker look.




An important benefit of the hinged single door is that it can fit well in areas where stacked or folding doors can't be added. If you have a narrow opening, this type of glass door can also help you make the most out of the limited space available. Installing a lock on a hinged glass door is done easily. The design of the handle can play a big role when it comes to the overall style of the door. Another notable advantage is the moderately good soundproofing.




2. Sliding Glass Door





By mounting the glass doors on a special ground track, you can design them to be elegantly operated by horizontal sliding. In this way, you can make some notable space savings because the sliding glass door moves along the wall. The opening width can be adjusted very precisely which can be considered another solid benefit. This type of glass door should be installed in areas of the home that are frequently used. The guided sliding mechanism ensures quick and convenient operation to get access.




It's a highly recommended choice for patios and gardens because the sliding door lets you maximize the view when moving from indoor to outdoor areas. One extra benefit of having a large sliding glass door is that you don't need to worry about building a complex weight support structure. The upper and lower guiding tracks handle all the work. You can make sliding doors in both framed or frameless designs to match the modern appeal of the home.




3. French Glass Doors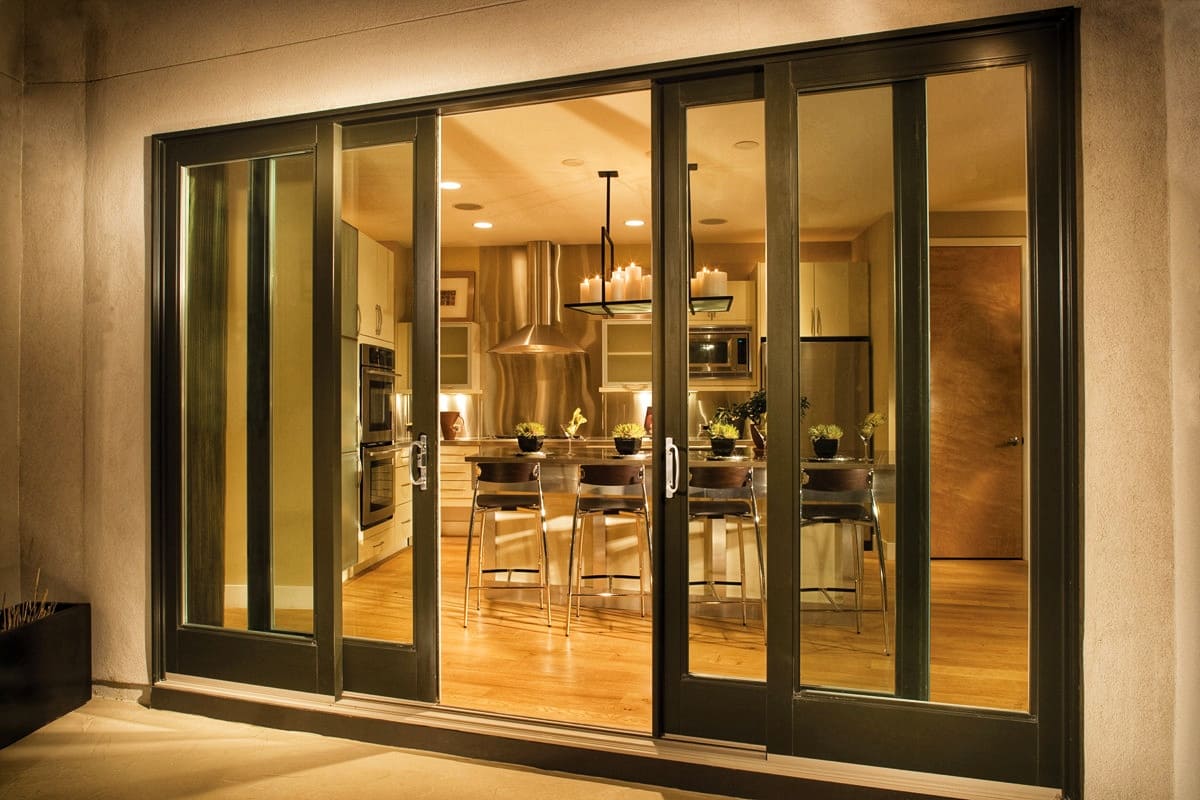 If you're looking to add a smooth transition between different rooms of the home, you should consider French glass doors. This type incorporates two single-hinged doors in its design. The elegant look comes from the way the doors open in opposite directions. Thanks to the large glass panes popularly used for this door style, there's a notable resemblance to tall French-style windows. That's a possible explanation while they're called French doors.




Similar to hinged single doors, the French type promises easy opening. There's also the advantage of requiring less space in front of the opening. You only need to make sure that it can accommodate the width of a single door and not the full pair. Traditional French glass doors swing inwards and feature frames made from timber. However, lots of modern designs use different materials and styles to make the doors stand out. The beauty of this door type makes it ideal for patios.




4. Bi-Fold Glass Doors





These doors are designed with separate folding panels, usually two or more, that can allow pushing on different sides depending on the opening style. Bi-fold glass doors are strongly recommended if you're interested in enhancing the sense of space in interior locations. This is possible thanks to the lack of obstructive structural posts that you would usually expect to find in the wall opening of other door types.




As opposed to other glass door types, bi-fold doors bring some extra flexibility to make them worth considering. You can keep them fully opened just as other types of doors but there's also the option to maintain them only partially opened. You don't have to make use of the entire door system to create a quick opening when needed. When it comes to drawbacks, it's worth mentioning that bi-fold doors require solid structural supports.




5. Pivot Glass Doors





A more distinctive type of glass door, this one makes use of a special pivot system to swivel freely without the need for hinges mounted on the sides. Pivot doors are usually built with two points that allow them to turn in a flexible way, one at the top and the other at the bottom. In terms of functionality, you might like the idea of having pivot glass doors for certain areas of the home like the patio where they provide a smooth transition to the outdoor space.




Although it's commonly installed as a single door, you can also set up pivot doors in more complex configurations that feature multiple doors. A nice benefit of having a pivot door is that it can be angled very easily to redirect breezes according to your preference. Compared to single hinge or French doors, it's safe to say that pivot glass doors feel much heavier. They also show off considerable dimensions because of the wide opening space provided.




6. Stacking Glass Doors





Despite similarities with sliding doors, stacking models stand out due to the use of multiple glass panels. The ingenious stacking design helps to save up some space while allowing convenient control in terms of adjusting the airflow of the house. The addition of multiple panels can result in a bigger opening. For this reason, stacking doors are often beneficial to create a better view of the outdoors. They provide pretty much the same overall advantages as sliding doors with the added bonus of more moving panels.