This post may contain references and links to products from our advertisers. We may receive commissions from certain links you click on our website. As an Amazon Associate Rhythm of the Home earns revenues from qualifying purchases.
Share this article:
Anyone who wants to improve the style of their yard should pay more attention to landscaping elements. With the help of the right type of rocks, you will be able to redesign the garden and maybe even improve overall yard utility. You don't have to be a professional landscaper to transform the yard with the decorative touch of landscaping stones. Most DIY gardeners can figure out how to create amazing-looking outdoor spaces. It's often just a matter of selecting the most suitable types of rocks. Check out the following landscaping rocks that provide excellent versatility, durability, and varied aesthetics to match any yard-improvement project.




1. River Rocks





Thanks to their rounded shape and smooth texture, river rocks have great potential when it comes to landscaping applications. This is not a specific type of stone because river rocks are essentially named because they're taken from river beds. You can expect to see a fairly wide variety of stones in river rocks with different sizes and colors.




Making walkways and dry creek beds are some of the best ways to use river rocks. These are extremely versatile stones that can suit the aesthetic style of almost any yard. The mixture of sizes and irregular shapes is welcomed by landscapers who enjoy a natural look. River rocks are highly recommended for dry creek beds as they can be used to deal with drainage issues on your property.




As opposed to other types of landscaping rocks, river stones are more reliable in terms of comfort. They work like a charm for walkways because their smooth style feels pleasant underfoot. If you're designing a walkway with river rocks, make sure you select smaller stones only to ensure the best level of comfort. Although river rocks have some notable uses in the yard, they're not recommended for some projects like garden beds because of their rounded contours which allow weeds to grow quite easily.




2. Crushed Stone





Crushed stone is extremely popular among DIY gardeners and landscapers. This is not a specific type of rock because it mostly refers to the uniform size and texture of the stone. It's fabricated by taking whole stones and breaking them into small, angular pieces. Crushed stones have lots of jagged edges that contribute to more visually-pleasing aesthetics when surrounding plants as mulch replacement.




Crushed stone isn't intended for walkways but it can be used as a base material to improve water drainage. Due to the stone's ability to retain heat quite effectively, this type of landscaping rock is sometimes not recommended to use in planting beds during hot summers. The excess heat can cause problems for certain plants but shrubs and trees are typically not affected. If you're worried about harming your plants, it's recommended to pay attention when applying crushed stone as mulch to avoid surrounding the plant directly.




3. Lava Rock





The name of this type of rock provides a good hint regarding its origins. Lava rocks are formed through the molten discharge of a volcano. For this reason, this type of stone features more distinctive colors such as black and red. It's a recommended landscaping rock if you're mainly interested in adding a stylish decorative effect to the yard. Lava rocks bring textural depth and visual interest through their irregular shapes.




The reduced weight is another advantage of lava rock over other types of landscaping rocks. They're fairly easy to use if you want a more durable alternative to standard mulch. Lava stones are capable of providing adequate drainage but taking full advantage of their functionality through more complex drainage projects might incur high costs. These rocks are generally best used as garden accents because their eye-catching features will easily highlight the natural beauty of your flowers.




4. Flagstone





A vast category of stone, flagstone can refer to flat slabs of rock that are used for some specific landscaping purposes, typically patios and walkways. When designing a flagstone feature in the yard, you can choose from various natural stone types such as limestone, sandstone, slate, and others. The size, flatness, and uniform style of flagstones make them ideal to create a walkable surface.




Although you can make walkways in the yard using various materials, nothing can compare to the elegance of a flagstone design. The paving stones are flat and level but colors and shapes can transform the pathway with a distinctive look. Some flagstones show very attractive colors that will easily stand out compared to basic concrete. Mixes of colors are usually preferred by landscapers but you might also consider flagstone patios or walkways in a matching color for your home.




5. Black Polished Pebbles





If you're mainly interested in ornamental landscaping rocks, consider adding some black polished pebbles to your yard. Although these stones can be a bit more expensive than natural pebbles, they're easy to get your hands on while there's no need to purchase a big quantity unlike with crushed stone. If you simply wish to add a stylish decorative touch to the garden, you can buy these polished pebbles by the bag.




Having lighter rocks in the garden means that these black pebbles can stand out in striking contrast. This type of landscaping rock is ideal if you need a dark element to balance out the color scheme of the garden. The pebbles can be used as filler in container gardens or you can design more attractive walkways or patios by edging these yard features with polished rocks. Keep in mind that these stones will start to lose their original shine after considerable time spent in the sun.




6. Fieldstone





This is a stone category that includes any rocks discovered during excavating or farming. Fieldstones can accomplish many landscaping purposes. Due to their larger size than others, these rocks work ideally for building stone walls. Larger fieldstones can be used as rustic seats around bonfires or to create charming stepping stones. If you wish to make a sturdy retaining wall, fieldstones should be used but you may also have to apply mortar depending on the style of the rocks.




Flat rocks can work for mortarless walls but rounded shapes can easily cause the wall to collapse without something like mortar to hold the stones together. Fieldstones can be purchased from a home improvement store but it's sometimes better to visit a local stone yard if you want to save some money on transport.




7. Pea Gravel





Named for its pea-sized rocks, this type of gravel has plenty of great functional and aesthetic landscaping uses. Pea gravel is commonly found and isn't particularly expensive. It's an attractive option for many homeowners interested in basic landscaping using rocks. The small size of the stones in pea gravel can be considered one of its main benefits. The little rocks are easy to apply to any area in the yard that experiences a lot of foot traffic. Pea gravel is also practical for some patio designs or playgrounds. Areas that require good drainage can depend upon this type of landscaping rock.




8. Brick Chips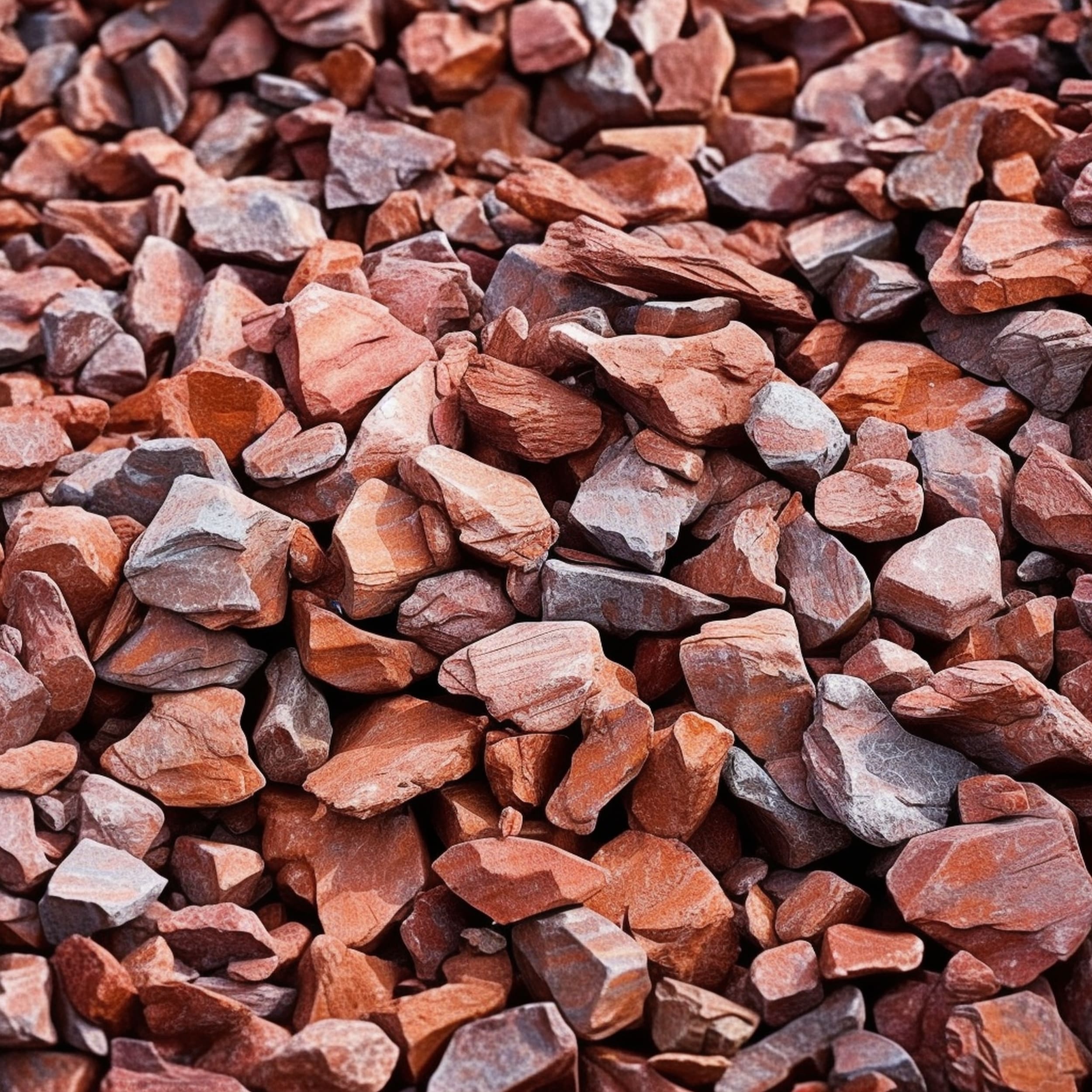 With a distinctive reddish color, brick chips have a lot to offer in terms of decorative landscaping projects. This type of rock is essentially crushed brick that's been specially selected for landscaping applications. Both walkways and planting beds can incorporate brick chips for aesthetic reasons. The red-orange stones offer a pleasant contrast in gardens but they're also functional when it comes to retaining soil temperature and moisture. This landscaping rock style offers reliable durability as ground cover or mulch replacement.




9. Boulders





Boulders are big and heavy rocks that can't be picked up by a single person without assistance. This landscaping rock category can include many different types of stones such as limestone, granite, and quartzite. Thanks to their massive features, boulders have some great uses in yards. They will easily make a strong visual impression even from a considerable distance.




With proper placement, boulders can be used for terracing. Whether flat or round boulders are used, the rocks can complement various features in your outdoor area. The natural aesthetic of a boulder makes it suitable for realistic-looking rock gardens. If you like the idea of rustic furniture, appropriately-sized boulders work nicely as seating. Flatter boulders can also be incorporated into retaining walls or divide planting areas more effectively.




10. Marble Chips





You might be used to seeing marble used for luxurious countertops or sleek flooring designs. However, this attractive type of rock can have some great landscaping applications when using marble chips. These white pebbles are ready to incorporate in a wide range of landscaping projects such as edging walkways or filler for container gardens. One considerable disadvantage of marble is that it can affect the pH of the soil. Avoid using it around plants that thrive on acidic soil.




11. Cobblestone





Despite some functional disadvantages, cobblestone remains a popular landscaping rock for many homeowners interested in traditional aesthetics. Cobblestones are instantly recognizable when used as pavers considering the rectangular-shaped stones. They're designed using durable types of stones such as granite. However, this type of landscaping rock can get quite expensive, especially if you plan to build an entire driveway using cobblestone. The rough texture is charming but less practical when it comes to removing snow.




12. Decomposed Granite





Granite that decays and becomes eroded over time can have some reliable landscaping uses. This is called decomposed granite which is obtained after screening and processing in quarry mines. The affordable price tag of decomposed granite makes this rock an affordable choice for DIY landscapers. It's durable enough to be used for driveways, pathways, or ground cover. There are multi-colored stones available that appear naturally from the decaying process of granite.