This post may contain references and links to products from our advertisers. We may receive commissions from certain links you click on our website. As an Amazon Associate Rhythm of the Home earns revenues from qualifying purchases.
Share this article:
Instead of fully committing to a bold makeover for the walls, there's a simpler option to beautify your living space. Using a removable wallpaper can be a more convenient solution to update the look of any wall in your home. Renters will most likely prefer this method due to its temporary nature. When it's time to move, you can easily take off the wallpaper and place it somewhere else. An added advantage is the lack of residues left behind.
Peel-and-stick wallpapers are also much cheaper compared to hiring someone for a permanent makeover. You can transform the look of the area by yourself and that's a great advantage for fans of DIY work. It's also worth noting that you don't necessarily have to use removable wallpapers just for the walls. You can get more creative and cover the furniture or other décor elements of the room to achieve a unique look. Check out the following list of removable wallpapers where only the most high-quality and cost-effective products made it.
RoomMates is one of the most appreciated brands on the market for removable wallpapers. They have lots of quality products such as this peel-and-stick wallpaper that shows off a distressed wood design in two style variations – blue and rustic. The fact that it leaves no residue behind makes this a perfect décor solution for renters. You don't have to worry about bad placement either as you can remove the wallpaper and reposition it.
Applying this removable wallpaper is a breeze. You just need to find a suitable surface that's smooth and flat so the texture won't affect the final look of the design. You won't have to use special tools for the installation as you just need to measure the wallpaper, cut it, and then position it wherever you like. Whether you want to add some coastal vibes or a rustic flair to the room, this RoomMates removable wallpaper is an excellent choice.
Best Exposed Brick Removable Wallpaper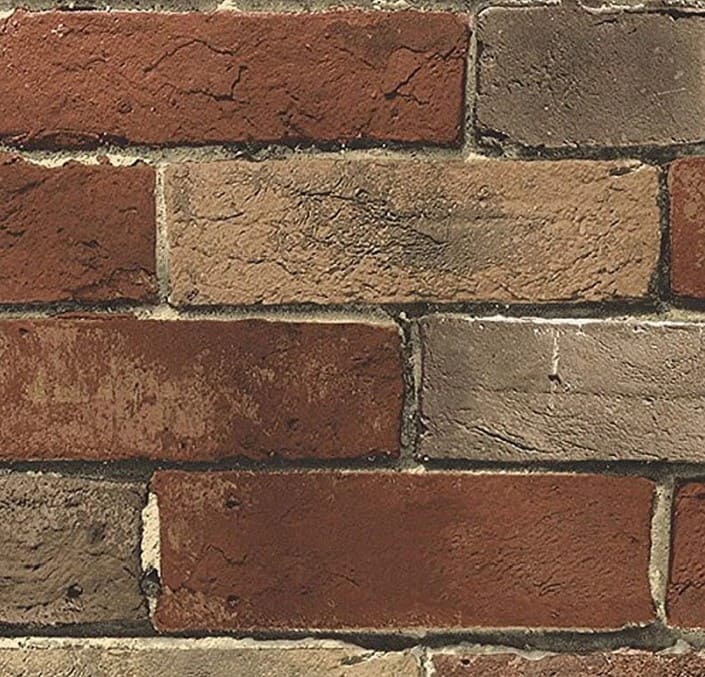 Are you a fan of the industrial design style? If you want to take advantage of the exposed brick aesthetic without the usual work involved, the simplest alternative is to go for a removable wallpaper project. This model from Cavalier Wall Liner shows off a faux brick wall that can enhance the style of any area with some industrial vibes.
The quality of the design is immediately noticeable for anyone who sees it in real life. The bricks are so realistic that you can easily fool those looking at your wall thinking that it's made of real bricks. If you want the most realistic effect possible, this wallpaper is highly recommended. The only drawback is that it will take a bit of effort to remove it correctly as it can leave some residue behind.
Best Removable Wallpaper for Kitchen Backsplash
Real porcelain tiles with intricate designs can get really expensive. Even if you don't have budget concerns, there's going to be a great mess created by the installation process. To avoid all that hassle, consider investing in a high-quality removable wallpaper like the RoomMates Mediterranean Tile style. It's completely washable and easy to apply while offering a stunningly realistic design.
You can add some beautiful tile décor effects for lots of elements in your home. If an entire wall covered in this kind of wallpaper seems too overwhelming, there's always the subtler option of applying it just for the background of some built-in shelves or to beautify the stairs. Thanks to the superior strength and convenient construction, the wallpaper is incredibly versatile and reliable. The cost is not that high considering the potential of this removable wallpaper to breathe new life to a plain wall.
Best Removable Wallpaper For An Accent Wall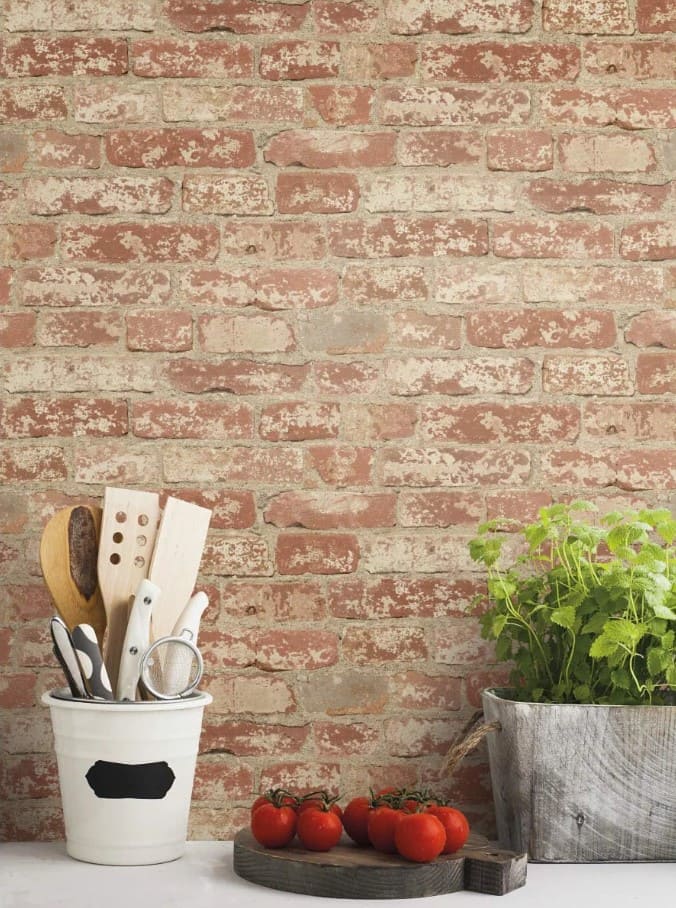 Those searching for a distressed brick wall effect should check out the RoomMates Stuccoed Brick removable wallpaper. While other models can look noticeably fake, this one seems to have one of the most realistic designs. The paper used for this model is fairly strong, but that doesn't mean you can't remove it with a bit of effort. It's simple to reposition and clean while there's no need to worry about sticky residues.
Renters who want to mimic the exposed brick wall aesthetic will be most pleased by adding this stylish removable wallpaper. It's perfect to be used for an entire wall, but you can restrict yourself to a smaller surface like a kitchen backsplash. The wallpaper is fun to use as you can apply it and remove it with minimal effort. While you can find cheaper options for brick wall removable wallpapers, this RoomMates model needs to take priority considering its solid look and superior quality.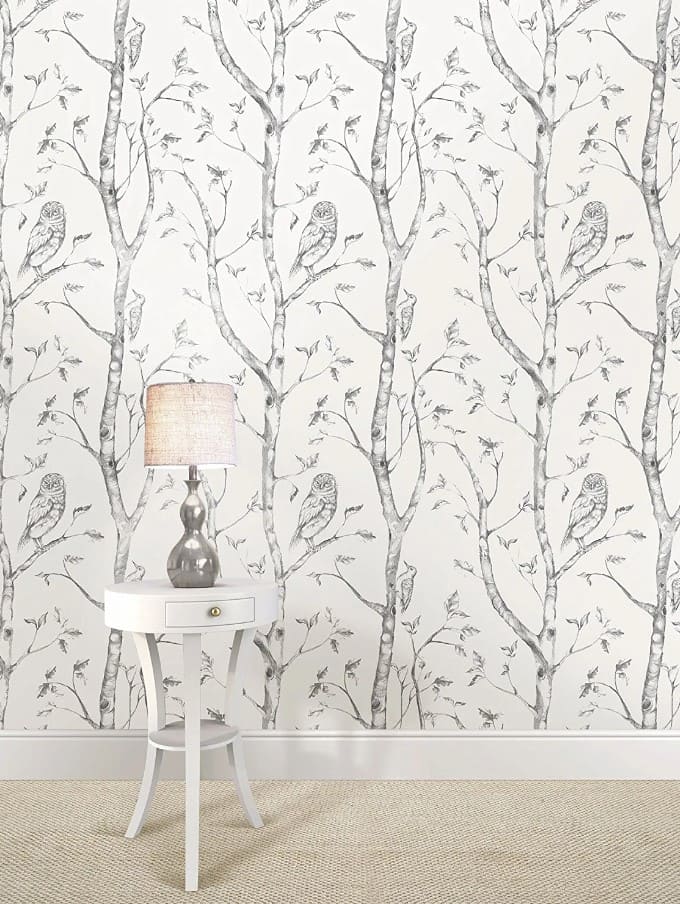 A fun design can rejuvenate the look of any simple wall you have in your home. Use a removable wallpaper like the NuWallpaper Woods to infuse any area with some fresh style. This model makes use of a chic owl print in two color variations – gray and blue. It's not that flashy or eye-catching, but with the right décor pieces, it can definitely make a statement.
Applying this wallpaper in the desired spot takes a bit of effort but even if you make a mistake you can always reposition it. Make sure you smooth it out correctly to remove any air bubbles and enjoy a seamless look. Some of the best uses for this removable wallpaper are to give bookshelves, dressers, and stairs a new makeover. If you're looking to cover an entire wall, this owl design works best for the nursery.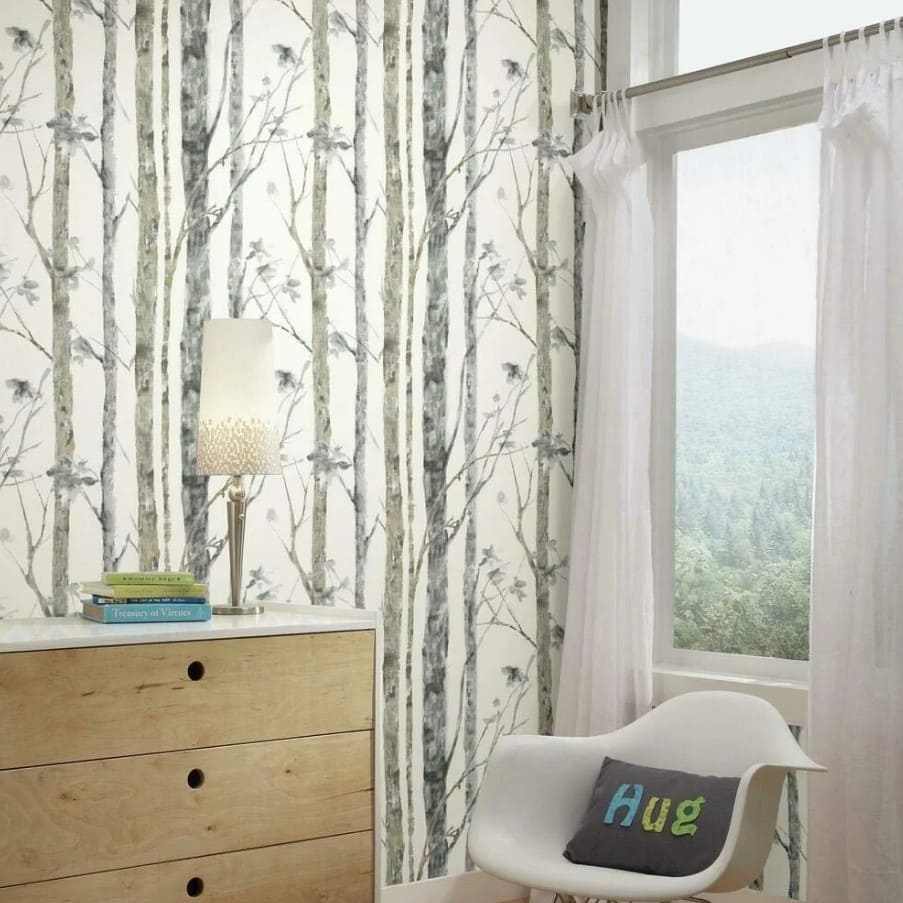 Another solid design made by RoomMates is this removable wallpaper that boasts birch tree patterns. As with other peel-and-stick wallpapers from RoomMates, the installation process is a breeze. No need to invest in adhesive paste separately or to create a huge mess as you just peel the wallpaper and stick it quickly wherever you want to. The birch trees design looks quite attractive for adding an elegant vintage effect to your wall.
One thing to keep in mind when adding this wallpaper is to use a flat and smooth surface to obtain the best results. If the wall is a bit textured it shouldn't be a huge issue but it can alter the final look of the wallpaper. You might have some positioning difficulties, but the paper is built specifically to allow you to find the best placement as you can shift it precisely. Overall, the pattern is beautiful and the removable wallpaper delivers a satisfying visual effect for the cost.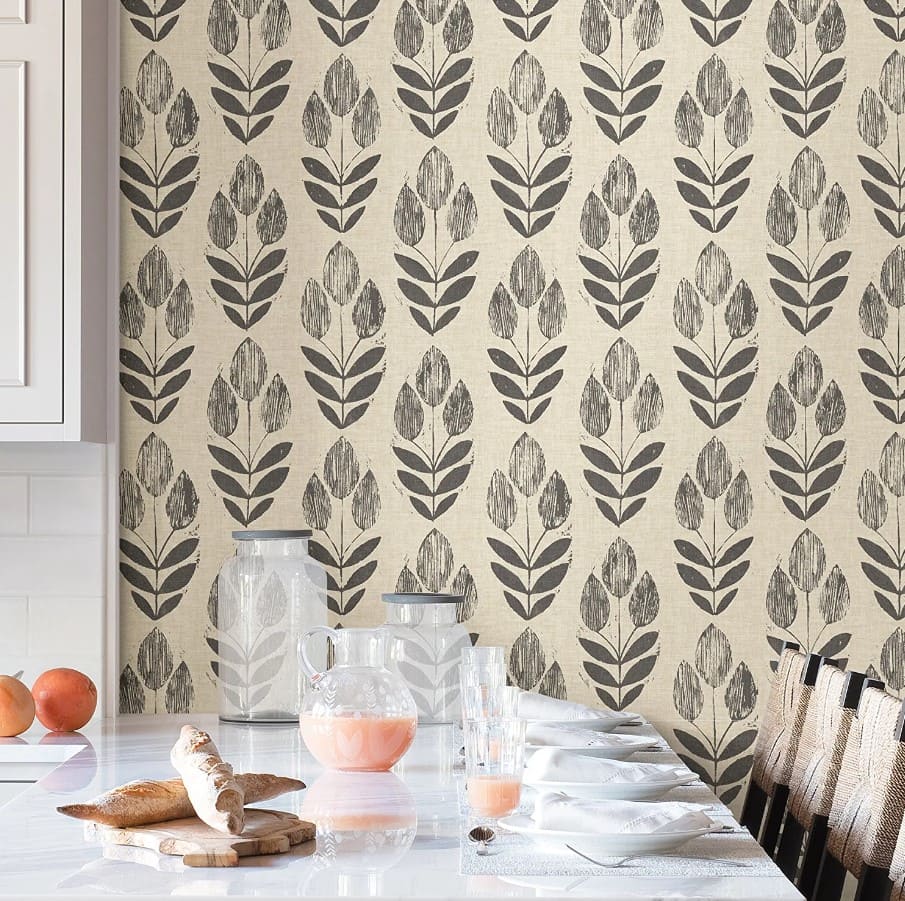 If you're into Scandinavian design, you will probably love this removable wallpaper from NuWallpaper. The Folk Tulip design delivers some solid Scandinavian vibes and it's not just the pattern. The black and beige color scheme of the print seems to mimic a linen texture. This removable wallpaper could be a great solution for crafting a cozy and modern look. Even if you install it in a small area, it can make a big difference.
As we've come to expect, the wallpaper peels off with exceptional ease. The surface has a matte texture that's pleasant to the touch. Any plain wall can take advantage of the visual impact of the charcoal gray petals on a beige background. Whether you wish to decorate the walls in the laundry room or the kitchen backsplash, the Folk Tulip represents a beautiful and convenient wallpaper to try.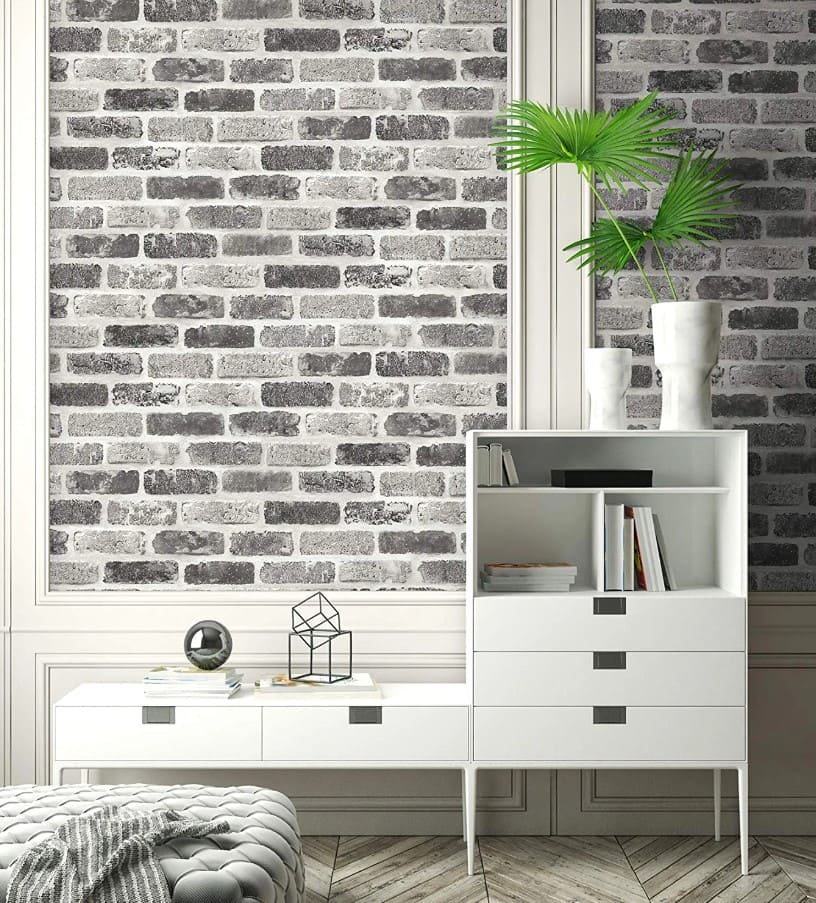 The NextWall Exposed Brick removable wallpaper is built in the USA and comes with great décor potential. As opposed to other wallpaper papers on the market that are more or less reliable, this one is crafted for maximum removability. No need to use water and it can be applied on virtually any suitable smooth surface. If you're a renter, this is the kind of instant visual transformation that you've been looking for.
The color palette for the print makes use of soft greys and rust tones to capture that distressed industrial appeal. It's not as flashy compared to red brick wallpapers but that can be advantageous for those who want a subtler visual effect. The wallpaper is fully removable without any modifications in terms of quality. Reposition it as many times as you need until the pattern is lined up correctly.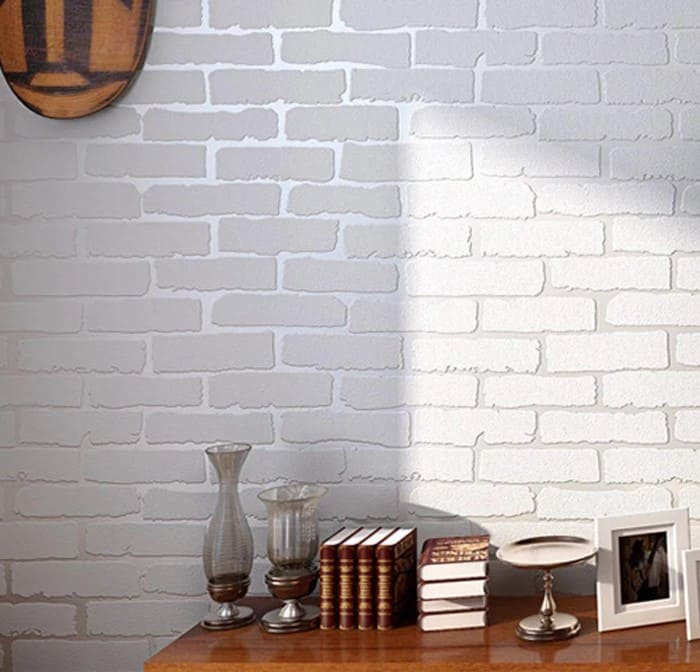 In case you feel that your plain walls don't form an ideal background for your vintage aesthetic, then you should embellish them with a fitting removable wallpaper. Okydoky offers a white brick patterned look with its quality paper that's crafted using environmentally-friendly materials. As with other removable wallpapers out there, the design of the edges matters a lot to ensure that the pattern lines up correctly.
This model boasts precisely designed edges to guarantee a seamless pattern for the entire covered area. One of the most appreciated features of this wallpaper is its extremely realistic look. The bricks can easily fool any viewer and even if you get up close the texture of the paper has a slight grit that contributes to the realism. The Okydoky White Brick removable wallpaper is relatively easy to apply although removal can be trickier in some cases.
Best Budget Removable Wallpaper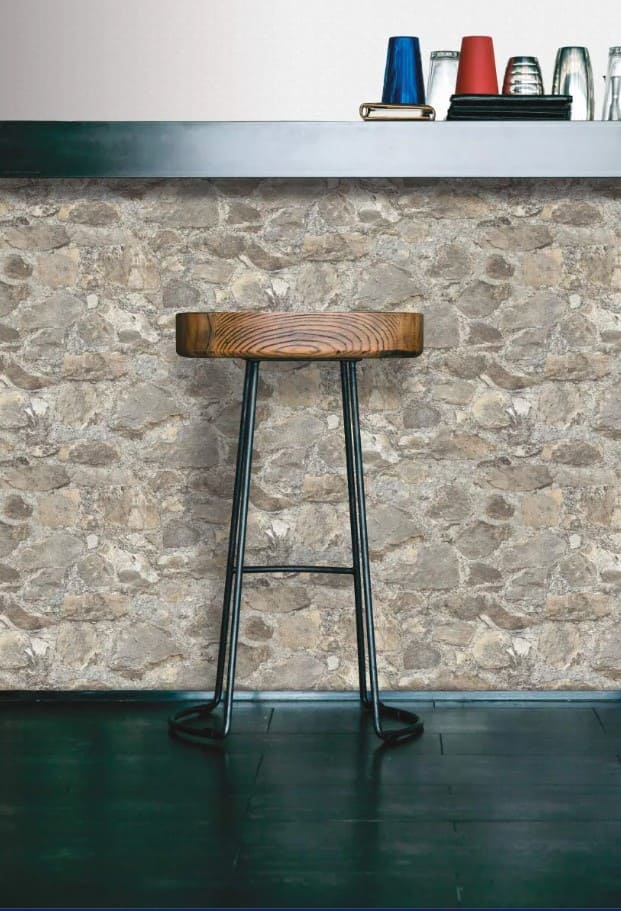 A simple way to bring a natural touch in your home without going through a lot of effort is to incorporate a weathered stone removable wallpaper. Check out this strong peel-and-stick paper from RoomMates that shows off a unique design with solid decorative potential. Cover an entire wall of the living room or just a section in the bathroom. The choice is yours to display your creativity.
Whether you focus on a permanent project or just a temporary one, this type of removable wallpaper could be ideal. It transforms the look of the wall in a budget-friendly manner without sacrificing realism. As opposed to simpler patterns, the weathered stone one can take some extra effort for proper alignment. Even so, the installation process is easy to handle by yourself. This RoomMates removable wallpaper is highly recommended for balancing stunning looks with an affordable price tag.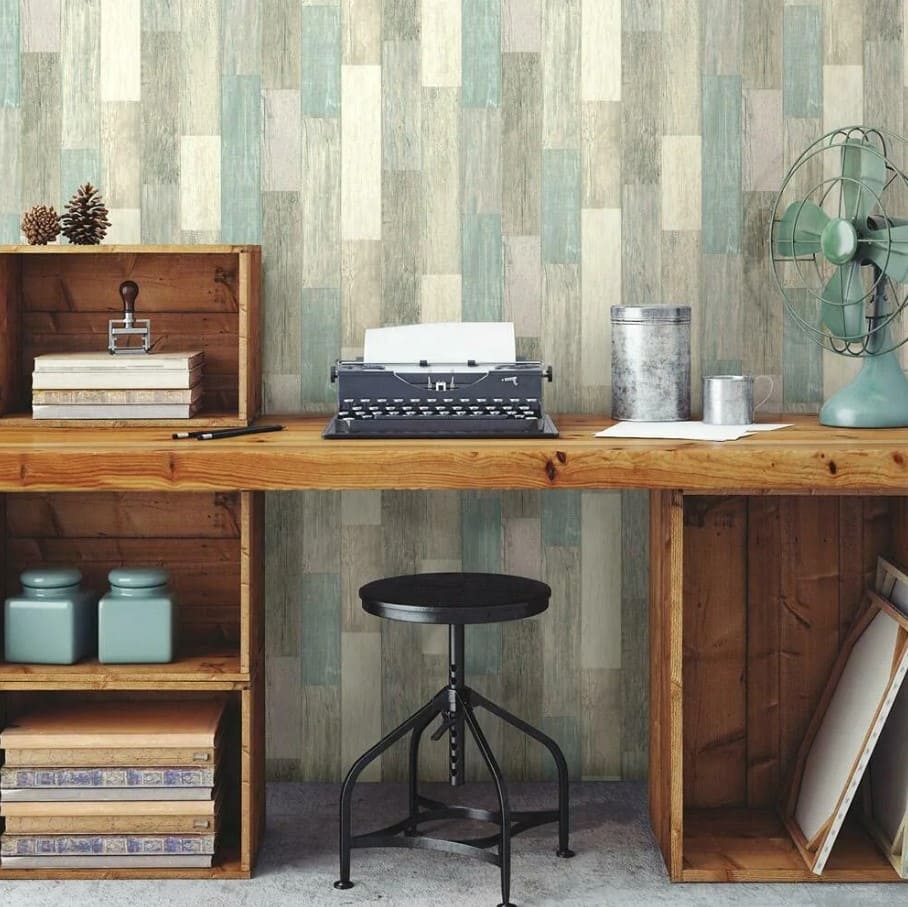 Delicate patterns are capable of enhancing the style of any room. The NuWallpaper Brewster Ariel is safe to be used for a varied range of flat surfaces. It's printed with a stylish grey design that will grab the attention with its vintage damask patterns. While it's particularly recommended for rental home decorating thanks to convenient removability, the wallpaper is also great if you had in mind a more permanent project.
You can integrate this gorgeous removable wallpaper as a backdrop for the books on your bookshelf. Other ideas include kitchen backsplash or nursery wall makeovers. The combination of white and grey is very elegant and pleasing to the eye. Considering how it's sticking very effectively you shouldn't have problems with the wallpaper falling off. Just make sure you follow the manufacturer's instructions carefully and use a wall primer if needed.
Best Coastal Removable Wallpaper
Are you looking to add some fresh beachy vibes to your home? There's no need to invest in some costly furniture pieces or other complex makeover projects. Just an inexpensive removable wallpaper has the potential to make a considerable difference in the style of your home. The RoomMates Coastal peel-and-stick wallpaper comes with an attractive weathered plank look.
The touch of pale turquoise on some of the planks in the print represents a great idea to infuse your décor style with some coastal flair. This rustic pattern can be integrated on the wall of the living room or added for a unique DIY headboard in the bedroom. Regardless of your redecorating project, this removable wallpaper is beautiful and reliable. It can be easily removed and repositioned while the patterns can be matched effortlessly.
Best Removable Wallpaper For Powder Room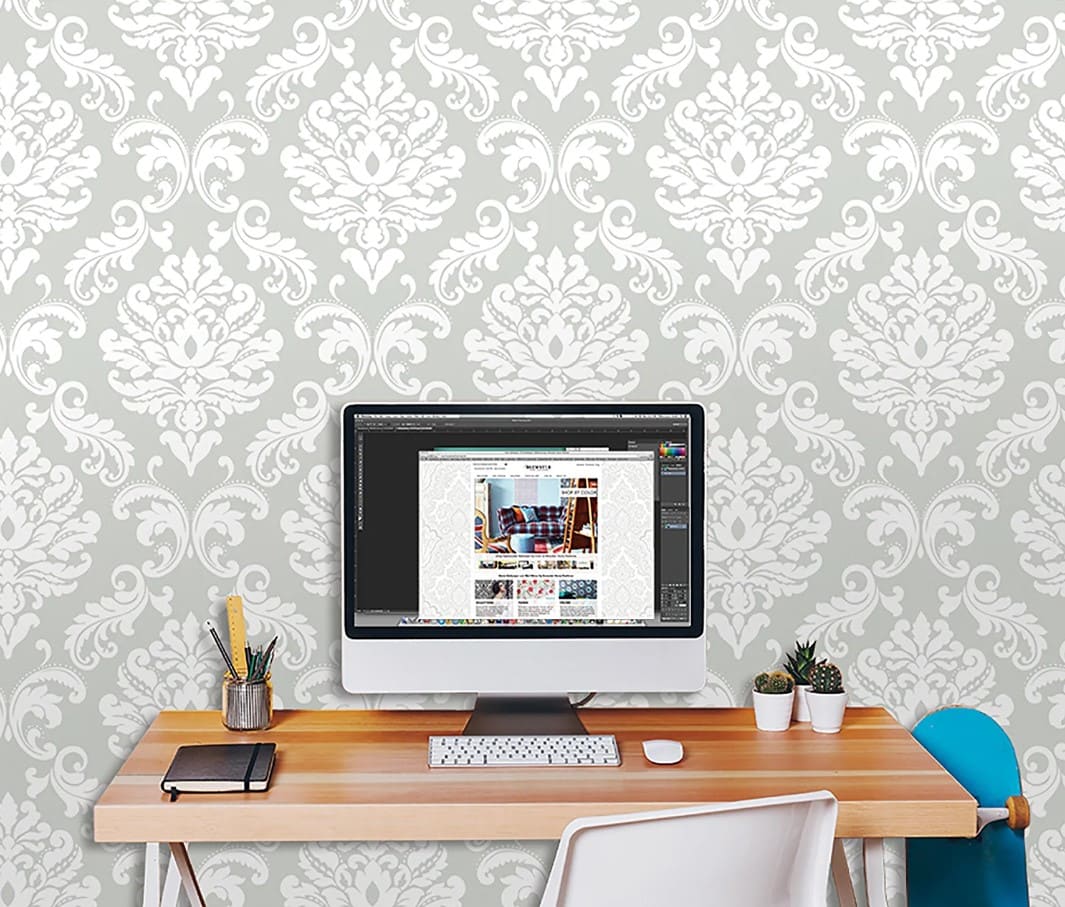 The NuWallpaper Arrowhead can bring a new dimension to the style of any room with the help of its intriguing patterned design. This is a removable wallpaper that comes at a reasonable cost while making a big visual impact. Decorating the walls can be difficult if you're using traditional wallpaper or paint. Skip the mess and get your hands on a spectacular removable paper that can cover your entire wall with chic arrowheads.
The installation process for this removable wallpaper is easier compared to other décor projects. That being said, it's important to be very careful when applying the paper and ensure you're following the manufacturer's directions precisely. Otherwise, you might stumble upon issues such as pattern misalignment or the paper coming down by itself. Overall, the Arrowhead is a great all-around peel-and-stick wallpaper that does its job well for the price.
There are lots of design choices when it comes to removable wallpapers. One of our favorite pattern styles comes from the RoomMates Gold Script model. It can form the perfect background where glamorous decorations and iridescent accents can shine. Although it's a simple design, the removable wallpaper can add some chic vibes to update the look of your living space.
The paper boasts some strong properties that allow it to adhere successfully on most flat surfaces. You can even install it in the bathroom where the extra moisture shouldn't pose any problems. It's important to remember that you will need to work a bit initially to avoid trapping any air bubbles so you will obtain smooth results. What's great about this design is that you can also take advantage of an inspirational message provided by the positive words.
Moroccan-style mosaics are some of the most popular design choices for those who favor a more eye-catching aesthetic. There's just something about these intricate patterns that immediately grabs the attention making the area more interesting. If you want to obtain a similar effect for your home, check out this removable wallpaper from Wallquest. It's an excellent complement for the décor of the kitchen, living room, or dining area.
The paper is printed with a mosaic tile design that relies on a blue, copper, and gray color scheme. It's crafted in the USA and has FSC certification for environmental considerations. Applying this may take some extra effort compared to other removable wallpapers on this list, but it's worth it in the end. You will be able to admire your new exotic wall with its bold colors and luxurious patterns. Highly recommended.