This post may contain references and links to products from our advertisers. We may receive commissions from certain links you click on our website. As an Amazon Associate Rhythm of the Home earns revenues from qualifying purchases.
Share this article:
Carnivalcore is an exciting new trend in the world of home decor. As the name suggests, the style is inspired by colorful carnival elements. It's loaded with dazzling patterns and whimsical decorations such as disco balls and funkhouse mirrors. The main idea behind carnivalcore is a nostalgic trip back to the fun innocence of childhood. Many interior designers tend to have mixed feelings regarding this trend. It's not surprising considering how carnivalcore turns many 'sensible' design concepts on their head.
Keep in mind that carnivalcore isn't just strictly an interior design trend. It's considered an aesthetic focused on a playful atmosphere. When applied to home design, carnivalcore strives to incorporate the fun vibe of a carnival experience through colors, patterns, textures, and other decorative elements. The popularity of carnivalcore in recent times can also be attributed to the rise of the maximalist trend in design. Homeowners tired of basic, minimalist designs readily embrace carnivalcore's playful mix of nostalgia and trippy fantasy that gives the room a distinctively dynamic character.
If you're interested in adding a touch of whimsy to your home, try out some of the following design elements of carnivalcore to decorate with this cheery style.
1.

Checkerboard Patterns
One of the most popular patterns used in carnivalcore design is the distinct checkerboard style. It encapsulates pretty vividly the nostalgic vibe of this design style while creating a surreal atmosphere, especially when used in an unexpected place such as the bathroom. Carnivalcore is a loud style at heart so don't be afraid to cover the walls in checkerboard patterns for a bold statement.




2.

Disco Balls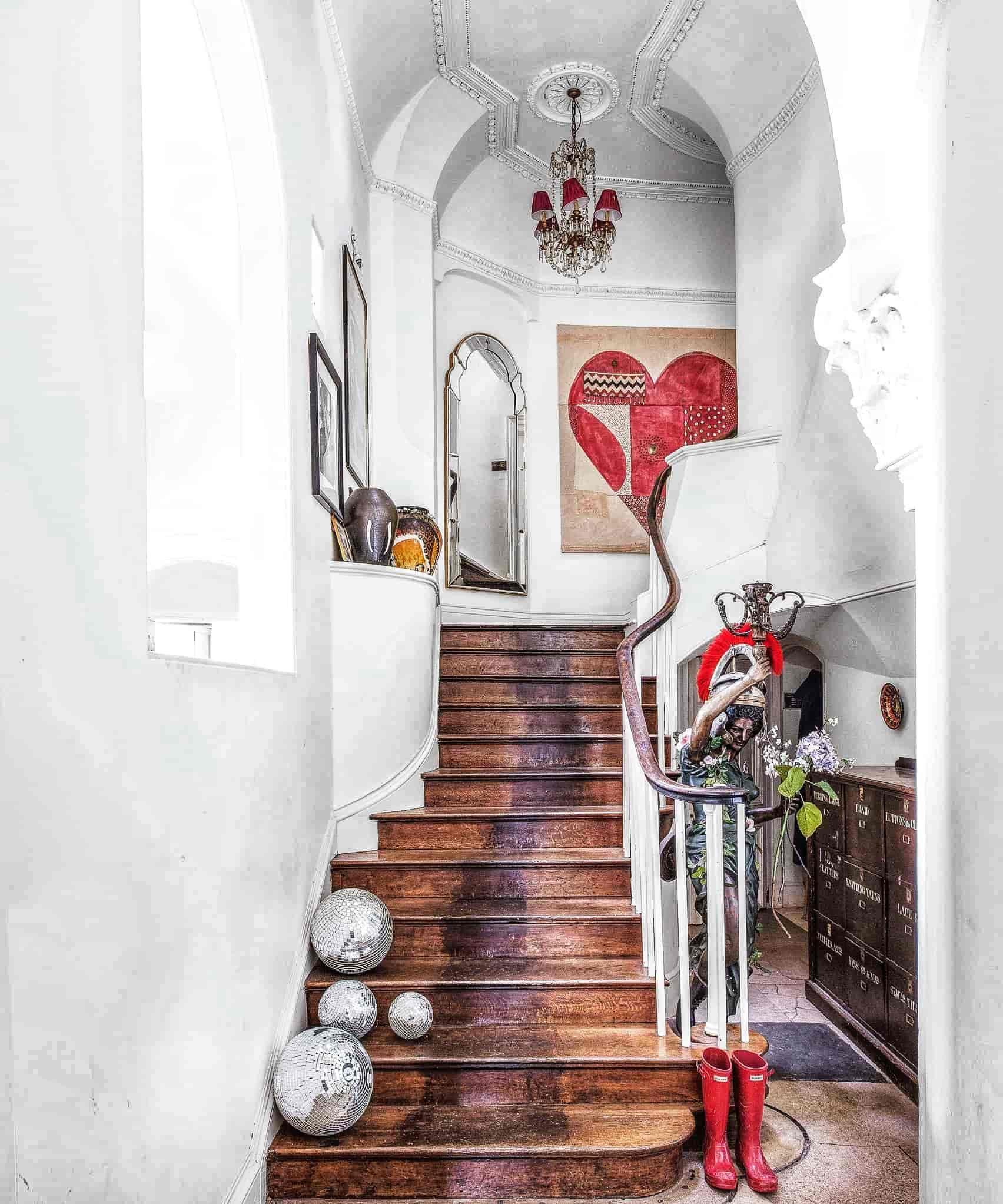 If you're looking to add a touch of carnivalcore to your living space, consider incorporating some simple yet impactful decor elements. A great example is the use of disco balls. The shiny visual appeal of a disco ball works like a charm for adding some solid carnivalcore vibes to any space. It's a suitable element considering the playful style of this aesthetic.




3.

Colorful Stripes
Whether through wall prints or upholstery, striped patterns work wonderfully to arouse the nostalgia of visiting a carnival. Colorful stripes are welcomed together with other bold patterns to create a fun, maximalist environment. It's a simple yet reliable injection of excitement in a neutral-toned room as well.




4.

Headboard Canopies
Here's a unique way of creating a carnival theme in the bedroom of your children. Cheery yellow headboards make these beds stand out thanks to the use of custom canopies. The unique design is reminiscent of a carnival atmosphere but without feeling tacky. There's just a balanced touch of whimsy to spruce up the look of this bedroom.




5.

Circus Vibes
Interested in bringing solid circus vibes into your home? Check out this mesmerizing living room that stretches the limits of maximalism. The walls, ceiling, and furnishings feature the same repeating floral pattern to make a dramatic statement. The design in this room is proof that carnivalcore may not be suitable for everyone's tastes. Although the circus vibes have been taken a little too far here, the fun atmosphere of the look has its distinctive charm.