This post may contain references and links to products from our advertisers. We may receive commissions from certain links you click on our website. As an Amazon Associate Rhythm of the Home earns revenues from qualifying purchases.
Share this article:

Thanks to being a warm neutral color, beige represents a fairly popular option when choosing a granite countertop. As opposed to other colors, it doesn't take a lot of effort to decorate a kitchen space using beige granite countertops. The color can be combined effectively with other neutrals like white and gray but it's also paired beautifully with darker color tones such as brown and black. If you've decided to opt for granite as a countertop material, you won't be disappointed by its long-term resilience and attractive natural texture.




1. Matching Cabinets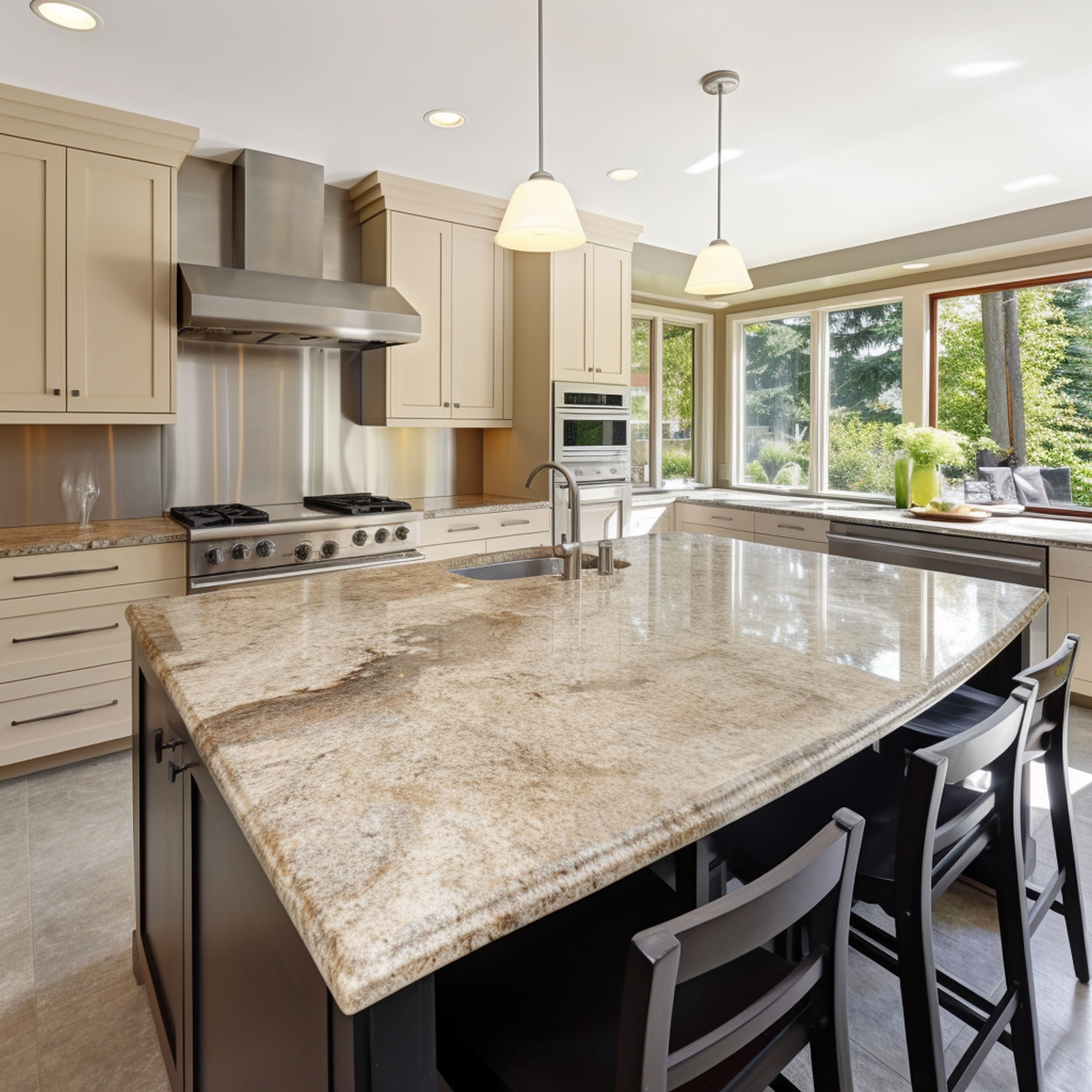 Instead of thinking about different cabinet colors that can be mixed with a beige granite countertop, you should consider a matching design by using the same neutral tone for a cohesive visual effect. There's no need to pick the exact same shade of the countertop. Try going one or two tones lighter for a pleasant mix of clean and cozy aesthetics. It's a recommended decor approach for beach-style kitchens where a sand tone for the cabinetry works like a charm together with a light beige granite countertop.




2. Traditional Appeal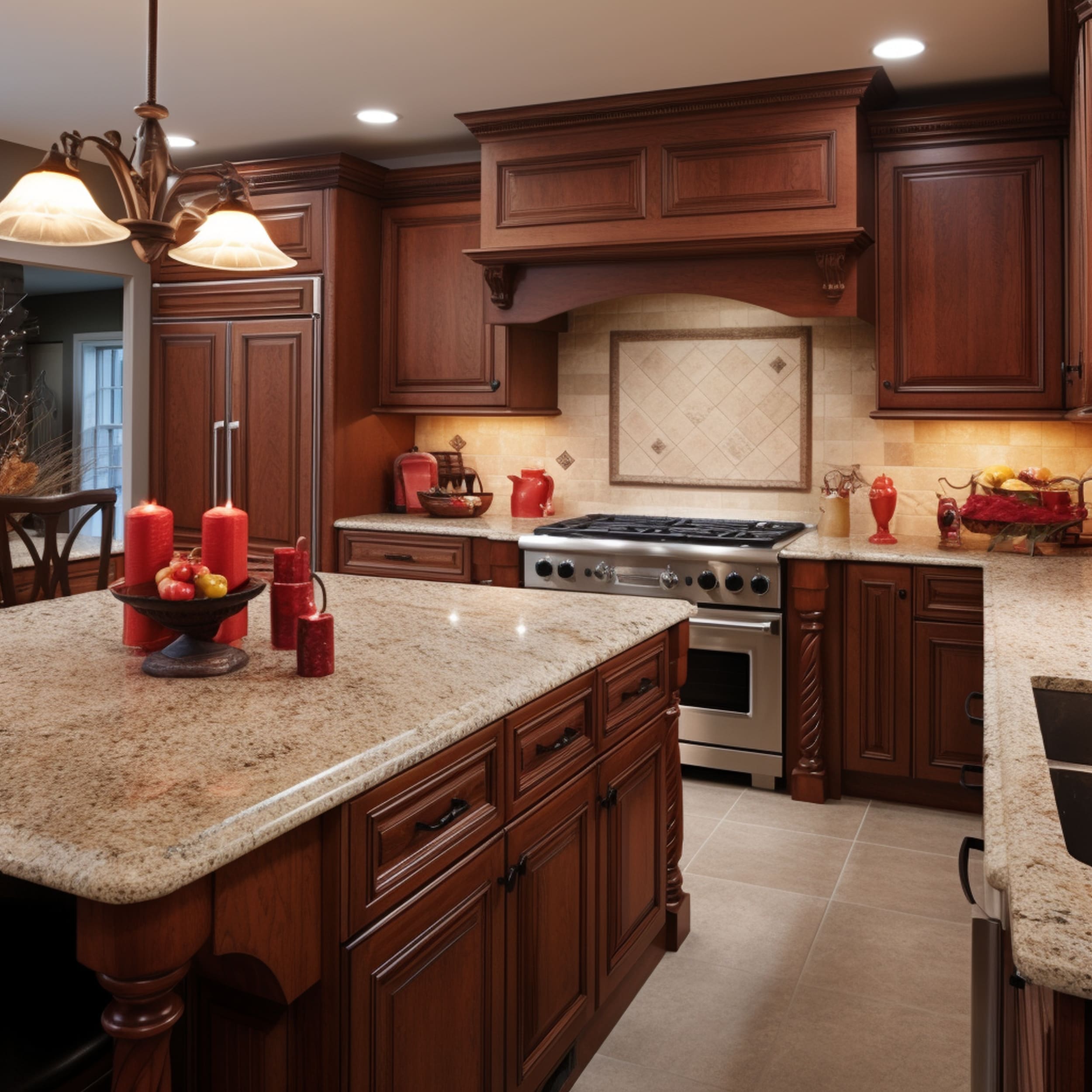 Beige is a color that's often associated with traditional design considering its plain and neutral vibe. If you like the coziness of a beige granite countertop but are afraid of an outdated look, it's recommended to inject a solid dose of contrast. Reddish-brown wood cabinets dominate the style of this traditional kitchen and create an eye-pleasing effect against the beige look of the countertops. There's a beautiful interaction between these two shades while the distinctive textures of the materials add an extra layer of depth.




3. Modern Beauty





Just because beige countertops are frequently used in traditional spaces doesn't mean that you can't try this granite style in a modern kitchen. With the right color scheme and design elements, it's safe to say that a beige granite countertop can look stunning in almost any setting. This classy white kitchen incorporates a beautiful wood grain design that forms a great combination with the creamy gold veining of the beige countertop. The design enables the neutral granite style to show off the versatility of beige.




4. Irregular Patterns





One of the best advantages of choosing a natural granite countertop represents the unique display of irregular patterns that add a custom touch to any kitchen design. Beige granite can incorporate various colors and show off eye-catching veining to increase the beauty of the countertops. Take a look at this elegant traditional kitchen that makes use of "River Bordeaux" granite in a sandy beige shade with brown stains and grainy texture. It evokes a sense of charming character.




5. Mediterranean Style





Considering how neutral tones dominate the color scheme of Mediterranean kitchens, it's not surprising to see that beige granite countertops fit these spaces very well. Together with a matching backsplash, it's safe to say that beige granite can bring out a stylish warm touch to the kitchen. It's paired effectively with dark honey cabinets and sand-toned walls. Antique fixtures and vintage lights can also complement the overall Mediterranean atmosphere of the space.




6. Elegant Kitchen Island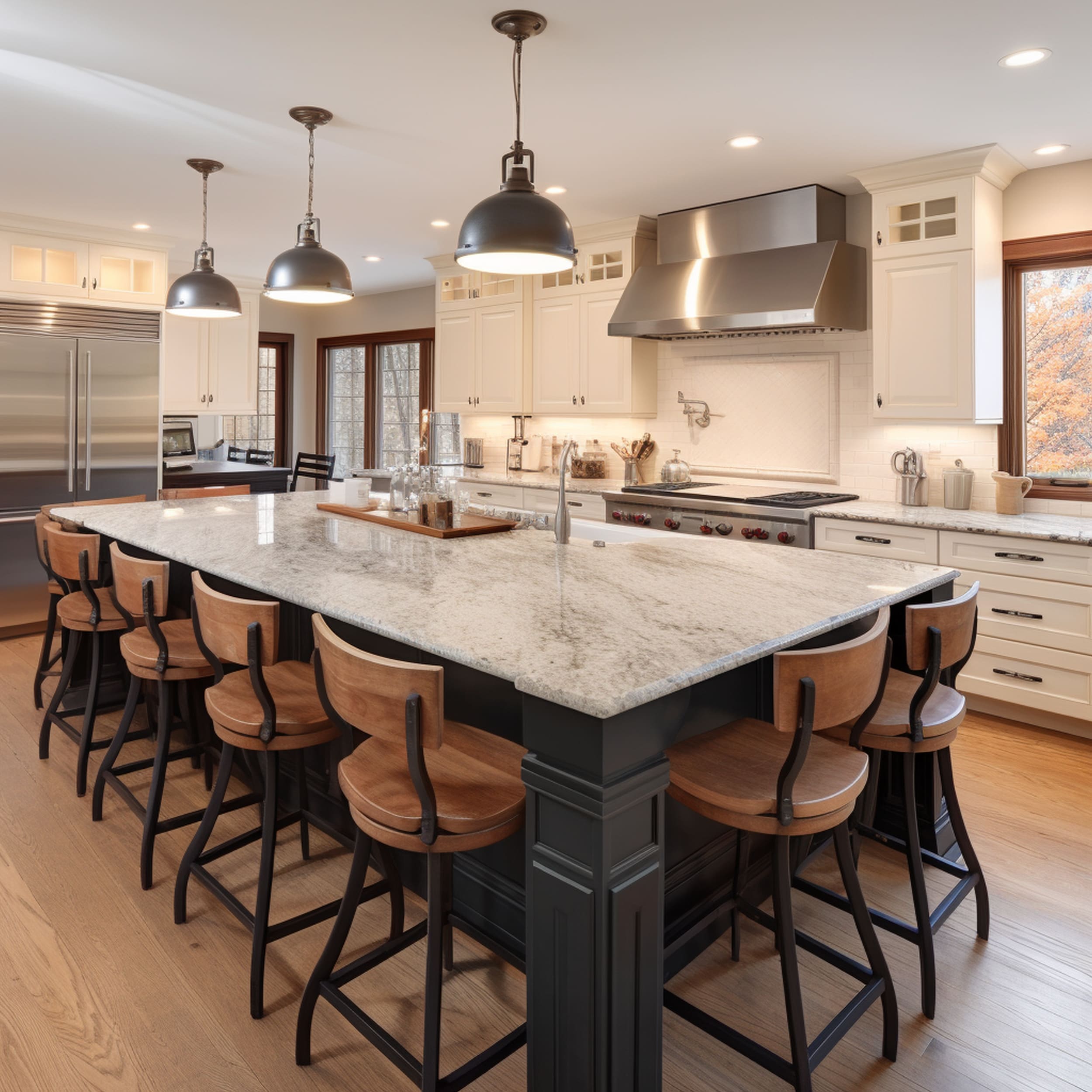 Not sure about the best kitchen island color to use for a beige granite countertop? Instead of other neutrals or simple wood tones, you might want to consider a more sophisticated approach. Try blending the textured beige design of the granite with a matte navy blue. Select a dark shade that creates an eye-catching contrast and highlights the unique personality of the kitchen island compared to the rest of the room.




7. Mix of Patterns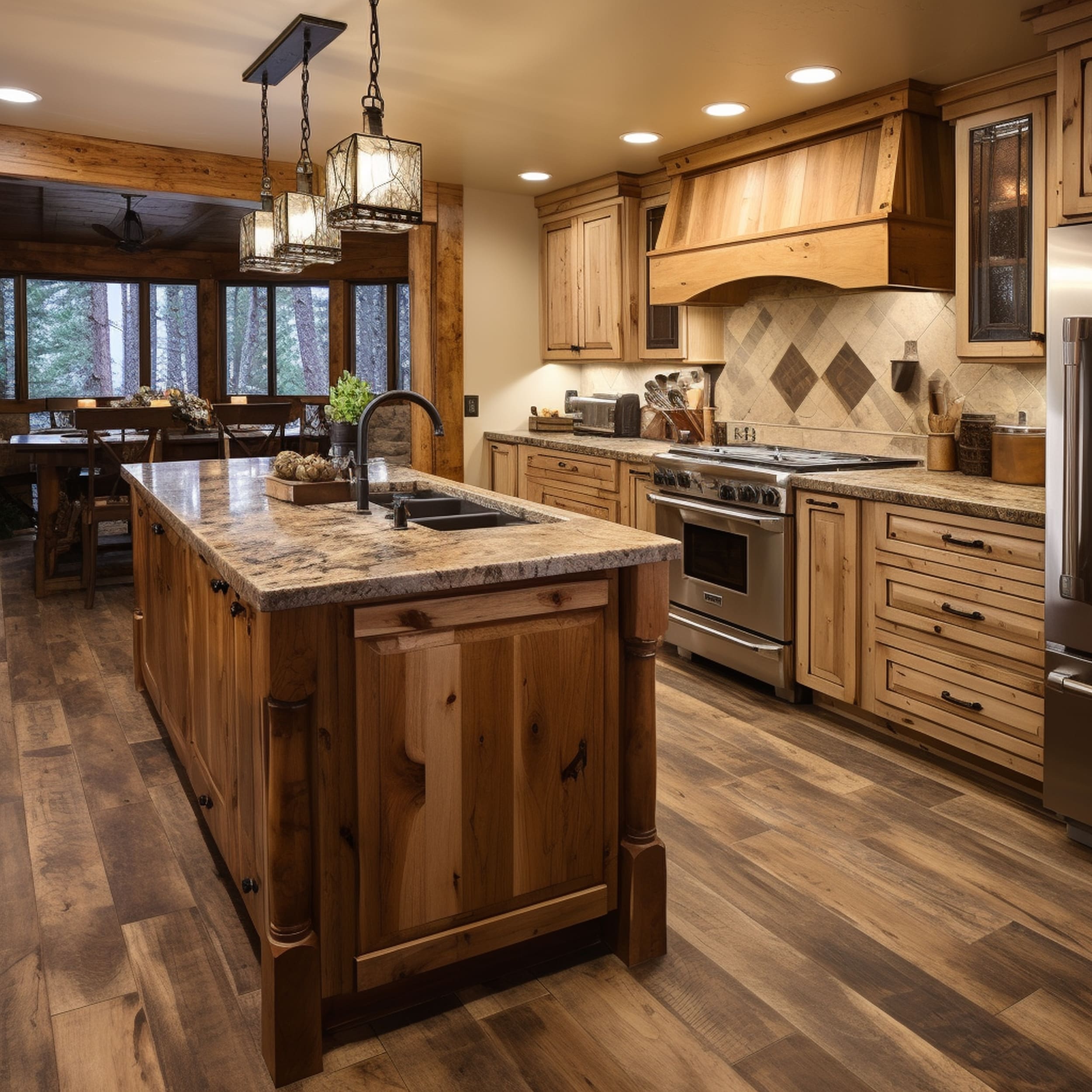 Beige countertops work best in neutral-toned spaces together with colors like white, sand, and tan. There's nothing wrong with restricting the kitchen palette to neutrals but some homeowners worry about playing it too safe and ending up with a monotonous color scheme. Instead of focusing on the color interactions, consider shifting your attention more toward the patterns. The natural appearance of granite stone can look even more dazzling when mixed together with other fun patterns through stylish backsplash and flooring designs.




8. Natural Bathroom Design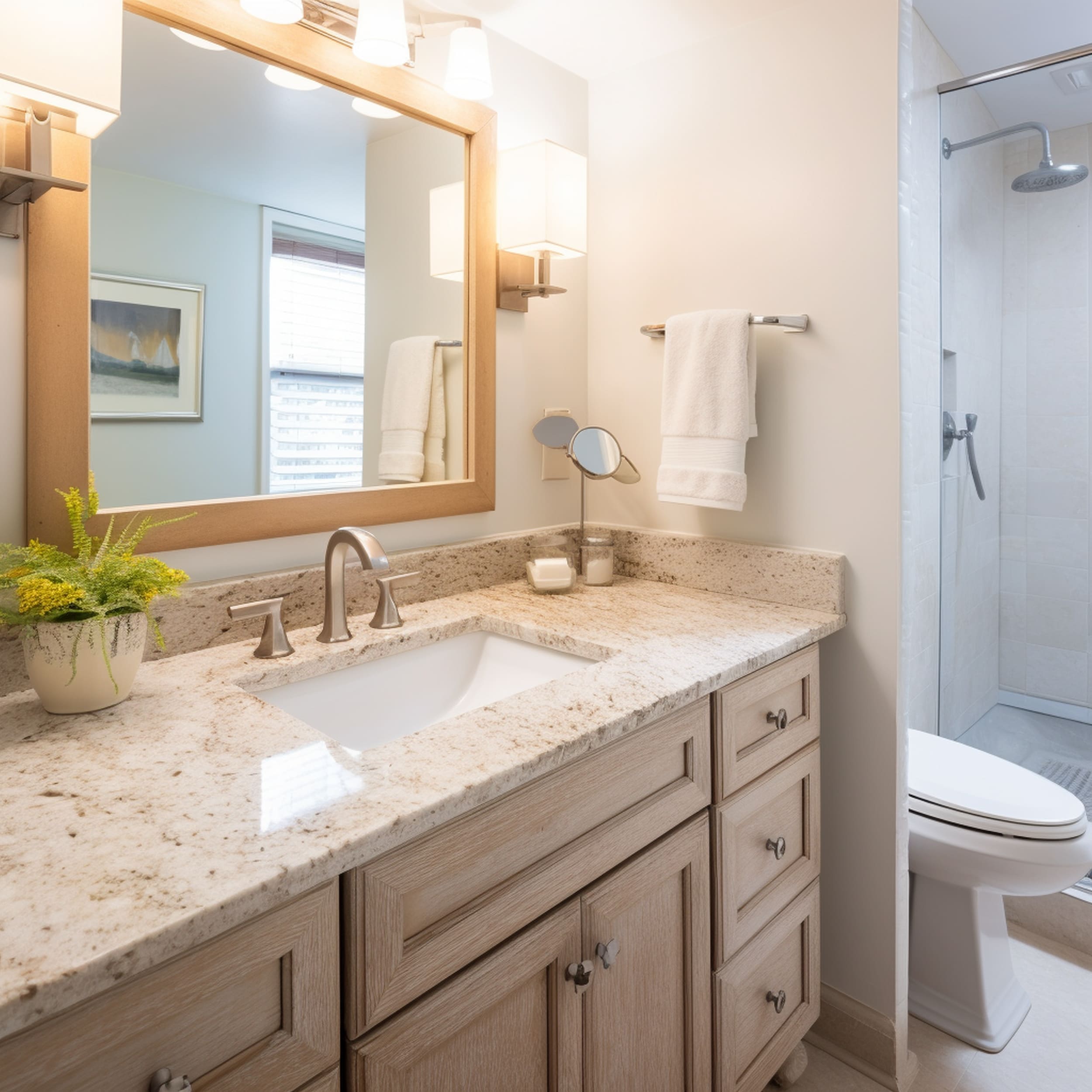 Granite is commonly used for the countertops of bathroom vanities. It can provide a gorgeous natural aesthetic that fits many modern and transitional bathroom designs. If you're using classic wood cabinets and drawers, it's recommended to opt for a light beige countertop look. Pairing neutral colors together will always provide a sense of effortless style. Instead of selecting a bold and vibrant granite color, beige blends more effectively with a more understated bathroom color scheme while allowing the natural stone texture to stand out.