This post may contain references and links to products from our advertisers. We may receive commissions from certain links you click on our website. As an Amazon Associate Rhythm of the Home earns revenues from qualifying purchases.
Share this article:
Insulated curtains are great for keeping the room colder during the summer months and warmer in the winter. They're recommended for achieving the best comfort in any room as they can boost the overall energy efficiency. The way insulated or thermal curtains work is simple. These curtains come with a special foam layer inside which has been engineered to block heat exchange and ensure an optimal temperature regardless of the outside conditions. A great bonus effect is the ability to reduce noise levels. By the way, we also wrote an article about noise reducing curtains.
So, how do you choose the best insulated curtains for your room? Making the first step to a more comfortable home isn't that hard. You simply need to pay attention to what the market has to offer and see which curtain provides the best insulation. A fine selection of products can be found in this article. These curtains incorporate the most advanced thermal technology in stylish designs fitting for any modern home.
Make sure you select a model that features the desired length for your window and a matching color. Budget considerations have also been taken into account when creating this list of products. You can get affordable insulated curtains that do the job well. If you're ready to make some sense from the wide selection of curtains on the market, here are best options to consider.
Buy On AmazonBuy On WalmartBuy On Home Depot
Anyone who needs high-quality insulated curtains at a fair price should check out these thermal drapes from Utopia Bedding. Created as a blend of energy efficiency and elegance, this curtain can prove essential in any modern home. It provides some welcomed privacy in opulent colors such as Navy, Burgundy, Chocolate, and Olive, among many others.
These curtain panels are fitting for lots of applications and by far their most important characteristic is the insulating ability. The drapes are crafted using a very thick material that allows you to trap heat inside in the winter or keep it away during the hot season. In those sunny days, you can also benefit from an almost perfect light and UV-rays reduction.
Each curtain panel comes with its own set of silver steel grommets designed to stand the test of time and never rust. If you have larger windows, these curtains can be a great fit whether we're talking about placing them in the bedroom or kid's room. Overall, Utopia Bedding's insulating curtains delivers on its promises without straining your wallet.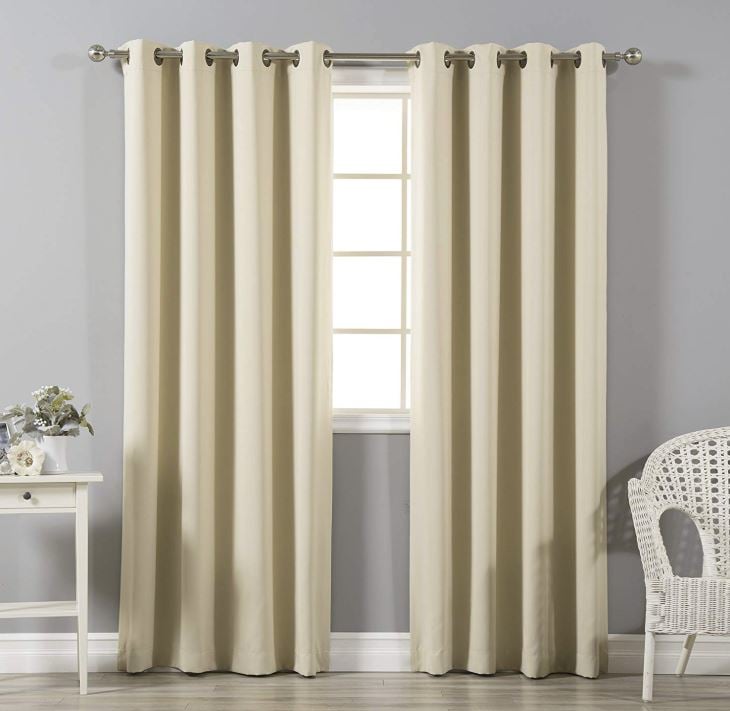 Buy On AmazonBuy On WalmartBuy On Home Depot
To get the most out of your curtains, it's strongly recommended to go for an insulated model like this one from Best Home Fashion which features the reliable triple weave fabric technology. Anyone living in a hot climate knows how big of a difference a quality set of drapes can make. These block out sunlight and UV rays creating a more pleasant atmosphere in the room.
Whereas similar models feature 4 or 5 color choices at most, this model comes in a huge selection of shades to ensure the best match for any room. There's great variety if you prefer brighter tones such as Orange, Wheat, Dusty Pink, or Sky Blue. Each curtain set contains two panels and all the necessary grommets which are designed in a more classic style.
In terms of insulation performance, these drapes won't let you down. You can easily take advantage of innovative tripe weave fabric to conserve a more comfortable temperature regardless of the outside conditions. These energy efficient curtain panels can bring you a more quality sleep as it also reduces noises coming through your window. Taking everything about the Best Home Fashion curtains into account, it's safe to say that this model could be an excellent investment.
Buy On AmazonBuy On WalmartBuy On Home Depot
If you're bored with the usual plain-colored insulated curtains you could try out this floral print model from Deconovo. It features two curtain panels that are very soft to the touch and highly performant when it comes to retaining a more pleasant room temperature. These printed drapes can be exactly what's needed for your bedroom to create a more premium overall design.
While the curtain panels look great from a distance, they're great up close as well thanks to the silky smooth fabric. Made of 100% high-quality polyester, Deconovo made no compromises when it comes to insulation and comfort. The drapes are fully capable of maintaining a more reasonable room temperature, something that's particularly noticeable during the freezing winter months and hot summer days.
To keep the curtain in great shape, it's recommended to avoid machine washing with this model. Wash it by hand it in cold water for best results. The blackout effect on this curtain panel is not as solid as some other models considering that you only get one layer of triple weave fabric. Still, it does a decent job overall, so these beautiful curtains from Deconovo are a good solution if you want something more affordable that's both attractive and useful.
Buy On AmazonBuy On WalmartBuy On Home Depot
A premium option for your children's bedroom comes from Deconovo. Their insulated curtains are created using a special silver coating which is more effective when it comes to blocking out the sunlight. The other side is available in a wide range of colorful tones to add a splash of vibrancy in any room. During hot summers or freezing winters, you'll surely be able to appreciate these insulated curtains.
The quality of the triple-weave fabric is on par with what you'd expect from Deconovo. Only the softest 230 GSM polyester has been used in the manufacturing process which doesn't just feel great to the touch, but it's also very effective as an energy-saving barrier. The stitching is professionally made with extra care for preventing any unevenness in the edges or loose threads.
One thing you'll probably appreciate is the way the silver grommets match the design of the curtain panel. They're resistant to rust and compatible with most conventional rods. As this curtain's construction doesn't permit it, you have to wash the drapes by hand in cold water. It's a bit more sensitive than other options out there, but the Deconovo insulated drapes definitely deserve your attention if you favor functionality above all else.
Buy On AmazonBuy On WalmartBuy On Home Depot
Rose Home Fashion brings a quality set of thermal insulated curtains to the table. They feature antique bronze grommet top and stylish fabric colors besides the great functionality of its design. The curtain can help you sleep better and save some money on energy bills, in the long run, thanks to the blackout effect. In terms of cost, the curtain is also affordable.
With a bright sun streaming down your window you'll clearly have a hard time concentrating or sleeping. These curtains provide ideal settings for day sleepers thanks to their remarkable blackout effect. Besides darkening a room, they can also dampen the noise levels which sneak from outside. The soft curtain panel is designed to make an impact when it comes to blocking sunlight and that can help a lot in hot climates.
Installing these curtain panels is a breeze. You can safely rely on the strong grommets included which make a great combination with almost any standard curtain rods. Finding high-quality curtains at a decent price is not an easy task but Rose Home Fashion managed to create a very cost-effective product. Excellent colors, great fabric, and truly solid insulation abilities make this curtain panel a winner on the market for this type of drapes.
Buy On AmazonBuy On WalmartBuy On Home Depot
If you prefer large single-panel insulated curtains, this model from Best Home Fashion could be the right choice for you. They're capable of blocking almost all the sunlight which is quite impressive. This ensures a more comfortable experience in terms of room temperature, but keep in mind that you should go for darker colors to boost the blackout effect as much as possible.
The secret behind this insulated curtain panel is the advanced triple weave technology used which doesn't permit the light to penetrate the fabric. The dense black yarn in the composition blocks approximately 99% of the sunlight and has an opposite effect of trapping heat inside during the winter. The color choices are varied enough so you can select anything from a light blue to olive, burgundy, and black.
This curtain is made up of a single large panel that comes with a total of sixteen bronze grommets. Caring for the material is done by machine washing and warm ironing if needed. Excellent all-around thermal drape which seems to accomplish its purpose and save money energy bills, this Best Home Fashion model shouldn't be missed if you're looking for affordable insulated curtains.
Buy On AmazonBuy On WalmartBuy On Home Depot
For some people aesthetics matter more in their insulated curtains. This stylish model from H.VERSAILTEX seems to have been created to cover that specific need. The curtain boasts a more classic look with its floral and bird patterns focusing on bringing back that traditional drape aspect in your home. While complementing the décor is important, this curtain is also silky smooth and energy efficient.
Compared to the previous version, this model features an improved insulating fabric. It's highly performant when it comes to darkening a room and keeping some of that noise at bay. In terms of energy efficiency, the curtain does a solid job to maintain a more balanced temperature. It keeps you warm or cool according to the season providing decent privacy protection. At the same time, it will feel nice and breathable.
There's no doubt about the fact that everyone enjoys a beautiful-looking curtain, but this model can also deliver extra benefits. It creates a less noisy environment and helps late sleepers or those who work during the day to get a peaceful rest. Barely any sunlight can penetrate the dense fabric which should last for many years to come. Just make sure you take care of the curtain properly by following the washing instructions. The H.VERSAILTEX thermal curtains are recommended for those who wish to blend functionality and style.
Buy On AmazonBuy On WalmartBuy On Home Depot
One of the most appreciated sets of insulated drapes comes from Nicetown. Their 100% blackout curtains manage to check all the boxes when it comes to a truly reliable insulation effect. The curtain's crafted out of two sturdy layers of triple-weave fabric without any harmful chemicals in the process. Having an extra layer can make a considerable difference in balancing the room temperature.
The secret behind the blackout capabilities of this curtain panel is the unique design with special black liner backing. As opposed to its competitors which don't quite manage an ideal blackout effect, these curtains can fully 'close' a window. No sunlight is able to pass through and sounds can be significantly reduced. The room temperature will also become more balanced during extreme outside conditions.
Another bonus is the ability to enjoy utmost privacy. You can relax or take a nap in complete peace with the help of these beautiful curtains. A collection of sophisticated designs can complement your room's furniture and decorations. While the cost is a bit higher compared to other options, Nicetown made no compromises on the insulation of these panels. Recommended if you want complete control over the light coming through your window.