This post may contain references and links to products from our advertisers. We may receive commissions from certain links you click on our website. As an Amazon Associate Rhythm of the Home earns revenues from qualifying purchases.
Share this article:
The futon is a minimalist solution for getting the benefits of both a sofa to relax during the day and a bed to sleep at night. There are lots of reasons to invest in a high-quality futon. Not only they can save space in the room, but they're also less expensive compared to conventional beds. The looks department is a very flexible one as you can find the right futon to accommodate almost any kind of room. The cover of the futon can be easily changed anytime, but there are some options that you need to consider beforehand.
One of the most important decisions is whether you want a frame made of wood or one crafted out of metal. It depends on your personal preference, but wood is recommended for those who like a more classic look whereas metal works best in a more modern room. Comfort is one factor that matters for everyone when it comes to buying a futon. If you're unsure about which is the best futon in terms of comfort, the following list could help. This is a roundup of futons made with high-quality materials designed to save space without sacrificing your comfort. Budget and aesthetics concerns are also addressed so take a look at the best futons on the market. You might also be interested in our articles about the best zero gravity chairs and the best canopies.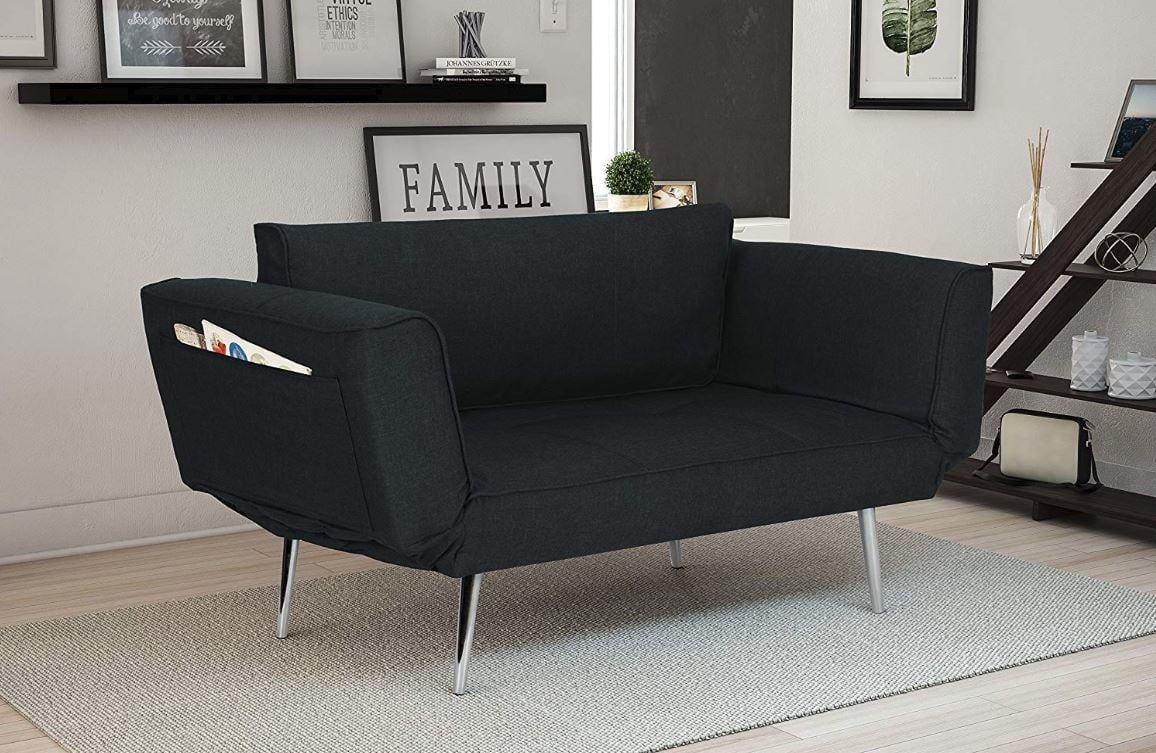 Buy On AmazonBuy On WalmartBuy On Home Depot
The Novogratz Leyla Loveseat is not your classic-looking futon, but this multifunctional couch can attract many people interested in a space-saving design. When it comes to that, this futon doesn't disappoint. It's great for condos or dorm rooms as it won't take up precious space. Whenever you need to, the couch turns into a comfortable bed in just a few easy steps.
Despite not giving that impression initially, this futon couch is very functional. It offers convenient storage pockets which can be accessed from the armrests. The colors you can choose from are elegant and fitting for many modern environments. The futon's chrome legs are sturdy and the overall construction details such as the tuft seat stitching make it a well-crafted product.
Guests will surely be impressed to sit or sleep on the Novogratz Leyla Loveseat. This very stylish futon represents a great investment when you consider all of its qualities for the price. One slight flaw is the back cushion which isn't as firm as the rest of the futon. Depending on your personal preferences, you might have to add some pillows to increase the back comfort.
Buy On AmazonBuy On WalmartBuy On Home Depot
For those who want something more classy looking, the DHP Emily could be a great futon solution. This model features a low profile design that could be an excellent match for any modern décor. The futon comes complete with chrome metal legs so there's no need to worry about getting just the mattress. In just a few easy steps you can assemble your brand new futon.
Whether you prefer to call it a futon or name it a sofa sleeper, it doesn't matter. This is a highly versatile product which can add a touch of elegance in any home. From pink to green or blue, this futon's colors can fit well with different decorations. There are also different choices for the fabric. You can go for soft velvet, faux leather or comfy linen. DHP also offers other matching pieces of furniture such as chairs or ottomans, though these need to be purchased separately.
Overall, the DHP Emily is a solid futon in all regards. Fast to assemble and capable of enriching any modern-looking room, this shouldn't be missed if you want a comfortable futon at a reasonable cost. The construction profile might be low but its visual impact is definitely high.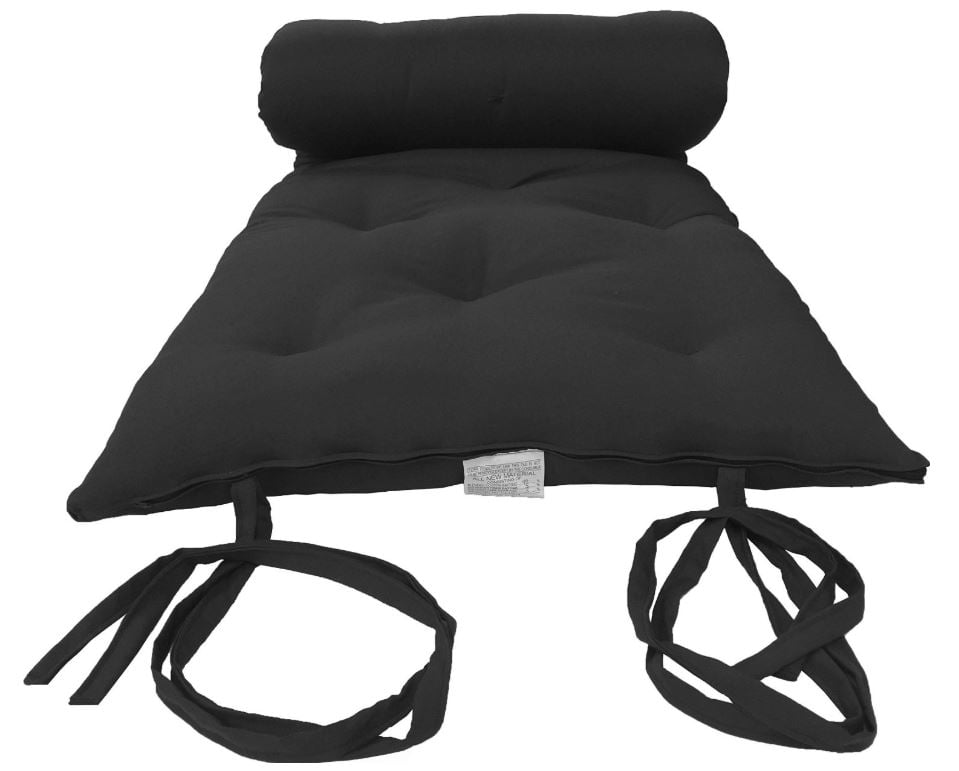 Buy On Amazon
If you're more of a traditionalist when it comes to futons, then you should take a closer look at this Rolling Bed model. Made in the USA, this futon mattress has been designed to be as space-efficient as possible allowing the user to sleep on the floor anywhere. The 3-inch thickness should give you a firm yet comfortable experience when you're taking a nap.
One of the greatest advantages of having this type of classic futon is the portability. Simply roll it up and place it in a different spot or store it without any hassles. Those who prefer a more minimalist lifestyle are sure to appreciate this level of versatility. You can even go camping with it if you feel like going for a cozy picnic.
Compared to inflatable beds or other complicated sleeping solutions, this Rolling Bed traditional futon could be a lifesaver. It's so easy to use and is constructed to last for a long time. Another strong point is the affordability as this model can be considered a small investment for getting a restful sleep in a space-saving style.
Buy On Amazon
Another traditional Japanese futon to take into account is this one made by Emoor. As it's made in Japan you can expect it to cost more, but the premium quality can definitely make it worth every cent. It may appear basic-looking at first, but this futon can offer you a very comfortable sleep thanks to the thick construction. It's crafted using soft filling around a solid polyester core.
Those with back problems can get a very restful sleep with this futon mattress. The stuffing has anti-bacterial properties and should last for a few years without any problems. The outer fabric relies on high-quality cotton and nothing else. You can rest assured that you're getting a truly quality futon as it's built according to the highest Japanese standards.
Whether you're a traditionalist or prefer a more portable sleeping solution, the Emoor Japanese futon represents a top choice to consider. You might be disappointed with the thickness initially, but don't worry. Due to a vacuum sealing process, it will take some time for the mattress to get back into its usual shape. While costlier than China-made options, this one can do wonders for your sleep.
Novogratz is one of the most appreciated brands when it comes to various home furniture essentials such as futons. Take a look at the Tallulah model that manages to pack a lot of style with its mid-century modern design. At the same time, this futon promises great comfort thanks to its velvet upholstery and memory foam cushions. The sturdy wood frame ensures reliable stability while the futon is fully convertible into a comfy bed.
Fans of vintage aesthetics will be pleased by the sleek lines and design details of this futon. It includes button-tufted construction that elevates the sophistication of the entire piece. The rounded arms offer adequate support while also maintaining a classy look. When it comes to available colors, the Tallulah futon can be purchased in a stylish selection of shades such as green, pink, and yellow. Thanks to an easy assembly process, this elegant futon takes minimal effort to be put together.
If you're searching for a high-quality futon mattress that's both durable and comfortable, look no further than Milliard's memory foam model. This can be considered a solid upgrade over classic spring-based futons that are way too hard and uncomfortable. The mattress is engineered with a thick layer of foam that features responsive properties to ensure excellent sitting or sleeping ergonomics. The high density of the foam provides great support in the long run.
In terms of aesthetics, this futon mattress doesn't really stand out much but Milliard provides a decent variety of colors for creating a custom look. Depending on the kind of futon frame you pair the mattress with, you can enjoy an attractive modern visual appeal. Thanks to a supplied removable cover, you don't need to worry about getting the futon dirty. It's a breeze to keep the surface clean and protect the internal foam layer.
Designed to suit any modern living room, Mopio's Chloe futon represents a superb choice for the money. With the help of its colorful upholstery styles, you can add a lot of style to any space. The chic look of this futon takes inspiration from mid-century modern design. It also incorporates some distinctive details to make the piece stand out from the competition. A notable example is the use of chevron stitching to bring a stylish patterned effect to the cushions.
In terms of comfort, the Chloe futon is ideal for sitting and lounging. The adjustable backrest helps a lot in that regard. It can be extended all the way to enjoy the comfort of a bed when needed. Assembling this futon sofa is surprisingly easy as you'll simply need to attach the armrests and legs to the cushions. Considering the value for the cost, this modern futon is highly recommended for anyone who likes multi-functional furniture.