This post may contain references and links to products from our advertisers. We may receive commissions from certain links you click on our website. As an Amazon Associate Rhythm of the Home earns revenues from qualifying purchases.
Share this article:
Many homeowners opt for using concrete flooring and it's not difficult to see the appeal. A floor made from concrete is durable, simple to maintain clean, and very cost-effective. The only drawback is the plain gray look that's not very attractive. This is why some people get discouraged by the idea of installing a concrete floor. However, you don't need to settle for a monotonous-looking concrete floor. Custom stencils can add character and fresh style through eclectic patterns and vibrant colors.
The classic utilitarian appearance of concrete flooring can be effectively transformed with the help of creative stencils. Another benefit is the ability of stenciling to conceal imperfections of the floor. If you're interested in trying out a stenciled concrete floor in your own home, check out the following inspirational ideas. They will make you reconsider concrete flooring as a viable option for other areas of the home, not just the basement.
1.

Starry Vibes
A nod to Moroccan design, this stenciled concrete floor makes use of beautiful star patterns. There's no paint used but the complexity of the design speaks for itself when it comes to making a great impression. It's a mesmerizing stencil pattern that brings a considerable global flair to any concrete floor.




2.

Stenciled Office Space
The versatility of stenciling is one of the main advantages that can influence your decision to opt for concrete flooring. Even a basic office space can get its appearance refreshed with the help of stenciled designs. The minimalist furnishings form a great pairing with the patterned stencil to improve creativity and productivity at work.




3.

Stencil Rug
Here's a very ingenious idea to use stencils on concrete floors. Instead of using a regular rug to cover the plain floor, this designer opted for creative corner and border stencils to suggest the presence of a carpet. Maybe this idea may not appeal to everyone but it's worth a shot if you're looking for a unique stenciled concrete floor idea.




4.

Vintage Charm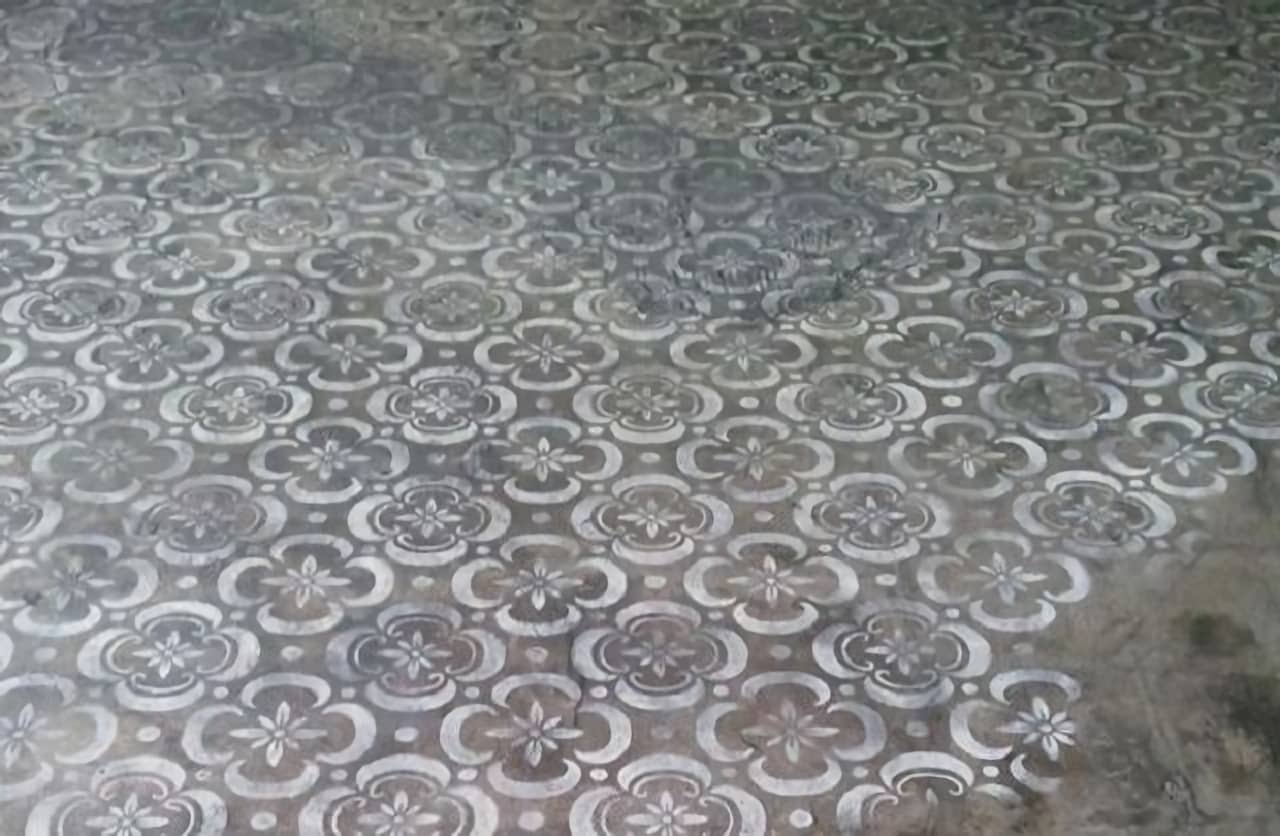 Even if you choose to compromise on flashy colors, monochromatic stenciled designs still have great decorative potential. Use classic patterns to make it seem as if the concrete floor was designed this way originally. The result is plenty of vintage charm that will rival many more expensive floor styles.




5.

Tile Appearance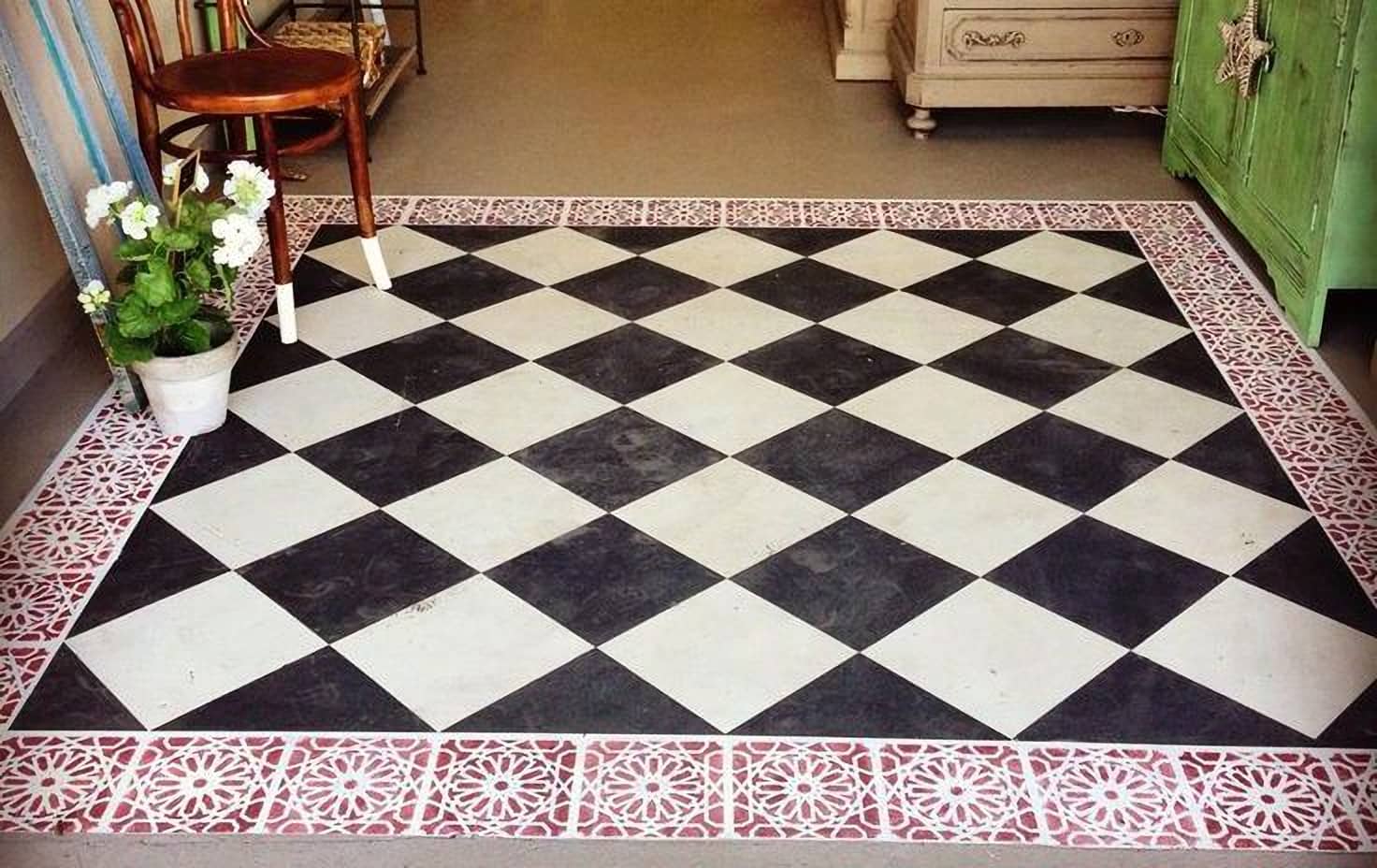 Instead of installing a tile floor, you can try out a stenciled concrete design that successfully replicates the look. The addition of extra patterns on the border helps to emphasize the black-and-white tile stencil even more. This idea is similar to the one that resembles the look of an area rug.




6.

Floral Style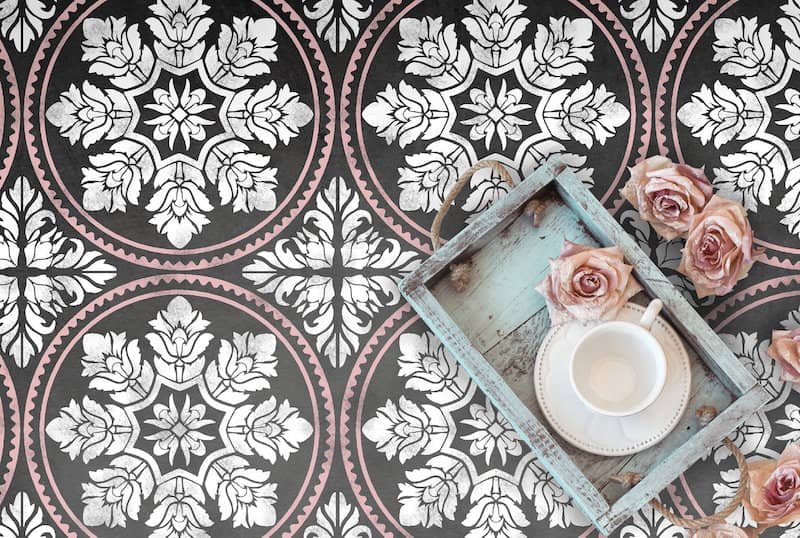 Floral patterns won't go out of style anytime soon. They're highly recommended for making detailed stenciled concrete floor designs. The complexity of the design contributes to hiding the imperfections of the floor more effectively. If this kind of stencil feels intimidating to pull off, consider opting for large-scale options that are quicker to apply.




7.

Stenciled Bathroom Floor
If you're remodeling the bathroom, you might end up changing to a different color scheme. The problem is that you will now have to get new flooring to match the color change. That's where stencils can come in handy. You don't necessarily have to install new tiles when you can just decorate the flooring with the help of some elegant lace tile stencils such as the ones shown here.




8.

Geometric Shapes
Updating the look of your concrete floor using stencils can usually take some considerable effort. Not all ideas need to be difficult and time-consuming though. Check out this simple stenciled concrete floor project that adds a lot of character to this stylish office studio. It's based on fun geometric shapes stenciled randomly on the floor. They create an eye-catching look but the stencil design is subtle enough to avoid clashing with other patterns in the room.




9.

Mixed Patterns
Most stenciled concrete floor ideas focus on a single pattern or design motif. That's fine if you don't want to attract too much attention to the look of the floor. If you're a fan of maximalist decor or simply wish to give a bold makeover to the floor, consider mixing different patterns for a more eclectic visual effect.




10.

Wall Expansion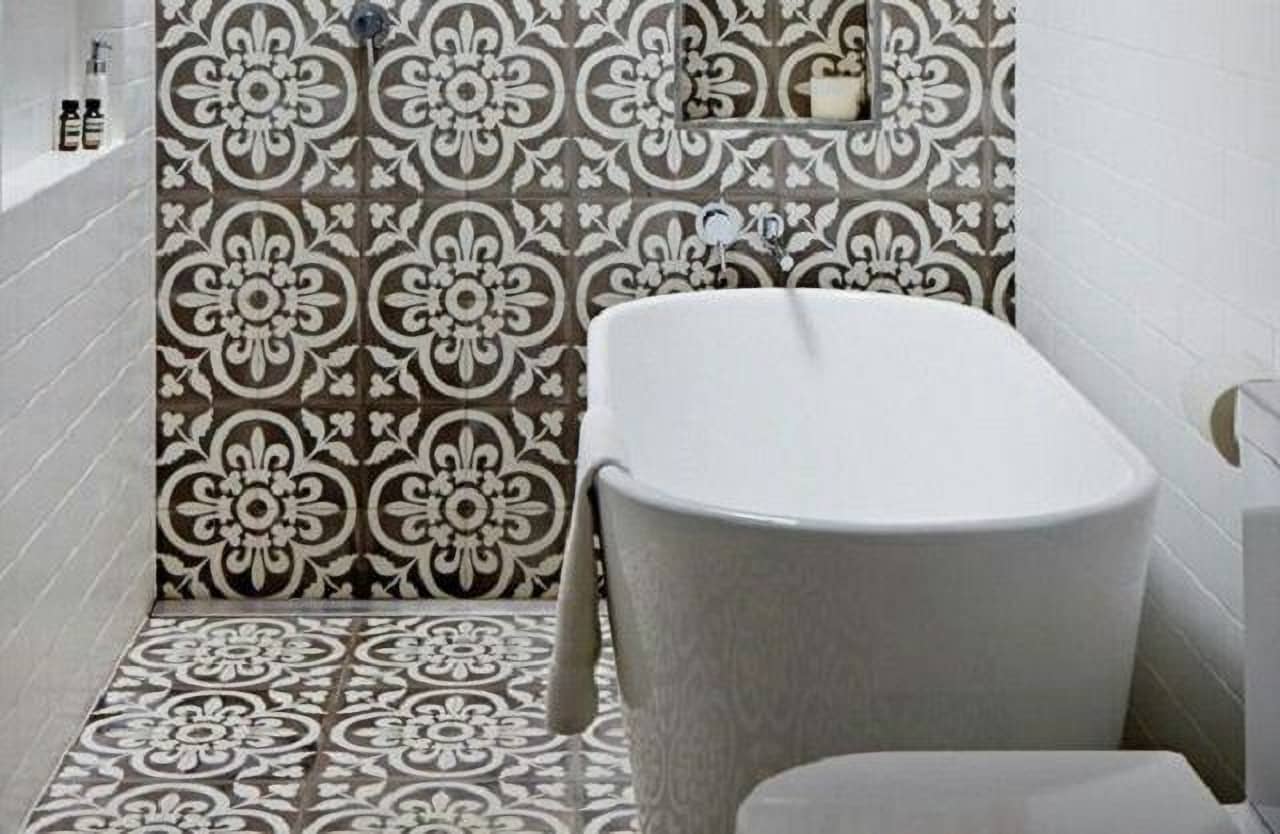 The bathroom is often a great room for trying out interesting stenciled concrete floor ideas. Consider enhancing the visual impact of a stenciled floor by expanding the design to a feature wall. You can double the effect of a stenciled pattern in this way while also creating a more stylish look in a compact bathroom.




11.

Floor Art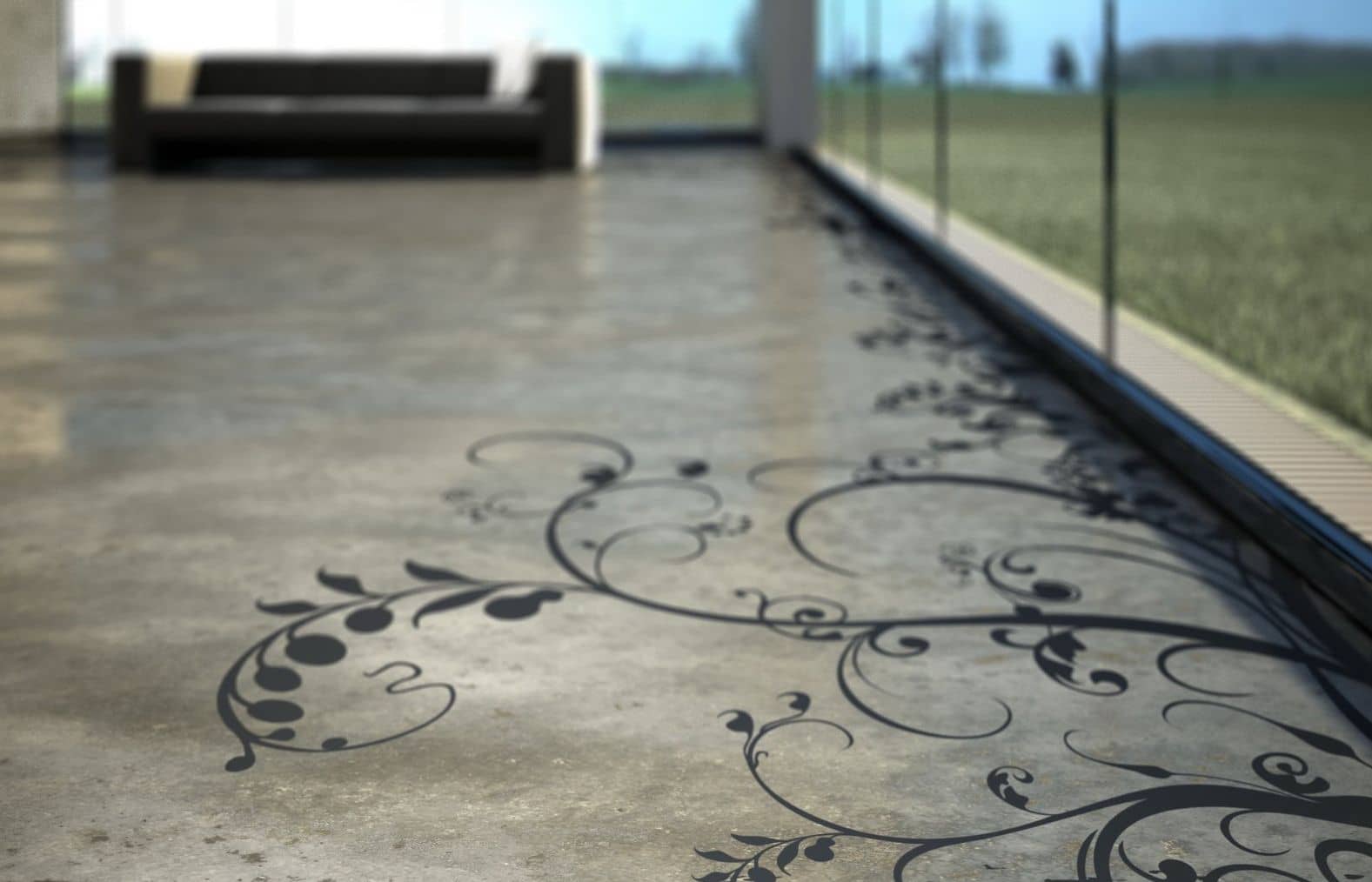 Some stencil designs provide great opportunities to show off your creativity. Instead of typical repeating patterns, consider making a statement with an elegant artistic approach. Focus on the edges of the floor to avoid making the entire floor too distracting with your fancy print.




12.

Moroccan Elegance
Black-and-white kitchens shouldn't have to feel boring. You can make this space more lifeless by adding a matching stencil design on the concrete floor. Try using a Moroccan-inspired pattern that brings a sense of warmth to this utilitarian area without compromising on the elegance of the color scheme.