This post may contain references and links to products from our advertisers. We may receive commissions from certain links you click on our website. As an Amazon Associate Rhythm of the Home earns revenues from qualifying purchases.
Share this article:
Anyone searching for a natural-looking fence with great decorative potential should try a split rail style. This type of fence shows off great rustic charm due to its minimalist visual appeal and its use of traditional materials like hardwood. There are lots of benefits to adding a split rail fence on your property. Aside from enjoying an attractive, unstructured design, you can also take advantage of excellent durability and easy maintenance.




If you don't mind the lack of privacy, split rail fences provide reliable visibility to see beyond the borders of your property. Whether you plan to use this type of fence for residential or industrial uses, it's safe to say that you won't have to spend a lot of money. Most split rail fence designs are affordable to build while promising a long lifespan. If you've decided to use a split rail fence, consider the following inspirational design ideas to match your personal aesthetic and needs.




1. Cedar Look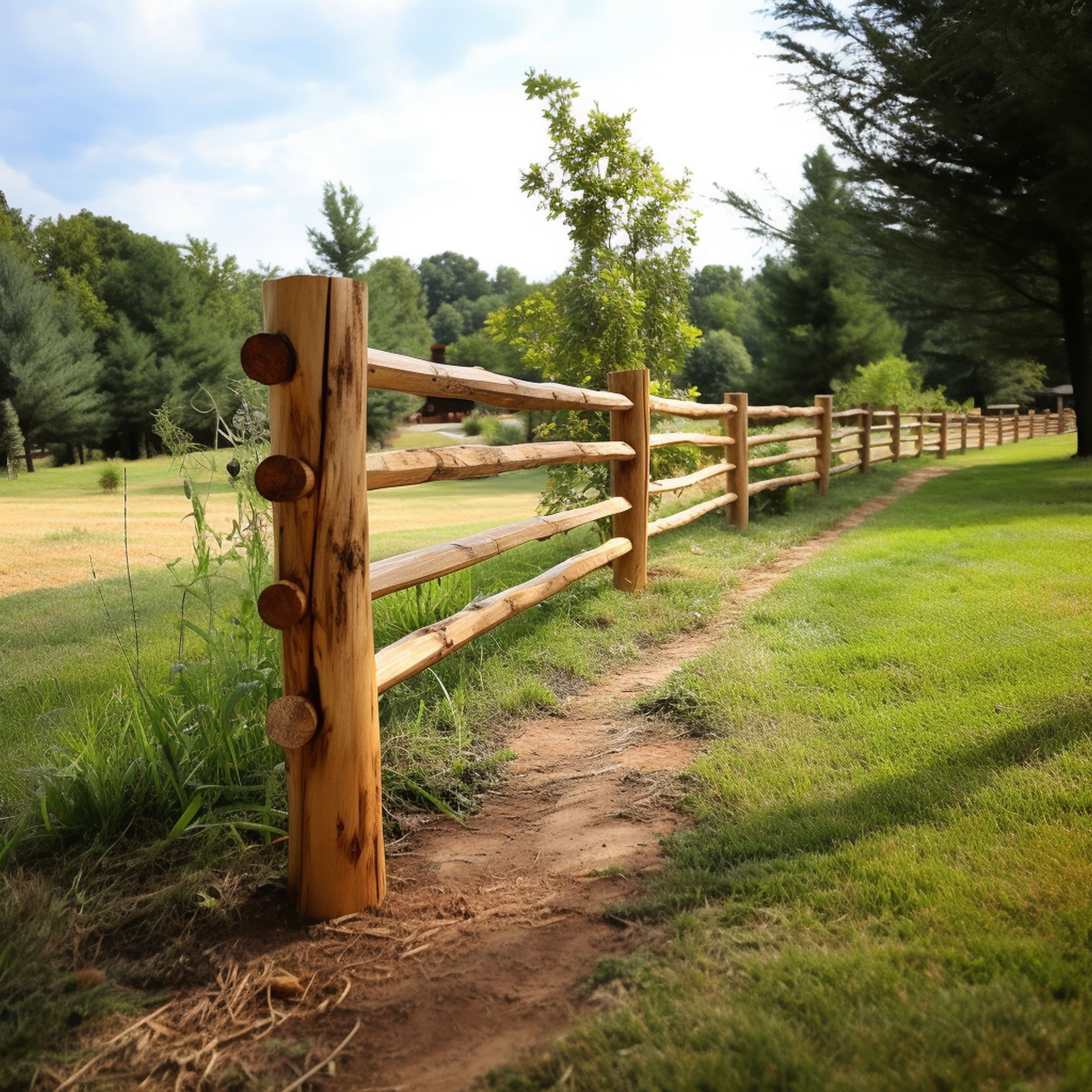 With its pleasing red hue and impressive level of durability, cedar can be considered an ideal material for a split rail fence. It can bring a stylish rustic vibe to your property and this wood type can look really attractive if you decide to leave it in its natural state. Although cedar is naturally resistant to decay, you still need to add a penetrating sealer as part of regular maintenance. A concrete foundation works best to set up a cedar split rail fence.




2. Clean White Style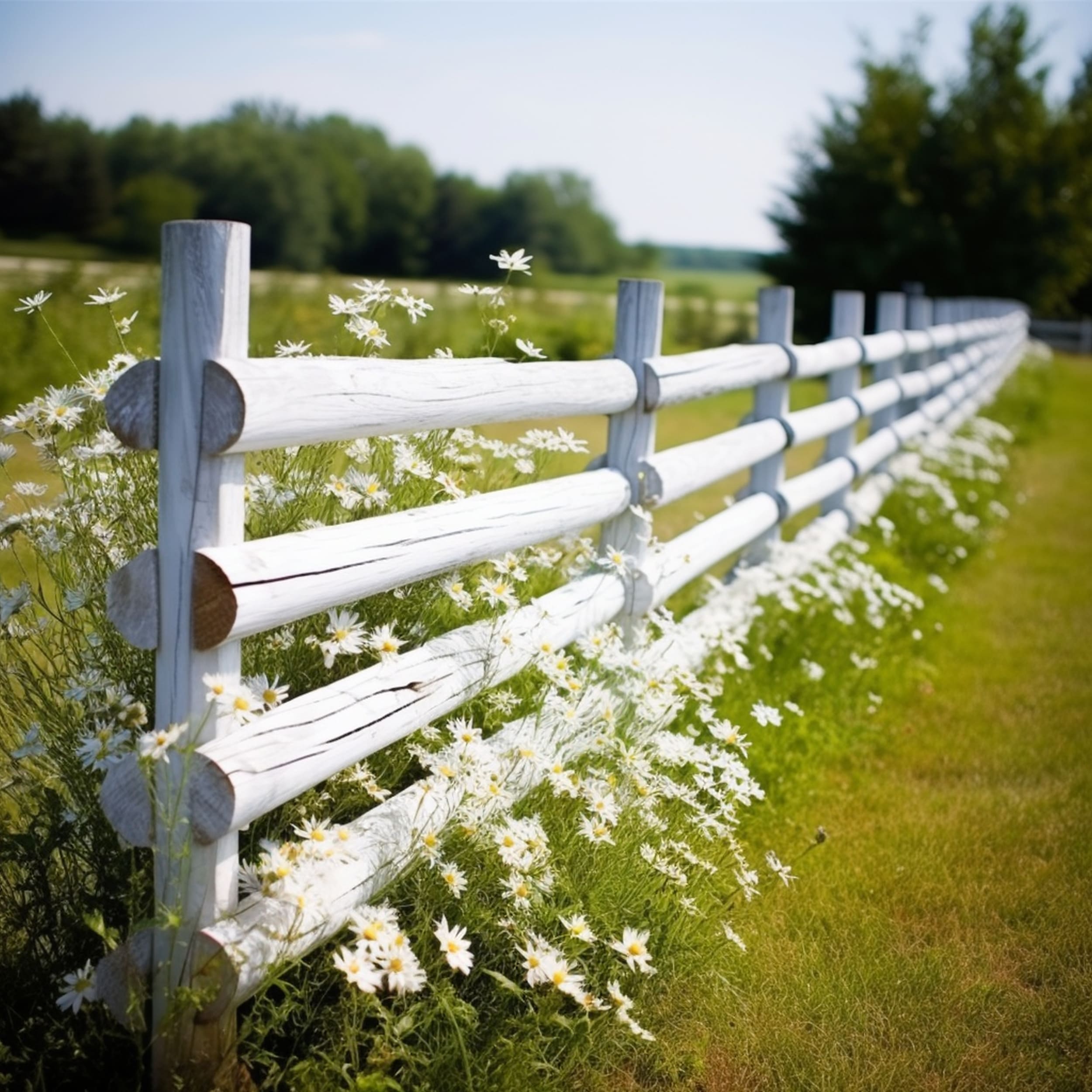 When it comes to classic split rail fence looks, you can't go wrong with a structure that's been painted in crisp white. A clean paint job works like a charm to elevate the appearance of a split rail fence. It's an easy way to modernize the style of classic wood by giving it a clean white finish. This split rail fence look is highly recommended for suburban homes, whether they're built in a contemporary style or a more distinctively rustic one.




3. Driveway Split Rail Fence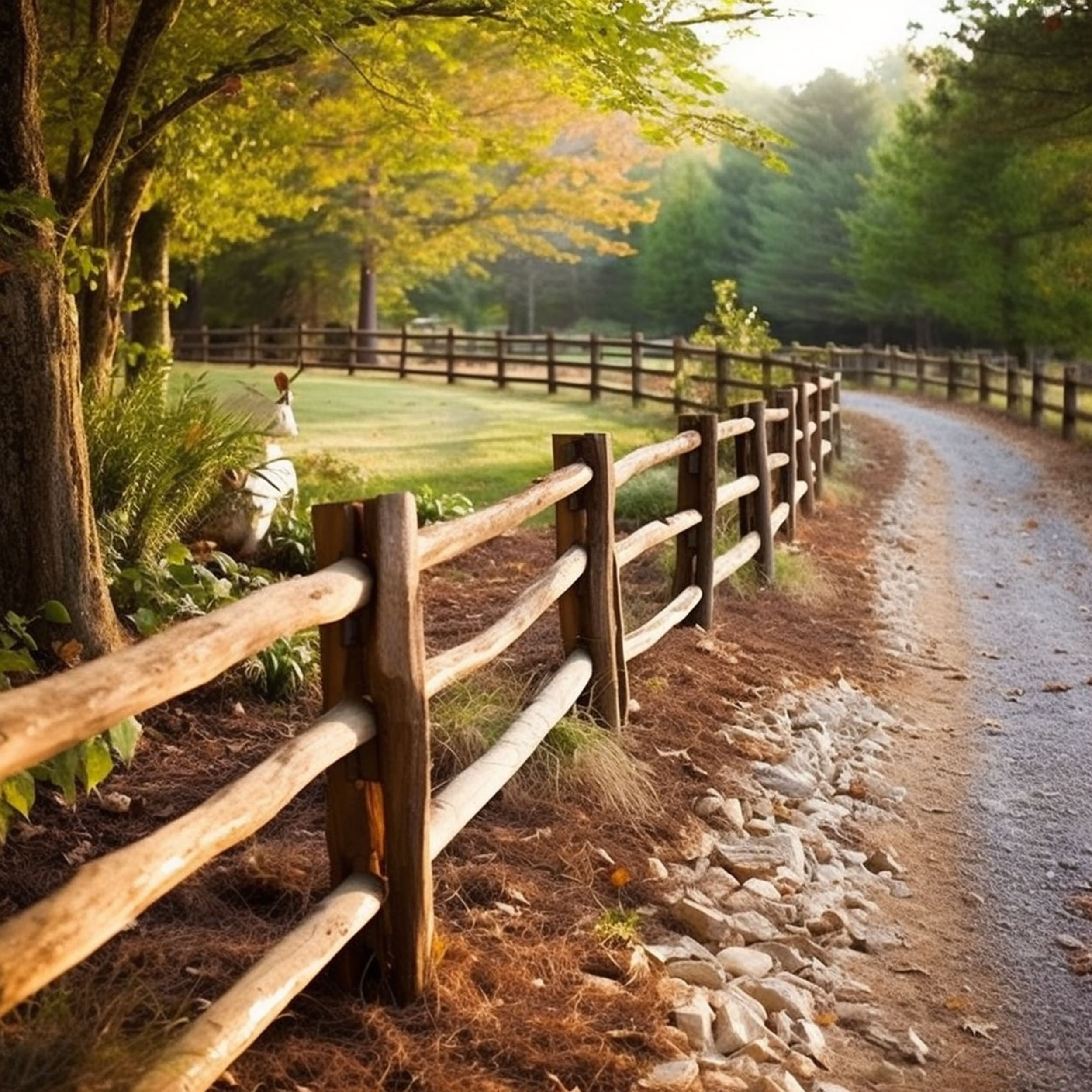 Split rail fences are useful if you want to add some style to your driveway. This type of fence is very practical when it comes to designating entries elegantly without making the fence feel too obtrusive. As a bonus feature, the split rail design lets you use the fence to hang various items such as flower baskets or signal holders. It can be said that installing a split rail fence to surround your driveway could be a practical and attractive idea.




4. Minimalistic Two-Rail Design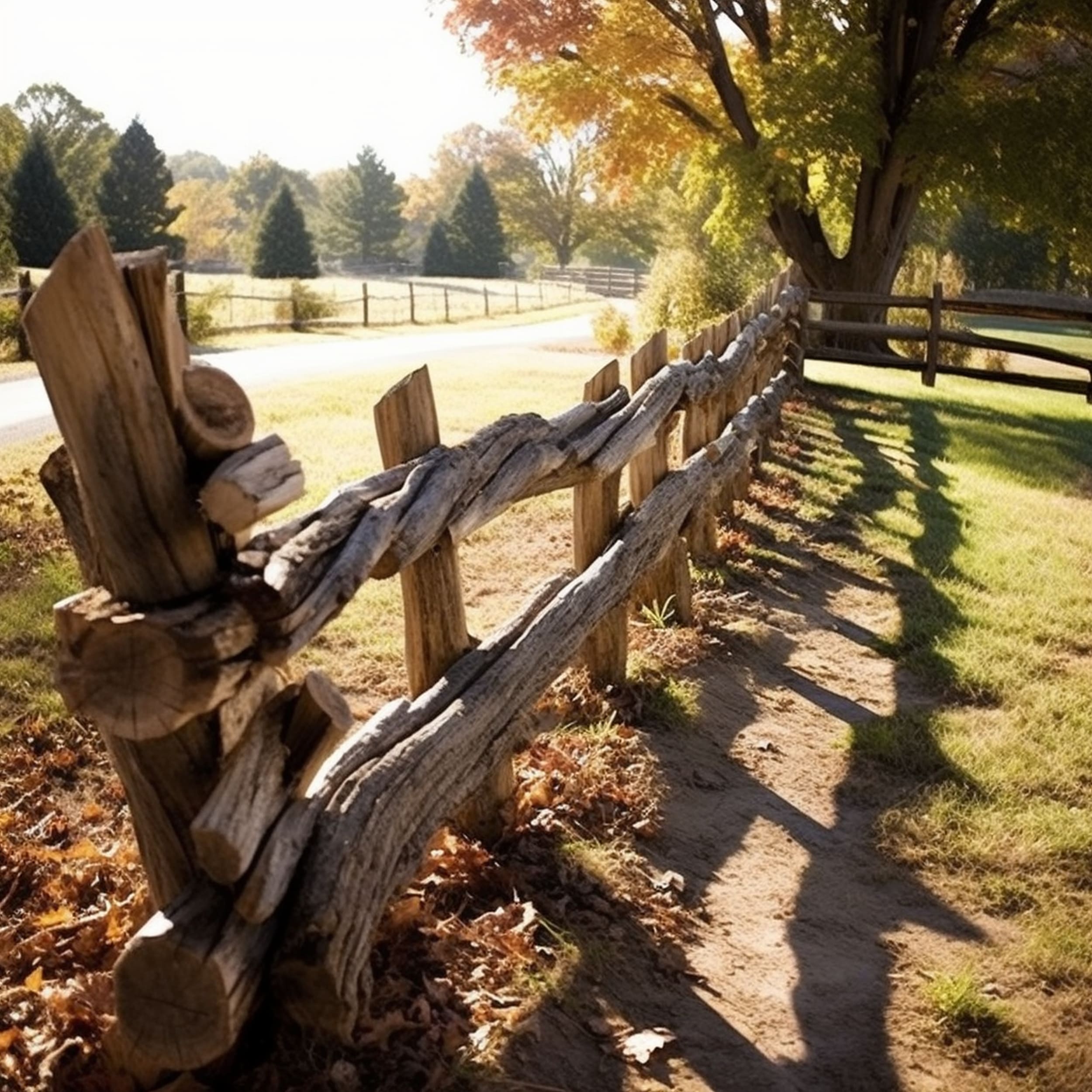 Great for decorative applications and as a sturdy boundary solution, two-rail split designs are extremely popular for this type of fence. Although the resulting appearance feels a little too minimalistic for some homeowners, there's no denying that it can show off a charming vibe with the right materials used and surrounding elements. A two-rail split rail fence design based on weathered wood can look stunning if you combine it with classic hedges or flowery shrubs.




5.Classic Three-Rail Design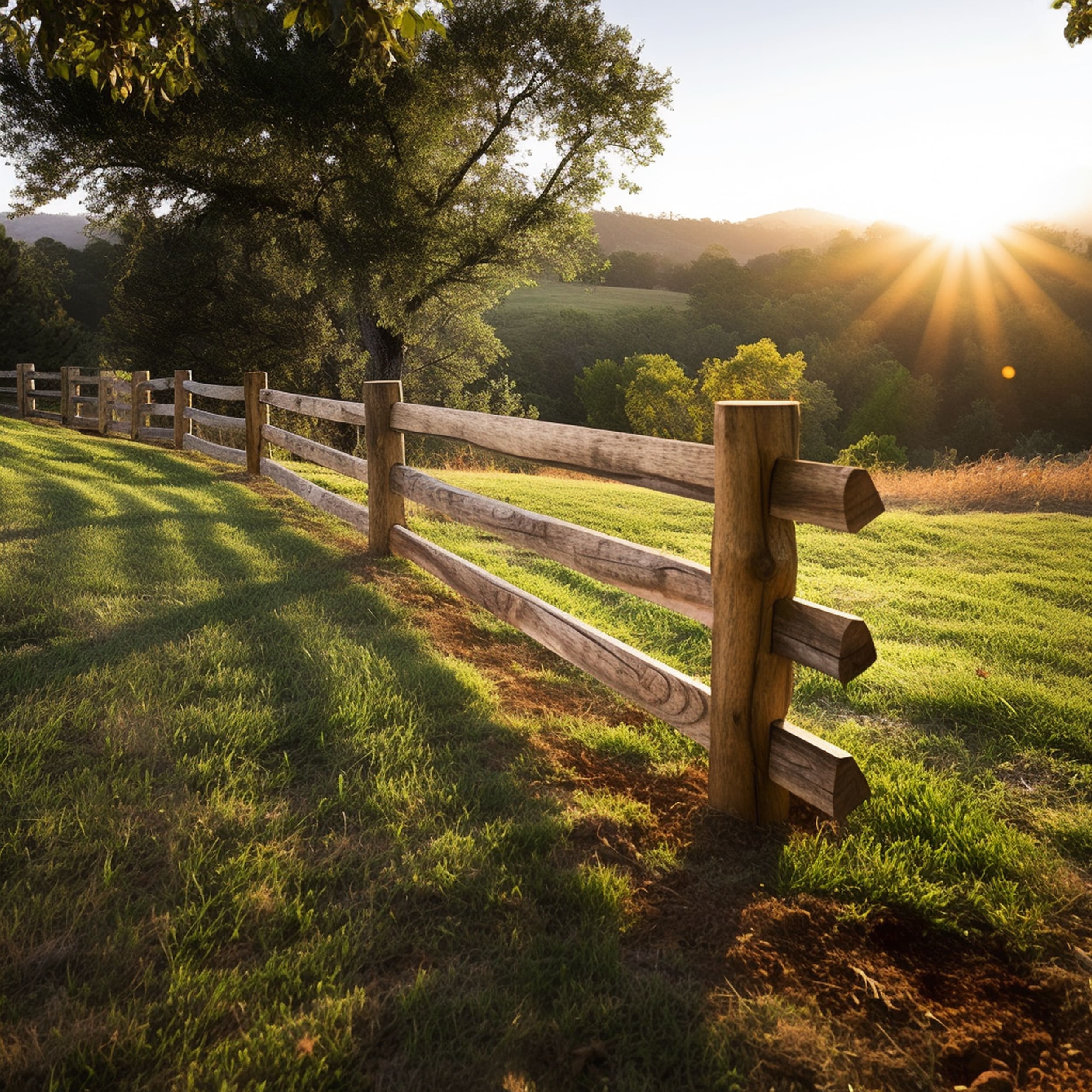 Often considered more eye-catching than a two-rail design, split rail fences that come with three rails represent a classic solution that pretty much goes well with any architectural style. Three-rail fence styles look wonderful in rustic ranch settings or modern suburban residential areas alike. Although homeowners prefer this split rail style for decorative reasons, it's safe to say that it's also quite functional considering the extra sturdiness of the design.




6. Metal Split Rail Fence





Split rail fences are traditionally built from wood but modern designs can make use of other materials. If you enjoy a more modern aesthetic, it could be worth trying metal split rail fencing that boasts balanced elegant appeal and durability. The installation process is very simple while the maintenance is often less complicated compared to wood. Thanks to their overall robustness, metal fences feel more secure compared to traditional options. Customization is a breeze because the fence can be finished in different colors to suit your preferences.




7. Wire Mesh Construction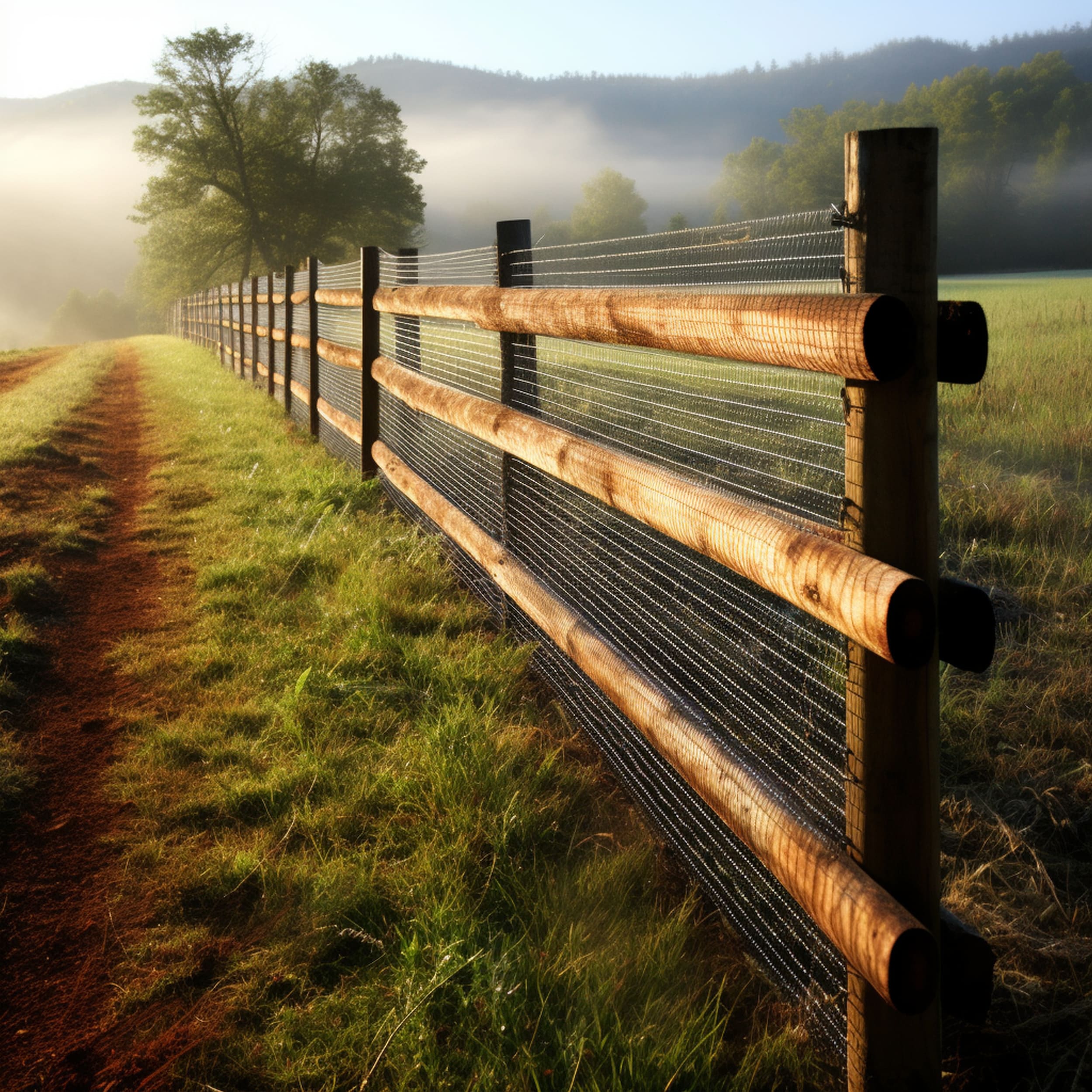 Looking for a simple way to increase the functionality of your rustic split rail fence? The addition of a wire mesh could be a smart idea if you're worried about small animals slipping through the rails onto your property. It's also useful if you have dogs or hens that need to stay secure within the confines of your yard. The best part about a wire mesh is that it's not as obstructive as other options. It barely has an impact on the overall split rail fencing design.




8. Zig-Zag Split Rail Fence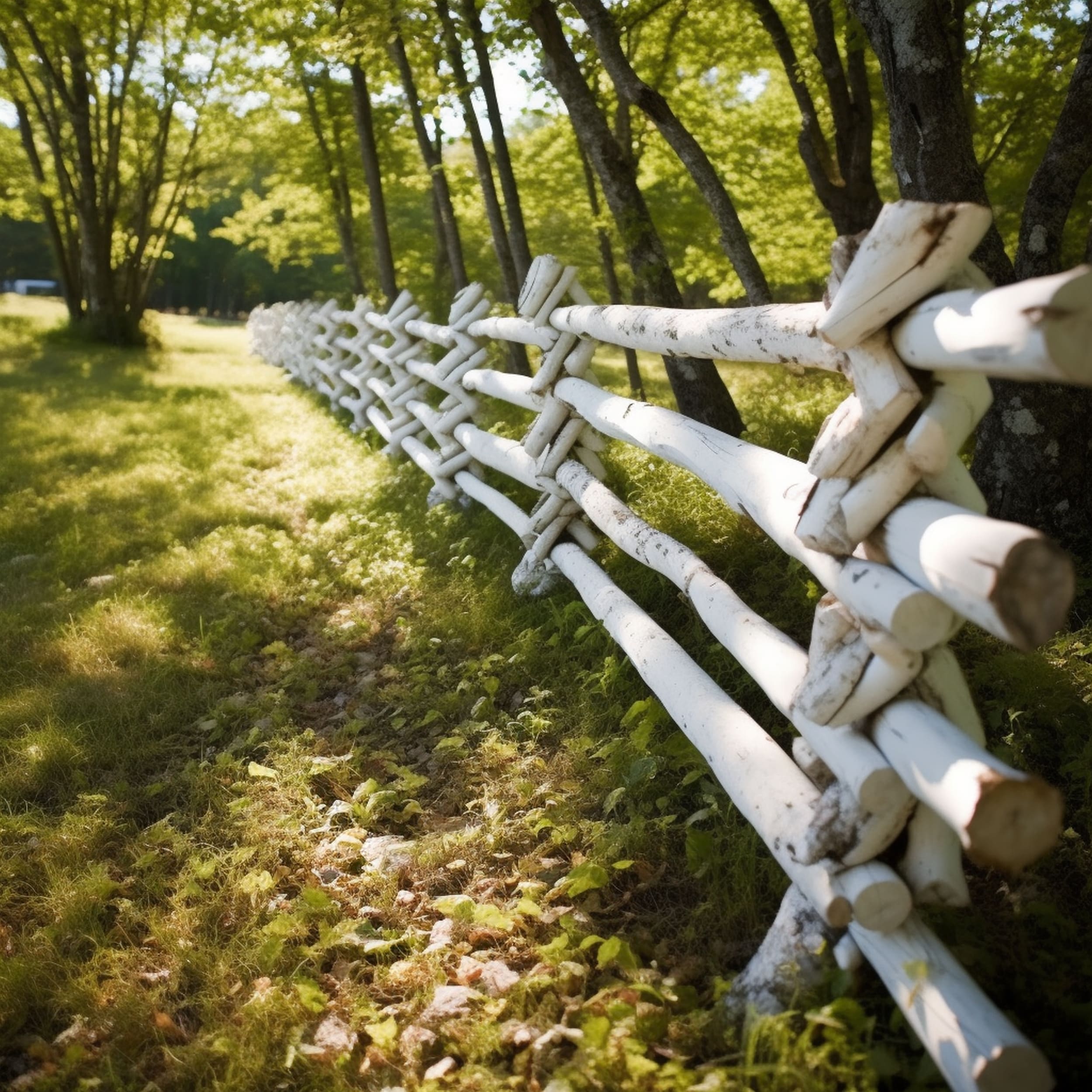 As opposed to typical split rail fence designs, this zig-zag style can add some distinctive character to your yard. The rails lack supports and are instead reinforced at the angles to create the zig-zag look. It can be said that this kind of split rail fence design appears a little messier than traditional styles. However, it comes with the advantage of being easy to build and modify. Zig-zag split rail fences are commonly found in farmhouse landscapes due to their rustic vibe.




9. Black Split Rail Fence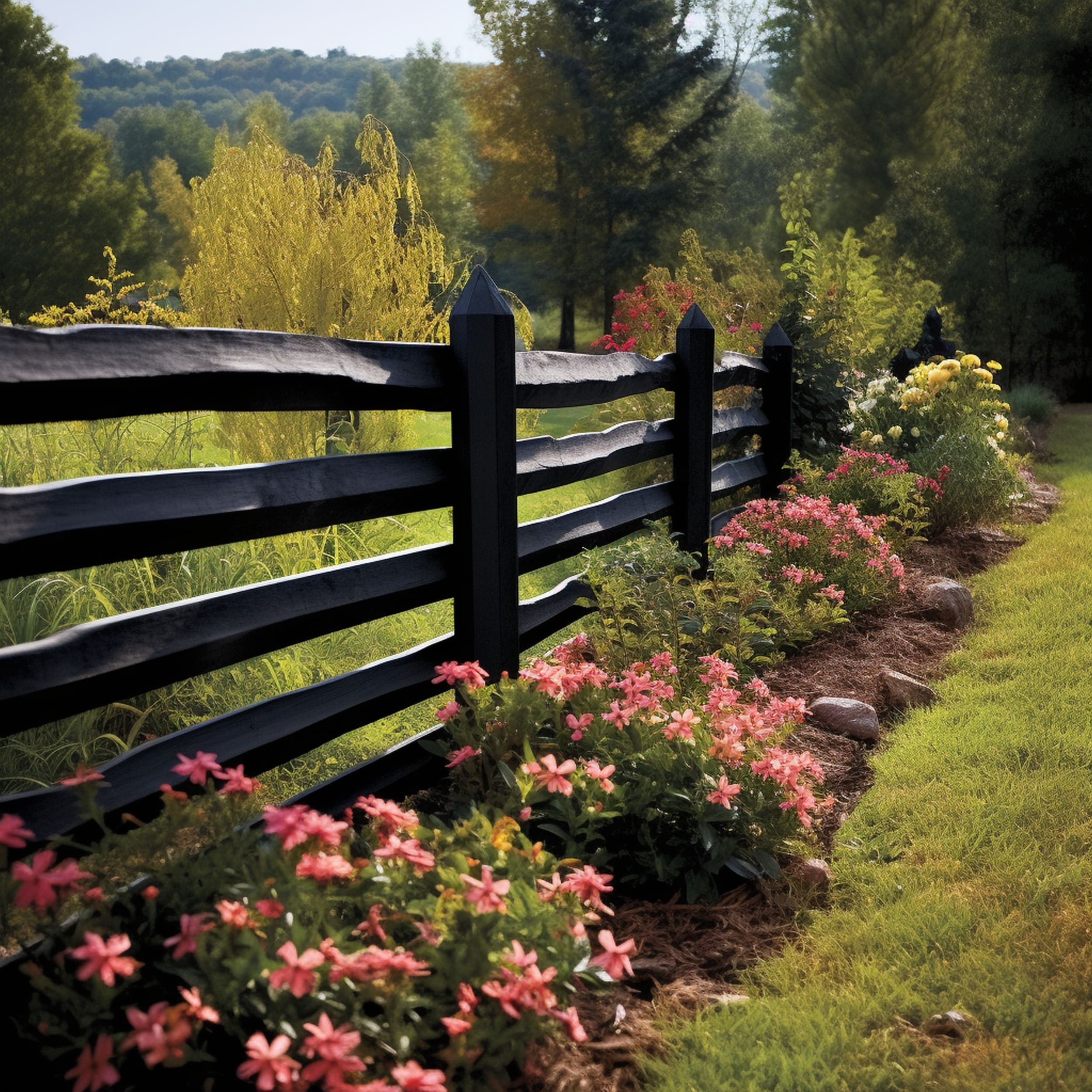 Black split rail fences aren't as common as white ones. It can be a bold color choice that's only ideally suited for modern home exteriors and landscape designs. If you're interested in adding some distinctive flair to your property, painting the split rail fence black can work as an aesthetic upgrade. It offers an elegant contrast with the surrounding greenery and might blend better with nearby natural elements such as trees. Some small landscape areas can appear larger if you pick this fencing color.




10. Rustic Split Rail Fence





There are lots of split rail fence designs that can be considered rustic. However, some styles appear more charming than others. If you plan to create rustic fencing using split rails, it's recommended to keep the wood in a more unfinished state with pieces cut by hand. They will show off all the imperfections and the natural color of the wood that enhance the visual appeal with plenty of rustic vibes. This Western Red cedar split rail fence is a gorgeous example considering the stylish chunks of wood used in its construction.




11. Concrete Split Rail Fence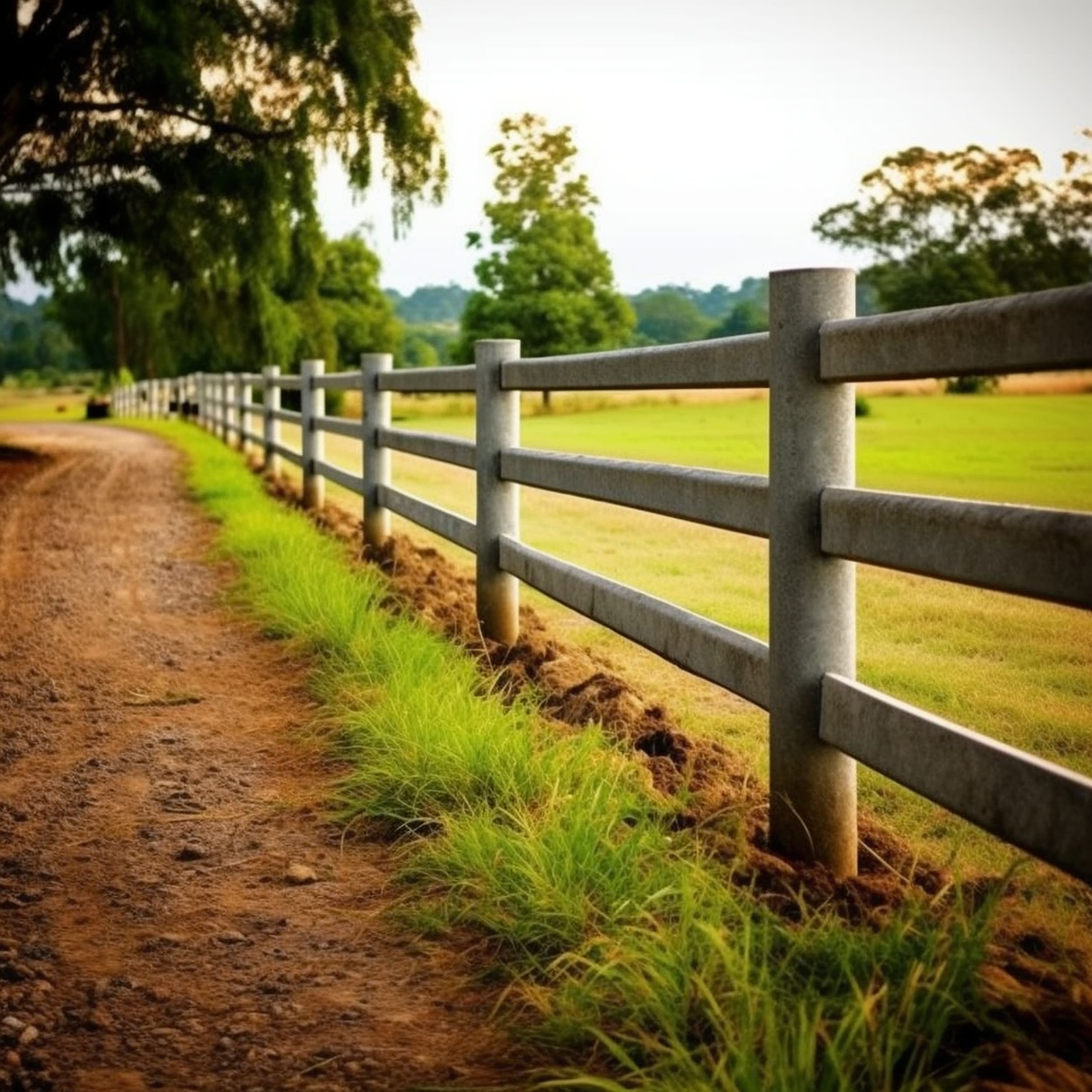 Concrete is another uncommon material used for split rail fencing that could be worth considering. It's tough enough to provide a good sense of security to your property while there's also respectable resistance to the elements. Concrete is also fairly adaptable as a material because it enables users to customize it with different colors or décor accents. Although concrete split rail fences are packed with great benefits, they're more expensive to install and might require extra maintenance in high-moisture areas.




12. Round Split Rail Style





Traditional split rail fencing relies on rectangular rails but there are designs that favor a round style. It can be a good idea to finish hardwood rails in a smooth, round style to increase resistance to wear in some cases. This type of split rail fence works like a charm if you have large animals on your property. Aside from the rounded rails, the posts of the fence can also show a similar finish to maintain visual cohesiveness and maximize durability.




13. Modern Aesthetic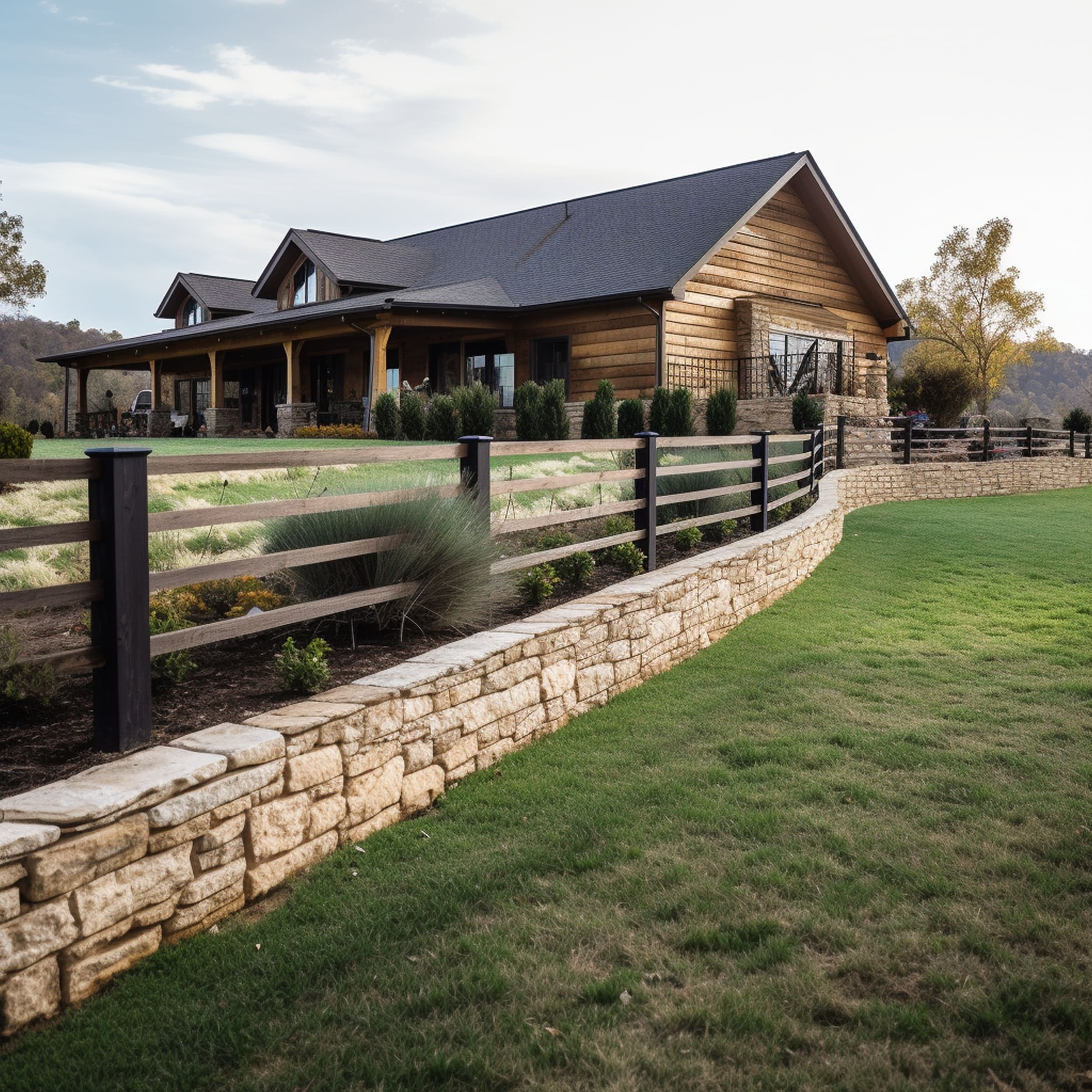 Built with heavy-duty posts and elegantly finished rails, this split rail fencing type offers some extra style compared to classic designs. It could be worth going for a modernized version to properly match contemporary estates. Compared to classic split rail designs, modern options will often feature materials like metal and vinyl aside from well-treated wood. The traditional horizontal configuration of a split rail fence is usually maintained even in modernized design approaches but there are some exceptions that can incorporate vertical or curved railings.




14. Vinyl Split Rail Fence





Chic and affordable, vinyl has become a popular material style for split rail fences in recent times. It can bring some Victorian-inspired charm with the help of the right finishes. Vinyl split rail fencing is easy to maintain compared to hardwood. Despite some advancements in terms of construction techniques, it's safe to say that this type of split rail fence is still inferior to others when it comes to durability. It's mainly recommended to install a vinyl split rail fence in locations that aren't affected by big fluctuations in temperature.




15. Composite Split Rail Fence





Composite split rail fencing features a similar visual appeal to wood but it's much more resistant to decay. A composite material could be an effective solution if you're concerned about common durability problems like pests or harsh weather. Split rail fences built using this material are generally long-lasting and simple to customize. There's no need to bother with complicated maintenance involving the re-application of finishes or varnishes. Composite fencing can save you money in the long run even though it's costlier than other materials.