This post may contain references and links to products from our advertisers. We may receive commissions from certain links you click on our website. As an Amazon Associate Rhythm of the Home earns revenues from qualifying purchases.
Share this article:
Maintaining a traditional garden can be quite challenging for many homeowners. It's not surprising that some people look for alternatives to grass or solutions to get rid of weeds. One solid idea is to create a moss garden. This is a great trend to consider if you enjoy the serene vibe of a Japanese Zen garden. There are lots of types of moss out there and virtually all of them grow easily anywhere. Maintaining a moss garden is much easier than a traditional garden because the plant shows impressive overall resilience.




Moss remains green year-round and is eco-friendlier than other plants. It's considered a superior option to grass when taking into account durability and maintenance. If you're looking to rejuvenate your yard and create a verdant moss garden, check out the following inspirational ideas. Cultivating the moss is just one aspect of building this kind of garden. You also need to decide on the best surrounding elements and garden features to design a stylish mossy yard.




1. Tiny Moss Island





A water feature can easily elevate the visual appeal of a moss garden. Take inspiration from traditional Japanese gardens that often feature mossy rocks serving as tiny islands in a pond or waterfall. The rocks are beautifully decorated with moss and can look charming just by themselves sitting in the water. It's a great idea for improving the level of serenity when relaxing in the garden.




2. Stone Statues With Moss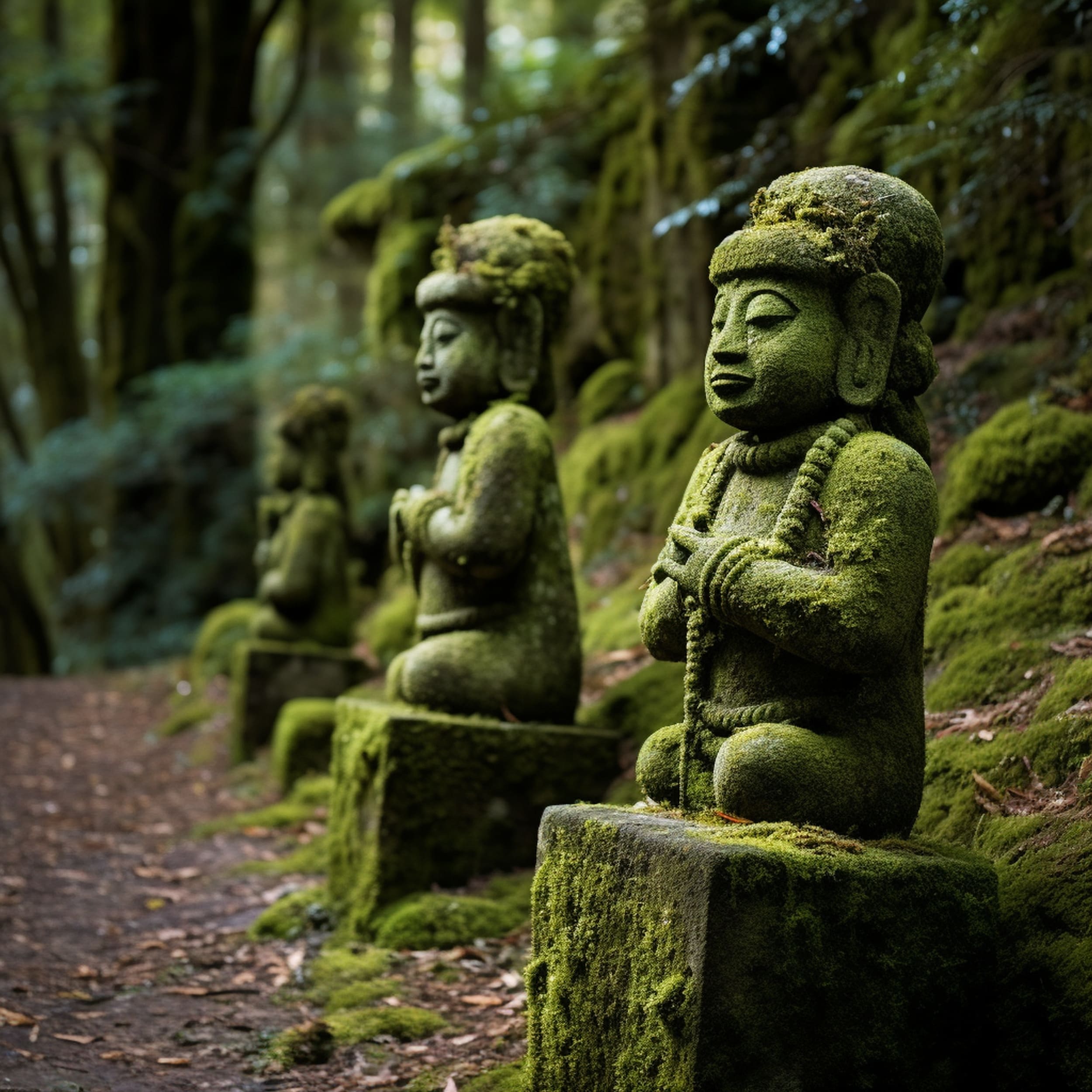 Compared to other plants that only grow in certain locations under optimal conditions, moss is much more adaptable. Putting moss directly on the ground isn't a strict requirement to grow it. The plant can easily grow on rocks or decorative elements added to the garden. For this reason, it's recommended to make use of Zen-inspired decorations like stone statues that can show off a gorgeous carpet of moss. No rock garden is complete without plenty of mossy growth.




3. Miniature Moss Garden





Not all moss gardens can be built outdoors. If you want to bring a touch of fresh greenery indoors, consider making a miniature moss garden. This tabletop-style garden can be crafted in different ways depending on the desired size. The most popular option involves the use of a ceramic dish where you can place various elements to bring out the classic feel of a moss garden. Add things like rocks and plants to complete the look. Make sure you add some quality potting mix to help your moss thrive.




4. Moss Decorated Stepping Stones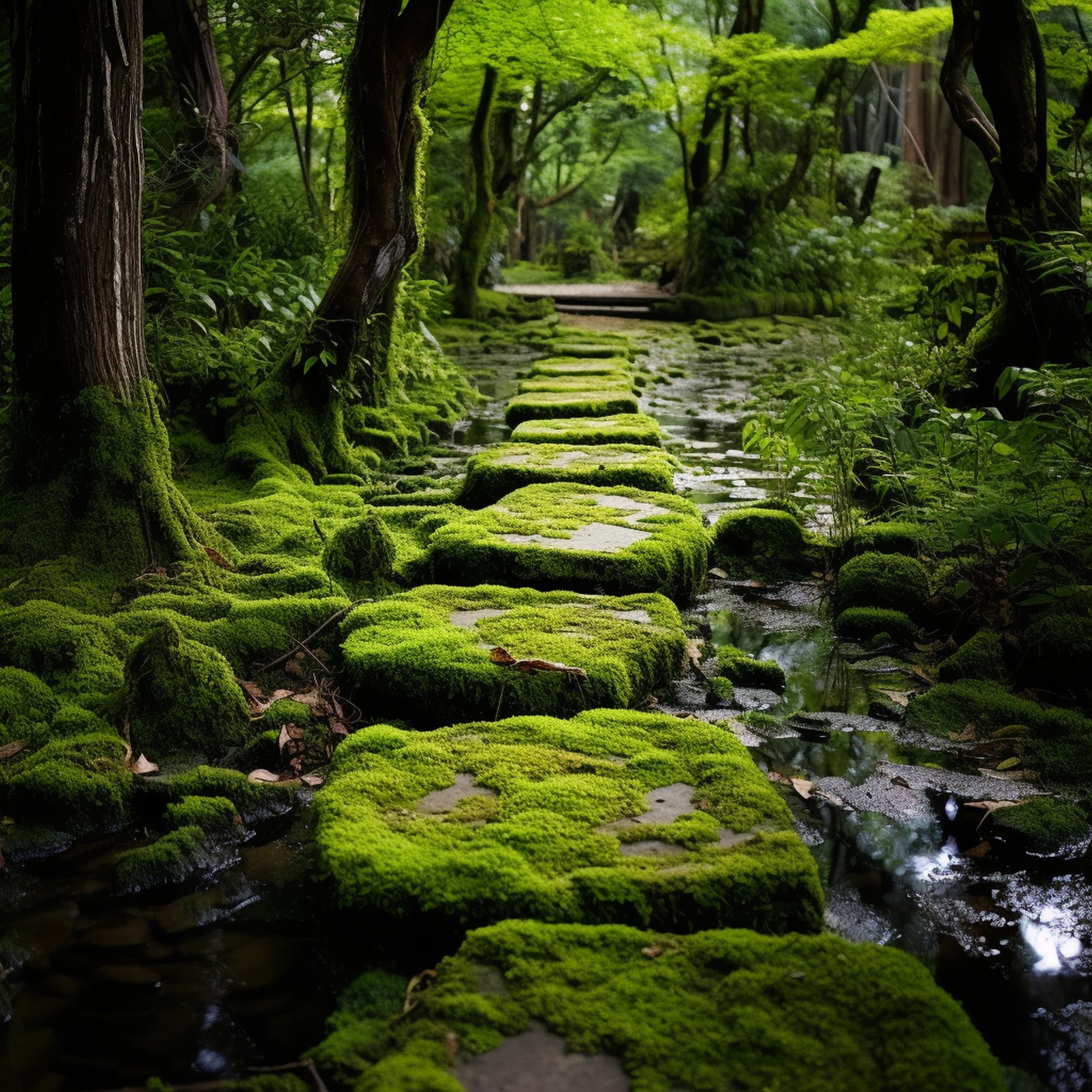 If you're looking to add a pathway through your garden, stepping stones show off a charming rustic look. The big stones will appear even more attractive when surrounded by verdant moss. It's safe to say that moss represents a great pick when it comes to decorating around stepping stones. This is because moss isn't as easily affected by foot traffic compared to other plants. Moss will also grow effectively in some less hospitable areas such as shaded regions along the pathway.




5. Moss-Covered Pots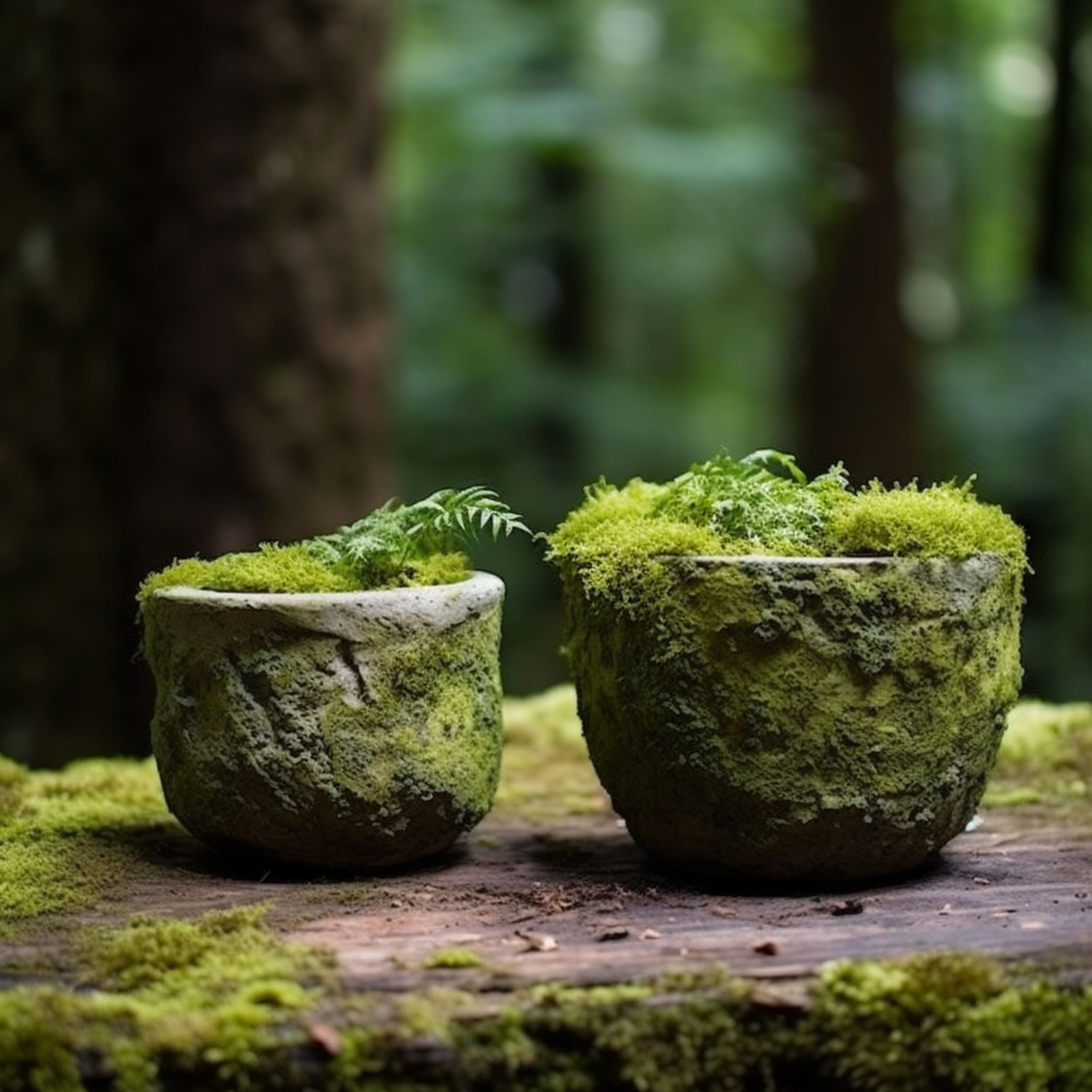 The fact that moss can be grown almost anywhere allows you to come up with some really creative garden designs. A great example is the use of pots where bundles of moss can be grown into various styles. The moss can add a charming aged effect to decorative pots as it tends to grow over the rim. You can also incorporate some shade-loving plants and make a truly distinctive moss garden with DIY creations.




6. Windowsill Moss Garden





Is the windowsill of your house a little old and worn down? You can cover some imperfections by growing a small moss garden on it. This idea will only work well for window areas that don't get a lot of sunlight to avoid the risk of burning the moss. Although windowsill moss gardens look very charming on traditional buildings, the style can be just as attractive when paired with modern architectural elements.




7. Moss Squares





Using stylish geometric designs could be an interesting idea to make your moss garden stand out. If you prefer the Japanese garden aesthetic, you should try making a similar design that includes alternating moss squares and stones. Moss grows easily on many surfaces but it often lacks a sense of structure. This elegant garden proves that moss looks even more stunning if you put some effort to arrange it in neat squares that contrast with identically-shaped stone tiles.




8. Modern Moss Zen Garden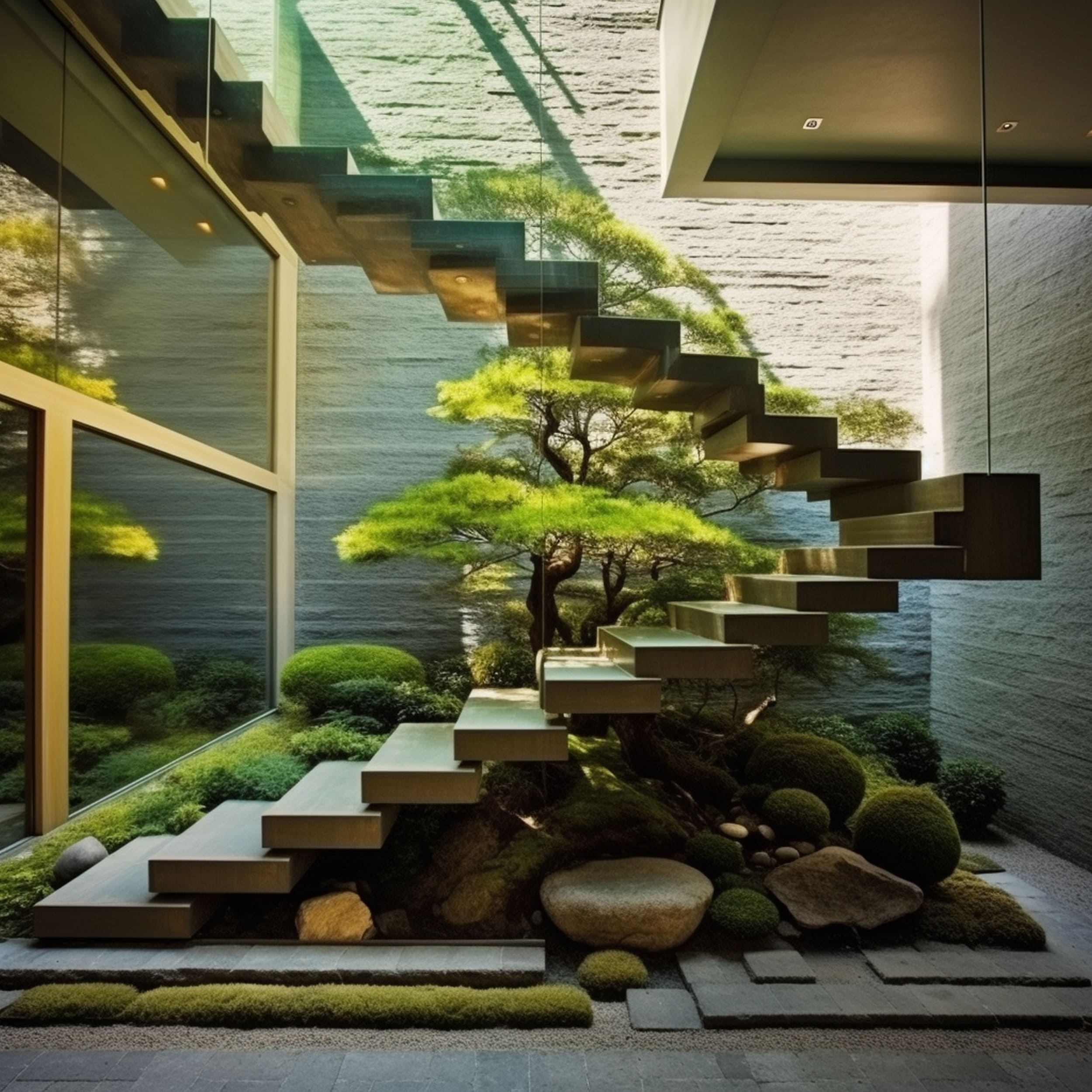 Moss is a must-have component of traditional Zen gardens. Although these gardens tend to be quite large and packed with many features, it's possible to transform even small landscapes with a classic serene vibe. Moss is ingeniously used in this small garden under the floating stairs of a modern home. It creates the appearance of a small hill while the bonsai plant creates the illusion of a large tree mounted on it.




9. Mossy Steps





We've seen moss used in the garden in lots of creative ways, especially when it comes to decorating the pathway. Here's another idea that relies on rectangular patches of moss to create a unique-looking pathway in the garden. There's some structural reinforcement provided by wooden logs which also contribute to a charming cottage-like visual style of the area. The moss carpet of steps makes the pathway appear truly connected to its natural surroundings.




10. Eclectic Moss Designed Chair





Many homeowners enjoy the idea of covering things with moss in their gardens. Instead of the usual rocks or stone statues, you can go for a more eclectic vibe by using furniture items. A moss-covered chair looks strangely attractive and somewhat otherworldly. It seems like an object that belongs in a fairy tale world. With the help of the right decorative touches such as colorful florals, you can add a regal air to the mossy chair.




11. Waterfall Beauty





A waterfall is considered one of the most beautiful types of water features to bring into your garden. The flowing stream of water offers a sense of tranquility to the entire area. You can enhance the atmosphere in a moss garden by featuring a stunning waterfall. It creates a gorgeous natural landscape surrounded by moss-covered rocks. The variety of green shades in this place creates a breathtaking backdrop for the waterfall.




12. Moss Starfish





Moss may not seem like the first choice if you wish to add a sunny coastal vibe to your garden but this starfish design is proof of the plant's amazing versatility. Moss can be grown in many creative shapes to suit the style of your garden or simply add some lovely accents to improve the décor style. This large moss-covered starfish can be used to create a focal point in the garden or to provide some visual interest to the patio area in the backyard.