This post may contain references and links to products from our advertisers. We may receive commissions from certain links you click on our website. As an Amazon Associate Rhythm of the Home earns revenues from qualifying purchases.
Please consider making a donation if you like our article. Our website depends on donations from visitors like you! Share this article:
As the name suggests, the railroad-style apartment refers to the way the layout of the rooms resembles the cars of a train. This type of home lacks hallways so you enter rooms directly as they succeed one after the other. There is typically one central hallway but the dwelling features a more unconventional design style. While most railroad-style apartments are found in New York, you can also encounter them in other urban areas including in cities such as San Francisco or Chicago.
History
Railroad-style apartments can seem quirky now but they were traditionally quite popular in the early 20th century when there was a strong need to make the best use of narrow space. At that time, there wasn't as much concern about privacy while the building regulations were also quite lax. For that reason, this type of home can have some problems when it comes to sufficient natural light and airflow. The apartments are usually found in buildings that lack elevators.
It's safe to say that railroad-style apartments in their original form are not particularly desirable. The initial idea behind railroad apartment architecture was to solve urban overcrowding. To get them up to modern living standards, these homes need to be modified in creative ways to improve the way space is used and to allow more natural light inside. The railroad layout can be confused with the shotgun popular house style, which is a similar type of modest dwelling.
Both the railroad and shotgun apartment styles are thought to have a connection with the historical "enfilade" architecture. This is characteristic of European palaces where rooms leading into others were desirable for creating striking perspectives of grandeur. It's similar to the layout of a museum that features succeeding galleries with no interruptions. While railroad-style apartments aren't that visually impressive, they have some notable characteristics that make them appealing. For example, they show off tall ceilings and room-dividing archways.
Advantages of Railroad-Style Apartments
You might wonder why some people would choose this type of old-fashioned dwelling layout. It's safe to say that a railroad-style apartment is not ideal for those worried about privacy or having a lot of storage space. However, there could be advantages worth noting for some people. If you wish to live alone, without roommates, the railroad-style apartment can be a solid option. You can make better use of the available space as there are no filler rooms such as hallways. It's also a cozy and affordable apartment-style to share with a significant other.
The train theme can be appealing for creative tenants that prefer a more minimalist lifestyle. There won't be enough space to accommodate certain bulky styles of furniture which can result in designing a sleek railroad apartment with only the essential furnishings. You can focus on multifunctional pieces that work well together with this unconventional layout. A railroad-style apartment can give you the opportunity to incorporate bright decor elements to make up for the lack of natural light.
Inspirational Railroad-Style Apartments
If you're looking to live in this kind of home layout, you'll face some challenges in terms of organizing the space. Check out these railroad-style apartment designs that show off creative ideas to inspire your own projects.
1.

Old-World Charm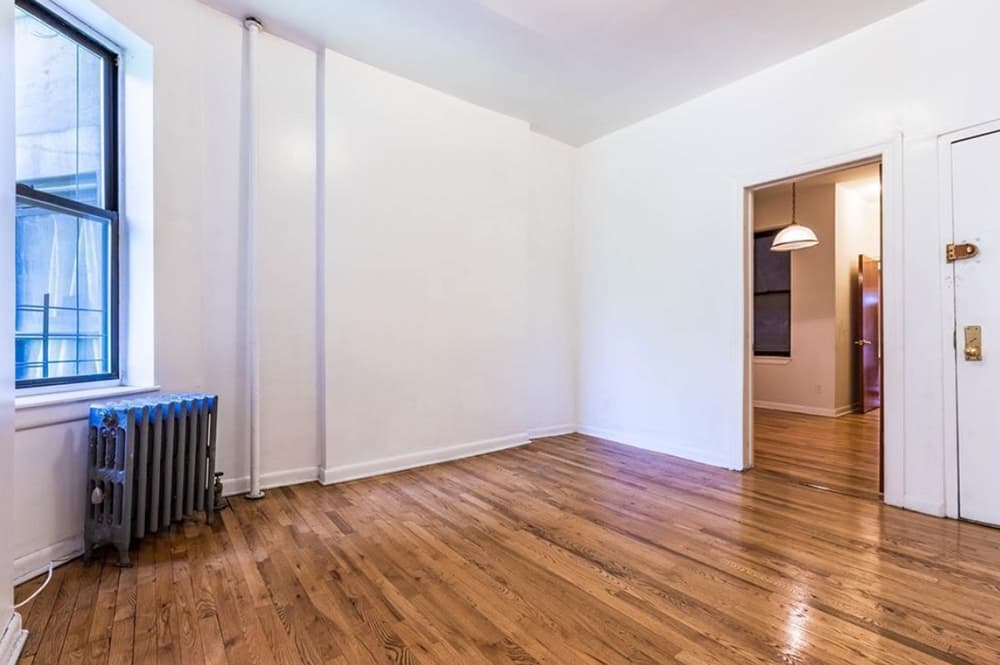 This stylish three-bedroom apartment features a railroad-style layout with many interesting prewar details. Despite its compact style, there's quite a lot of storage space available while there's no sense of feeling cramped due to the high ceilings. The addition of beautifully polished hardwood floors manages the perfect blend of modern and old-world vibes while the double-pane windows help to isolate the tenant from the noisy urban life outside.




2.

Bright Atmosphere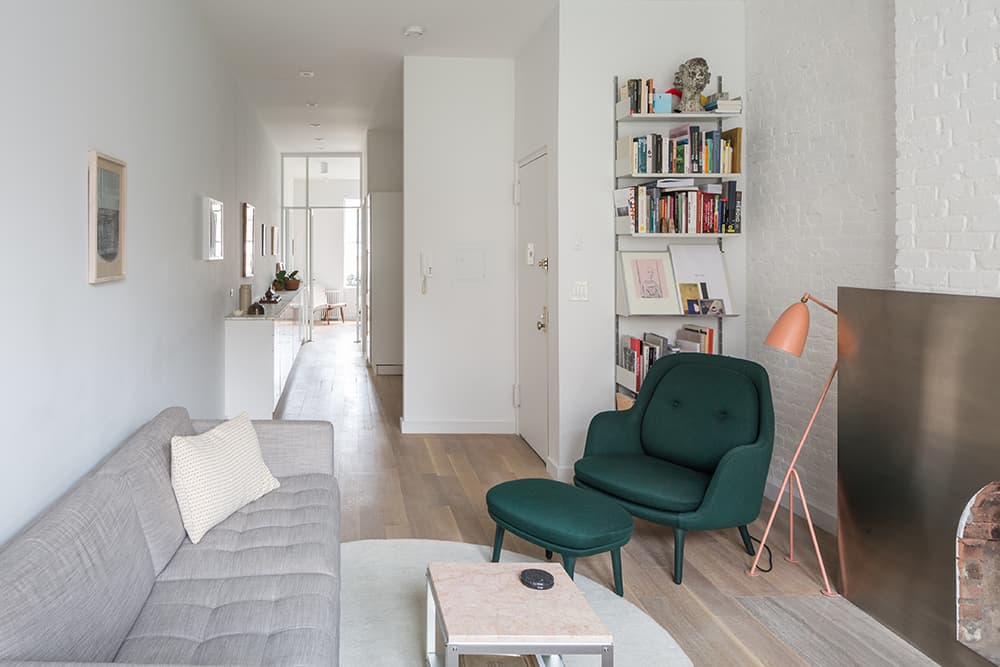 The main issue when it comes to living in a railroad-style apartment is the presence of natural light. This stylish apartment went through an ingenious redesigning process to relocate the kitchen and bathroom and ensure the atmosphere doesn't feel too dark and unwelcoming. The result is a bright area with minimal furnishings that elegantly draws the eye to the height of the ceiling. A nice detail is the way the planks of the floor have been positioned parallel to the walls to work well together with the lengthy style of the apartment.
3.

Farmhouse Kitchen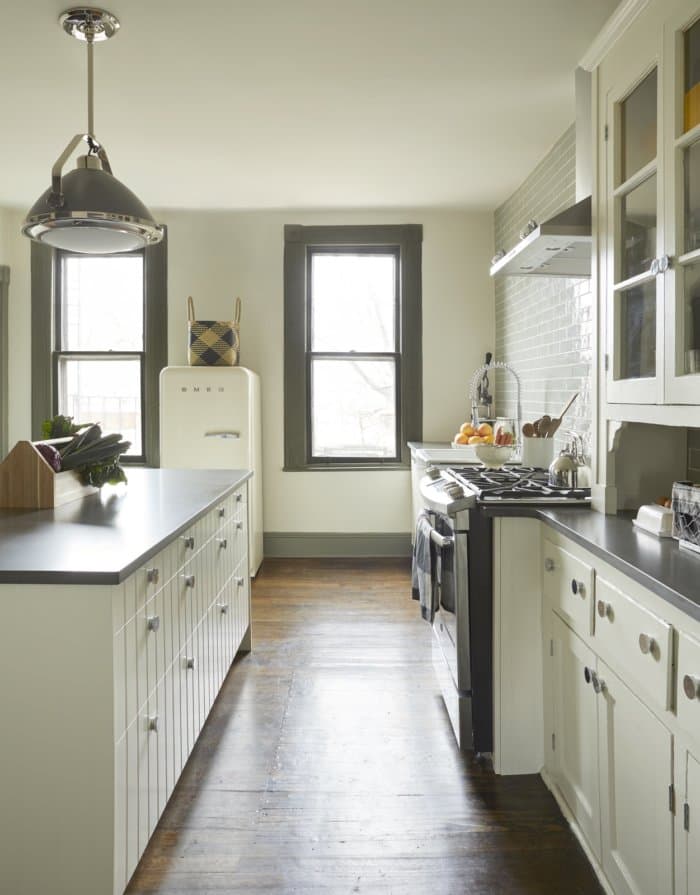 If you're not sure about the best design style to choose for an apartment with a railroad layout, it's highly recommended to opt for the farmhouse look. It's a great choice for this kind of apartment design because the farmhouse elements contribute to retaining the vintage feel of the layout. Stylish white cabinetry forms a great pairing with large windows that let enough natural light inside to make the kitchen cozy and functional.




4.

Exposed Brick Wall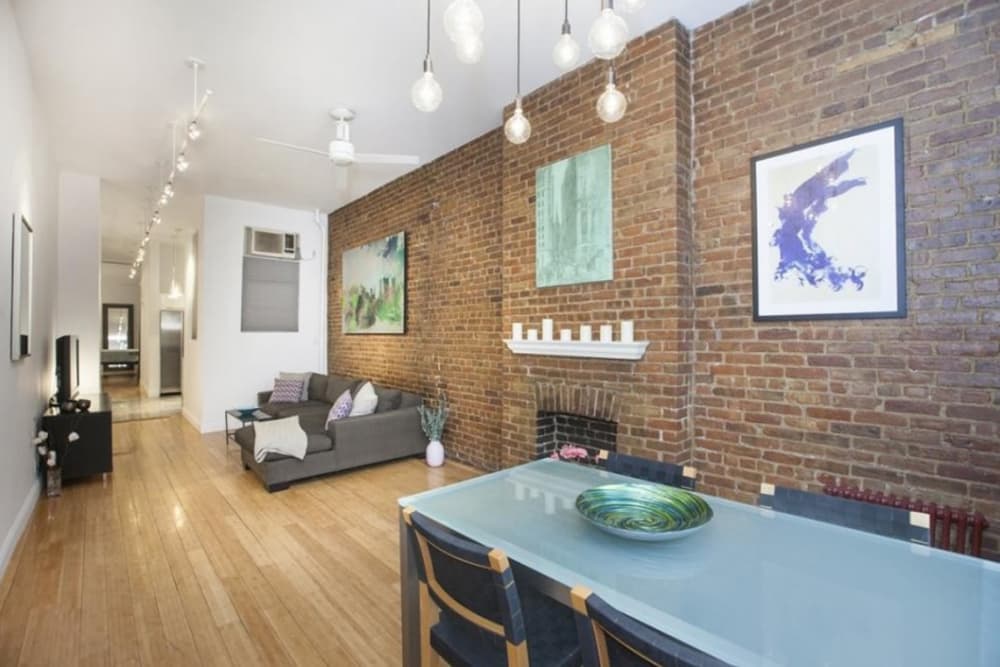 Having a modern railroad-style apartment doesn't mean you need to compromise on some traditional design elements. Take a look at this stylish two-bedroom apartment that integrates a beautiful exposed brick wall. It makes the area cozier and pays tribute to traditional architecture at the same time. The result is a more refreshing modern railroad-style apartment that's both functional and aesthetically pleasing.
5.

Uncluttered Space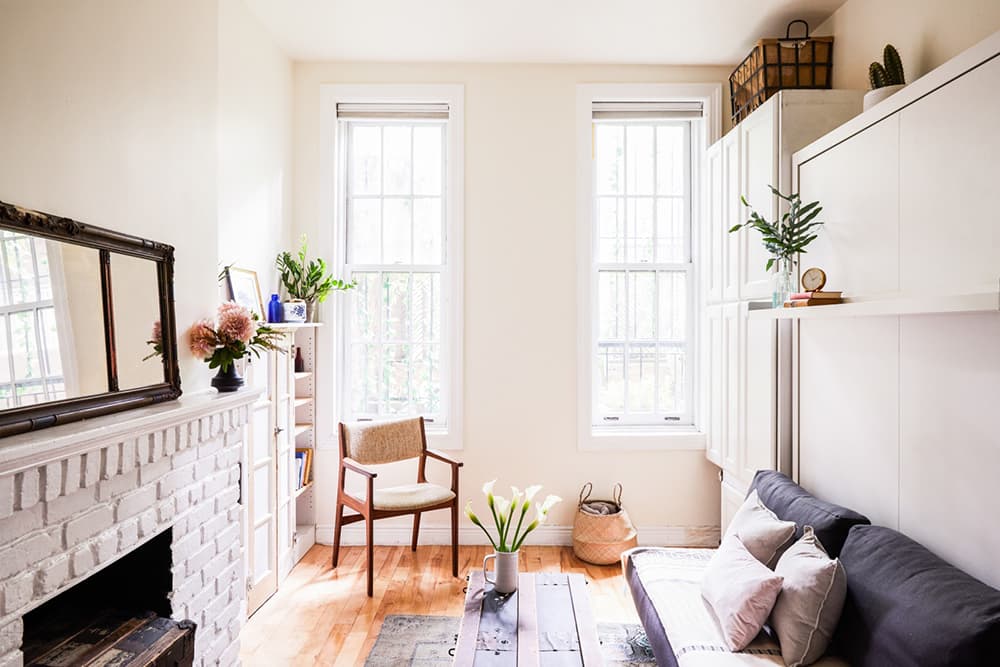 When every item has its own dedicated space and the atmosphere doesn't overwhelm you, the apartment will feel airy and welcoming. It's a pleasure to live in that kind of home. Keeping any apartment uncluttered is recommended, but it's absolutely vital for a railroad-style layout to appear organized. Too many items will easily tip the balance from a cozy apartment to a cramped space so that's why it is essential to banish clutter and choose your decorations carefully. This bright and elegant railroad-style apartment is a solid example of that.




6.

Plush Rug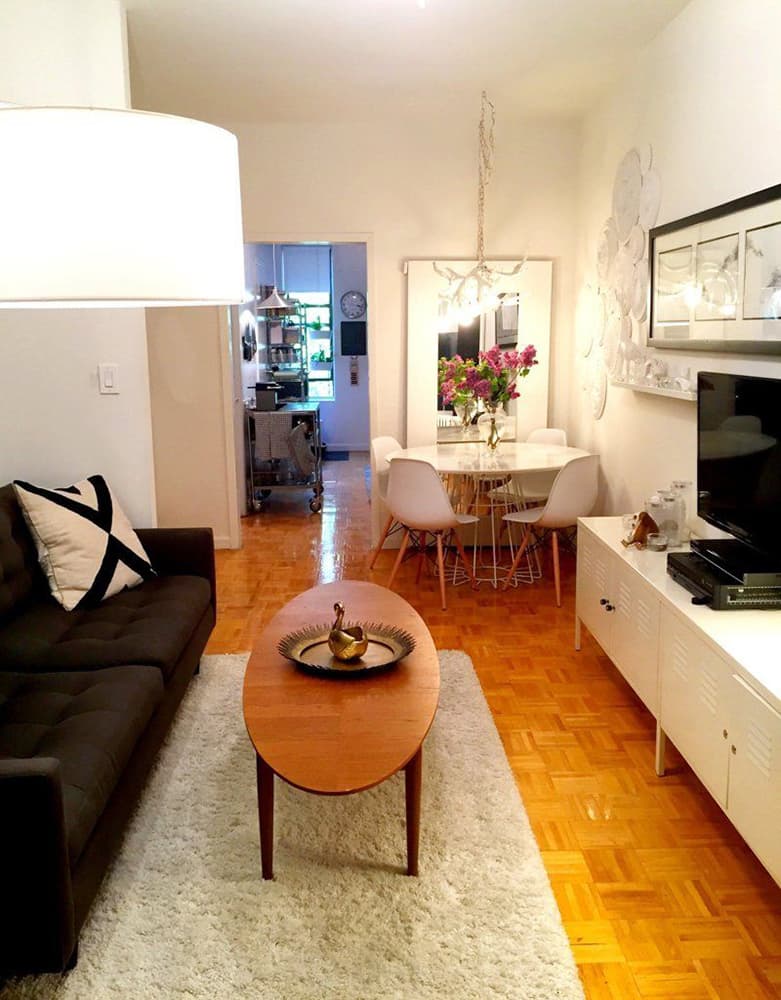 Tiny apartments don't provide you with many decor opportunities to unleash your creativity but that's not necessarily a disadvantage. If you favor a more minimalist aesthetic, it's safe to say that it will be easier to make a railroad-style apartment feel cozy. The right elements can contribute to a pleasant atmosphere in a compact living area. A great example is including a soft area rug like the one shown here. It will certainly boost the coziness of this apartment layout to a new level.
7.

Ceiling Lighting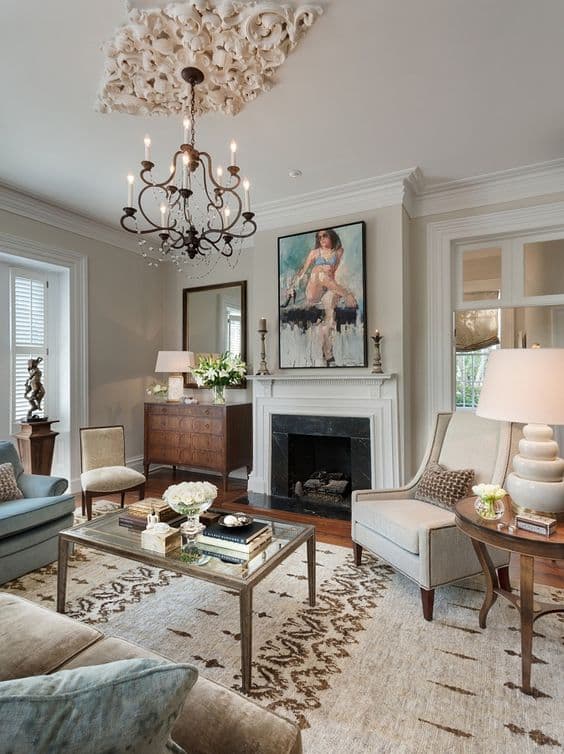 A typical characteristic of the railroad-style apartment is having a tall ceiling. This means you should ideally try to emphasize this feature with the help of eye-catching ceiling lighting. Consider putting up an elegant chandelier if it matches the rest of the room's decor style. Take a look at this crystal glass chandelier on Amazon. This kind of addition won't just create a focal point in the room and emphasize the high ceiling, but it can also provide some much-needed extra light that's quite scarce in railroad-style apartments.