This post may contain references and links to products from our advertisers. We may receive commissions from certain links you click on our website. As an Amazon Associate Rhythm of the Home earns revenues from qualifying purchases.
Share this article:
If you plan to build a swimming pool, selecting the right finish can be considered an essential step. It's not simply a matter of aesthetics because pool finishes can vary in terms of durability and affordability as well. The classic pool finish solution used to be concrete but this is no longer the case given the advancements in swimming pool design. You now have multiple options available to create the most stylish pool that truly matches your needs. Check out the best types of pool finishes available on the market to help you decide on the right one.




1. Standard Plaster





There are multiple types of plaster finishes that have been developed in recent times for swimming pools. Most typical plaster options offer a smooth appearance in shades of white or light gray. The material is crafted from cement and crushed marble. It's designed to provide an elegant pool look without breaking the bank.




Plaster is the most affordable solution for a swimming pool finish but it comes with some notable drawbacks such as being high-maintenance and short lifespan. Standard white plaster is the cheapest option even when comparing it to other types of plaster. The finish offers a very attractive design because it allows you to enjoy the classic swimming pool look with water reflecting its color.




2. Colored Plaster





If you're interested in a lagoon-like feel for your swimming pool, it's worth trying a different color for the plaster finish. Increasingly darker shades of gray or black can be used to enhance the vibrancy of the pool water. Depending on the kind of colored plaster you choose, you might be able to enjoy a more desirable shade of blue for the water. It's recommended to opt for this kind of plaster finish type if you prefer a more dramatic aesthetic with enhanced depth. Many swimming pools can obtain a more organic appearance using dark gray plaster.




3. Exposed Aggregate





Aggregate finishes are more expensive than plaster finishes but come with some solid benefits that helped their great surge in popularity. Aggregate finishes are essentially a considerable upgrade over traditional plaster because they're much easier to maintain while promising excellent longevity. This new generation of pool finishes incorporates small pieces of granite, quartz, or other materials to improve durability and add a luxurious touch of style.




Exposed aggregate types combine concrete directly with pebbles which results in a rough mixture. The pool finish won't be smooth but has a special charm due to its more natural appearance. The lack of smoothness might be seen as a disadvantage by some homeowners but it's actually better for safety reasons. You can count on exposed aggregate pool finishes to deliver increased slip resistance.




This type of aggregate pool finish requires careful manual installation of the mixture containing stylish elements like glass beads or river pebbles. The finish is specially treated with water and muriatic acid to get rid of the first layer of concrete to expose the beads or pebbles. There's a lot of room for customization as you can decide on different color styles or textures. Pebble finishes are generally recommended for rustic aesthetics whereas glass beads appear more modern.




4. Polished Aggregate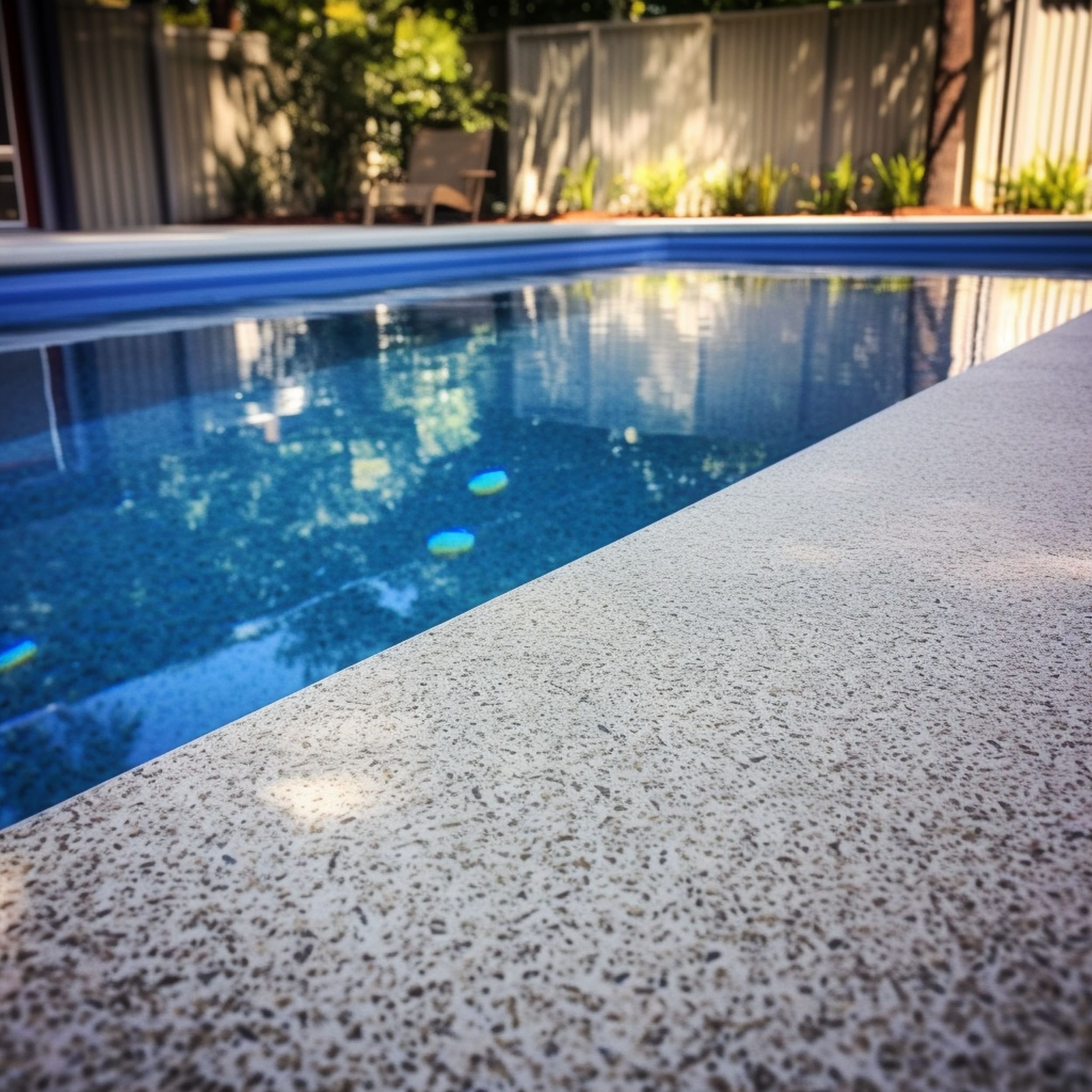 As opposed to exposed aggregate, a polished finish will result in a much smoother pool surface. Crushed color stones are used to provide an elegant appearance but the resulting mixture is also more durable compared to exposed aggregate finishes. When it comes to color stone options, there's plenty of variety to choose from such as marble, granite, and quartz. Polished aggregate finishes are applied by hand as well and require careful polishing to create a shiny surface that shows off the decorative gem flecks.




5. Ceramic and Porcelain Tile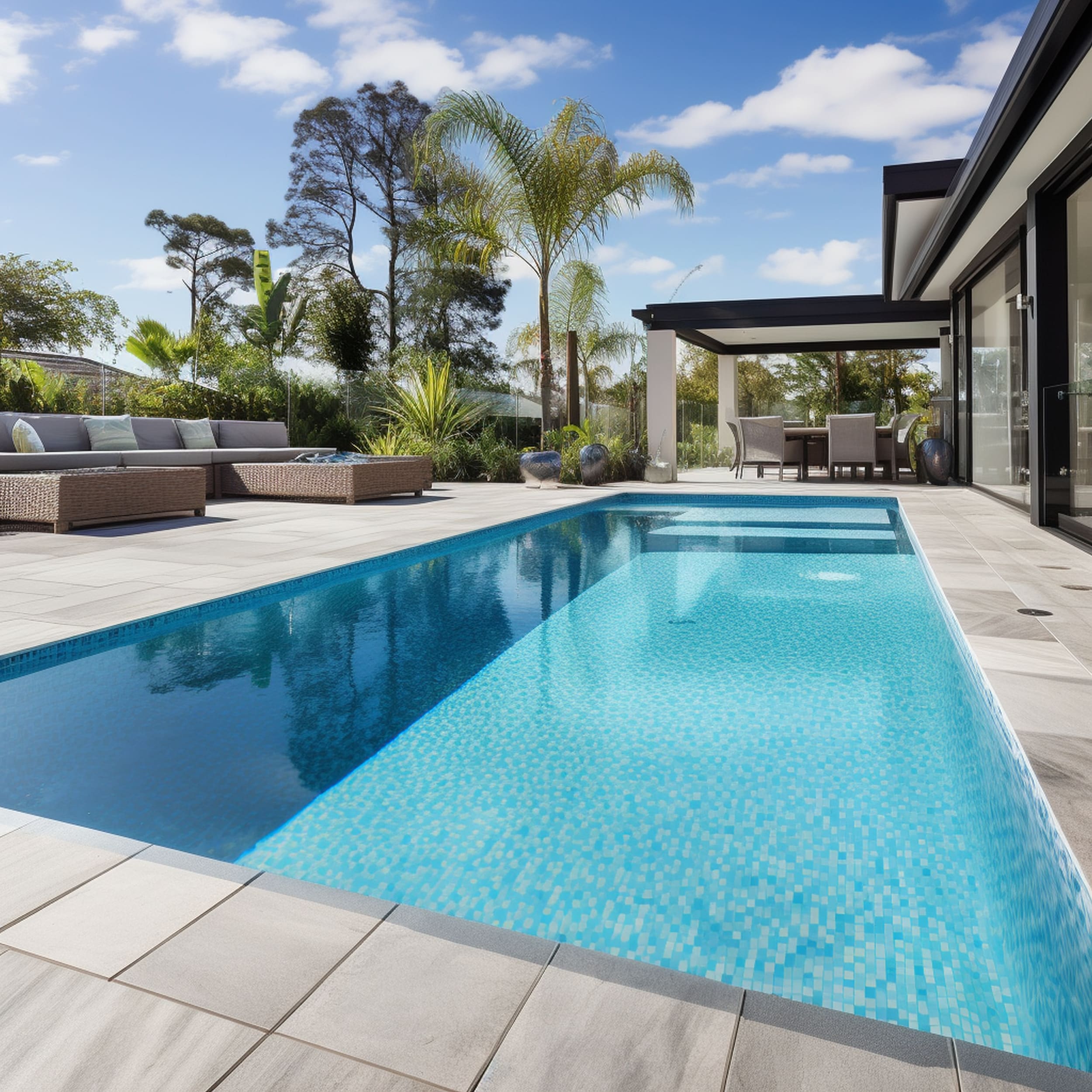 If you're mainly concerned about the durability of your swimming pool, tile finishes are the best to consider. Ceramic and porcelain tiles are commonly used for this type of finish. The tiles aren't just very reliable in terms of longevity, but you can also count on them to add a stylish accent to the pool's surface. The material shows off a characteristic glossy look that seems well suited for swimming pools as it enhances the natural properties of the water.




The main drawback of using a tile finish for your pool is the high cost and more difficult installation. Ceramic and porcelain tiles are more affordable compared to other tiles but they're still expensive compared to plaster or aggregate finishes. Maintaining tiles in perfect condition shouldn't be particularly challenging as long as the installation was done properly. There's no need to worry about resurfacing the pool like you would have to do with other finishes.




In terms of available designs, ceramic and porcelain tiles have an impressive variety to offer. You can make the swimming pool more distinctive by selecting some ornate patterns and more whimsical designs. Bold graphics and motifs can be painted by hand on the tiles but customization will also significantly increase the overall cost of the finish. Textured tile finishes are recommended if you're worried about safety because smooth tiles are easy to slip on.




6. Stone Tile





Whether you select marble, limestone, slate, or another type of stone, it's safe to say that this style of tile finish is ideal to match the natural surroundings of the pool. Stone tiles are typically more expensive than ceramic and porcelain tiles but they bring plenty of benefits to make it worth the cost. The stunning visual appeal represents one of the best features. Stone tiles bring a sense of minimalist luxury that's elegantly paired with modern outdoor design styles.




Stone tile finishes are not as smooth as standard ceramic or porcelain tiles. The rough feel of the stones can help to elevate the atmosphere of the pool making it appear more natural and organic. It can also provide more reliable anti-slip properties. Depending on the type of stone and manufacturer you choose, there are different colors available for this tile finish to personalize the style of your swimming pool to your liking.




7. Glass Tile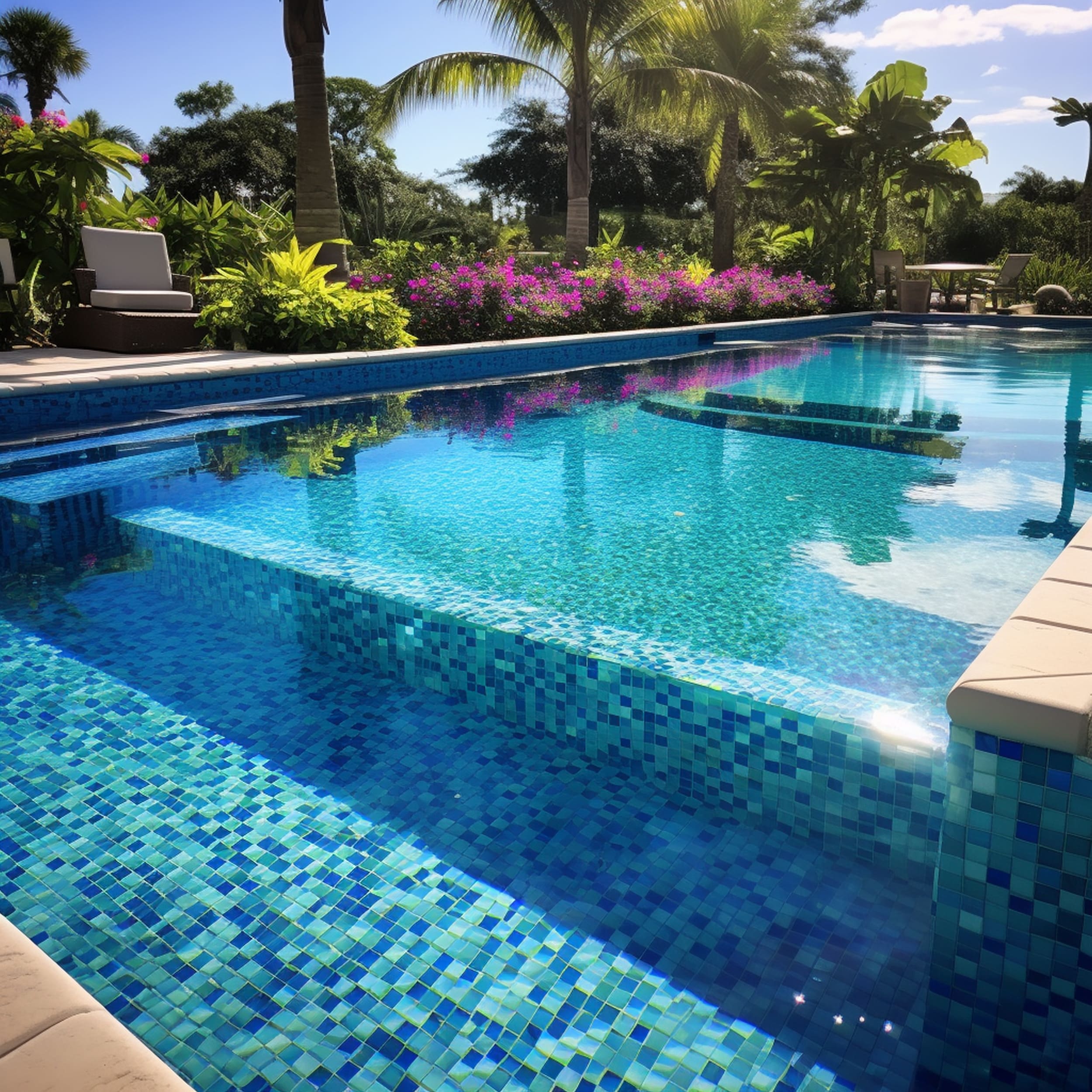 Tile finishes based on glass are very costly but they make up for this drawback through some impressive qualities. This type of tile finish is fully non-porous and virtually requires no maintenance. Glass tile is incredibly easy to clean and highly resistant to environmental conditions such as extreme temperatures and UV sunlight. Colored models retain their look in the sun. It's a breeze to customize the appearance of the water when using glass tiles.
The finish is a top choice in terms of durability and, given normal use, there will never be the need for replacing it. However, you need to be careful because glass tiles can be broken accidentally. Many problems can also arise from improper installation. Aside from its overall resilience, a glass tile finish boasts stunning aesthetic value as well. It's hard for any other swimming pool finish to compare to the mesmerizing sparkle of glass tiles.