This post may contain references and links to products from our advertisers. We may receive commissions from certain links you click on our website. As an Amazon Associate Rhythm of the Home earns revenues from qualifying purchases.
Share this article:
1.

Bring the Festive Halloween Spirit to the Garden
Transforming the garden to fit a spooky Halloween theme can be easily done if you choose the right decorations. It's not enough to give your house a haunted vibe as the front yard and other outdoor areas that surround it should benefit from the same creepy atmosphere. Halloween represents the perfect opportunity to use your creativity and decorate the garden in a spooky manner. There are many interesting ideas out there with varying degrees of applicability as lots of them aren't too practical for most people.
We've analyzed the ideas and selected only the best ones to ensure that you'll create a truly haunted garden with the spookiest decorations. Don't worry about struggling to recreate any one of them as some of them can be quite difficult to manage even for DIY enthusiasts. Use these ideas more as inspiration and add your own twist to the designs and decor pieces until you're satisfied with your custom haunted garden or front yard look.




2.

Graveyard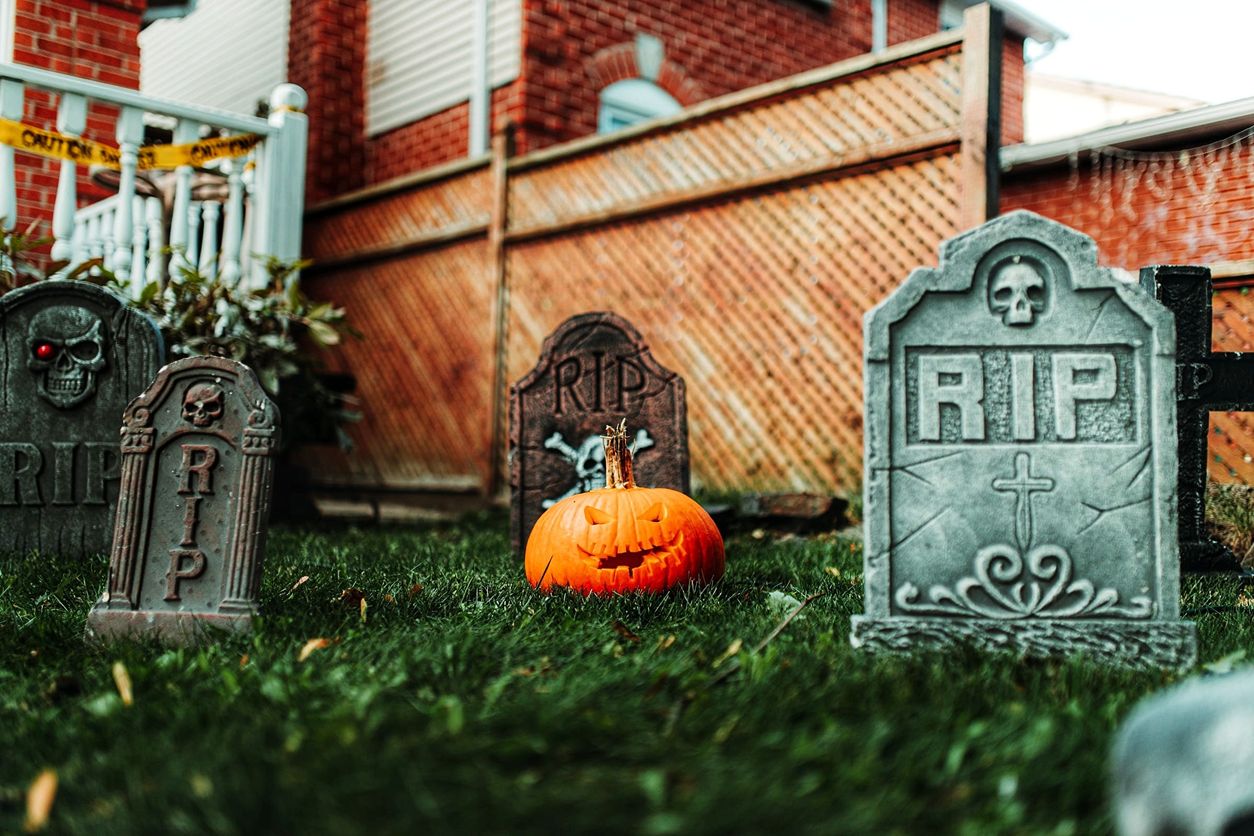 Classic decoration ideas seem to work best when it comes to Halloween. An easy way to make your garden have a spooky atmosphere is by crafting a graveyard décor with the help of skeletons and tombs. While it doesn't look that scary during the day, the display will definitely induce some fear at night. For added visual effect, you might even try to perch skeletons on the funeral stones just to deliver a strong 'rising dead' vibe. Take a look at this realistic-looking plastic skeleton from Amazon to get started with a graveyard project for Halloween.
3.

Living Tree
Trees in your yard provide a great opportunity for creating a spooky decoration. By outfitting the trunk with a face and arms, you can enhance your outdoor décor for Halloween. A ghoulish face makes the tree come to life and will scare some trick-or-treaters. Check out the haunted tree decoration here.




4.

Giant Spiders
Large spider silhouettes are sure to grab the attention of anyone visiting your garden on Halloween. The scare factor is high thanks to the way these decorations will make it look as if your house is visited by wicked monsters. Making these silhouetted decorations is fairly easy if you're a fan of DIY work. You might even try to use the concept and make some abstract-looking ghosts or witches and obtain a similar visual effect.




5.

Zombie Head and Arms
A creepy zombie coming out of the ground sets the stage for any outdoor Halloween décor. Use a set like this one from Amazon that contains zombie head and arms which can be firmly placed in your lawn with the help of integrated stakes. This is quite a spooky decoration that will seem scarier at night to any passing guests.




6.

Snake Wreath
Neighbors will be creeped out by this wreath made up of multiple plastic snakes. To craft this decoration, you start by getting a set of plastic snakes like this one. Focus on getting a diverse assortment of snakes to make a more eye-catching wreath. Then it's simply a matter of weaving them between some twigs in the right shape. Hot glue will be required so the snakes remain fixed to the spooky wreath.
7.

Creepy Sign
A nice decorative detail to include in your Halloween-themed garden is a creepy sign like this one shown in the photo. You don't necessarily need to run to the store and buy a sign when it's fairly simple to make one yourself. Just find a regular blank sign and modify it with some spooky enhancements. Use a cutter tool for the letters and cracks and paint it with a brush for a charcoal texture.




8.

Black Pumpkins
Classic Halloween pumpkin decorations may not feel scary enough for your tastes. If that's the case, consider this sinister twist that makes use of black acrylic or spray-paint to make the grinning jack-o'-lantern faces stand out some more. The black carved pumpkins are a must-have addition to any haunted garden considering the striking contrast between orange and black.




9.

Illuminated Brooms
Crafting a Halloween-themed walkway can be done easily by incorporating illuminated black brooms. These work very nicely for outdoor parties and can certainly contribute to a haunted feel for your garden. This is because the black brooms resemble witches' brooms. Thanks to the addition of fiery orange string lights, you can effortlessly complete the Halloween vibe. The brooms can also be positioned randomly in the garden next to other scary props. Take a look at this Halloween string light set from Amazon to get started.




10.

Spider Web
There's something really creepy about covering everything in a spider web. Getting a quality spider web decoration is highly recommended if you want to enhance the look of your Halloween yard. Regardless of the specific theme you go for, spider webs add some old-school scary vibes to finish off any haunted look. Check out this super stretch spider web from Amazon which can cover flexible areas from 200 square feet to 400 and 800 square feet, depending on the size you choose.
11.

Witches with Cauldron
To get into the spirit of Halloween, your garden can benefit from including some crafty decorations like this display of witches. Together with their boiling cauldron, these witches can work well for various Halloween themes. You don't even have to invest a lot to bring this idea to life. The witches can be built in a more minimalist style with simple items while retaining a great spooky visual effect.




12.

Ghosts
If you're going for a truly haunted garden aesthetic, the best choice is to put your DIY skills to good use and craft a party of eerie ghosts to boost the spookiness of the area. White sheets, thread, and stuffing fabric can be used to create all kinds of interesting ghost decorations for the front yard. For those who feel that it takes too much effort, there are some great decorative sets featuring ghosts that can be purchased. Here's a great example from Home Depot.




13.

Cthulhu Vibes
Monstrous tentacles definitely belong in any haunted garden designed for Halloween festivities. Any trick-or-treater will think twice before stepping into your yard if you include this kind of creative decoration that provides solid Cthulhu vibes. To pull off this look, you need to craft the pieces and try out various positions until you can create the scariest impression.




14.

Hanging Bats
Another great décor element to fit the haunted look of your garden is a spooky hanging bat. We recommended getting one or more sets of hanging bats decorations and placing them all around the yard. This is a high-quality set of spooky bats from Amazon. They're fairly realistic looking and the decorations can be hanged from the trees or used together with other props such as ghosts. Thanks to the integrated red eyes, these bats will create a frightful atmosphere to welcome any trick-or-treater.
15.

String Lights
Twist these Halloween-themed string lights around the porch railing or incorporate them throughout other decorations from the garden to enhance the haunted look with some festive lighting. Check out this set of Halloween lights from Amazon that offers different combinations of jack-o'-lanterns, ghosts, and bats. Each of them comes with custom eerie glows to make your front yard stand out from the rest.




16.

Coffin
Spooky coffins can bring dread to any garden. It's not enough to get a simple coffin and paint it black. Add some details to take the scare factor to a new level. For example, include a hand popping out from the coffin or surround it with a rusty chain. There are many variations to this idea that also include skeleton props nearby to increase the frightful atmosphere.




17.

Mummies
While not as popular as other Halloween decorations, mummy props can definitely scare some trick-or-treaters. One great advantage of this idea is that it takes minimal effort to craft pretty realistic-looking mummies to introduce into your haunted garden. You don't even need to create a complete mummy as one with just half its body does a better job at spooking guests.




18.

Halloween Luminarias
Another excellent idea that involves lighting is to craft some DIY luminarias. You can make these paper lanterns without too much effort and giving them a Halloween twist is only a matter of painting some spooky faces or other creepy designs. While a single luminaria doesn't have a really impressive effect, the visual potency is greatly increased when placing a multitude of them at night.




19.

Candy Bucket
This is a more rustic decoration that can work pretty well for a spooky Halloween theme in the garden. It will make it easier for trick-or-treaters to find their treasure for those times when you don't want to answer the door. Aside from the old metal bucket, you can finish off the arrangement with a little skeleton and some miniature pumpkins. The hay bale backdrop is a nice touch.




20.

Black Crows
Bare-limbed trees will already create a spooky appearance by themselves on Halloween night. A small decorative detail you can add to them is a flock of faux black crows. You can pair the creepy birds with carved pumpkins or other decorations but make sure you avoid going over the top. Remember that trees offer quite a ghostly vibe and the black crows function more as an accent to enhance the overall theme. Check out these realistic crow props from Amazon if you don't feel in the mood for DIY work.
21.

Fake Hands in the Water
If your garden has any kind of water feature like a small pond, this provides an excellent opportunity to craft a truly scary display. Add multiple fake hands at the border of the pond and you'll definitely bring out some serious creeps for anyone coming into the garden. This kind of décor idea works well to contribute to the overall unsettling atmosphere of your yard.




22.

Grim Reaper
While skeletons and ghosts can bring a decent haunted feel for a Halloween-themed garden, the grim reaper remains one of the most visually impressive motifs to include. Take a look at the amount of detail on this spooky decoration. The eerie purple lighting further accentuates the look while the multiple skulls on the chain symbolize the reaper's victims.




23.

Black Cat
This menacing-looking black cat can be easily incorporated into any classic haunted Halloween décor. It can be used nicely for the walkway or can scare off guests when placed in the middle of the yard. You can build this black cat prop yourself from plywood that's been cut after a template and painted. If this decoration seems too simple for your tastes, consider going for an animated inflatable cat that moves its head and needs an electrical connection. Find this decoration on Amazon.
24.

Spooky Pumpkin Creature
Tall and incredibly frightening, this ominous decoration features a wooden frame with black wrap resembling a strange otherworldly creature. The pumpkin head is what makes this a particularly eerie decoration to bring into your haunted garden. To make the display even more disturbing, it's recommended to hide the pumpkin creature under a tree so that Halloween visitors will get a creepy surprise when they notice it.




25.

Bones Wheelbarrow
Although this particular display can seem a bit humorous, it can still have the intended scary effect as well. Place fake bones into a wheelbarrow full of mulch dirt and maybe add some black raven props to complete the decoration. This is a simple yet effective idea that makes use of different elements. It's perfect for those who want a haunted look without forgetting to have fun in the process.




26.

Skeleton Flamingos
A twisted take on the graceful pink flamingo, this Halloween decoration is sure to bring lots of creepy vibes and craft an authentic haunted garden. The ornaments feature stakes to be firmly positioned anywhere on the lawn. Black skeleton flamingos work particularly well for Halloween parties with a pirate theme. Get these cool decorations from Amazon to decorate your garden in spooky fashion.