This post may contain references and links to products from our advertisers. We may receive commissions from certain links you click on our website. As an Amazon Associate Rhythm of the Home earns revenues from qualifying purchases.
Share this article:
Wheelbarrows are classic garden tools designed to do a simple job of moving around debris and help you get through any project faster. While it may seem simple to pick the right model, it's actually a bit more complicated than that given the availability of so many different wheelbarrows out there. They're not all created equally as some wheelbarrows are better equipped for some tasks offering enhanced durability, stability, and capacity. Certain high-end models can get quite expensive, so it's also important to find a good balance between overall capabilities and cost.
This article focuses on reviewing the best wheelbarrows on the market. We've carefully sifted through hundreds of products to discover those wheelbarrows and garden carts that stand out due to their superior qualities and overall cost-effectiveness. If you choose one of these models, you can deal with gardening work more confidently knowing that you make a long-term investment in a quality product. Regardless of the preferred size, materials, and design style, you should discover here a solid wheelbarrow that suits your demands in the most satisfying way.
Best Value Wheelbarrow
Buy On AmazonBuy On WalmartBuy On Home Depot
With the help of its incredible lifting power and versatile transformation from wheelbarrow to dolly, the WORX WG050 is one of the best garden carts to have. Its patented design has been engineered for maximizing the stability even at heavy loads. The tires have been reinforced to remove any worries about constantly having to inflate them. Available in multiple configurations, this wheelbarrow will revolutionize your garden work.
Compared to standard wheelbarrows, this model features an increased performance giving you more than twice the lifting power. Thanks to the special Turbo Lift design, heavy loads will feel much lighter. There are no tools required for assembling the wheelbarrow so you can start putting it to good yard work right away. If you purchase some extra accessories like the snow plow or wagon kit, you can even get more functionality out of this quality wheelbarrow.
Best Four-Wheeled Wheelbarrow
Buy On AmazonBuy On WalmartBuy On Home Depot
Garden carts work similarly like the classic wheelbarrows. The Gorilla Carts GOR4PS is designed for quick unloading of garden debris and offers enhanced durability. Another great advantage of this model is the maneuverability which can be considered superior to traditional wheelbarrows that can get quite unstable when fully loaded. The maximum weight capacity of this cart is 600 pounds.
While loading the garden cart isn't a difficult task most of the time, things can get a bit harder when it comes to unloading. To save you some time, the cart features a patented dump technology to release the contents in record time. Thanks to the 4-wheel design, this model is also much more balanced compared to a classic wheelbarrow. The 10-inch pneumatic tires can handle some rough terrain and the padded handle gives you a good level of comfort.
Buy On AmazonBuy On WalmartBuy On Home Depot
If you're looking for a heavy-duty garden cart, check out the Gorilla Carts GOR6PS. This unit does a much better job compared to a regular wheelbarrow mostly thanks to an enhanced steel frame and robust bed. The full capacity of 1200 pounds makes this a reliable helper in the garden. Don't worry if it becomes too heavy to pull by hand as you can also attach it to a tractor.
Similar to the GOR4PS cart, this unit has a capable quick-release dumping system to speed up the cleanup of your yard after any project. Aside from some extra durability and increased capacity, another important enhancement of the GOR6PS model is the bigger size of the tires. Measuring 13 inches, the wheels will be able to glide quite smoothly through the garden. The handle is convertible making maneuvering the cart a breeze.
Best Two-Wheeled Wheelbarrow
Buy On AmazonBuy On WalmartBuy On Home Depot
Those searching for a capable two-wheel wheelbarrow should check out the Marathon Yard Rover. Crafted with special attention to ergonomics, this model will allow you to breeze through all kinds of projects around the house. It can haul a maximum of 300 pounds offering a reasonable level of balancing and overall maneuverability. The cost is fairly attractive as well.
A good wheelbarrow needs to provide a decent lifting power while making it effortless for the user to handle the weight. This model is well designed in that regard allowing even those who don't have a lot of strength to move around heavy loads. Some of the materials that can be tackled by this wheelbarrow are topsoil, rocks, and other yard debris. Great all-around size and functionality, the Marathon Yard Rover has an excellent value for the cost and that's why we recommend it.
Buy On AmazonBuy On WalmartBuy On Home Depot
Another dual-tire wheelbarrow to consider comes from Best Choice Products. This model is built with a tough combination of steel, polyurethane, and rubber to make it a dependable addition in your backyard. While other models can be quite hard to push and pull, this wheelbarrow features some enhanced comfort thanks to the included padding on the handle. The heavy-duty construction can handle a maximum weight of 265 pounds and the compact build makes the wheelbarrow storage friendly.
If you choose a two-wheel model like this one, you can definitely avoid spills and other stability issues that can be common with single-wheel wheelbarrows. The large 13-inch tires also feel quite dependable regardless of surface type. If you need to carry a heavy load, the spacious 5-cubic-foot construction represents a welcomed feature. It will help you reduce the number of trips for finishing various projects.
Buy On AmazonBuy On WalmartBuy On Home Depot
Anyone who's in the market for a solid utility cart should take a close look at the Polar Trailer 8376. It stands out compared to an old-fashioned wheelbarrow due to its uncompromising hauling performance. The large wheels are built with durability in mind and the load capacity reaches 400 pounds. You can fit any kind of garden debris in the spacious area of the polyethylene tub.
The wheelbarrow is crafted using high-impact polyethylene which is both robust and amazingly lightweight. As opposed to other materials, the tub isn't as susceptible to cracking and other long-term usage issues. Most wheelbarrows can get very hard to balance when you're hauling a lot of debris but this model's centered axle should keep it safe and stable. The 20-inch spoked wheels are virtually flat free promising smooth operation for all kinds of surfaces.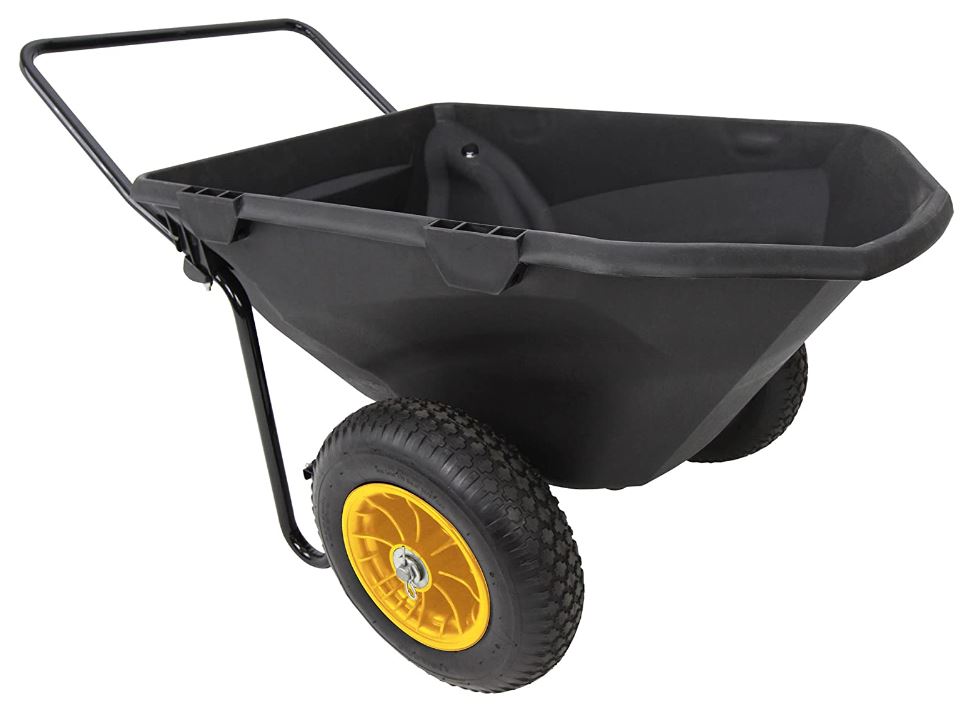 Buy On AmazonBuy On WalmartBuy On Home Depot
Polar Trailer makes some of the best wheelbarrows on the market. The 8449 model is versatile and rugged enough to withstand the test of time. This hauling cart is designed for carrying leaves, firewood, camping gear, rocks, and other items that need to be moved around. When empty, the cart feels quite lightweight at 35 lbs. while the maximum carrying capacity goes up to 400 lbs.
Designed from high-impact polyethylene, the wheelbarrow seems strong enough to handle more difficult projects. The wide rubber tires also feel more dependable compared to the competition. We like the ingenious design of this model which provides an optimal level of balance regardless of load weight. The tough powder coated steel frame also contributes to impressive stability overall. Taking everything about the Polar Trailer 8449 model into account, it's safe to say that this is a winner on the market for wheelbarrows.
Best Budget Wheelbarrow
Buy On Amazon
Dual-tire wheelbarrows are usually better options compared to the classic models that have only one wheel. If you wish to get your hands on an inexpensive dual-tire unit, check out the Garden Star from Marastar. It's a breeze to assemble and is designed for light duty hauling. You don't always need to move around lots of heavy items and debris so that's why this small wheelbarrow could be an ideal solution.
This is a decent wheelbarrow for beginners who don't have high demands in terms of haul capacity and durability. It can be a superior option for lots of projects where it would be too cumbersome to rely on a larger wheelbarrow. Pushing and pulling this wheelbarrow can be done easily and the dual-tire design remains stable even at full load. Simple to assemble and providing decent value for the money overall, the Marastar Garden Star deserves a spot on our list.