This post may contain references and links to products from our advertisers. We may receive commissions from certain links you click on our website. As an Amazon Associate Rhythm of the Home earns revenues from qualifying purchases.
Share this article:
Anyone who wants to improve their Easter home decor should consider making use of beautiful spring-blooming plants and stylish floral arrangements. A fresh touch of nature could be exactly what's missing from your Easter dinner. There are lots of traditional Easter plants out there that can be easily included in your home without spending a lot of money and effort. If you want to get creative, you can also combine different plants together resulting in more striking floral arrangements to suit any mood. Check out the most inspirational ideas worth trying to incorporate Easter flowers and arrangements into your home decor.




1. Tulip





Tulips fade quite rapidly but have a lot of floral beauty to display making them ideal for this time of the year. The shape of a tulip's bloom seems to resemble an egg which contributes to the flower's Easter appeal. Consider opting for potted tulips to keep indoors if you're worried about a late frost that might damage outdoor bulbs. Colorful bouquets of cut tulips could be a solid option as well to create a stylish decorative arrangement.




2. Iris Flower





Iris is a perennial plant that features elegant stems decorated with vibrant blooms, typically purple or white. They typically start their blooming period right around Easter. Whether you select a few cut irises to enhance table decor or use potted plants, this is a stunning floral choice. Thanks to its distinctive flower shape, this plant works like a charm in spring arrangements in need of textural detail.




3. Easter Lily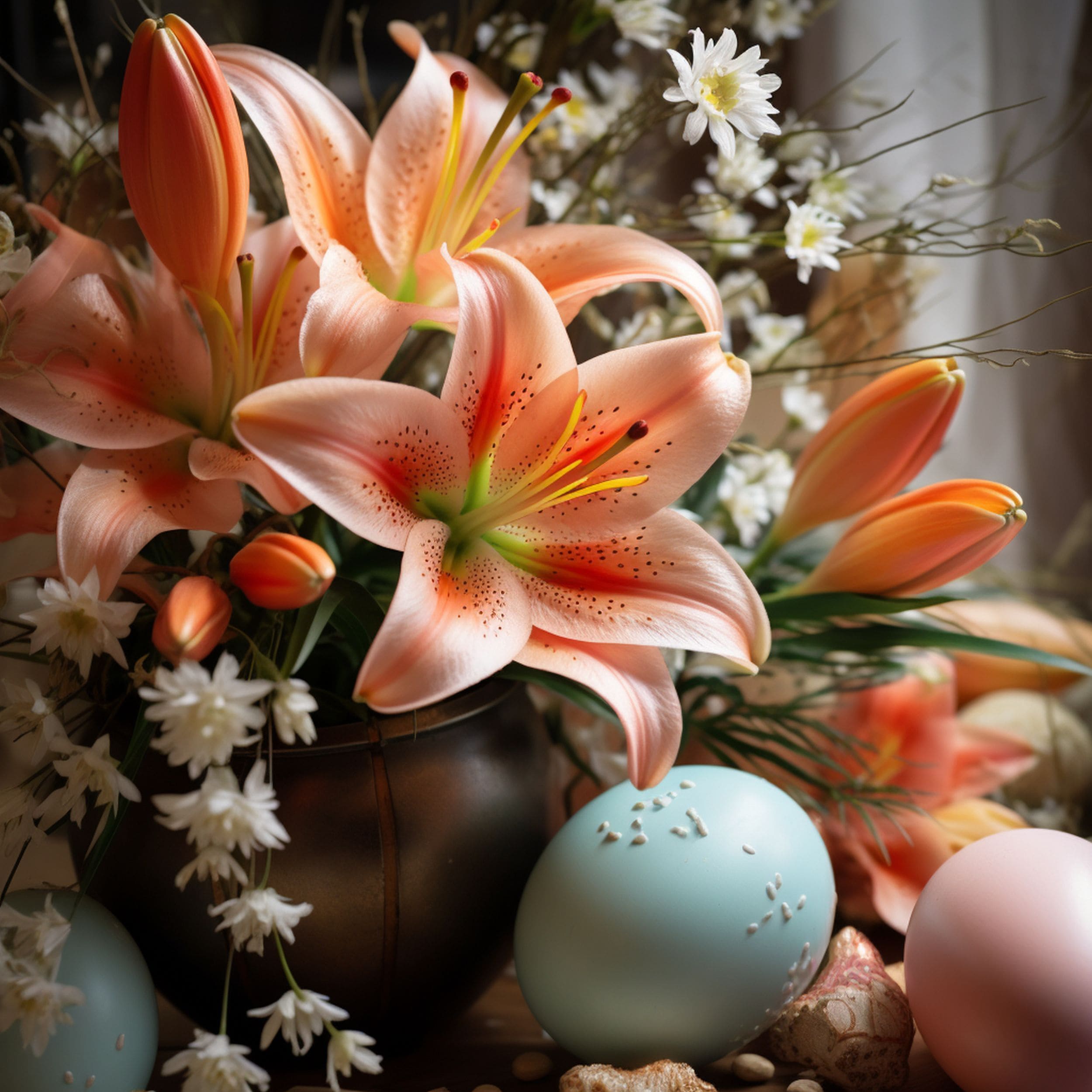 Given the fact that it has "Easter" in its name, it's safe to say that this lily flower represents a suitable pick for this popular spring event. The Easter lily earned its name by becoming associated with the resurrection of Christ. The characteristic trumpet shape of its blooms makes the flower a symbol of purity and hope. Another great feature of an Easter lily is the amazing fragrance that can fill the air with a sense of freshness when grown indoors.




4. Hydrangea Flowers





With a spectacular range of colorful shades and large blooms, hydrangeas deserve to be featured in any Easter flower arrangements. These plants tolerate some amount of shade pretty well and can bloom continuously from spring throughout summer. Hydrangeas work perfectly as decorative shrubs to add to the garden because they develop impressive snowballs of flowers. Even if you only manage to get cut flowers, hydrangeas bring a solid Easter vibe anywhere.




5. Daffodil Flowers





The appearance of daffodils will often signal the end of dreary winter days. These flowers boast a cheerful look thanks to their yellow flowers that work perfectly in any Easter arrangement. If you're aiming to decorate your home and lift your mood at the same time, daffodils can fill any space with their brightness. The sunny head of a daffodil can last for approximately one week indoors in a vase.




6. Cyclamen Flowers





Able to decorate any space with Easter egg colors, cyclamen is a recommended choice if you're searching for a prolific potted plant. Heart-shaped flowers appear for a long time but only if you take good care of them. Encouraging new blooms is essential for cyclamen. It's best to provide the plant with consistent levels of moisture and sufficient direct light. Cyclamen is a spring bloomer that could be ideally offered as an Easter gift due to its association with love and sincerity.




7. Azalea Flowers





Potted azaleas bring a natural touch of greenery to any Easter tablescape. As opposed to other spring-blooming shrubs, azaleas tend to start displaying their flowers quite early. You will be delighted by the impressive range of colors available. You can grow indoor azaleas in various shades from snow white to vivid pink. Although sun exposure helps new blooms, you should avoid keeping your azalea in full sunlight during the blooming period.




8. Easter Cactus Flowers





Cacti may not seem like the first option to consider when you're looking for an Easter flower. Thanks to a wide assortment of bloom colors, the Easter cactus can easily stand out as a festive decoration. The name of this cactus type comes from its ability to bloom in the spring. It's somewhat similar to the Christmas cactus as the plant earns its name due to the period when flowers appear.




9. Gerber Daisy





Easy to grow either as perennials or as annuals, depending on the climate, Gerber daisies show off charming looks to elevate the style of your Easter table. They perform well when potted but you can also take advantage of their short-lived beauty when using cut daisies in a vase. In terms of color variety, this flower can display a gorgeous palette of pinks, yellows, oranges, and others. It's a cheerful pick for spring-themed bouquets and arrangements.




10. Hyacinth Flowers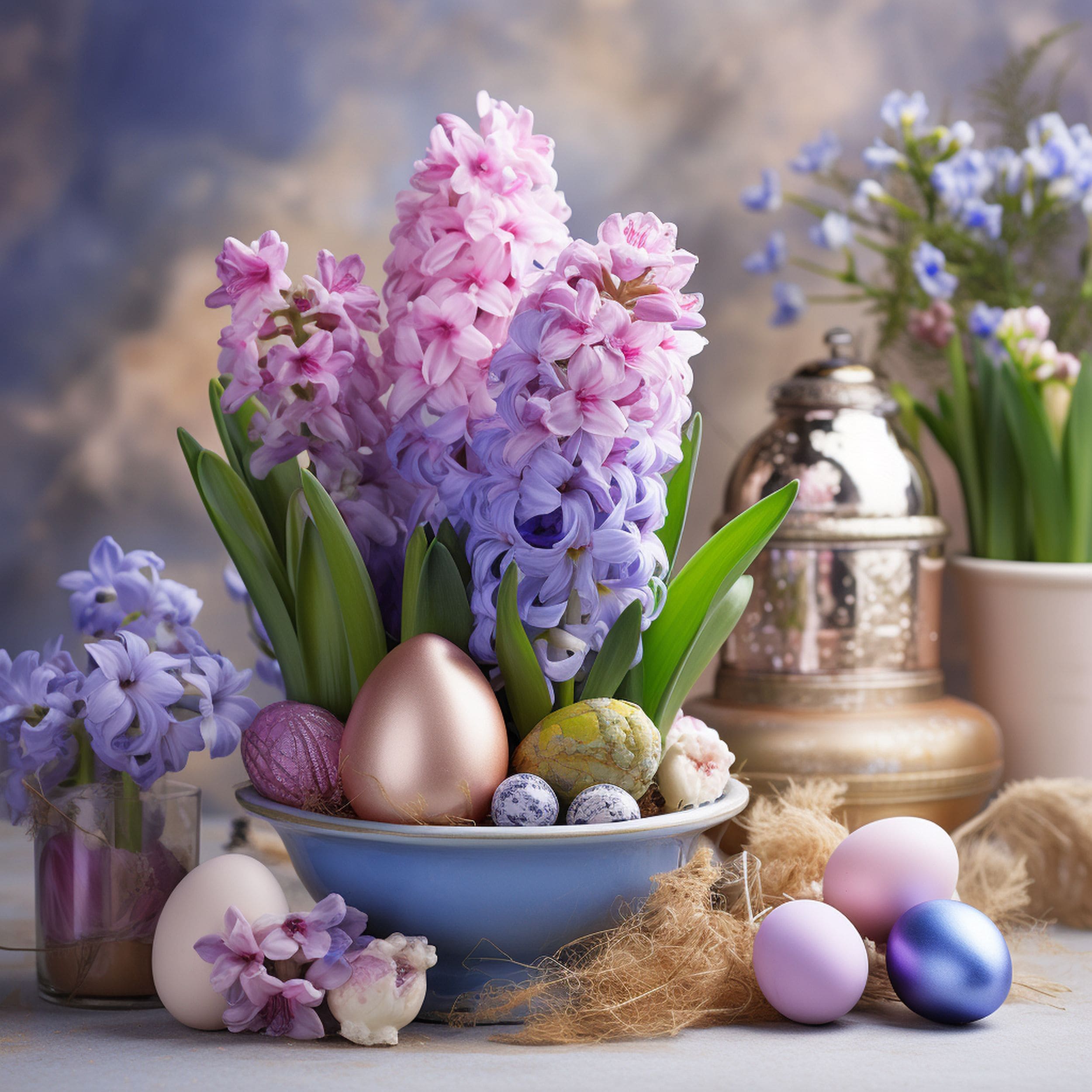 If you're interested in Easter flowers that offer a strong fragrance, you can't go wrong with hyacinth. The plant blooms later than other spring flowers but its distinctive aroma makes it stand out anywhere. Hyacinths can add plenty of visual charm as well, especially when used as lovely potted plants on the Easter table. You should consider planting the bulbs once the blooms fade away because hyacinth's natural resilience can allow it to return year after year.




11. Hellebore





Often called the Christmas rose, the hellebore plant can also bloom in early spring in some climates. Flowers may appear even during the winter when they can decorate the gray landscape with exotic-looking blooms. Although hellebores feature great cold hardiness, you can also keep them indoors as elegant houseplants. If you decide to plant them in a shady yard location, you might be surprised to see how they can thrive for years.




12. Mini Egg Topiary Easter Flower Arrangement





Want to create a memorable floral arrangement that suits the Easter festivities? Consider this DIY project that incorporates wooden craft beads and faux boxwood. The beads are glued to create the realistic look of a mini egg topiary plant. For an extra green touch, consider adding preserved green sheet moss to the pot. Overall, this is a simple yet highly effective arrangement to decorate the Easter table.




13. Enamelware Colander Flower Arrangement





If you're aiming for a rustic touch on an Easter flower arrangement, try using an enamelware colander instead of a regular vase. This could be a perfect solution to create a stylish kitchen display with colorful floral touches. Focus on matching the rustic theme of the vessel by opting for a selection of greenery like tomatoes, kale, and oregano to feature alongside more elegant blooms.




14. Mason Jars Flower Arrangement





When it comes to farmhouse-inspired Easter flower arrangements, you can't go wrong with a metal milk carrier. Instead of glass bottles, you can use Mason jars that bring some extra style to the display. Whether you use a single type of flower or combine different ones together, it's safe to say that you will be able to impress your guests at the Easter table. If you're worried about blooms not standing upright properly, consider taping the mouths of the jars to adjust the angle of the stems.




15. Baby's Breath Flower Basket





Baby's breath is typically used as a filler in floral arrangements but there are ways to make it the centerpiece of your decorative display. The plant is highly recommended to elevate the look of an Easter egg basket with a touch of greenery. A simple plume of baby's breath is more than enough to accentuate the pastel beauty of these colorful eggs. It brings a rustic vibe while appearing suitable for modern Easter decor styles as well.




16. Outdoor Display Flower Arrangement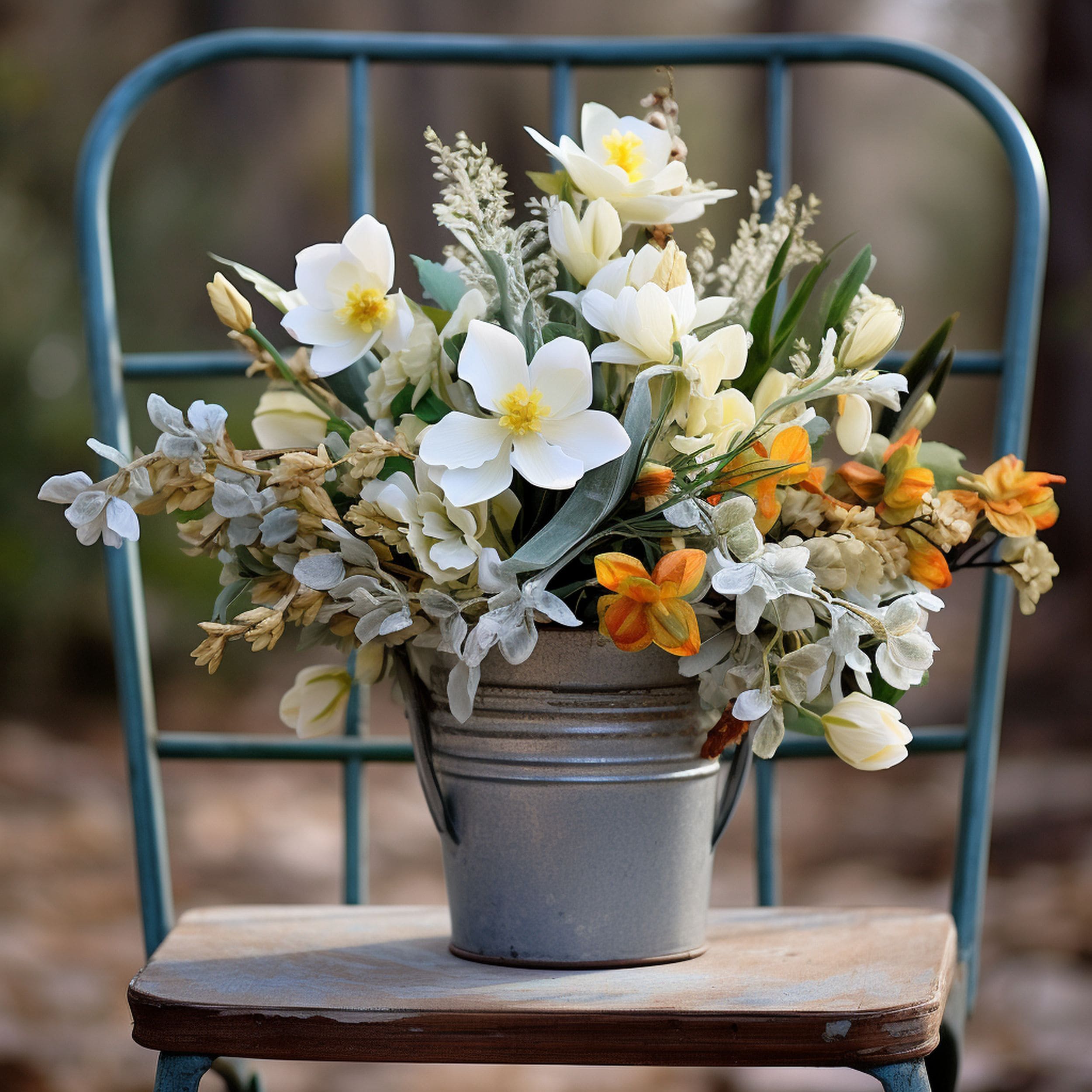 Planning to hold the Easter party outdoors? An arrangement focused on large and vividly-colored blooms could work like a charm, especially if you use a more rustic vessel to display them. Galvanized buckets might feel a little casual for some events but they feel quite charming for cozy Easter gatherings. The metal construction brings a welcomed contrast with the colorful flowers ensuring that you create a brunch centerpiece with minimal effort.




17. Jelly Beans and Tulips Easter Flower Arrangement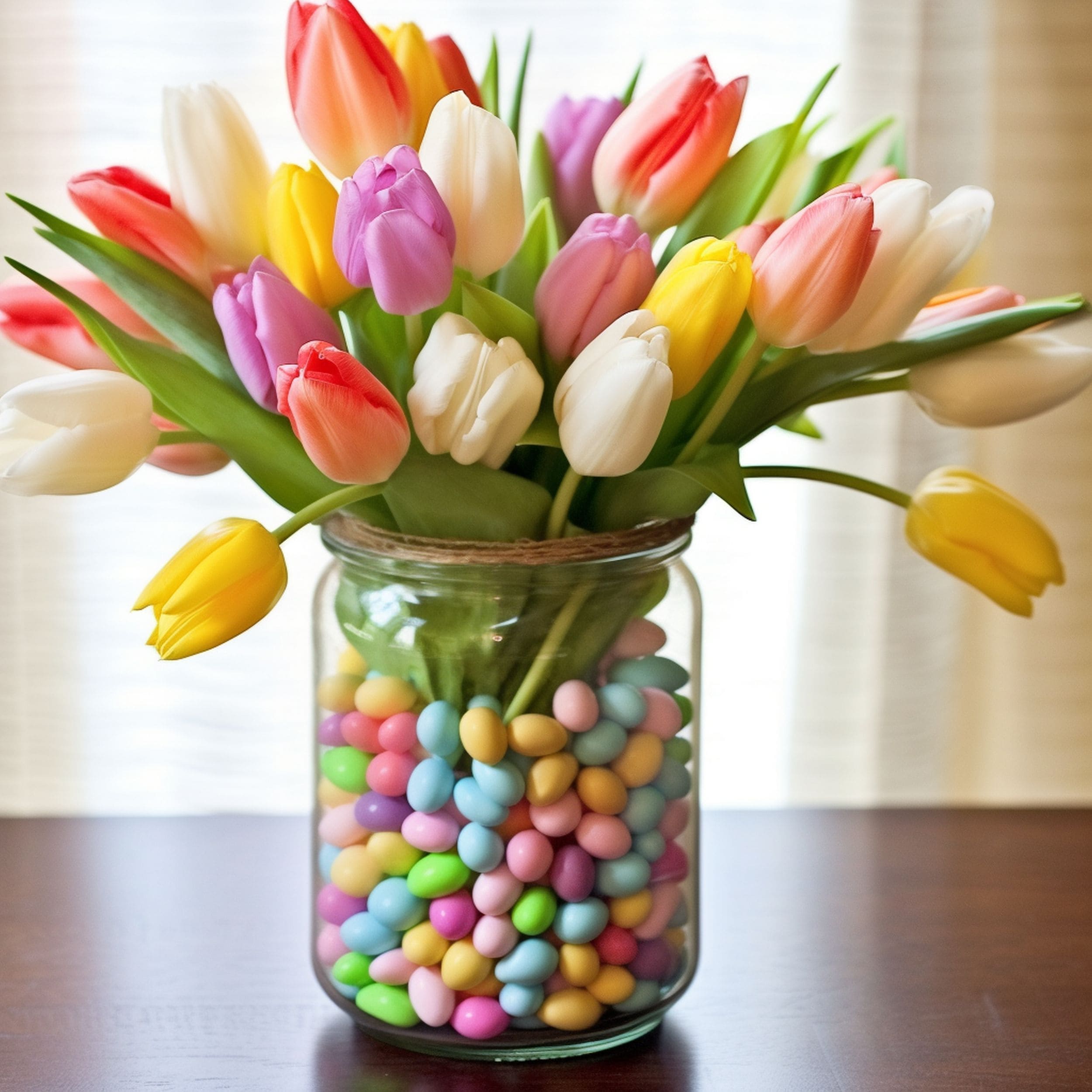 Whether you want to decorate the kitchen countertop or make a statement in the entryway, this floral arrangement could be a very colorful solution. Pastel-toned jelly beans appear like mini eggs while complementing the beauty of multi-colored tulips. It's a flawless Easter display that feels fresh and distinctive. The best part is that it's quite affordable to create using an assortment of cut tulips, two bags of jelly beans, and a basic glass container.




18. Eclectic Mix Easter Flower Arrangement





Flower arrangements that incorporate more eclectic options such as wild plants or vibrant color mixes can help to make your Easter brunch stand out. Anyone can combine some fresh spring flowers together but a truly eclectic vibe needs to take into account the surrounding decor style. Focus on matching the look of elements such as the table runner or plates. Pay attention to the overall color scheme and small details when blending colorful blooms together in an eclectic mix.




19. Vintage Tea Kettle Flower Arrangement





Don't miss out on the opportunity to incorporate your favorite vintage pieces in your Easter decor theme. A rustic tea kettle can be given a new purpose as a decorative vase for a striking flower arrangement consisting of geraniums and poppies. Enhance the appeal of the blooms by painting the vintage kettle with some decorative patterns. This helps to integrate it better with other decor pieces and cement its new role as a stylish rustic vase.




20. Cake Stand Display Easter Flower Arrangement





There are lots of creative ways you can use to display your flower arrangements. Instead of using a typical vase, you can simply remove the stems and only showcase the blooms on a decorative cake stand. Despite the simplicity of this idea, you can count on this arrangement to become a reliable Easter table centerpiece. Peonies or any other flowers with big and detailed blooms work ideally to make the most out of this arrangement style.




21. Flower Arrangement With Cabbage Leaves
Consider using vegetables such as cabbage and brussels sprouts to give a fresh spin on classic Easter floral arrangements. Although this feels like a pretty bold idea, it's fairly easy to execute and can result in a stunning centerpiece. Cabbage leaves are used to wrap a small vase or jar while brussels sprouts bring an extra green touch to the delicate lavender tones of the roses. Complete the arrangement with hydrangeas and other herbs for a stylish spring vibe. Take a look at the DIY tutorial to craft this Easter flower arrangement.