This post may contain references and links to products from our advertisers. We may receive commissions from certain links you click on our website. As an Amazon Associate Rhythm of the Home earns revenues from qualifying purchases.
Share this article:
If you're looking for a way to make your bathroom more stylish, you need to consider waterfall tile designs. The shower area can take advantage of a solid visual upgrade if you choose a more creative design that adds a sense of unique character. This is exactly what a waterfall tile style can do. As its name suggests, this tile design keeps a spa-like atmosphere even when the shower isn't running thanks to the waterfall accenting typically positioned vertically near the shower head. Waterfall-tiled shower layouts were popular in Roman-style bathrooms. You can enjoy a similar visual effect by trying out some of these inspirational ideas that feature waterfall tiles.




1. Pebble Design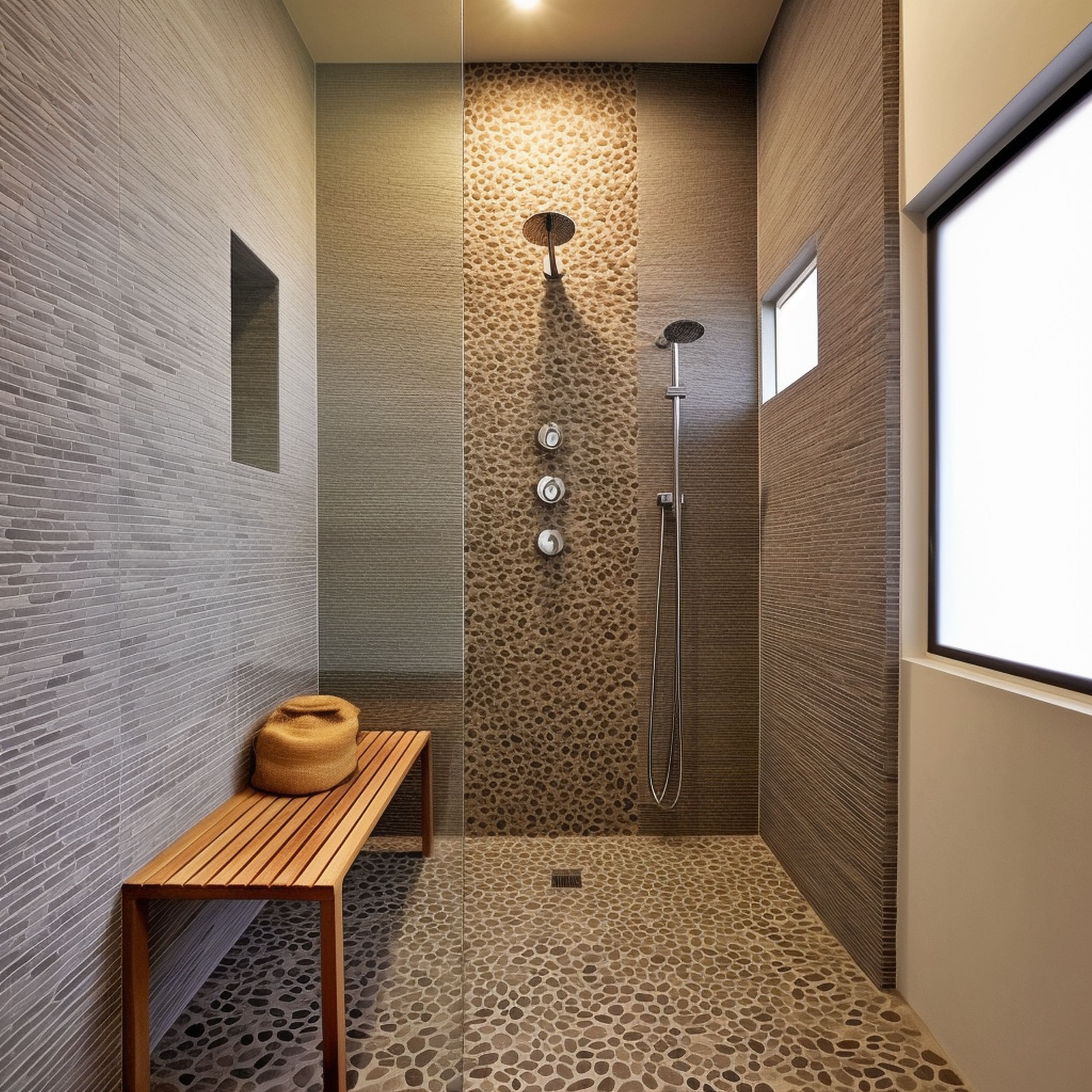 To add an extra touch of elegance to your gray-tiled shower, consider using a pebble waterfall design. The vertical strip of stylish pebbles will be able to highlight a specific feature like shower controls or the shower niche more effectively. As opposed to other materials, these attractive pebbles can also provide a textural effect to contrast with the style of the tiles surrounding the waterfall strip.




2. Horizontal Style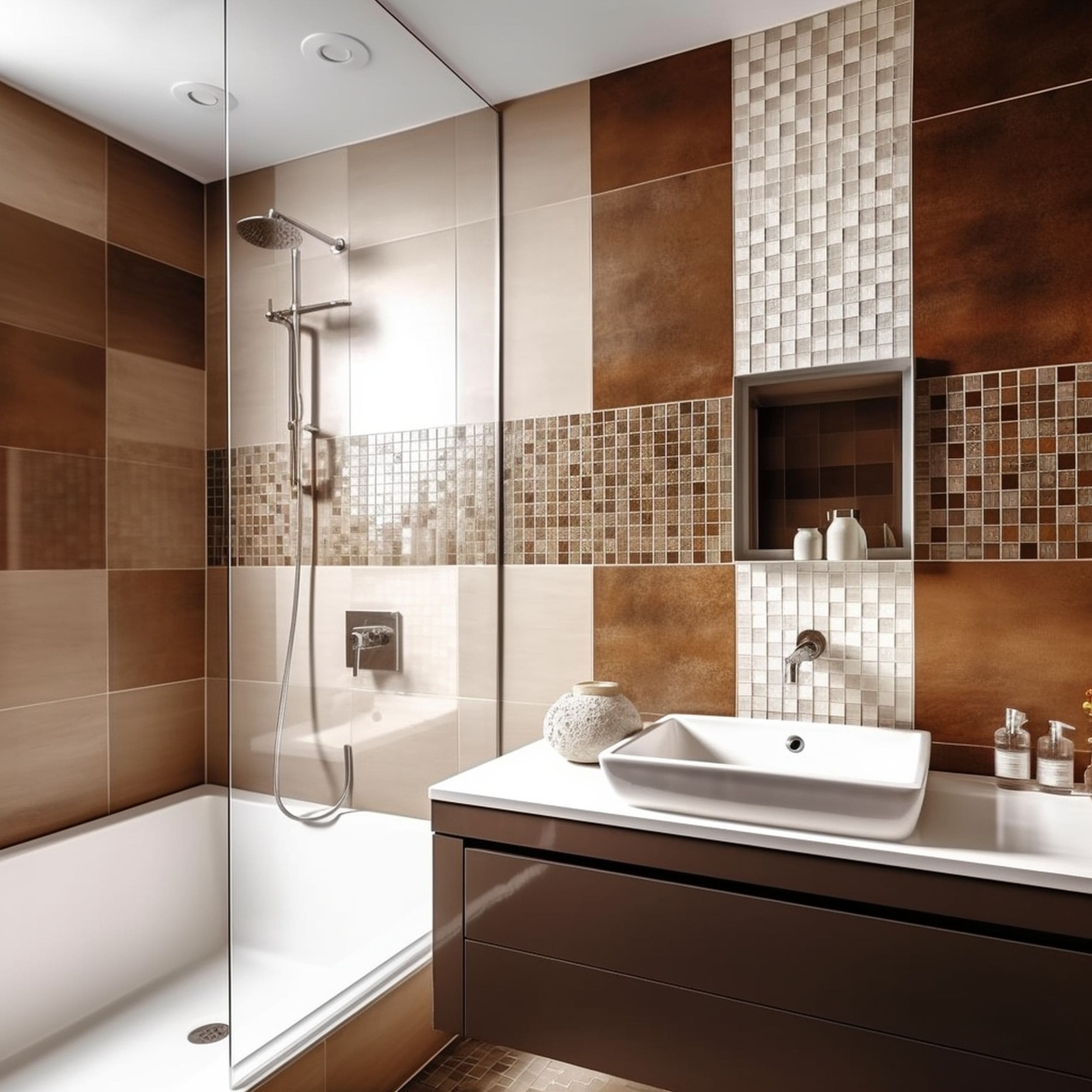 The idea of a waterfall tile is to make an area stand out from the rest of the shower's design. It typically does so through the use of a vertical waterfall effect. However, it's also possible to incorporate a horizontal design to add some fresh style to the shower area. Some tile designs can even refresh the visual appeal of the entire bathroom like in this example. It's the perfect solution to highlight a shower niche.




3. Blue Strip





A blue waterfall tile design works like a charm for classic white showers. You can make the atmosphere more calming by simply highlighting a portion of the wall with a colorful waterfall tile strip. Although other colors can achieve a similar contrasting visual effect, blue seems like a more versatile option. It suits most bathroom aesthetics well, including coastal-inspired ones.




4. Mix of Different Shapes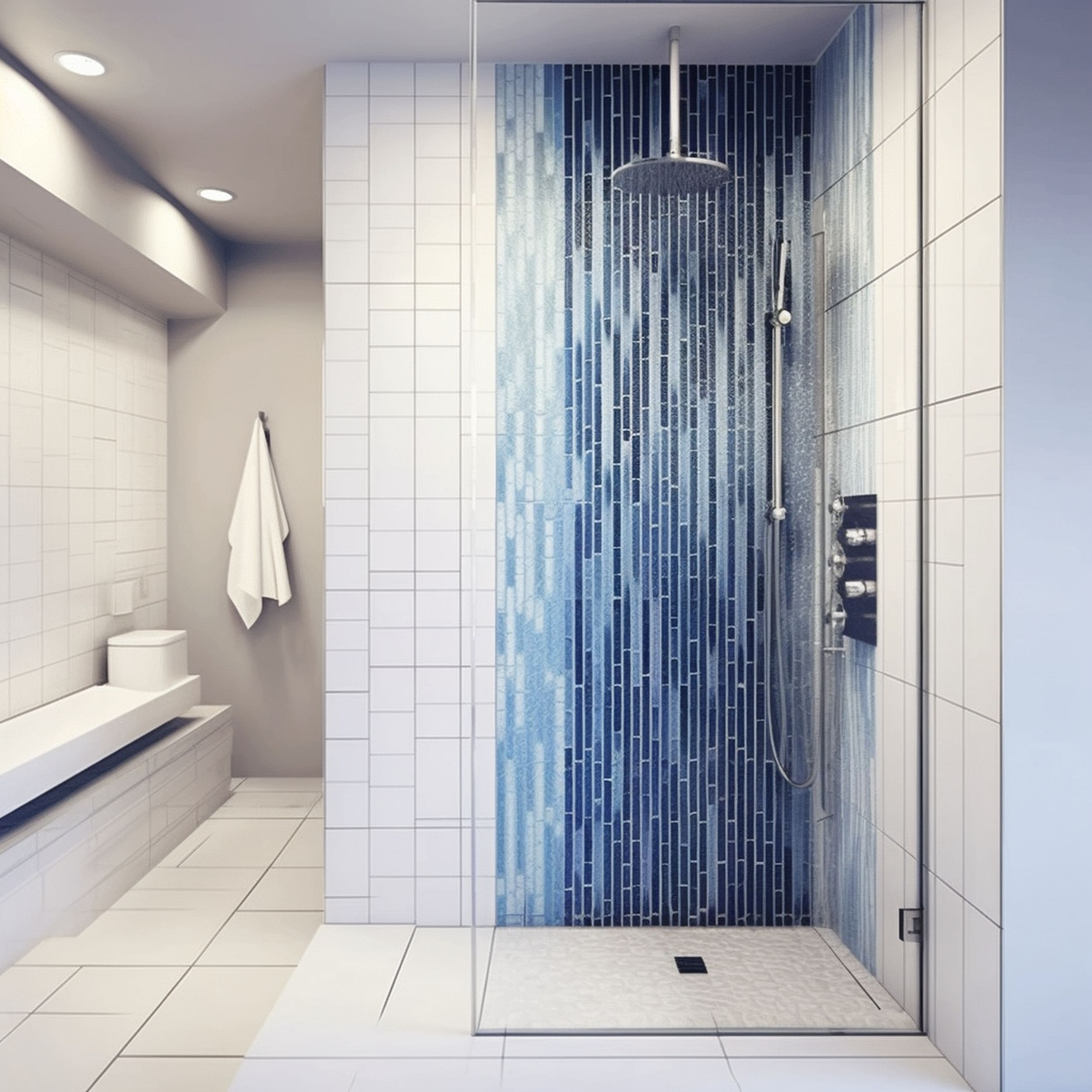 To create an authentic waterfall effect, tiles are typically placed vertically in a way to mimic the flowing of water. Although it's recommended to match the tile color and texture elsewhere in the bathroom, there's no issue if you decide on including tiles with different shapes or orientation styles. As opposed to the white square tiles, the blue waterfall strip relies on thin rectangular strips to grab more attention.




5. Playful Waterfall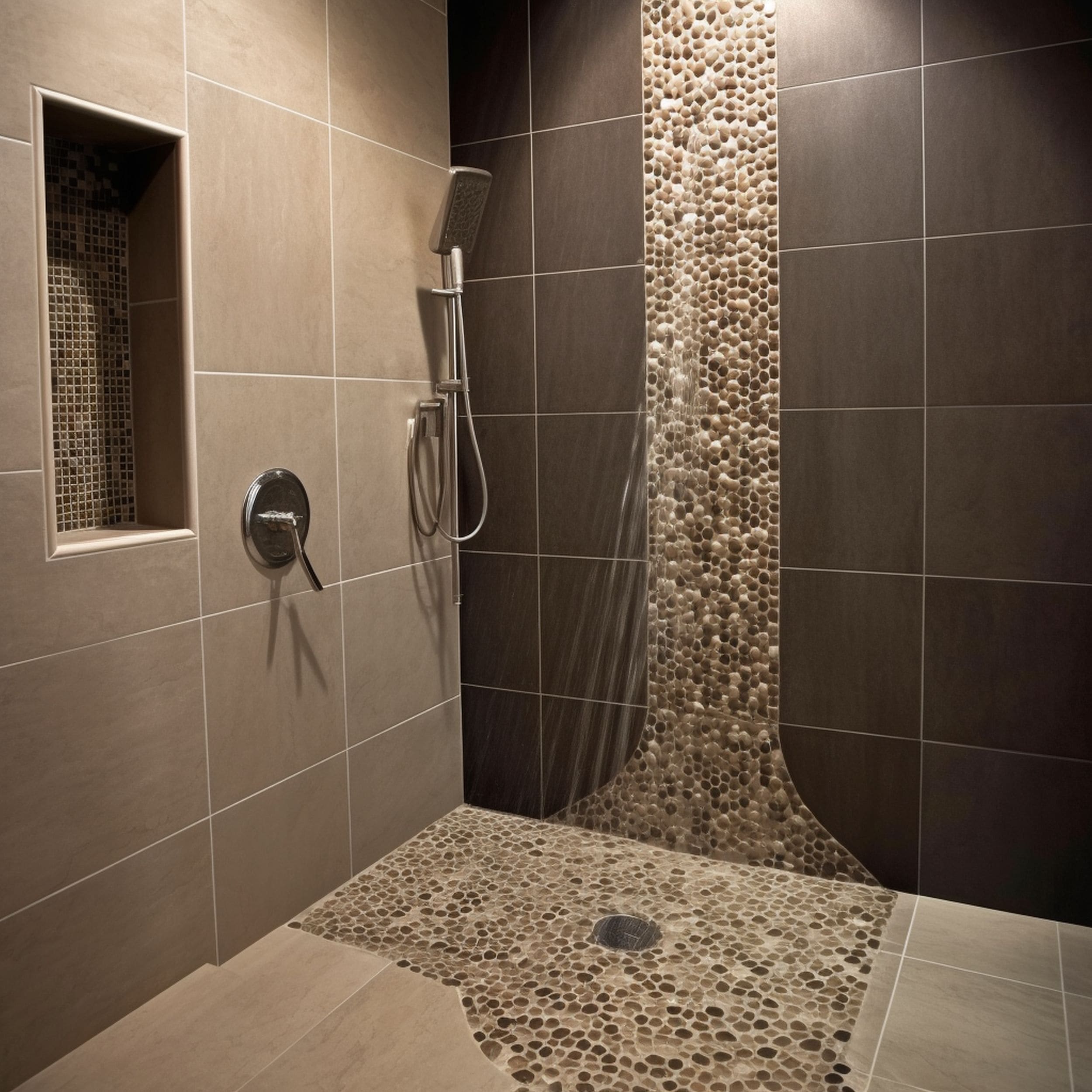 Most tile strips in the shower will typically just suggest the idea of a waterfall but some designs take the concept even further. In this example, pebbles decorate the shower tile in a playful cascading design ending up on the floor. It appears as if the pebbles quite literally flow down liquid-like to resemble a waterfall. This is quite a bold design so it's best to stick to a generally neutral color scheme to avoid strong clashes with the waterfall pattern.




6. Dual Strips





A layout that incorporates two strips of waterfall tiles could be worth trying to spice up the look of the shower area. It's especially recommended to opt for this design approach when you wish to highlight the shower fixtures or a niche in the wall. In that case, using contrasting colors might work ideally to elevate the appearance of the waterfall tile designs. Dark tones on a backdrop dominated by light shades can make the tile layout stand out. It's also a good idea to combine horizontal and vertical tile arrangements in the waterfall strips.




7. Monochrome Style





You don't need a bold color scheme to show off a stylish waterfall tile shower design. Check out this classic white-and-black bathroom that uses gray accents to add some fresh style. A notable element is the dark gray waterfall design which contrasts strongly with the light gray tiles in the shower. To keep the monochrome color palette from appearing too boring, the waterfall style focuses on eye-catching line patterns displayed vertically.




8. Mosaic Charm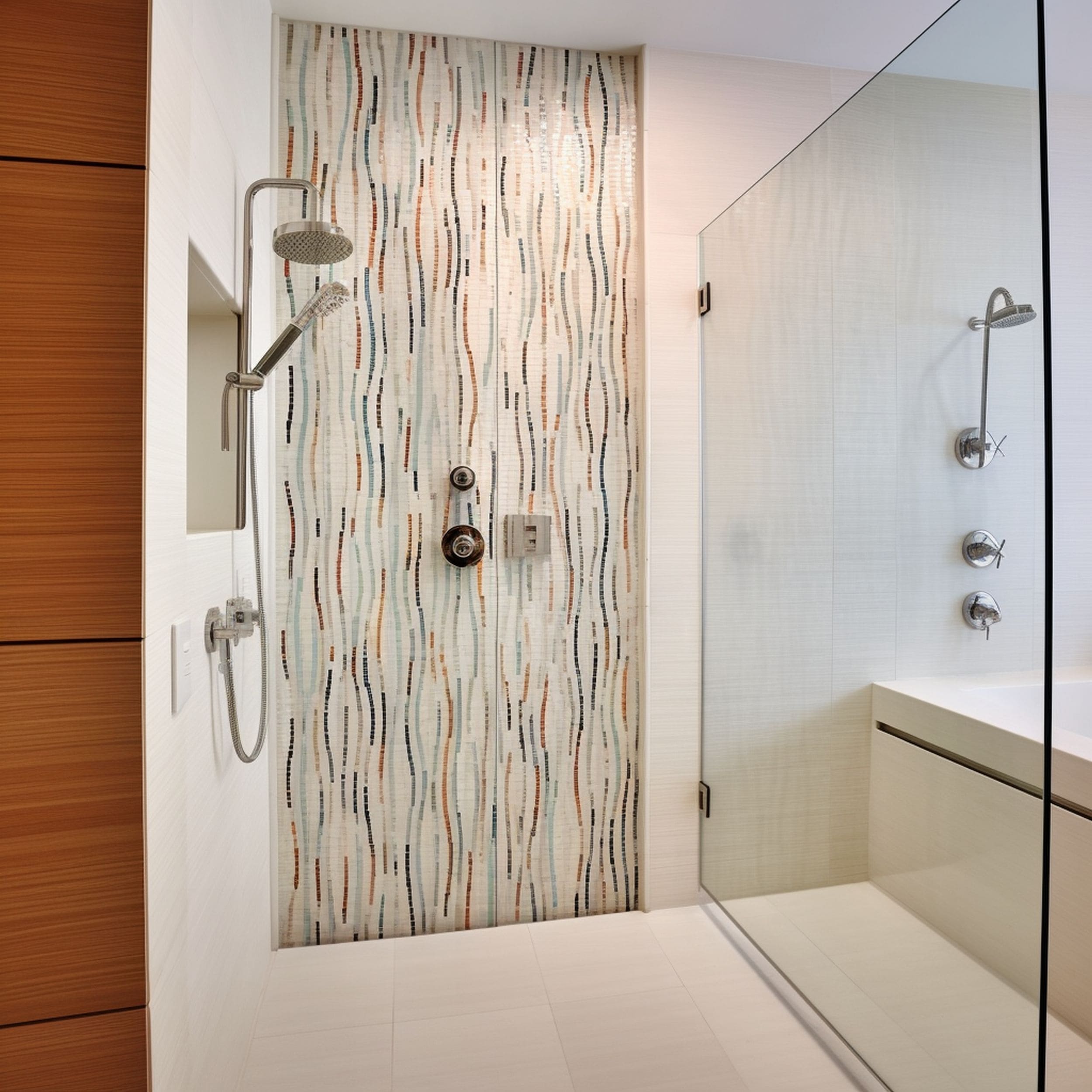 Looking to dress up the shower enclosure with some stylish patterns? A waterfall design is often the right answer. Consider trying a creative layout that incorporates the charming appeal of a mosaic with wavy patterns. Different-colored small tiles combine together to draw attention to the flowing aesthetic of the waterfall tile design. Keep the shower area more elegant by ensuring it covers a large portion of the wall.




9. Oversized Design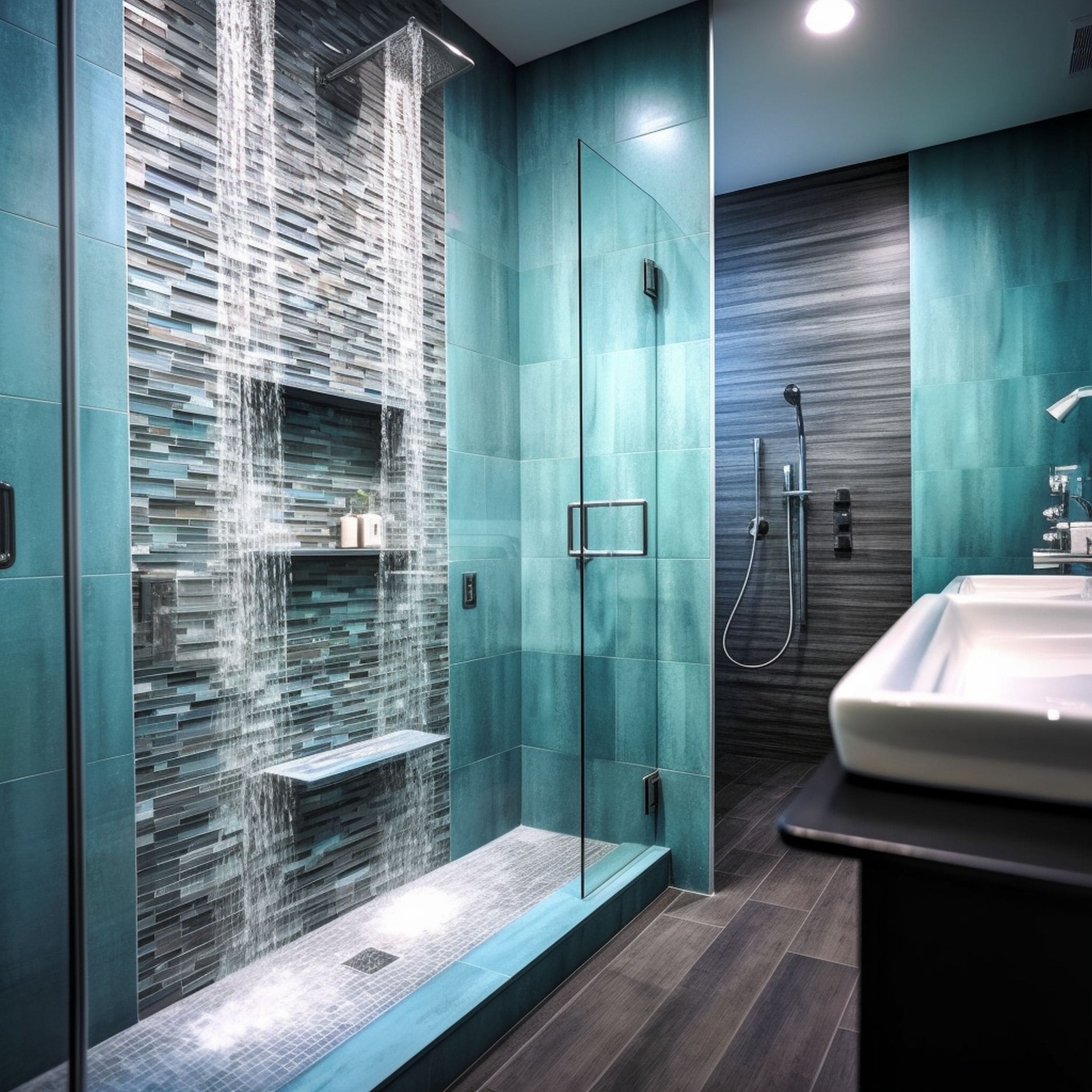 If you want to capture the spa-like vibe of real waterfalls in your shower, it's worth considering a larger design. Instead of typical compact strips that offer a subtle highlight, you might prefer an oversized waterfall look that covers a large portion of the main wall in the shower area. This transitional master bathroom feels like an authentic spa retreat thanks to the colorful waterfall tile design in the shower. The size is properly emphasized by the use of blue-and-white patterns for the tiles which further accentuate the waterfall aesthetic.




10. Compact Tile Strip
Just because you don't have a lot of space available in the shower, it doesn't mean you have to settle for plain tile designs. Even if you add a compact waterfall tile strip, the visual impact will be quite noticeable. The narrow wall can enhance the impact of colorful waterfall designs. Draw more attention to the shower zone by contrasting multiple orange tile strips on a blue wall for a tropical bathroom feel.