This post may contain references and links to products from our advertisers. We may receive commissions from certain links you click on our website. As an Amazon Associate Rhythm of the Home earns revenues from qualifying purchases.
Share this article:
If you have a large family but lack a lot of storage space, you've probably run into the problem of organizing backpacks and school bags used by the children. Despite your best efforts, it seems that backpacks somehow always end up on the floor or in some other place where they don't belong. Whether you don't have a mudroom with dedicated space for backpacks or simply want to find some smart storage inspiration, this article can help.
We've assembled a list of the most creative backpack storage ideas that cleverly make use of small spaces and unused corners of your home. It's time to store backpacks and other bags in a practical style while also enjoying some extra decorative touches. The article isn't exclusively focused on functionality because it's just as important to create a stylish attractive spot for your backpacks to enjoy using every day. Here are our top backpack storage ideas to try:
1.

Dedicated Nook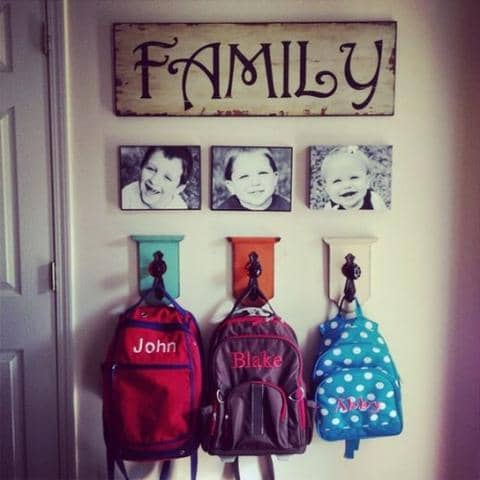 Storing backpacks shouldn't be particularly demanding in terms of required space. Instead of buying a new piece of furniture just to store school bags, consider installing practical hooks on the wall and creating a dedicated nook for them. You simply need a nice empty area in the hallway while making sure the hooks are positioned low enough to match the height of your kids.




This kind of backpack storage nook can be mounted in any room of the house but it's recommended to stick to areas close to the entranceway. In that way, children can have quick access to the bags when they're ready to go to school. If simple hooks are too basic looking, consider personalizing with some colorful touches or putting the children's initials. Use your DIY skills and creativity to build the best backpack storage nook for your home.
2.

Family Command Center
Some backpack storage ideas can go beyond just organizing the bags. With the help of a family command center, you will be able to reduce clutter and organize other things more efficiently, not just the backpacks. This kind of project makes use of an empty area where you can install a cubby shelf and boards for writing daily tasks. It's a fairly straightforward solution for keeping track of daily duties and organizing belongings.
3.

Coat Rack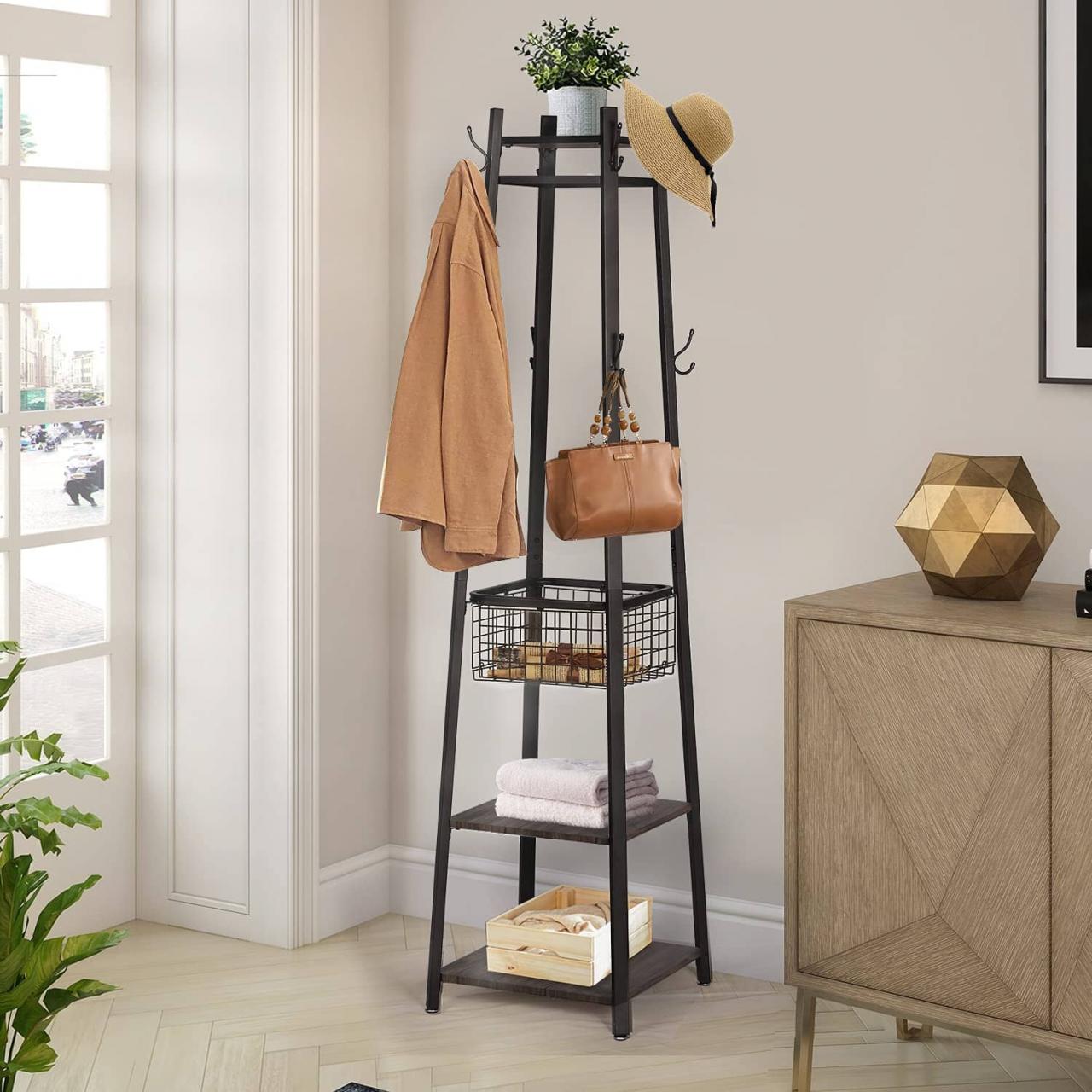 Coat racks can be used for storing accessories as well. It's simply a matter of choosing the right model that offers practical hooks to place your backpack. A tree-style coat rack is highly recommended because it's equipped with accessory hooks. You can also take advantage of all that storage space underneath due to the addition of extra shelves for other things requiring quick access. Check out this coat rack on Amazon that allows you to store backpacks in style.




4.

Sports Equipment Organizer
If your kids spend a lot of time doing sports, it's probably easier to encourage them to store the backpacks together with their other sports equipment. A dedicated organizer rack is suitable for more things than tennis rackets or skateboards. It's the perfect storage solution for a wide range of accessories such as backpacks and school bags. We recommend this wire storage rack that works nicely for many sports and storage needs.




5.

Stylish Cubbies
Having a dedicated place for storing backpacks at the end of the day represents a smart idea to get rid of clutter. Consider a cube organizer that offers a uniform display of bins where you can properly store all your essential accessories. Depending on the size of the organizer, you might need to dedicate quite a bit of space to it.




The market offers lots of DIY-style cube organizer options that would be suitable for backpacks. Take a look at this model on Amazon that offers different size options and multiple fun colors to choose from. You don't have to compromise on aesthetics when you're planning on staying organized. The advantage of this unit is that it arrives complete with all the necessary cubby baskets.
6.

Bench Cubby Storage
Some of the best storage ideas will often involve items that can also serve another purpose. A good example is using a piece of furniture that offers cubby storage and doubles as a sitting bench as well. It's definitely a more space-saving solution compared to others even though it relies on basic cubbies.




This kind of bench can be preferable for homeowners that dislike the idea of hanging backpacks from hooks. It appears tidier to use uniform storage baskets neatly incorporated into a functional bench. To add some rustic charm to your home, we recommend using this wicker storage bench found on Amazon. It's great for hallways or other areas and is large enough to accommodate backpacks in its woven wicker storage bins.
7.

Over-Door Hanger
An inexpensive and practical method to get rid of backpack clutter, this hanger doesn't require wall drilling. You simply place it over the door of a closet to organize various accessories. It's primarily designed for purses and bags but it's just as practical for backpacks.




Take a look at this model on Amazon. It has a solid load capacity and allows 360-degree rotation to access your items more conveniently. This idea is proof that you don't have to sacrifice space to create a separate backpack storage station. There's plenty of unused vertical space around the room already.
8.

Kid-Friendly Holder
Small children need to stay organized too. Notice the style of this kid-friendly holder designed for wall mounting. It allows for easy storage of many different items on its shelves while providing hooks to place little backpacks used by preschoolers. This is quite the functional storage piece when you also take into account the dedicated rack for children's books.