This post may contain references and links to products from our advertisers. We may receive commissions from certain links you click on our website. As an Amazon Associate Rhythm of the Home earns revenues from qualifying purchases.
Share this article:
This year is all about revivals considering how many design trends are making a comeback. The wallpaper border is one of them. Interior designers everywhere are starting to embrace the old technique of using borders to hide the tacks of wallpaper panels. Wallpaper borders are no longer necessary in modern days, but their charming visual appeal can still have a beautifying role in the room.
The reason why wallpaper borders are worth adding to your room is due to their ability to bring layering and detail with minimal effort. Using wallpaper is often preferable to simple paint when decorating your walls. Instead of basic blocks of color, you can transform the look of the room through gorgeous patterns and maybe even some distinctive textures as well.




Take a look at these stunning wallpaper border ideas that will inspire you to elevate the appearance of the simplest of rooms through extra visual layering.
1.

Red and White Checkerboard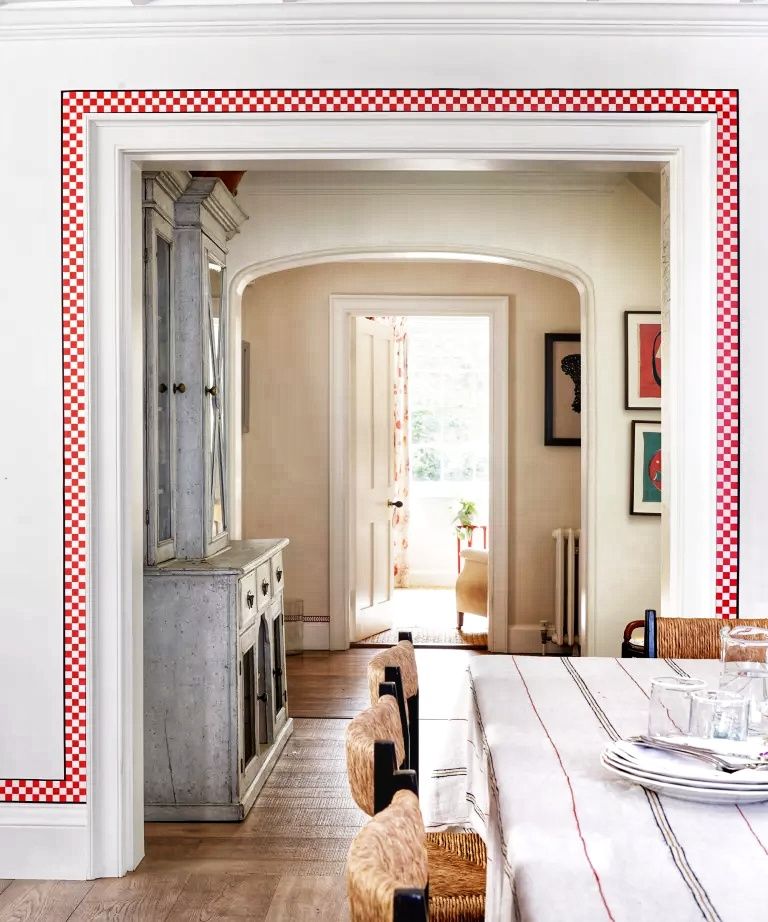 Checkerboard patterns can bring a whimsical touch to any décor style, especially if you choose bold colors. This wallpaper border includes this stylish pattern in a mix of red and white colors to frame this large doorway. The graphic strip doesn't overwhelm the area too much as it simply draws attention to a feature of the home.




2.

Greek Ivy
If you're looking for a gorgeous pattern for enhancing the crown, the Greek ivy wallpaper border could be a solid pick. The plant is associated with the ancient Greek God Dionysus while also symbolizing fidelity. It's a delicate pattern featuring a wine-colored ink as it references the Greek God of revelry.




3.

Colorful Ribbons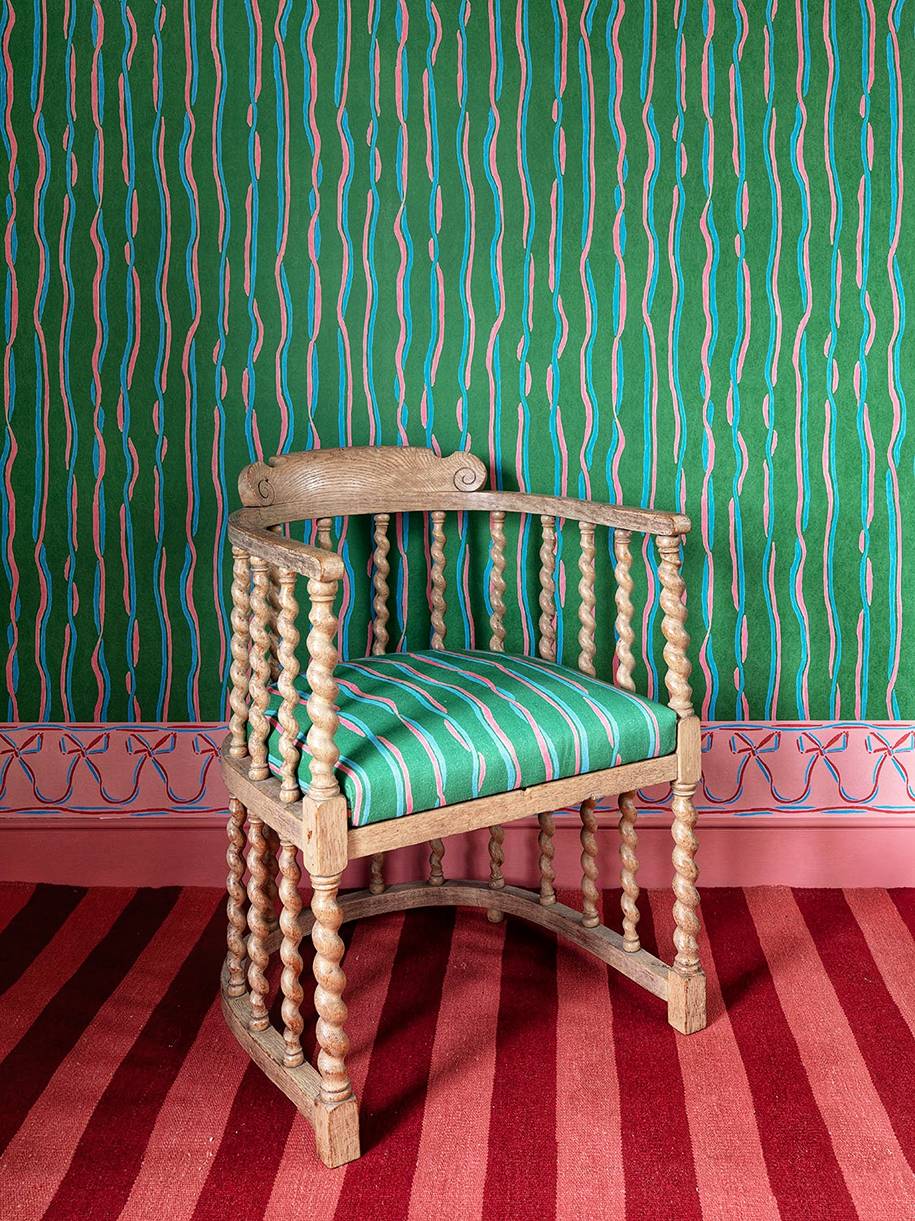 With the appearance of a wrapped present, these colorful ribbons can inject some cheerful vibes into the wall design of any room. The wallpaper border boasts retro charm through its pattern look and vibrant colors used. It can be a superb finishing touch for a wall that's already covered in a similar-styled wallpaper.




4.

Wood Grain
Great for bedrooms or living rooms, this wallpaper border offers a 3D wood grain effect to finish off the look of the walls. The rich brown color can complement various décor styles while the ornate design brings some interest to the area between the walls and the ceiling.
Try this wood grain wallpaper border on Amazon.
5.

Sunflower Design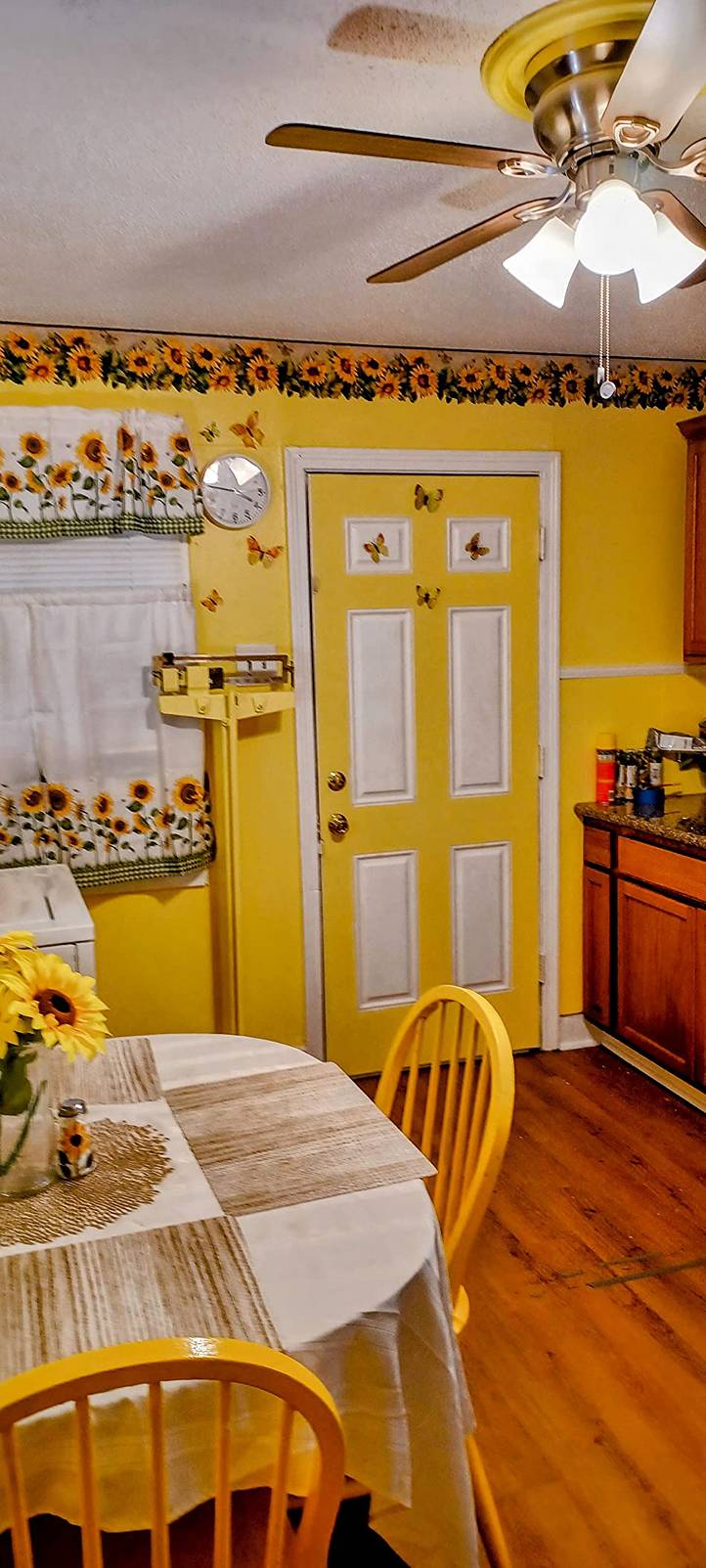 Floral designs are extremely popular when it comes to wallpaper borders. This isn't surprising to see considering the vintage vibes provided by this kind of feature. Consider a wallpaper border showcasing sunflowers if you're looking for a way to complete a cheerful yellow kitchen makeover.
The sunflower wallpaper border is available on Amazon.
6.

Coastal Style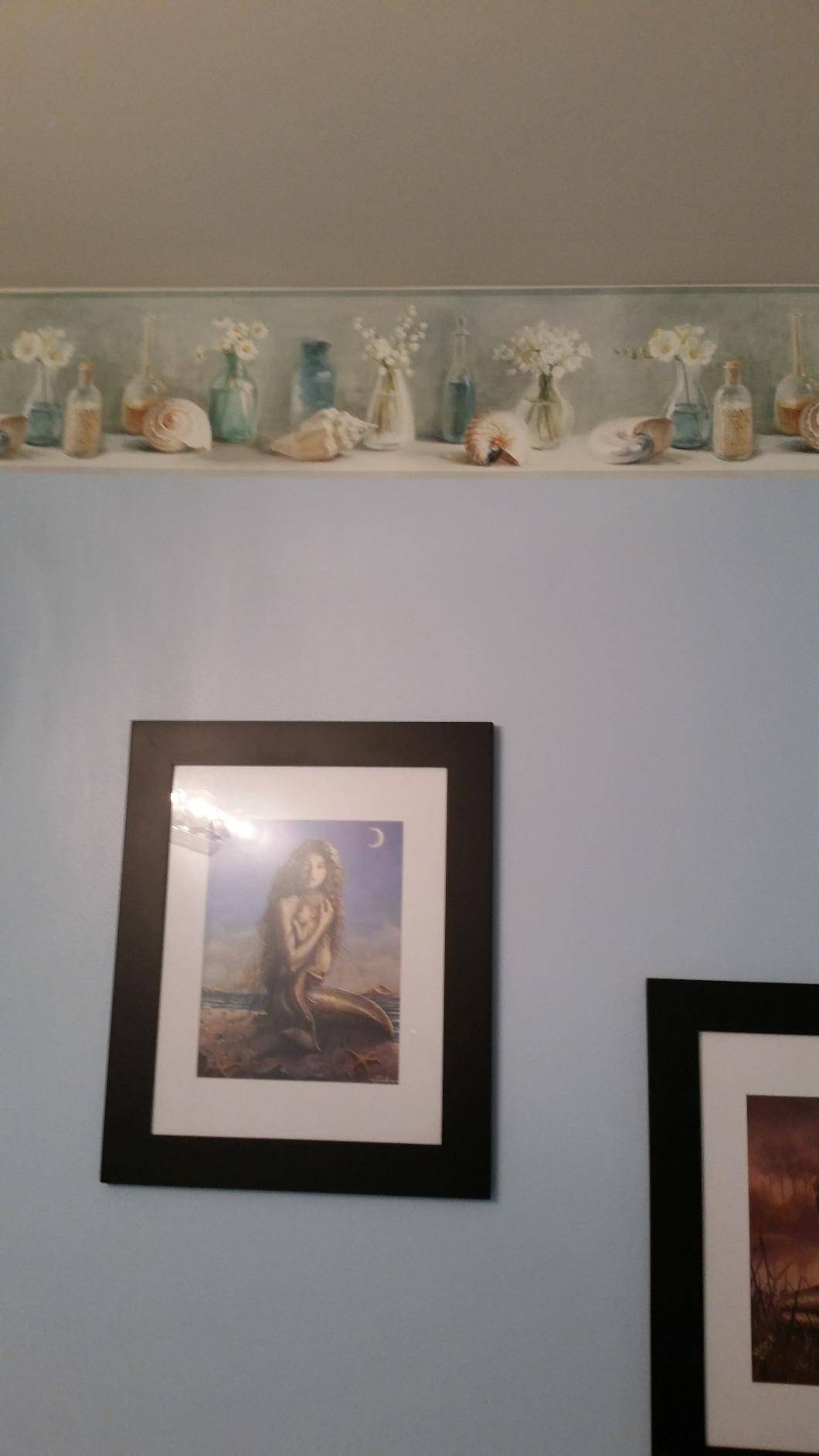 Wallpaper borders that show off paintings are able to improve the style of your home with some vintage flair. This seashell design with breezy blue and green colors can offer some coastal charm to the room. It's an excellent pick for a vacation home near the beach or anyone who loves coastal-inspired design.
Take a look at this sea glass wallpaper border.
7.

Abstract Flowers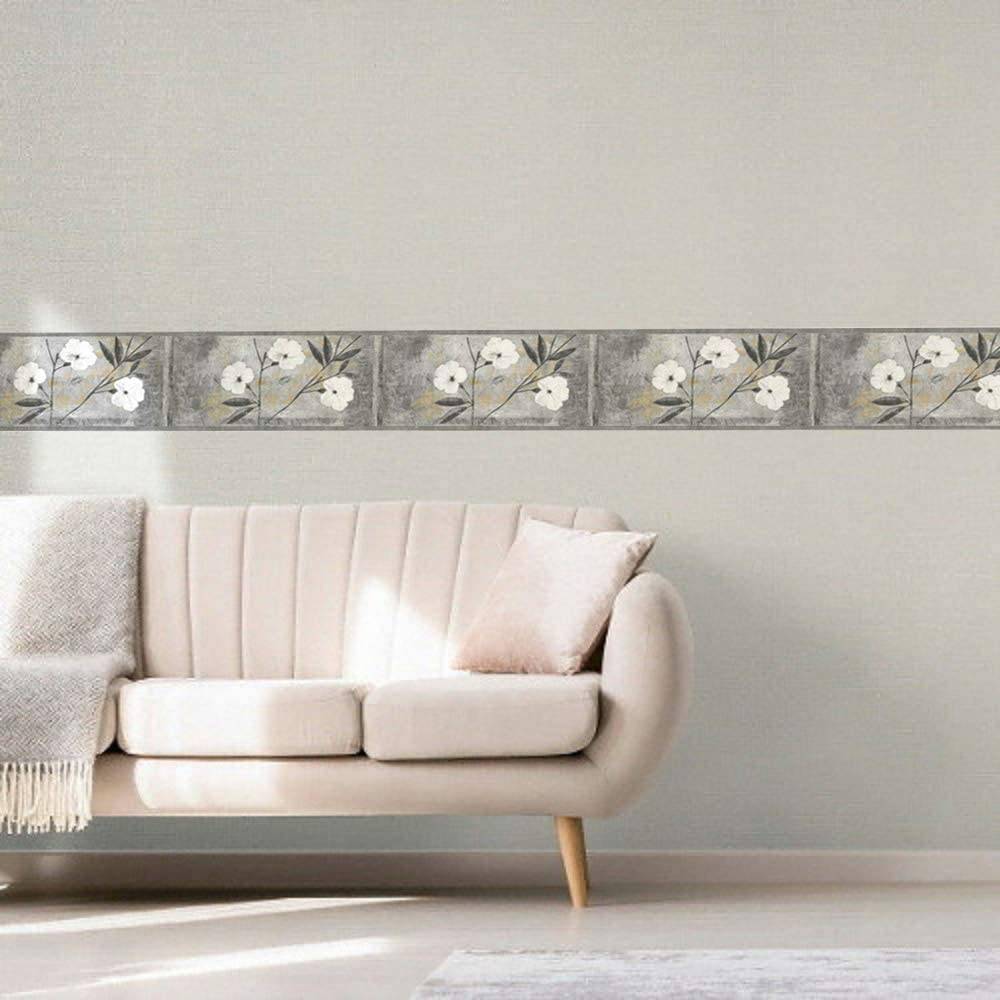 Wallpaper borders can sometimes make or break the style of the room. This model features beautiful white flowers on an abstract gray background to create a fashionable statement in any living room. It's a useful addition to incorporate into your personal aesthetic style. Any empty wall can appear classier with the help of this design.
Check out this abstract flowers wallpaper border.
8.

Cozy Cabin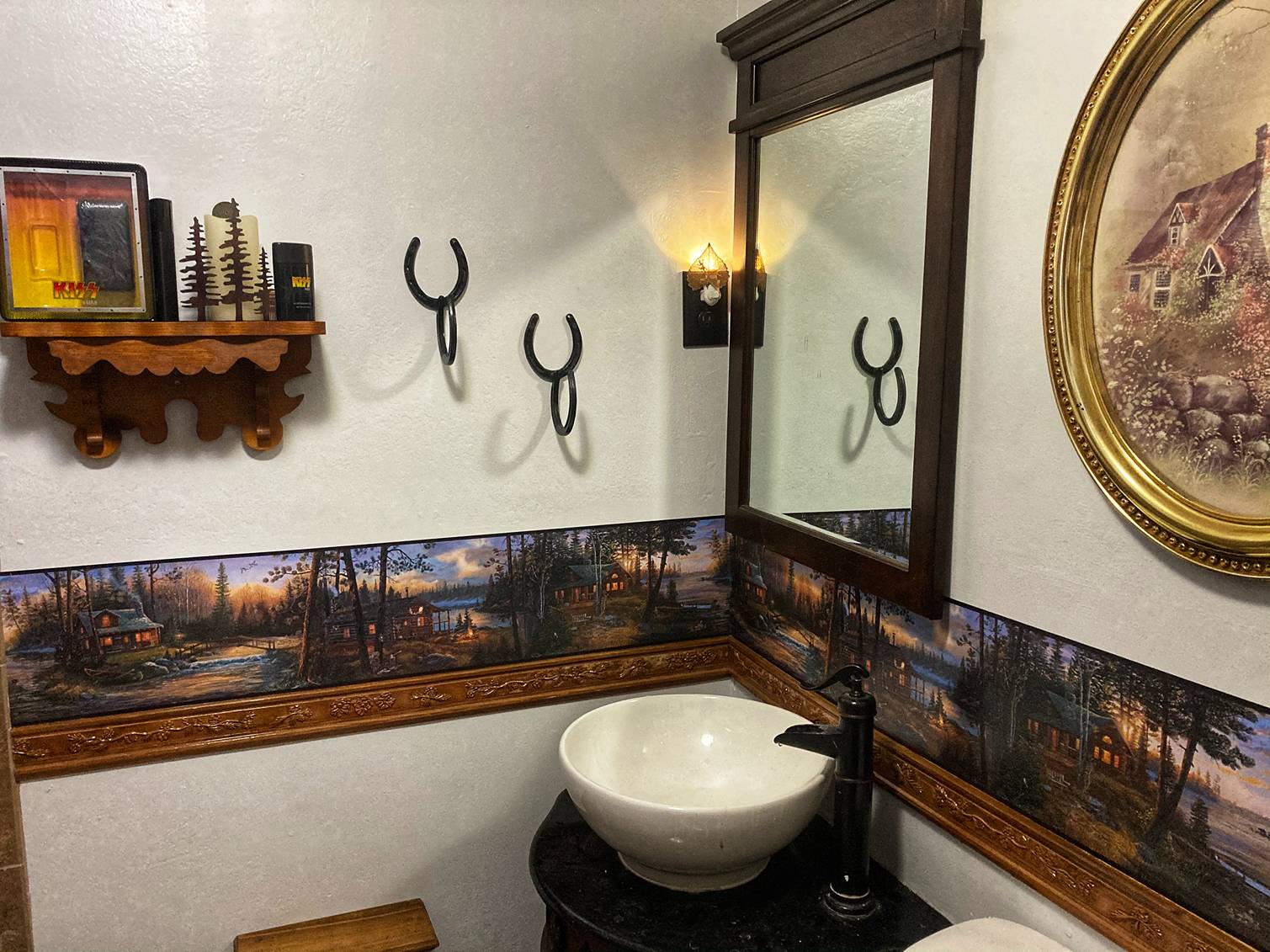 Some wallpaper borders feature more complex designs to truly elevate the appearance of your living space. Simply pick a suitable theme for the aesthetic of the room and create a unique look. This rustic-styled bathroom makes use of a cozy cabin wallpaper border to make a bolder statement in this kind of functional area.
Try this lodge cabin wallpaper border.
9.

Gorgeous Lace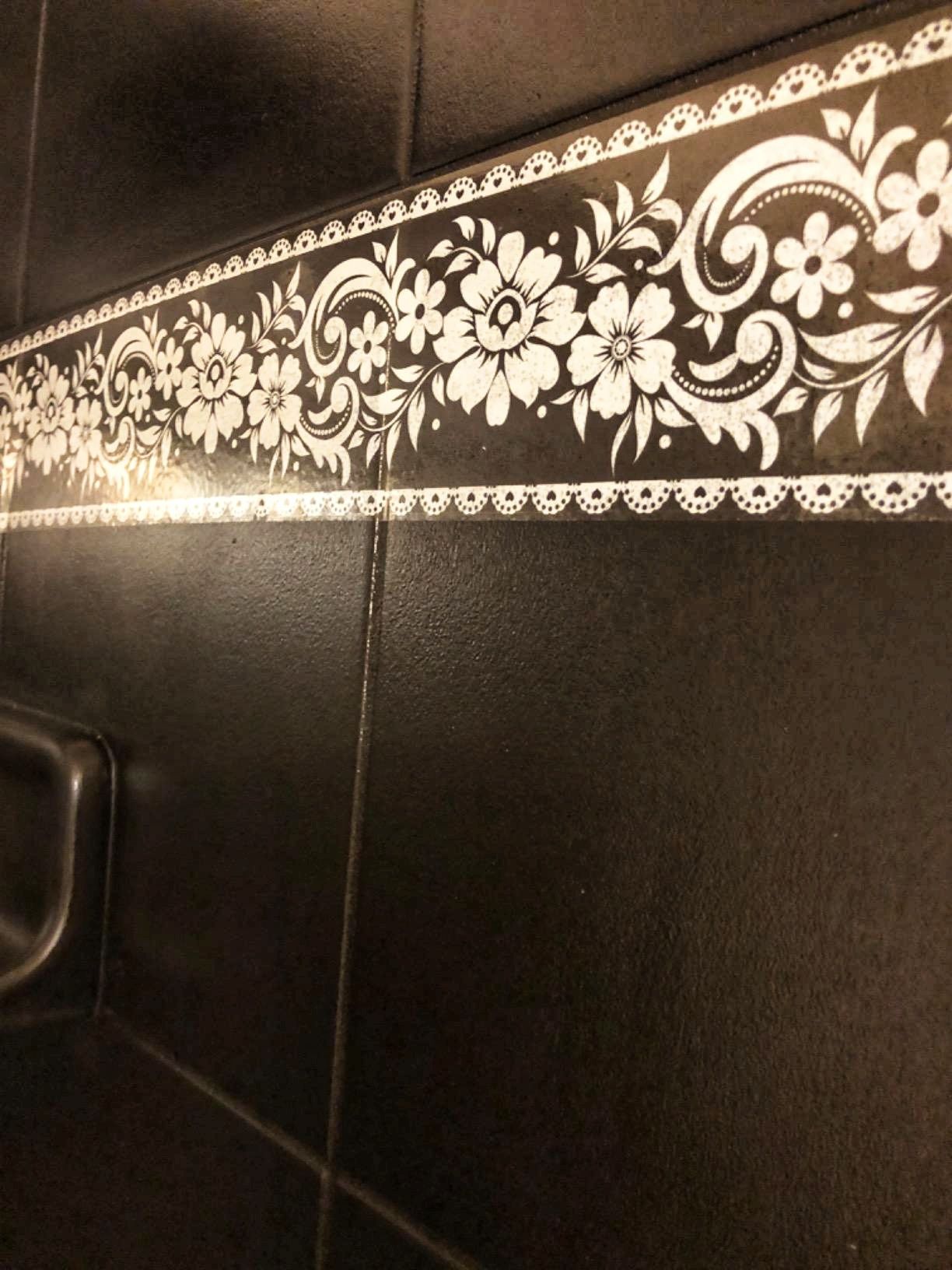 If you enjoy the vintage appeal of floral lace, you should consider this stunning wallpaper border design. It can beautify many different types of surfaces, including bathroom tiles or mirrors. The delicate style of the pattern can fit perfectly with other traditional décor elements, but it's just as attractive when incorporated into modern styles.
Here's where you can try out this floral lace wallpaper border.
10.

Foliage Design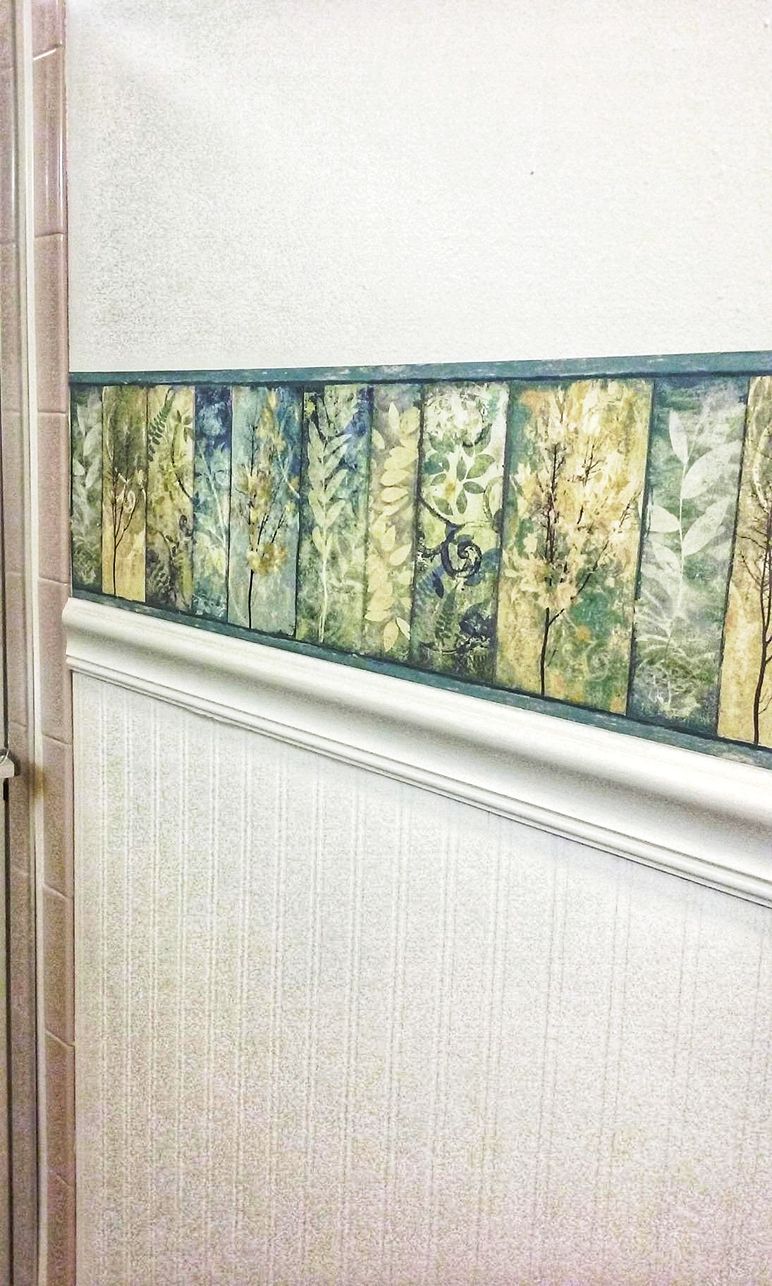 Thanks to its slightly distressed finish, the foliage design on this wallpaper border brings a stylish look to any compatible flat surface. The color palette based on muted shades of blue and green makes the design feel refreshing. It's a perfect solution for updating the appearance of a plain room with a touch of beautiful color.
Take a closer look at this foliage wallpaper border.