This post may contain references and links to products from our advertisers. We may receive commissions from certain links you click on our website. As an Amazon Associate Rhythm of the Home earns revenues from qualifying purchases.
Share this article:
Great for residential and commercial settings alike, vinyl plank flooring offers some attractive benefits in terms of durability and appearance. It can often be seen as a luxury option comparable to premium hardwood. While it might not be able to replicate the exact feel of traditional hardwood, the superior water resistance makes it a highly sought-after flooring choice.
Thanks to modern manufacturing technologies, vinyl planks are designed to closely mimic the look of hardwood. It's safe to say that you cannot distinguish between the two flooring solutions without a very close inspection. The best part is that vinyl plank flooring is usually cheaper than hardwood, even if you select from the catalogs of luxury brands.




Are vinyl planks worth the investment? It may seem so after seeing all the benefits but this flooring option has a few drawbacks that you also need to be aware of before making the purchase. No floor covering is perfect after all. In this article, we'll take a look at the essential aspects of vinyl plank flooring to figure out whether it's the best pick for your needs and budget.
1.

History of Vinyl Plank Flooring
Sheet vinyl and vinyl tile have a reputation of being affordable flooring solutions for areas of the home where durability matters a lot such as kitchens. In comparison, vinyl plank flooring represents a more premium option. The way it manages to mimic the look of hardwood so well makes it often referred to as luxury vinyl flooring. It's certainly in a different class compared to the usual vinyl flooring options that you may be used to.




Vinyl planks are thicker and more solid compared to the thin layer of other vinyl flooring solutions. The connection system between the planks has also been designed for maximum user-friendliness. This style of flooring appeared in the 1970s when it became a convincing alternative to wood planks. Vinyl planks evolved considerably in recent times to display more realistic patterns. Improvements have been made in terms of installation ease as well because luxury vinyl planks can create a more versatile floating floor.
2.

LVP vs Rigid Core WPC/SPC
When you're searching for vinyl planks, you'll be usually faced with two main types suited for either residential or commercial settings. Luxury vinyl plank or LVP can be used as a catch-all term for this type of flooring but it usually refers to the most basic style of vinyl planks. LVP is crafted from multiple composite layers that introduce great resilience to the floor against water damage. They also help to withstand long-term wear and provide realistic wood or stone patterns.




LVP is a flexible product whose thinness makes it ideal for residential settings. One thing worth considering about this type of vinyl plank flooring is that it's installed by permanent gluing compared to Rigid Core products that are interlocked or made into a floating floor. Although there are lots of solid benefits to LVP, Rigid Core planks are becoming more popular nowadays. This flooring type offers full waterproofness, not just decent water resistance while the strong core boasts increased durability to withstand high-traffic commercial areas.
Rigid Core vinyl plank flooring can be further differentiated into two subtypes depending on the core layer material. The first is wood-polymer core or WPC and the other is stone-polymer core or SPC. Both types of Rigid Core vinyl planks are float installed without the need for glue thanks to practical interlock systems. These vinyl planks are fairly versatile because they're available in different thicknesses to match both commercial and residential applications.
3.

Water and Scratch R

esistance
When it comes to the advantages of vinyl plank flooring, it's safe to say that you won't be disappointed by the durability. Most high-quality vinyl planks show off a 100% waterproof rating making them ideal to use as a floor covering in the bathroom, basement, or kitchen. Just make sure you're not getting the cheapest options that only provide water resistance without complete waterproofing.




Thanks to the special anti-wear layer at the top, vinyl plank flooring can handle some abuse from daily use. It's a suitable choice for people with kids or pets considering the solid resistance to scratching and scuffs. Although this type of flooring won't be able to perfectly simulate the aesthetic of hardwood, the latter simply can't compete in terms of moisture and scratching resistance. This is the main area where vinyl planks stand out on the flooring market.
4.

High-Traffic Area Suitability
Vinyl planks are suitable for any area in your home but it's especially recommended for rooms with more foot traffic. Bathrooms could be ideal considering the water resistance but vinyl flooring can also contribute to a reduced risk of slipping accidents compared to other flooring materials. Living rooms can take advantage of the beauty of luxury vinyl planks.




The rooms whose surfaces take the most abuse perform ideally with this type of flooring. There's not a lot of effort involved with the maintenance either so that makes vinyl plank flooring a top option for high-traffic zones in the house. The only possible drawback to keep in mind is that vinyl plank cores can suffer from denting under heavy loads so this flooring isn't recommended for areas with extremely heavy furniture or equipment.
5.

Easy to DIY
Thanks to the convenient underlayment layers integrated into vinyl planks as well as the flooring's floating design, DIYers can enjoy a more streamlined installation process. As opposed to laminate floors or other materials, high-quality vinyl planks can typically be installed more easily with the help of simple tools and less work. There's less room for error and guesswork in the process while there's no need for specialized skills.




The main advantage when it comes to installing LVP flooring is the click-lock system. Planks are designed to connect together quickly so that you can finish a room in a few hours. Keep in mind that you will need a subfloor in good condition but vinyl planks are more forgiving of imperfections compared to the thinner sheet vinyl material. Laminate flooring will usually require a saw for installation but vinyl plank cuts can be done using a utility knife.
6.

Great Variety of Styles
Due to its multitude of patterns and colors, vinyl planks have a firm position in the flooring market. While some interior designers still consider it inferior to solid hardwood, most agree that it's the superior option when it comes to all types of vinyl flooring solutions. Laminate flooring is also able to replicate the look of natural wood but vinyl planks are more reliable at this job. If the appearance of your floor matters a lot to you, it's important to see what stylistic choices can be provided by vinyl planks.
As many homeowners seek budget-friendly alternatives to traditional hardwood flooring, vinyl planks that mimic this kind of aesthetic are highly popular. This style of LVP flooring has the potential to show off the versatility of vinyl planks. You can find a wood-style design to match any type of decor or design trend. Just as real hardwood offers many different color shades and finishes, so do vinyl planks to help you create the desired look.




If you prefer the look of stones such as slate, travertine, and concrete, stone-look vinyl planks would be right up your alley. This flooring style comes as a response to the need for a ceramic plank flooring alternative. Those who enjoy a more original aesthetic can try a bolder decorative LVP flooring solution featuring geometric patterns or stain-glass styles.
7.

Simple Maintenance
Is a vinyl plank floor hard to maintain clean? Regular sweeping and occasional damp mopping need to be done but it's way less of a hassle to clean compared to other flooring options such as natural hardwood. It's an attractive choice if you want low-maintenance flooring in your home. The surface isn't very delicate but it's recommended to stick to milder detergents and to avoid steam-cleaning.




When it comes to repairing any damage to the vinyl plank flooring, things can be a little more complicated. Small areas can be repaired without notable difficulties. However, replacing entire planks may often involve disassembling a large portion of the floor. Even if you manage some repairing jobs, it's worth mentioning that you might experience color mismatching. This is one area where hardwood flooring represents the better choice because any damage can be resolved easily through sanding and refinishing.
8.

Comfortable Underfoot Feel
Although you will still need carpets, vinyl plank flooring stands out in terms of comfort. The material has some reliable shock-absorbent properties that make it stand out compared to alternatives. The result is a more pleasant underfoot feel. Depending on the exact type of vinyl planks you choose, it's possible to experience extra comfort by opting for thicker layers or special underlayments.
9.

Cost-Effectiveness
Vinyl plank flooring provides excellent value for the money, especially if you choose from mid-range brands such as Mohawk SolidTech, Kamdean Korlock, and Forbo Allura. The general rule of thumb is to avoid the lowest-priced products until you find vinyl planks that fit your budget. There's no need to overspend if you wish to maximize cost-effectiveness because some mid-range models offer comparable durability and aesthetics to premium flooring options.




When it comes to labor costs, you will need to set aside a considerable amount of money for a professional installation. If you choose the DIY route, vinyl plank floors can become even more affordable. The final cost of vinyl plank flooring also depends on the size of the room or area where you need it installed. Due to cutting waste, you'll most likely have to purchase more material than required to cover the square footage.
10.

Vulnerability to UV Fading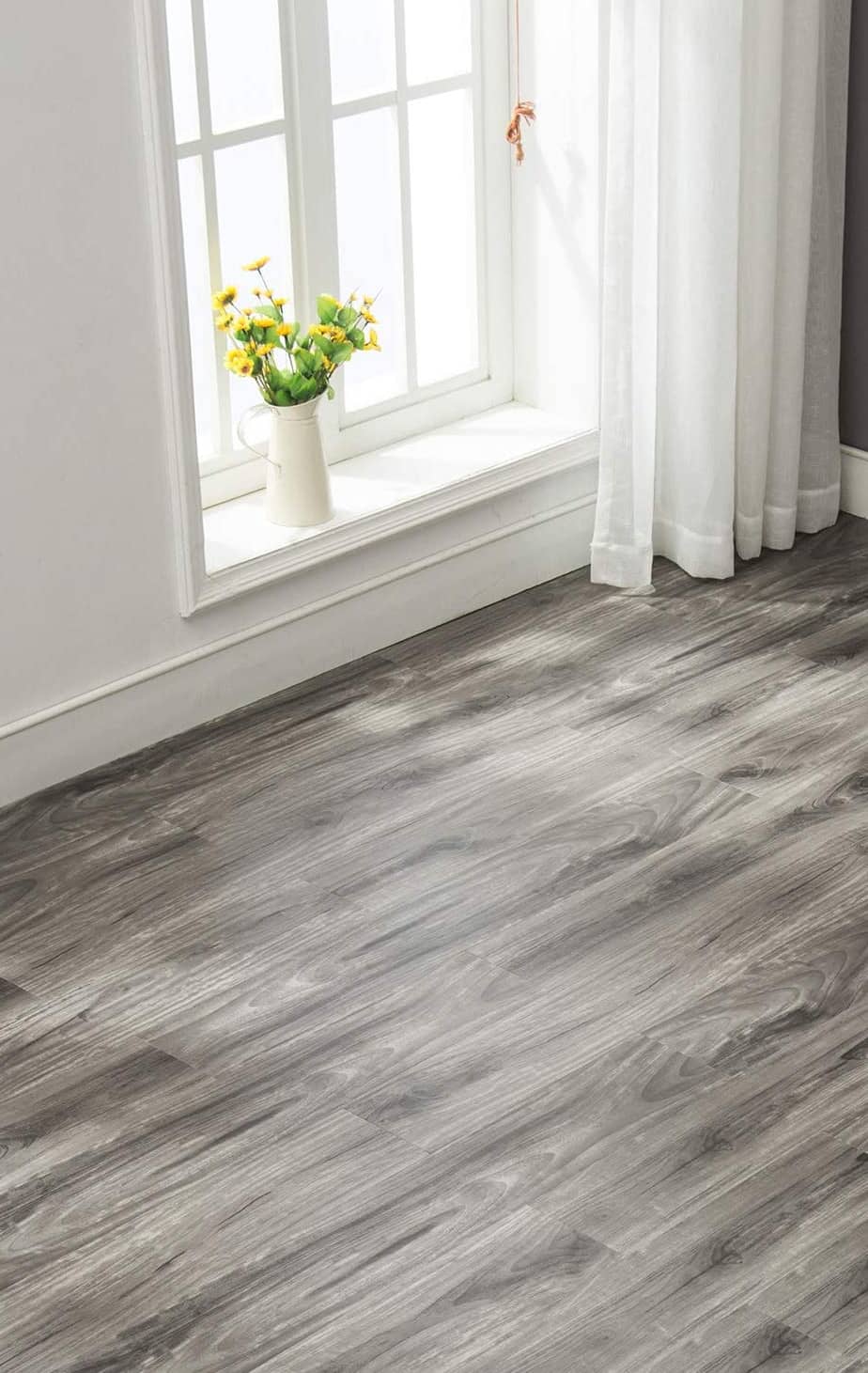 Vinyl plank flooring has many advantages but there are some drawbacks to consider. One of the most important ones is the weakness to sun exposure. The material is susceptible to fading so you can expect parts of the floor that are more exposed to UV light to become discolored compared to the areas underneath furniture.
Although there's some vulnerability to sun fading for all vinyl planks, some products provide better resistance than others. You need to check for UV-resistant coatings in the wear layer if this is something that matters to you. Because of this weakness, vinyl plank flooring is more recommended for rooms in the house that don't get a lot of sunlight exposure.