This post may contain references and links to products from our advertisers. We may receive commissions from certain links you click on our website. As an Amazon Associate Rhythm of the Home earns revenues from qualifying purchases.
Share this article:
Fresh flowers can add a lovely touch to any kind of interior decor style. Although choosing the right blooms and design style for your floral arrangement is important, you also need to take into account the type of vase used. If you don't use the proper vase style for the occasion, the final look of your flowers may be completely underwhelming. There are lots of materials and shape styles you can pick from when it comes to selecting a vase. Let's explore the most popular ones and help you figure out which type of vase suits your personal aesthetic and practical needs more effectively.




1. Bud Vase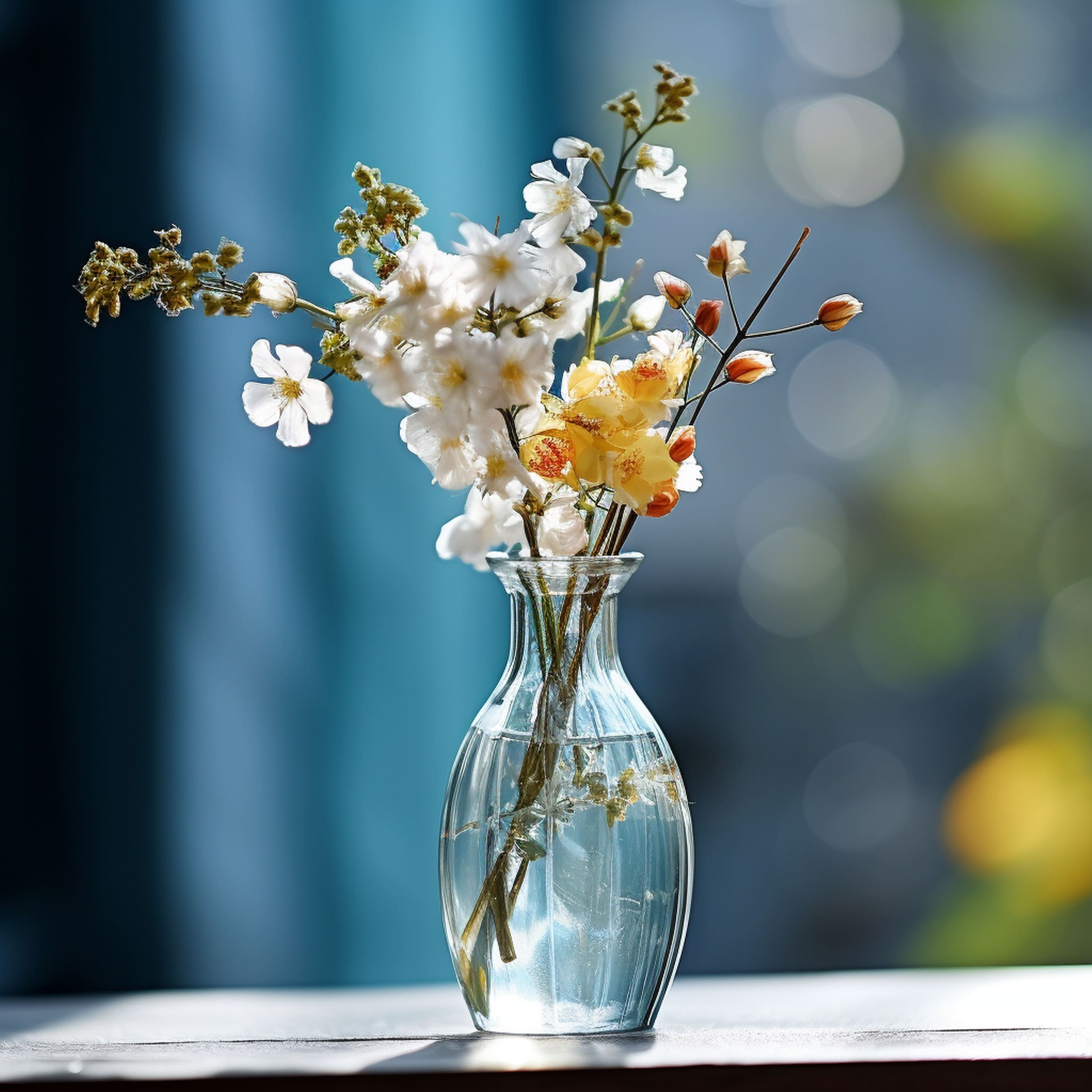 Looking to display small flowers more elegantly? A bud vase could be the answer considering how it's specifically designed to hold tiny floral arrangements or even just one single flower. As opposed to other types of vases, the bud type has a more space-saving design and can be used more easily in tight spaces. You can add a touch of nature using multiple bud vases carefully integrated into your existing decor.




The bud vase works like a charm for a delicate fireplace mantel display or to refresh the look of a simple bookshelf. It's also recommended to group multiple bud vases together to create a unique centerpiece instead of getting just a single large vase. Another advantage of the bud vase is that you don't really need to spend a lot of time arranging flowers in them. The small size means that simply adding a few small blooms should be enough to create a memorable arrangement.




2. Bowl Vase





Sometimes called the fishbowl vase, this type could be perfect to create an impressive floral centerpiece. As you can expect from the name, this vase style features a spherical shape with generous space inside to craft some distinctive arrangements. Embellishing a bowl vase can be a little more challenging compared to others but there are lots of creative ideas to try. A good example is making a small succulent garden.




Adding typical flowers to the bowl vase is simple, but you will need to make some adjustments to their stems. They need to be reduced to ensure that flowers remain stable inside the vase. This is particularly important for some types of bowl vases that feature really wide mouths. Although bowl vases can be crafted from various materials, they're most commonly built using transparent glass. It lets you showcase extra decorative filler more effectively.




3. Ceramic Vase





Although a glass vase comes with the advantage of being see-through, a ceramic one can often look more charming. This type of vase is perfect for those who want to complement the style of the displayed flowers more effectively. Ceramic is a flexible material to work with making it easy for artisans to come up with an impressive range of shapes, colors, and unique designs. Finding a suitable ceramic vase to match your interior decor shouldn't be very hard.




In terms of durability, ceramic can be considered a superior material choice for a vase compared to others. It's resistant to scratches and sturdy overall. Keeping a ceramic vase clean is also easy. The only notable drawback is that ceramic vases are not watertight. This is obviously an issue if you want to maintain your blooms fresher for longer. It's necessary to add a waterproofing liner to a ceramic vase to ensure that it can hold water properly. Check out this elegant minimalist ceramic vase on Amazon.




4. Cylinder Vase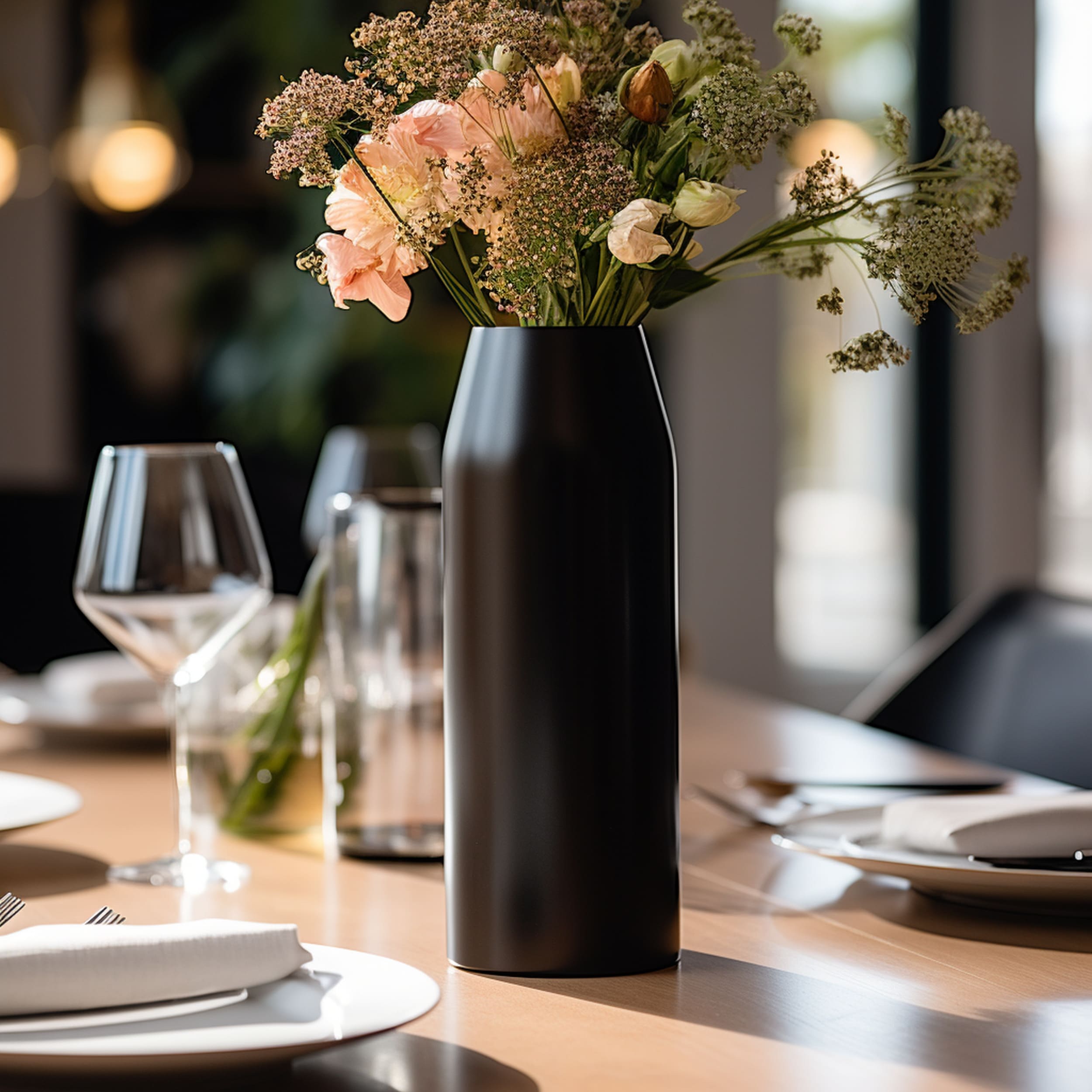 Compact and attractive, a cylinder vase can add some extra style to any flower arrangement. It blends well with modern aesthetics while the minimal footprint of this vase makes it a versatile choice. The cylinder vase is recommended for creating sleek table centerpieces using elegant blooms with long stems. Orchids and roses are great examples of flowers that can be paired successfully with a cylinder vase.




Single flowers can also look stunning if you choose a cylinder vase for them. Whether it's a formal or informal setup, it's easy to integrate cylindrical-shaped vases with all kinds of interior decor styles. It's typically recommended to select cylinder vases made from glass because this material creates the illusion of extra space making the object feel even more compact.




5. Pitcher Vase





If you love rustic decor styles, you'll be pleased by the gorgeous appeal of a pitcher vase. This type is well-known for featuring various handle styles that contribute to the overall decorative effect of the vase. It's also designed with a somewhat narrow mouth design which ensures that flowers sit properly upright. Pitcher vases are must-have additions to a farmhouse-style tablescape. It's recommended to opt for metal pitchers to get some authentic rustic charm.




Depending on the style of the pitcher vase and the particular flower arrangement you chose, it's also possible to showcase a modern display. Pitchers tend to have a more informal look but the right embellishments can elevate their style and transform them into luxurious decorative pieces. Aside from selecting the best floral combinations, it's essential to figure out a more organic way to arrange the blooms. Pay attention to the surrounding decor to match it with an inviting feel. Take a look at this rustic pitcher vase.




6. Mason Jar Vase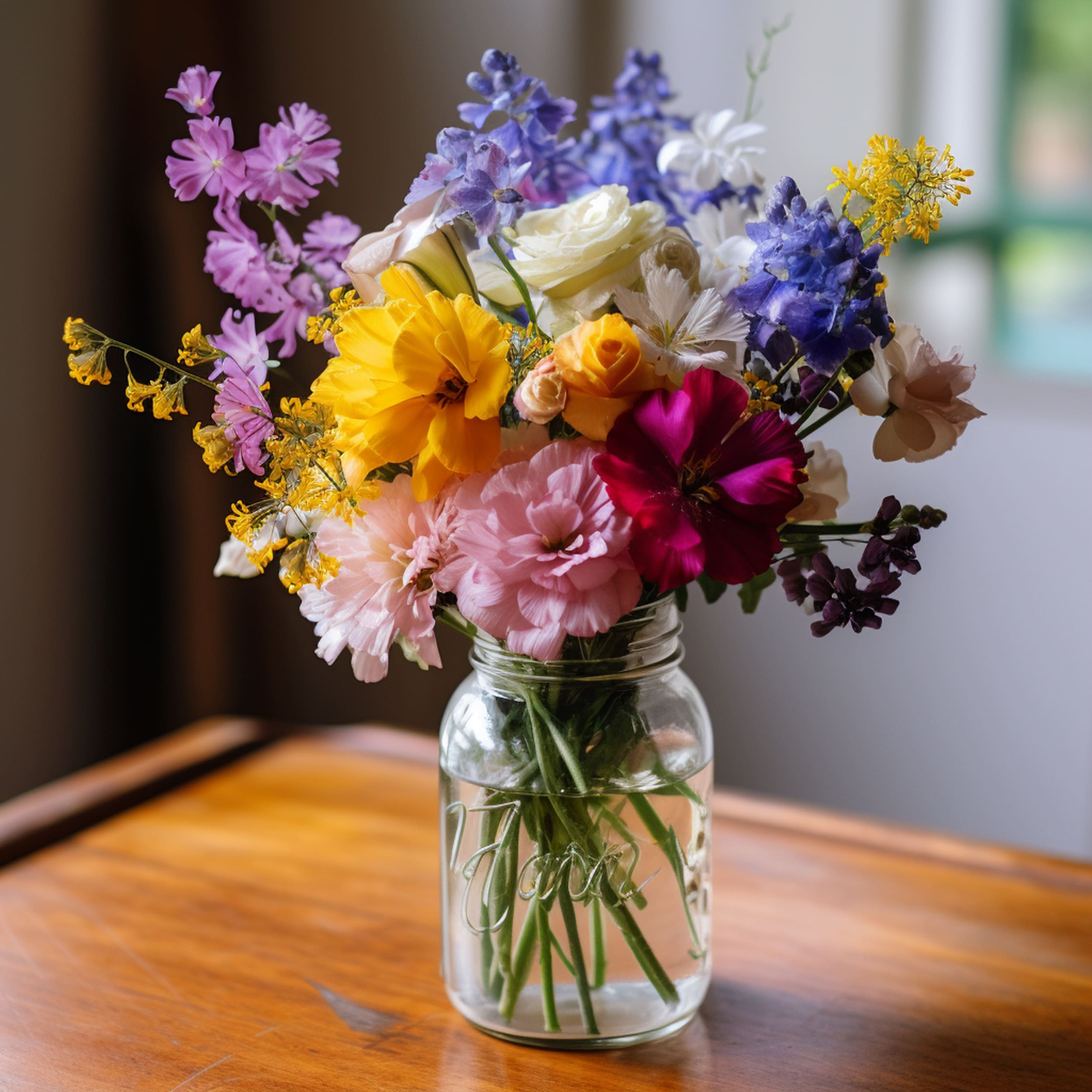 Another great option for rustic interiors, a mason jar can act as a gorgeous type of vase for fresh flowers. Compared to other vase styles, mason jars are usually more affordable. They're also fairly versatile even though the vase design works best with farmhouse decor. With the help of proper styling and decorative elements, you can transform a mason jar into a modern vase as well. The classic jar shape works wonders to complement the natural beauty of many simple flower arrangements.




Mason jars are incredibly DIY-friendly, which could be an advantage for rustic decor enthusiasts. The large opening at the top allows for flexible flower arrangements. It takes minimal effort to redesign a mason jar according to your personal preferences. This type of vase can be customized with paint to add some fresh color or embellished with various decorations to add extra texture. Enhancing the rustic effect of a mason jar vase is as easy as twining some rope around its neck.




7. Cube Vase





While rounded vases show off attractive curves, they are often pretty unstable. A better option would be to use a cube vase that features a sturdy square shape. This type of vase is suitable for anyone who likes the look of simple, clean lines. The geometric appeal of a cube vase can bring a sense of order to the surroundings. Thanks to its wide mouth, the cube vase lets you place different types of flowers in multiple creative arrangements.




Some types of square-shaped vases can also feature narrower openings to create more minimalist floral displays that match contemporary settings. Due to its great level of stability, the cube vase is easy to place on more challenging surfaces. It's a great option for a table centerpiece because you don't need to worry too much about the vase tipping over. When paired with other decorations such as scented candles or books, this elegant vase type can truly upgrade the aesthetic of a coffee table.




8. Bottle Vase





Despite some similarities with cylinder vases, this type of vase is a little more distinctive because it's shaped like a bottle. Popular models are usually crafted from glass but some select pieces can be made from other materials such as ceramic and resin. The most noticeable characteristic of a bottle vase is its narrow mouth which makes it ideal for displaying a single flower or more restrained arrangements.




If you're a fan of vintage decor and enjoy some DIY work, you can easily make your own vase by upcycling old bottles. A great example is the repurposing of antique milk bottles made of glass. They make solid rustic vases and can be further customized with other embellishments. Boho interiors can also make use of charming bottle vases in vibrant colors and distinctive designs. Consider this stylish glass bottle vase.




9. Pedestal Vase





With its air of elegance, the pedestal vase can easily become the centerpiece of the table when adding a stylish bouquet of fresh flowers. This majestic type of vase keeps the blooms at an elevated level while the wide mouth is specially designed to let the flowers overflow. Pedestal vases work well with traditional Victorian-style interiors and most designs seem suited for more formal settings. Vintage models tend to be very expensive if they're crafted from materials like silver and brass.




Common pedestal vases are made using glass or ceramic. The most affordable ones show basic plastic construction. The pedestal base of this type of vase brings a great sense of sophistication. It's one of the reasons why pedestal vases are frequently used for weddings or other special events. Although it seems to be a simple aesthetic choice, the pedestal base can also contribute to the better overall stability of the vase.




10. Floor Vase





Most vases out there are designed for tabletop use. However, there are some exceptions such as the floor vase. You won't need any table for this one because it's intended to be put directly on the floor. This type of vase can play an important role in terms of decorating various areas of the home. It's well suited for the entryway or anywhere else you need a strong touch of greenery.




Floor vases can be used in pairs for symmetrical designs. They're combined very effectively with large furniture elements. For example, indoor trees stored in floor vases can maintain visual balance when placed next to a big sofa. The floor vase is commonly used to show off a live plant like a lush tropical species. However, many homeowners like to use them for other types of displays that include dried grasses or bamboo sticks. Check out this great example of a decorative floor vase.




11. Amphora Vase





Ancient Greeks made great use of special vessels designed for oil, wine, and other liquids. These were called amphoras and they're still used today more commonly as vases. Traditionally, an amphora is crafted from ceramic and shows off hand-painted artwork on its body. This type of vase can get much more expensive compared to more common styles. However, you can also find some elegant amphora vases built using more affordable materials.




An amphora vase is designed similarly to a pitcher vase. The most notable difference is the presence of two handles. The bottom is also pointed instead of flat. Creating flower arrangements using an amphora vase is fairly easy considering the slim cylindrical construction. Consider the rustic vibe of a ceramic amphora and include suitable strands of flowers to match its classic look. This type of vase works great for outdoor gardens as well, not just for interior displays.




12. Trumpet Vase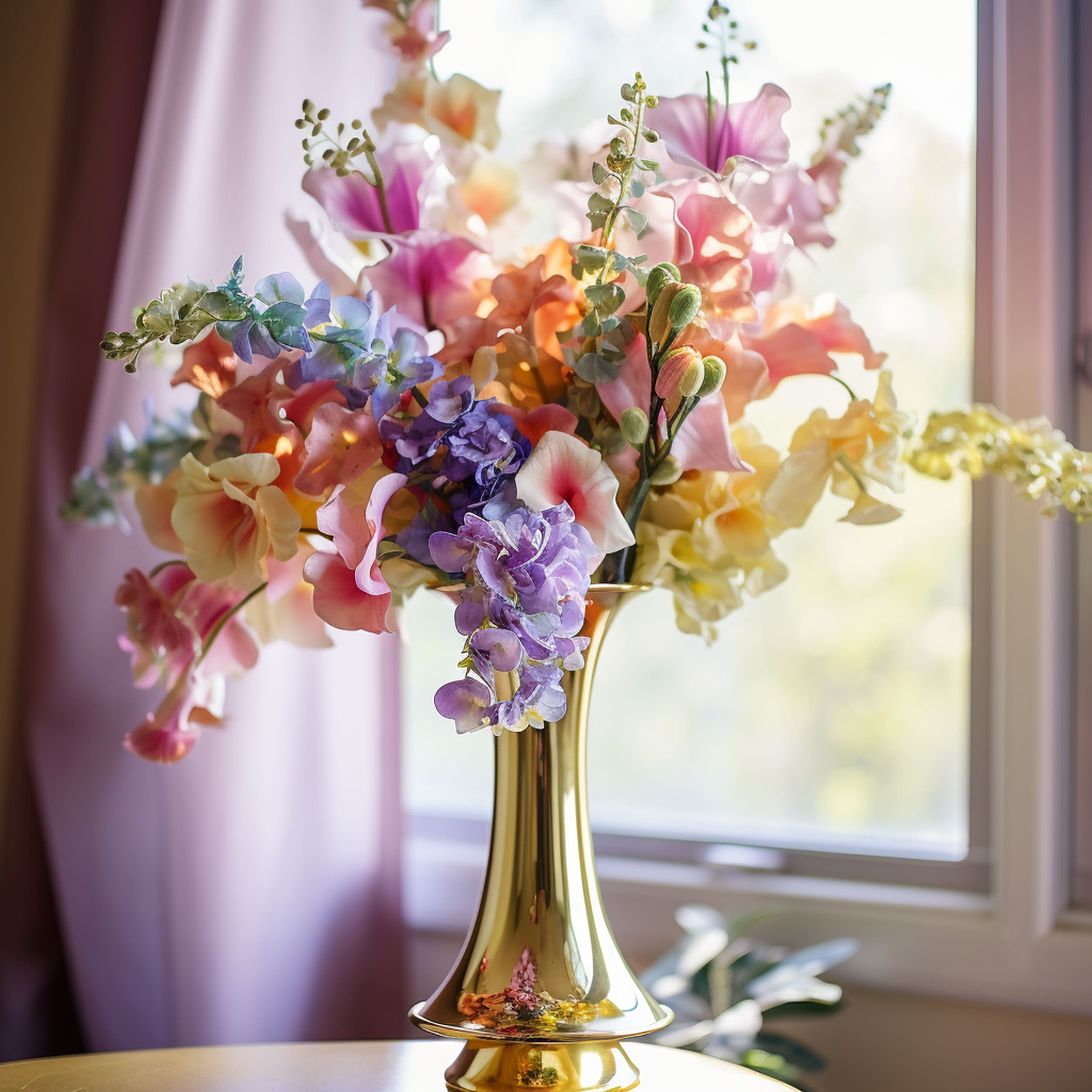 Another popular vase type for special events, the trumpet vase can hold lots of flowers despite its slender look. It resembles a cylinder vase but it features distinctive flaring in the shape of a trumpet. The larger mouth of a trumpet vase allows you to create elegant flower bouquets with plenty of decorative filler. This type of vase is a must-have addition for gatherings where it serves as a reliable table centerpiece.




When it comes to typical materials used for trumpet vases, they're most often crafted from glass but ceramic or metal pieces are also available. As opposed to other slim types of vases, this style offers a wide base to provide additional stability. The delicate curves add visual appeal while the body of the vase remains fairly compact to avoid cluttering up the table. Many trumpet vase types can feature tall designs to draw more attention to the displayed flowers.




13. Wall Vase





If you're interested in creating beautiful floral displays without taking up any space on the table or the floor, your best bet is to use a wall vase. This type of vase allows you to enjoy fresh flowers in the tightest spaces because it's designed for convenient wall mounting. The vase will typically feature a kind of frame that gives it plenty of support to be hung on the wall. Washing and refilling the vase is a breeze thanks to this clever design.




Vases are usually placed on table spaces in traditional homes making wall-mounted models better suited for modern decor styles. It's a great solution to cover some plain walls or decorate an empty corner of the home with a touch of greenery. Glass is the recommended material for a wall vase because the transparency helps to maintain the focus on the flowers. Wall vases are more difficult to tip over by children or pets, which can be considered an extra benefit. Try this set of wall vases to decorate your home.




14. Bouquet Vase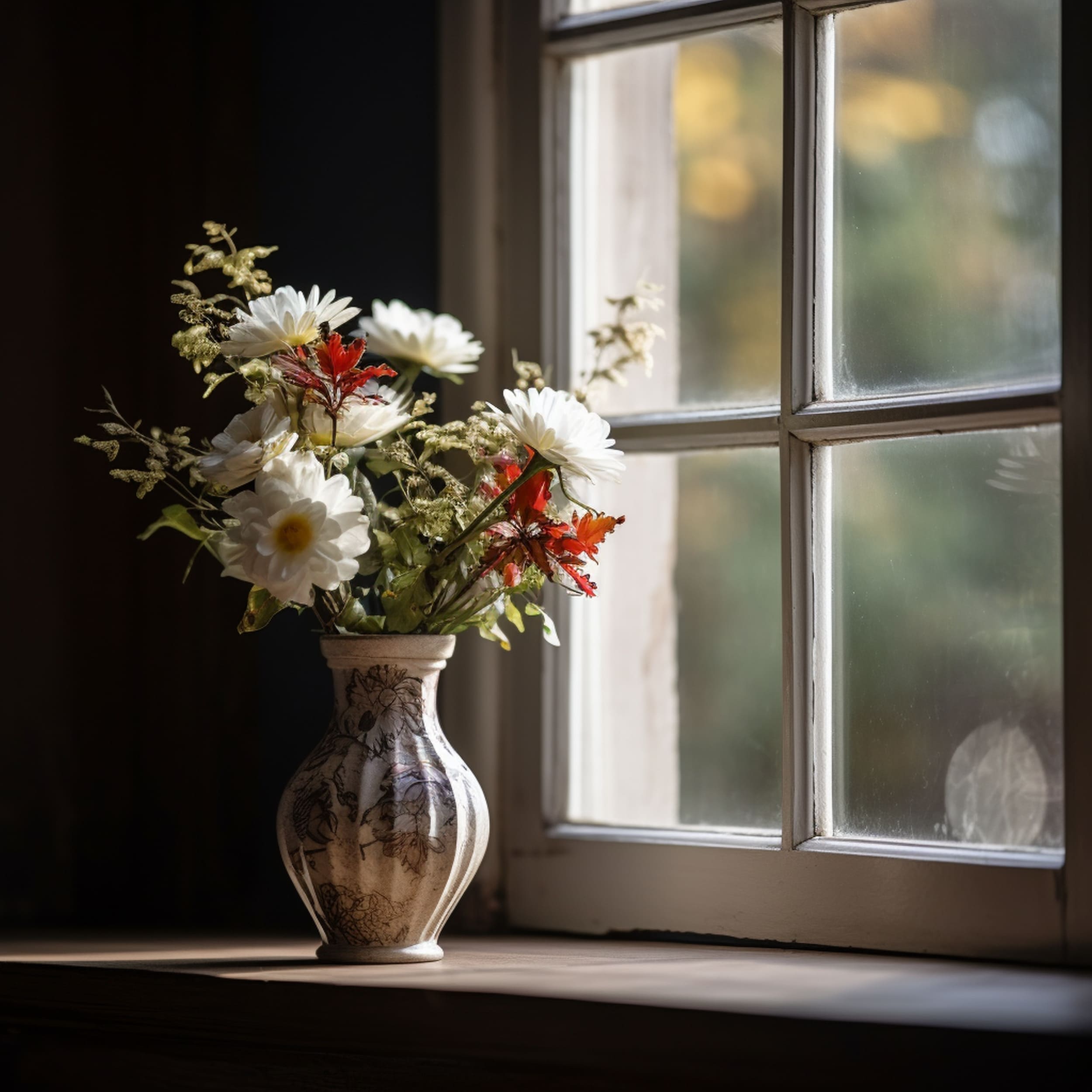 Displaying a stylish flower arrangement featuring large blooms can be more challenging without the right type of vase. A bouquet vase is the best choice in this case because it's specially designed to securely store big flowers and display them properly at the same time. Aside from ensuring that heavy bouquets can sit upright, this type of vase also comes with a tapered mouth which makes it easy to showcase fresh flowers with big blooms.




The middle of the vase is a bit rounded and packs some extra width to allow easy storage of flowers featuring thick stems. Bouquet vases are not particularly small but they have a balanced size making them a versatile choice. It's a good vase option for table centerpieces or elegant windowsill displays. Keep in mind that a bouquet vase requires tall flowers with striking blooms to make sure the vase won't overshadow its contents.




15. Metal Vase





Not everyone likes the idea of displaying the stems of the flowers together with the blooms. In that case, a metal design works great thanks to its opaque style. Metal vases can be both functional and stylish. There are lots of different finishes to choose from. It's not difficult to match the surrounding decor because a metal vase is versatile enough for both traditional and modern interiors.




Depending on the chosen style, many metal vases can get more costly than common glass models. However, the extra expense could be worth it considering the greater durability of metal. As opposed to a glass vase, there's no need to worry about a metal vase breaking. The superior longevity of a metal vase is also one of the reasons why it's a recommended solution for outdoor decorations. Check out this decorative metal vase from Amazon.




16. Sculptural Vase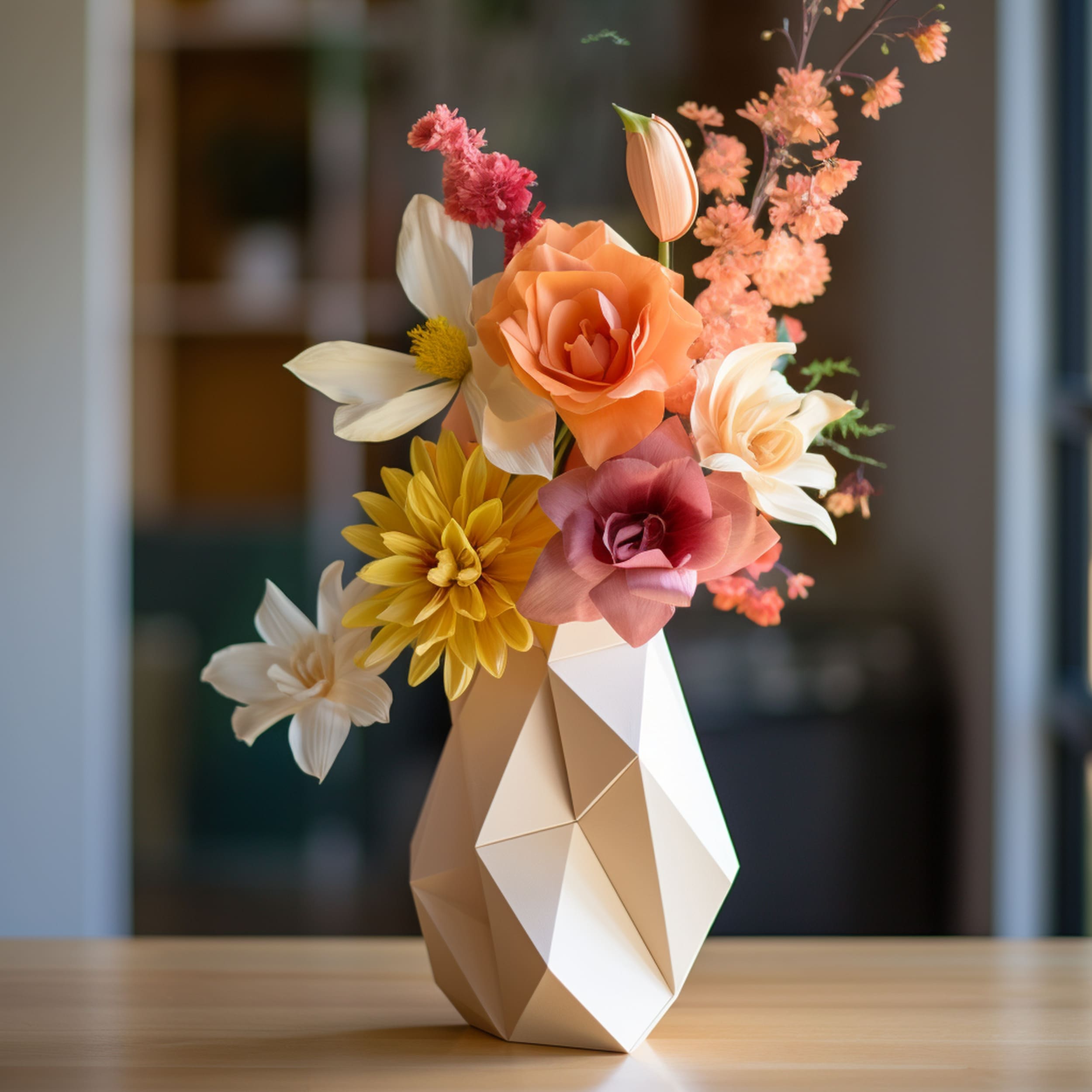 If you're not satisfied with the typical shapes and styles of flower vases out there, you might prefer a more creative choice. A sculptural vase can bring some unique characteristics to transform your simple flower arrangement into a novelty decor piece. The best part about this kind of vase is that it still has excellent decorative value even when it's not currently displaying any flower blooms.




Anyone who wants to make a bold statement should choose a stylish sculptural vase that's more than a simple storage container for cut flowers. In terms of design options, it all comes down to your personal preferences. Options often include shapes of humans, animals, or various decorative objects. The great variation of these novelty vases allows you to discover the best match to suit any interior surroundings.




17. Rectangular Vase





A rectangular vase is pretty self-explanatory considering how it's defined by a simple geometric shape. This type of vase fits modern decor styles quite well because of its clean lines and sharp angles. Thanks to its wide opening, the rectangular vase can be used to create some unique floral displays. Most styles feature an extended length to add some style to any contemporary tablescape.




Depending on the size of your blooms, it's recommended to select an appropriate rectangular vase because not all of them can accommodate big flowers. The vase is often designed with a small height which works best for blooms with very short stems. This design style makes the vase practical for other greenery displays such as succulent plants. Tipping over a rectangular vase can be a real concern so extra care is necessary when arranging the flowers.




18. Pail Vase





Also known as a bucket vase, this type brings an authentic decor touch to any farmhouse-styled interior. The pail vase is often created by upcycling old metal buckets. This gives it a stylish vintage look complete with the incorporated handle. Distressed metal finishes can make any pail vase more attractive as the aged patina elevates the level of rustic charm.




If you don't like the farmhouse aesthetic that much, there are still ways to use a pail vase in more modern spaces. Painting the metal body of the vase represents a great idea to fully transform its decor vibe. A glossy coat of paint can give it a sleek look with minimal effort. It will also tone down the rustic impression. Pail vases come in different sizes depending on the intended use. Larger models work well to decorate the floor and they can be durable enough to withstand outdoor conditions. Take a look at this rustic farmhouse pail vase.